Vivint Home Security
Enjoy What Matters Most With Peace of Mind.

Vivint Home Security
Monthly Prices
As Low As:
Key Features:
Call To Order:
$
39.99/mo
$39.99/mo. plus financed security equipment cost
Professional Installation
Wireless Home Security & 24/7 Monitoring
Smart Home Control Available
$39.99/MO
As Low As $1.33 Per Day
$49.99/MO
As Low As $1.67 Per Day

Why Choose Vivint

Burglary Detection
Door and window sensors alert Vivint Sky when triggered, so you never have to wonder if your home is secure
Two-way talk from the panel connects you with our monitoring professionals
Wireless sensors secure your home by alerting you of any forced entry
Motion, door, and window sensors allow you to always know what's going on in your home
Call 1-844-380-9930 to Learn More About Vivint

24/7 Monitoring
Continuous monitoring and support that stays up all night so you can rest easy
24x7 monitoring is there to respond to an emergency even if you can't
Quickly contact the monitoring department for emergency help
24/7 support available for complete assistance
Smart Locks
Lock and unlock your doors from the next room or the next state
Lock and unlock your front door with the Vivint Sky app
Get notified when the door is left unlocked
Secure technology protects against unauthorized entry
Call 1-844-380-9930 to Learn More About Vivint

Smart Garage Door Control
Never spend another workday wondering if you left the garage door open again
Open and close your garage door with the Vivint Sky app
Get notified when the garage door is left open
Secure technology protects against unauthorized entry
Call 1-844-380-9930 to Install Vivint Today*

Security Cameras
Get a security review of your home to optimize your security system
Get notified when the garage door is left open
Secure technology protects against unauthorized entry

Energy & Comfort
Simple, intelligent technology that blends comfort and energy savings
Access your thermostat from anywhere on any smart device
Easily adjust the temperature by creating preferences for home, away, sleep, and vacation
Call 1-844-380-9930 to Learn More

Vivint Sky App
A single intuitive app puts your entire smart home in the palm of your hand
An award winning app providing control of temperature, locks, lights, and more
Get home alerts and notifications right on your mobile device
Call 1-844-380-9930 to Install Vivint Today*

Equipment & Features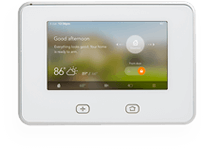 SkyControl Panel
A thoughtful, intuitive user interface that bundles all your smart home controls into one place. A 7" inscreen that displays video, controls temperature, manages system options, and more. Panel navigation provides a simple, intuitive smart home experience.

Pet Immune Motion Detector
The pet immune motion detector can distinguish pets (up to 40lbs) from potential threats that may cause harm to your home or family. You can rest assured your furry companion won't be setting any alarms.

Smart Locks
Get total front door control. See and answer your front door from anywhere with the Vivint Doorbell Camera and smart locks.

Indoor Camera
A simple counter-top video camera that lets you check in on your home from wherever you are. Record continuous footage and browse your entire video history minute by minute.
Vivint
Security and Home Automation At The Palm of Your Hand.
Wireless home security and 24x7 continous video recording
Access footage from up to four cameras for 30 days from anywhere with just one app!
To Learn More:
Receive notifications and control your smart home system from anywhere
Protect and manage what matters most.
To Learn More:
Smart Home Specialists are always there to respond to an emergency.
Award-winning monitoring is always close by with the Vivint SkyControl Panel's two-way talk
To Learn More:

About Vivint
Growing from a small home security company in Utah, Vivint Inc. is now one of the largest private United States home security, home automation and energy management service providers. The company serves more than one million customers throughout North America.
Their goal is to create a seamless experience where their products work with the home technologies you already have to enhance security, increase energy efficiency, and simplify your everyday life. They do this through a combination of smart technology and award-winning customer service.
The Vivint touchscreen panel is the base through which all of their other products communicate. Homeowners create a customized Vivint smart home that includes automatic door locks, smart thermostats, indoor and outdoor cameras, lighting control, garage door openers, doorbell cameras, cloud data storage and playback, voice control and an array of sensors including smoke, motion, carbon monoxide, door, window and glass break. They will also notify you of severe weather in your area.
Vivint Sky, their proprietary, integrated smart home appication, then seamlessly connects with other smart devices. It eliminates many of the issues caused by fragmented, stand-alone solutions.
This platform also integrates with leading third-party smart home technologies, including Amazon Echo ® and the Nest Learning Thermostat ® ("Nest"). Through these devices, Vivint offers a comprehensive, voice-controlled smart home. They are the first company to enable voice control of the Nest using Amazon Echo.
In 2011, they launched Vivint Solar, a stand-alone company that designs, installs and maintains residential photovoltaic systems. As of March 2015, they have installed over 40,000 solar panel arrays.
They also created the award-winning Vivint Doorbell Camera, which allows homeowners to see, hear and speak to anyone on their doorstep. It also lets customers remotely unlock the door for visitors or open the garage door for a package delivery.
Their customer service centers are located in Utah, and they have two fully redundant central-monitoring facilities located in Utah and Minnesota. Both their customer service center and central-monitoring facilities are always open.
Their customer service representatives are required to pass background checks, and their monitoring facilities professionals undergo comprehensive training and are required to pass background checks and, in certain cases, licensing tests.
They offer several security and smart home packages, all of which include combine these proprietary technologies and comprehensive 24x7x365 monitoring and customer support.
Copyright ©InMyArea.com All Rights Reserved. Vivint Authorized Dealer. Vivint Licenses. *42 month monitoring agreement (total fees from $2,267.58) at minimum $53.99/month. Up to $198 activation fee may apply, home ownership, and satisfactory credit history required. Taxes and permit fees may apply services not available in all areas. Offer valid for new customers only. Package includes 7" touchscreen Vivint Sky panel and 7 points of customizable security equipment. Additional equipment may be added for a fee and larger packages are available. Speak to a representative for complete equipment and package details and pricing. Services not available in all areas. Services in Louisiana performed by Vivint Louisiana Commercial Certificate #58280. See Vivint license numbers here.
†All equipment is warrantied for as long as the customer is a paying customer of Vivint for all normal wear-and-tear or defective parts. All service to repair/replace a defective part is free for the first 120 day. A Service Call for warrantied items (normal wear-and-tear or defective) after 120 days is $49, regardless of how long the technician is at the house. Non-warrantied items (resulting from abuse, neglect, request for moving system or components) are charged at the then prevailing service rate.