TV Everywhere: Cable TV's Latest Weapon
Nobody watches cable on the TV anymore. There just isn't enough free time in the day to spend in the living room. Nowadays, people keep up with their favorite shows using TV apps such as
TV Everywhere
, a feature that allows cable users to access internet-based entertainment. As easy access and portability becomes more important for viewers, traditional big screens are being eclipsed by those built for on-the-go.
SEE ALSO: What Cable Can Do (And Netflix Can't)
The Virtual Living Room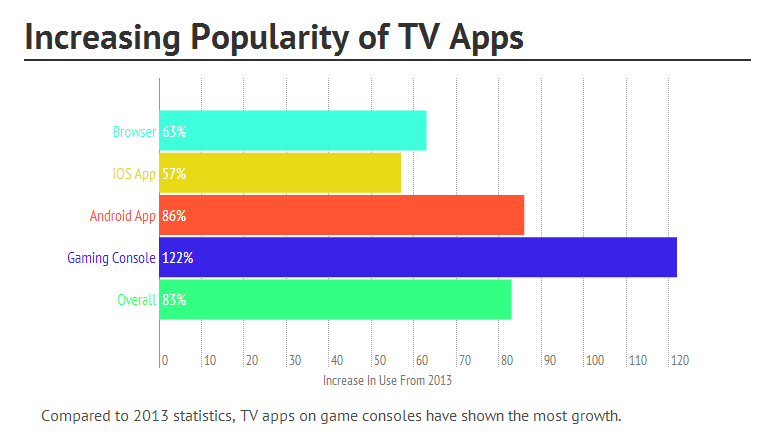 Cable TV struggles with its accessibility beyond the living room. Cables and wires make televisions permanently situated and hard to move around.  Without the ability to watch in the bathroom, on the patio, or in the car people have been cutting cords and switching to online streaming services such as Netflix and Hulu. In order to keep up with the competition, cable TV has entered the wireless game. Portability is in high demand, and cable companies are working to make its content available online.
The most competitive cable companies offer a feature called TV Everywhere
. TV Everywhere is a general term for apps that allow you to watch cable TV using online streaming. This means that whatever's playing on TV is also available online.
Popular networks available through TV Everywhere include
:
HBO
Watch ESPN
Cartoon Network
Syfy
At the tap of a finger, you have access to these huge networks and many more. According to a
2014 data analysis
on digital media done by Adobe,
25% of all viewers use their phones, tablets, and laptops to watch cable online using TV Everywhere
. This is an all time high for online media consumption. And of all adolescent viewers, 80% use cable TV apps. Looks like everyone is absorbed in their phones and tablets. You might even be reading this on your phone. That's why it's crucial for cable companies to make their services available on mobile devices.
So What's The Difference Between Netflix And TV Everywhere?
Yes, these online streaming sources are great for binge-watching all eight seasons of
Scrubs
(season nine never existed), but what exactly is under the Recently Added tab? It looks like the freshest bit of entertainment is a movie that came out in theatres over half a year ago.
Netflix, Hulu, and Amazon Instant Video have old, stale entertainment
. Online streaming services generally upload its content in seasons, not episodes. So Netflix has to wait until all the episodes finish airing before it can make it available online.
You can only find the newest episodes, movies, and news with cable
.
SEE ALSO: Netflix Paired With Three TV Providers: What That Means For You
Look For A Provider With TV Everywhere
This incentive for the latest in entertainment keeps customers from cutting cords.
Only through TV Everywhere can customers watch the latest in entertainment on their mobile devices
. With a stronghold on fresh content, cable companies are using TV Everywhere to level out the playing field with the competition. Adobe's report finds that TV Everywhere usage has risen 246% since 2013. To keep up with this increasing demand for mobile availability,
here are a few providers that offer TV Everywhere
:
Charter
Comcast
DISH Network
Time Warner Cable
When searching for a cable provider, check to see if TV Everywhere is included. Not offering this essential should be a deal breaker for you when shopping around.
Date of original publication:
June 18, 2014
Updated on: November 10, 2015