Introducing Rovi and SlingTV: New TV Technology That's Changing The Way We Watch TV (Again)
Something is disappearing from American households—and it's not just car keys and remote controls. According to a recent
IHS
report, TV is losing its place in our living rooms, with the
U.S. television market falling by almost 10 percent
last year and plasma TVs specifically plunging by 42 percent. What's at fault for the decline of such a national treasure? Developments in TV—besides streaming on other devices—have mostly revolved around screen quality (bigger, flatter, sharper), whereas improvements of user experience have only progressed marginally and with little reception (think 3D TVs). And when it comes to the tech and entertainment market, the rule of the land is evolve or die. As smarter, faster devices leave TV's crawl to bigger and better upgrades in the dust, developers are seeing a unique demand in a dwindling market: bridging our inherent love of television with our modern appetites for intuitive functions and on-demand content. Enter
Rovi and SlingTV
, two products that are aiming to do just that.
SEE ALSO: 4K: Is The Bright Future Of TV Just Around The Corner?
Rovi: "The Netflix of TV Guide"
[caption id="attachment_2727" align="alignnone" width="800"]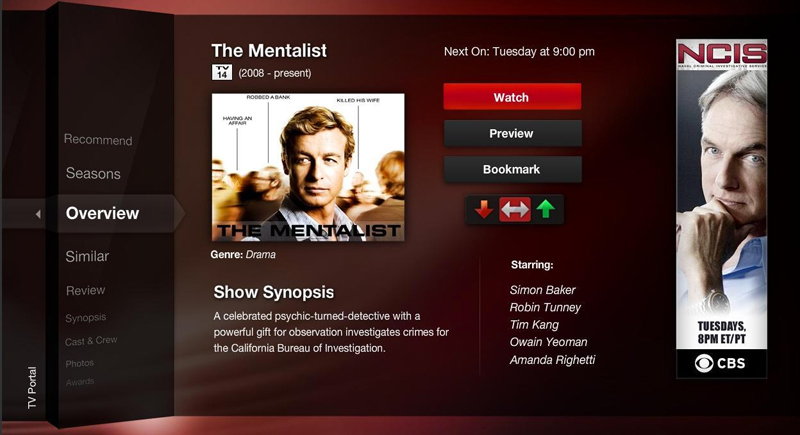 Rovi's intuitive interface[/caption] Say goodbye to wading through hundreds of obscure channels to find a show that isn't trying to sell you special collection coins. Rovi, a company that's developing technology aimed to personalize the way you pick your channels, is turning the TV guide on its head. Nicknamed the "Netflix of TV guide," Rovi doesn't simply streamline your channel search; it goes one step further,
making recommendations for shows
and movies it thinks would interest you. One way it does this is by turning what people watch on TV into a two-way conversation. "We spent a lot of time thinking about the context. That's about when you're watching, what's happening in the world, where you're sitting in the world, and what is in your profile," Darren Gill, Rovi's vice president of product,
told Wired
. While Rovi gathers data from other viewers and information from your Facebook and Twitter, it also allows you to tell it what you want to watch—literally. Through
a voice-controlled search feature
, you can even ask your TV questions. What's that show with a bunch of female prisoners? Simply ask your Rovi TV guide and it will pull up the newest season of
Orange Is The New Black
.
Sling Media's SlingTV
Sling Media is best known for developing devices that allow users to watch TV from anywhere, be it on their phone on the train or on their tablet in a cafe. Now, the place-shifting technology is aiming to bring it back into the home,
optimizing the viewer experience
for those parking it in the comfort of their own living room. SlingTV, an upgraded version of their Slingbox 500, hopes to pull stationary television sets out of their funk and into the interactive entertainment scene. SlingTV pretty much turns any television into a smart TV. For one thing, it
provides real-time data for sports fanatics
, letting you know which games to watch on which channels, alerting you when pivotal moments in the game occur, and displaying stats and scores. It even incorporates Rotten Tomatoes ratings for movies and episode details for shows. "SlingTV completely enhances the living room TV experience with a visually stunning on TV user interface that takes ultimate advantage of social media data activity," says Michael Hawkey, senior vice president and general manager of Sling Media, in a press release. [caption id="attachment_2728" align="alignnone" width="800"]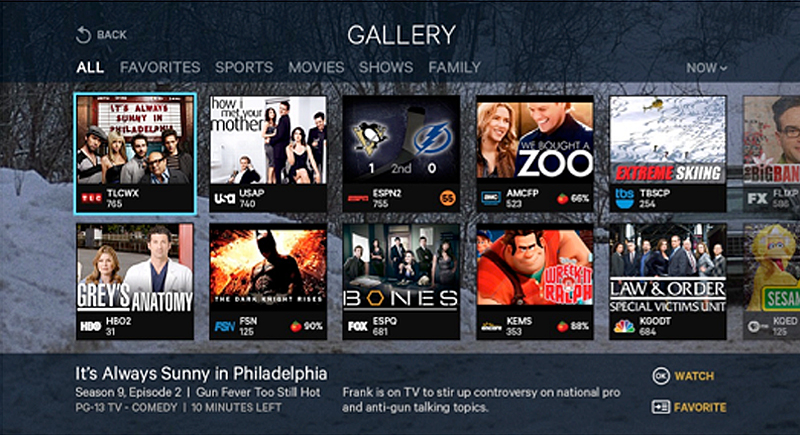 SlingTV's gallery view[/caption] Like Rovi, SlingTV is also slinging a new and improved way for users to search through channels, the most significant upgrade from the Slingbox 500.
A visual interface with gallery view
not only gives viewers a more user-friendly and aesthetically appealing way to sift through the TV guide, it also allows them to filter by data-aggregated categories such as popular channels, favorite shows, and kid-friendly entertainment.
SEE ALSO: What's The Future Of Cable Television?
The Sweet Spot For TV Innovation
Despite significant attempts to revamp the TV-buying industry—Apple TV, 4k and 3D screens, to name a few—nothing has innovated traditional television in a way that really sticks. While developments like Rovi and SlingTV seem like small steps in a fast-paced industry, their innovations of the TV guide could be the answer to a hidden problem. According to a recent
Nielsen report
,
Americans only watch around 17 different channels
, despite having access to an average of 189 channels. Creating a solution for this kind of choice-fatigue might be the sweet spot to catapulting television back into our living rooms.
Date of original publication:
July 30, 2014
Updated on: November 10, 2015