6 Dangerous Colleges You Need To Know About
Student orientations for the class of 2018 are in full swing right now. Those starting in the fall have already committed and are now getting ready for the next four years of their lives. When you're visiting your college campus and getting to know the area, don't get swept up in the excitement of college. Many campus tour guides neglect to tell wide-eyed potential freshmen and their families about problems in the neighborhood or on the campus itself.
Whether it is on-campus or off-campus, each school has its own gaps in safety. Some schools struggle to deal with sexual violence, while others are just located in neighborhoods riddled with crime.
Take a look at these six colleges and see if you should worry about your safety.
SEE ALSO: Top 4 Self Defense Weapons That Fit In Your Pocket
1 – Yale University
Yale consistently ranks as one of the top 10 universities in the states on Forbes and US News. But don't let the prestige of this Ivy League cloud the fact that this school is located in New Haven, Connecticut. The university is built along Prospect St, one of the safest neighborhoods in New Haven.
However, it is also two blocks away from State St and George St, one of the most dangerous areas in all of New Haven
. The city itself is only safer than three percent  of the nation.
2 – University of Southern California (USC)
The majority of USC graduates move on to leading positions in America's business, management, and marketing fields. Contrary to their rival, the University of California Los Angeles (UCLA), which is located in a glamorous neighborhood called Westwood, USC is located in the heart of downtown Los Angeles.
USC is less than five miles away from the infamous Skid Row
. Roughly half of Central Los Angeles's crime manifests within the square-mile that is Skid Row.
In 2013, USC was also under intense scrutiny for how it handles incidents of rape and sexual assault
. This past May, the Department of Education released a
list
of schools under investigation for possibly failing to properly handle campus instances of sexual violence and harassment. USC is on this list.
3 – Rutgers University - Camden
Rutgers has many locations, but the Camden campus is the most dangerous of them all. Camden, New Jersey ranks as the third most dangerous city in America on
Neighborhood Scout
. On-campus housing has suffered from overcrowding in the past couple of years, so upperclassmen often have to search for places to live off-campus. The probability of falling victim to violent crimes such as murder, rape, robbery, and assault are one in 345 in all of New Jersey.
Your chances significantly rise to a one in 39 chance when in Camden
. Watch this short documentary done by a reporter from The Daily on the safety issues in Camden. Interestingly, a Camden local comments that "over 95% of the people arrested in Camden, are not from here."
4 – San Diego State University (SDSU)
San Diego is home to many great schools like SDSU. This prestigious business school is home to some of the best entrepreneurs and most competitive basketball teams.
SDSU is located in between City Heights and El Cajon—neither are the safest neighborhoods in San Diego
. In 2012, 21 instances of sexual assault were
reported
. Twelve of those cases occurred on campus and nine occurred off campus. Below is a map provided by
SpotCrime
that shows what goes on in City Heights alone.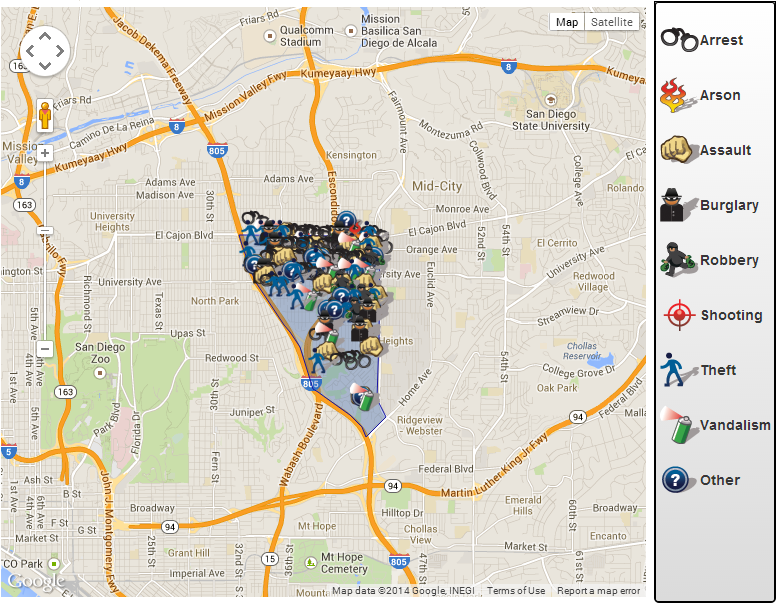 5 – Pennsylvania State University
Penn State is public school home to over 45,000 students. Its journalism school
ranks
number two in the country. Unfortunately, the school has seen a strong increase of sexual assaults on campus. On a nationwide level,
one in every five women
in college are victims of assault or attempted assault as undergrads. In 2010, four sexual assaults were reported. In 2011, 24 were reported. And in 2012, 56 were reported.
The 2013 report is still being evaluated. The campus has suffered a total of 84 sexual assaults in two years,
more than any other school
in America
. The numbers shouldn't shock you into thinking that Penn State is a school made of sexual deviants, though. Students and faculty are working hard to eliminate instances of rape and sexual harassment and create informational videos like the one below to educate students on sexual assault.
6 – Cornell University
Take into consideration the value of mental health as well as physical health when choosing a school.
Cornell makes the list not because of its crime rates, but because of its struggle dealing with student suicide rates
. Some may consider Cornell a gorgeous campus, but to solely focus on its breathtaking architecture and design is to ignore a dark truth: a high number of suicides take place at the gorges surrounding the campus. The intense curriculum coupled with the school being located far from any entertainment makes for a depressing, and sometimes overwhelming, learning environment. Although the school makes mental healthcare easily accessible, Cornell continues to take preventative cautions such heavy security around the campus gorges. The school actively addresses the issue and does its best to foster a positive campus environment.
SEE ALSO: AXON Flex by TASER: A Point-Of-View Camera For Police Officers
Choosing A College
Always remember:
location, location, location
. Campuses themselves are generally safe, but you have to check the surrounding neighborhoods. Also do not let these crime statistics deter from the fact that they are all great schools to attend. These numbers raise awareness and encourage prospective students to learn the proper safety habits such as:
Carrying a self-defense weapon
Walking in groups at night
Watching your drinks
Locking your doors
Investing in a security system for off-campus housing
Date of original publication:
July 31, 2014
Updated on: November 10, 2015