2Gig Home Security
2Gig is making a buzz in the already pulsing home automation world—not a simple task for a smaller tech company forced to swim upstream in an industry that's been
recently infiltrated by Apple
and Google. In fact,
reportedly
among the first to incorporate Z-Wave and traditional security sensors into a single panel, 2Gig has been on the
forefront of DIY home automation
and home security systems since its beginnings. If you haven't already heard of them, 2Gig specializes in DIY home automation. Now owned by Nortek's Linear, they offer a selection of home security and home management products that you can buy in endless combinations to fit your personal security needs.
SEE ALSO: How To Make DIY Home Security Systems
Optimizing For Do-It-Yourself Systems
This past April, 2Gig made some significant upgrades to their central control panel Go!Control, also known as the GC3. Their advancements included incorporating WiFi into the touch panel, implementing Bluetooth Low Energy (BLE), and adding a USB port to the top of the panel. While these improvements aren't necessarily blazing any trails, they have one thing in common:
they make room for a growing inclusion of smart home products
. The Wi-Fi enabled touch panel allows for integrating other home automated products, regardless of brand. BLE is a common protocol for personal monitoring devices such as health monitors and smart watches (fun fact: Linear is North America's largest providers of personal emergency reporting systems). Adding a USB port allows for opportunities like attaching surveillance cameras to take snapshots of potential intruders. In other words, 2Gig is not only making their products more efficient as stand-alone devices; they are also making them more intuitive for an increasingly do-it-yourself industry.
DIY All The Things
But what exactly is DIY home automation? Instead of buying a home security system in bulk—equipped with sensors, cameras, and alarms—more consumers are looking to
personalize their systems by picking and choosing individual security products
. This kind of purchasing freedom opens doors for further home automation, incorporating features beyond home security, such as lights, thermostats, and even kitchen appliances. As connectivity spreads across virtually every aspect of the home, so does the demand for smart home devices. According to
smart home market research
done by ABI research, DIY home automation devices are estimated to grow 30% between 2013 and 2019.
SEE ALSO: Professional Home Security Installation vs DIY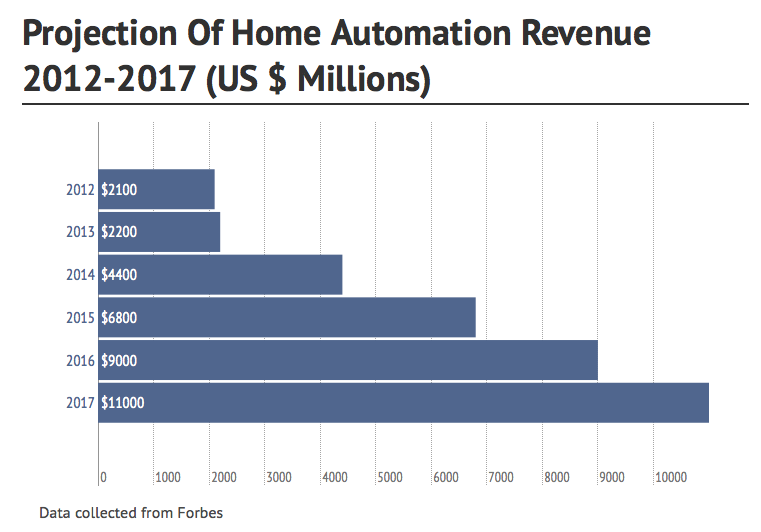 2Gig Home Security: The Ultimate Compromise For DIY Home Automation?
And yet, as DIY home automation grows, newer generations of smart home products inherit
the lingering problem of interconnectivity
that has ailed the industry since its inception. You could buy a DropCam to keep surveillance of your living room, but good luck syncing it with your alarm, or any other aspect of your home for that matter. The paradox of this DIY trend is that more products are being developed with automation in mind, but the kind of smart system these hopeful devices are designed for require a connectivity that has yet to be standardized. That's why 2Gig, however a small contender, is refreshing when compared to all the individual, Kickstarter-funded devices meant to work as part of a whole. In a lot of ways,
2Gig is a compromise between mix-matched home security products and traditional packaged systems
. Instead of an impersonal, overwhelming system that doesn't cater to your specific security needs, 2Gig offers a selection of a-la-carte products, from which you can pick and choose. But syncing your choices won't be a problem, as all 2Gig products are controlled through one hub: the GC3. While 2Gig isn't disrupting the entire home automation field with edgy technology, it's beating the competition in one major way:
practicality
. Instead of giant leaps into a home security future many products are unprepared for, 2Gig takes small steps into DIY automation, and in this way, succeeds where the big names don't.
Date of original publication:
June 19, 2014
Updated on: November 10, 2015