5 Of The Best Front Door Locks Guaranteed To Stop Break-Ins
Did you remember to lock the door? Locking your doors and windows is the first step to securing your home. The last thing you want to do is give a burglar easy access into your home. But even with a deadbolt in place, thieves still have a way with picking locks and getting in.
So to add some more dependable security to your front door, consider equipping it with a smart lock. The rise of home automation has flooded the market with high-tech locks that aim to erase the problems with standard pin-and-tumbler locks. Smart locks are often:
Keyless. Use a keypad or send a signal from your smartphone to unlock it.
Wireless. Runs on batteries so that you can get in during a blackout.
Encrypted. Protects your network so hackers can't break in.
Check out these 5 smart locks that have revolutionized the way you lock your front door.
SEE ALSO: What Everyone Should Know About Door Lock Security
August
Sporting a minimalist design, August uses Bluetooth technology to secure your entryway. Using Bluetooth means that August does not need to be online for it to work. Just sync your smartphone with August and you're in. This lock runs on standard batteries, and can also be attached to an old-fashioned deadbolt lock. Many will install a deadbolt lock on the outside of the door, and for added security, install the August lock on the inside. Opening the door first requires the deadbolt to be unlocked, and then August to register your device.
An added feature of August is that you can share your virtual key with your friends and family. All it takes is a few quick taps on your phone. August also allows you to set up a guest list for a party. That way, while you're hosting the best barbeque in the backyard, only those who got invited can let themselves in.
Kevo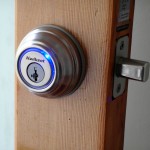 Kevo is a smart lock made by Kwikset. Running on 4 AA batteries, and available in Satin Nickel, Polished Brass, and Venetian Bronze, Kevo connects with your iPhone via Bluetooth to unlock your door. After downloading the free app, you are issued two encrypted electronic keys. These keys are specific to each phone. Extra electronic keys may be purchased.
In the event that your phone runs out of batteries, you can use a Kevo keyfob or physical keys to unlock Kevo.
Goji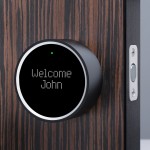 Goji is available both to Android and iOS users, and connects over WiFi to communicate directly with your smartphone. Goji uses standard batteries to lock and unlock your doors. Over WiFi, Goji sends you picture alerts and updates all the time. Being connected to the Internet allows for Goji to provide real-time information of who's at your door, who came home, and who just left. All activity is recorded and sent to you so that you know who's at home.
Unique to Goji is its Create a Key feature. Create a Key allows you to electronically send a key to anyone you like. For example, you can text a key to your realtor so that they can unlock the door for an open house.
OKIDOKEYS Smart-Lock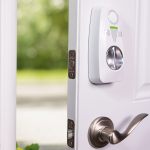 Use a smartphone, cell phone, or encrypted keyfob to unlock an OKIDOKEYS Smart-Lock. OKIDOKEYS devices are battery-powered and do not need WiFi to connect with your mobile device. Instead of uninstalling your current locks, use OKIDOKEYS locks are designed to enhance yours. Simply install the lock on the inside of your door to receive added protection. OKIDOKEYS Smart-Locks come with a built-in alarm that notifies you when someone tries to tamper with the lock.
Like the other smart locks, OKIDOKEYS locks allows for you to create temporary electronic keys for designated visitors. Make keys for housekeepers, babysitters, realtors, and friends. OKIDOKEYS devices also keep a log of when the door is unlocked, and who unlocks it.
Lockitron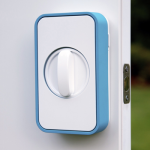 Connect over WiFi and lock your door with Lockitron. Lockitron runs on standard batteries and is compatible with Android and iOS. This smart lock uses the same encryption as online banking does, so you don't have to worry about hackers. For installations, place Lockitron on the inside of your door, over the deadbolt. While you're out of the house, use the app to check if the doors locked and send out electronic keys to friends and family. And in the event that your phone dies, simply use a physical key to unlock the door.
Only available to iOS is Sense. Sense is a Bluetooth feature that allows for Lockitron to sense your iPhone, and unlock the door without you taking your phone out.
SEE ALSO: How Safe Are Smart Locks? Your Security Questions Answered
Which One Is Right For You?
All of these locks try and make life easier for you. With such similar features and benefits, the main thing that sets these locks apart are looks and prices:
August: Available in gold, red, silver, and black. Starting price is $199.
Kevo: Available in Satin Nickel, Polished Brass, and Venetian Bronze. Starting price is $219.
Goji: Available in silver, gold, and copper. Starting price is $278.
OKIDOKEYS: Available in Polar White, Satin Chrome, Piano Black, Antique Brass, Satin Brass, and Self-Paint. Starting price is $189.
Lockitron: Available in Studio White, Quicksilver, Bondi Blue, and Obsidian Black. Starting price is $179.
Date of original publication:
June 04, 2014
Updated on: December 14, 2015