You Are Secure Most Of The Time
It shouldn't come as a surprise that burglary and looting rates increase during a power outage. After all, thieves prefer to do their business when no one can see. What might surprise is that in the event of a power outage, your home is still protected if you use ADT. This is because ADT's home monitoring system has backup batteries to run its home security system. Everything from your security cameras to your alarms still work.
The better question is: for how long? Running solely on backup power, your security system will work for several hours, which is usually long enough to restore power. If your ADT security system is running out of power, it will alert the Customer Monitoring Center through a message, alert you by beeping, and your keypad will display 'Comm Trbl.' If this occurs, simply enter your keypad code and hit 'disarm.' If you are nervous about losing power, you can buy extra back up batteries to use in a longer power outage. That way, you won't lose service.
With ADT's Safewatch CellGuard, you don't have to worry about losing connection with your security system during a power outage through a land line. CellGuard uses cellular signals to transmit information to ADT's monitoring centers, so you are protected as long as your backup battery is running.
SEE ALSO: Zombie Proofing Your Home [infographic]
But Be Wary During Bigger Disasters
In bigger disasters, like a hurricane or flood, your Customer Monitoring Center will still have power. A backup power generator allows this building to keep monitoring your home, answering your questions, and much more. Even if your Monitoring Center is down, though, you will be serviced by another Customer Monitoring Center, so your service never stops. Just be aware that the more centers that shut down, the busier the other centers will be, so please be patient. In the event of a flood, fire, or other emergency, concentrate on evacuating your family and gathering your possessions. ADT will take care of the rest for you.
With ADT, the last thing you have to worry about during a power outage is your home security. You, your loved ones, and your valuables are all protected, even during a blackout.
SEE ALSO: Top 4 Home Security Weaknesses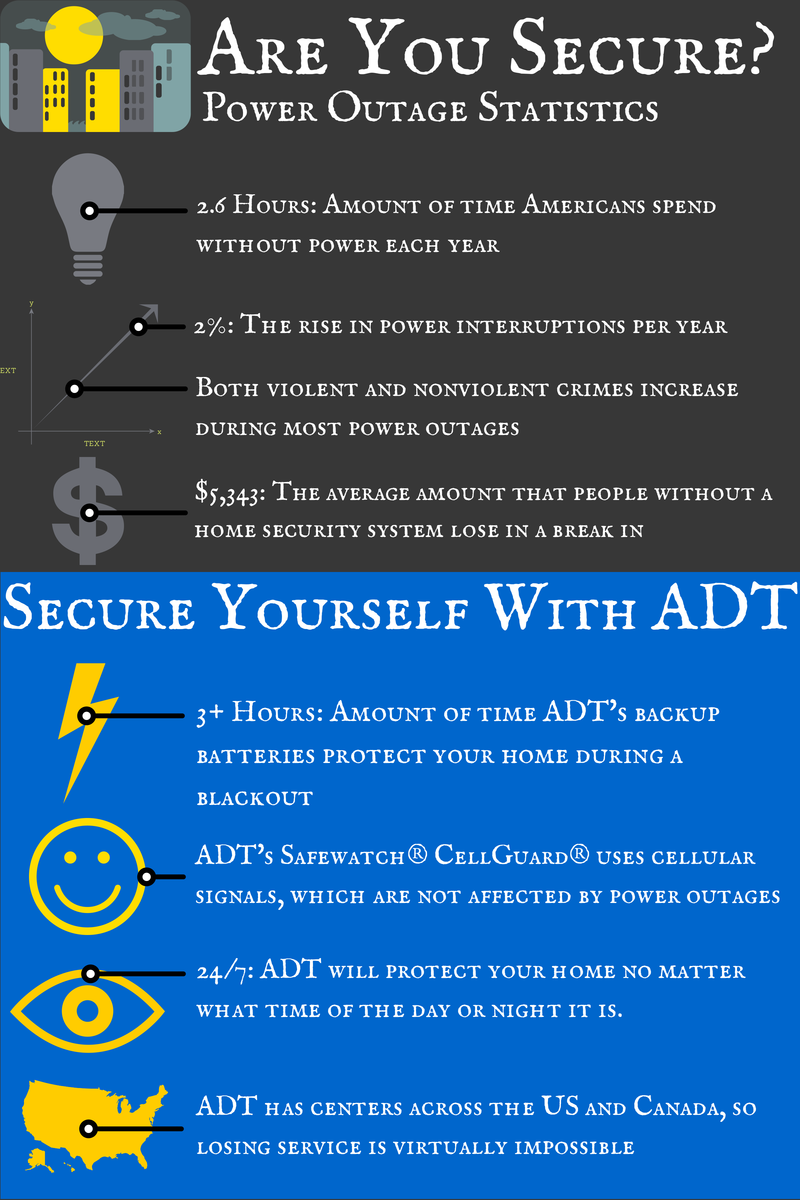 Date of original publication:
June 05, 2014
Updated on: December 14, 2015