Wired Vs Wireless Home Security: Which Is Better? [Infographic]
Today's technology is all about wireless, hands free, and convenience, but is this technology safe to use in home security systems? The market is flooded with wireless security systems that cost anywhere from a $200 one-time payment to upwards of $50 a month. On the other hand, wired security systems are also safe and popular choices.
Which can best protect your home? It depends on your needs…
SEE ALSO: WICED by Broadcom Expands The Automated Lifestyle
Wired Home Security
Pros:
No radio interference or signal loss
Less risk of hacking
Cons:
More expensive
Cameras are bigger
The traditional home security method is a wired security system. A wired system gets power and data from cables that go from the control pad to other elements, like sensors and cameras. These systems should be installed professionally to minimize the amount of exposed wiring and to conceal and angle the cameras correctly. Because of all the wires, it's hard to make changes to it on your own. But, there are some advantages to this system.
This system isn't easily hackable
, and you'll never experience radio interference either. They have been a popular choice for home security across the board, even with their wireless competitors gaining increased momentum.
Wireless Home Security
Pros:
Easy to set up
Range of prices
Cons:
Requires batteries
Increased risk of signal loss
Wireless home security systems have been increasing in popularity since their release over a decade ago.
They are infamous for being easy to install and cheaper than their wired counterparts
. Plus, there are no wires to cut, so it would take a more technologically savvy thief to break in. These devices come in a variety of prices and options. Crowdfunded wireless security systems, like
Canary
or
Piper
, have a flat fee for the device and an optional monthly fee for professional monitoring. Companies like ADT are built for professional monitoring. As a result, they offer more safety than their more economical counterparts. Nonetheless, there are big risks associated with these security systems. Along with the threat of interference, wireless systems are also susceptible to hacking. It's as easy as gaining access to a home's wireless network:
A Healthy Compromise
Not all wireless systems run on WiFi, though.
ADT's Safetwatch® Cellguard® runs on cellular signals that are incredibly difficult to hack
. With this system, you can have the security of a wired system without the hefty cameras or ugly wiring. When it comes to home security, you have a lot of options. Wired or wireless is only one of the decisions you will have to make. Luckily, many home security providers have customizable plans to fit your needs. For more information on the systems available in your area,
click here
.
SEE ALSO: How Strong Is Your Security System During A Power Outage?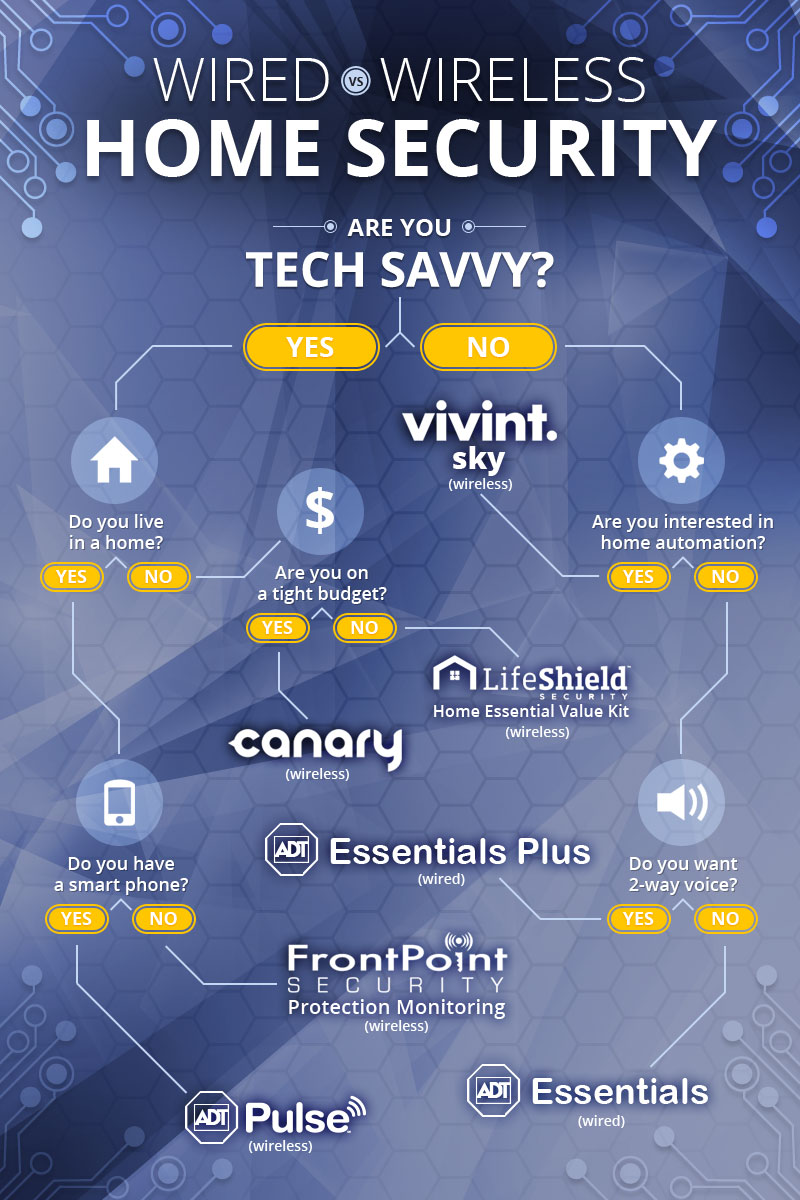 Date of original publication:
June 19, 2014
Updated on: November 10, 2015