Have You Made One Of These Common Home Security Mistakes?
Despite the fancy bells and whistles that came with your latest home security purchase, you need to reevaluate the effectiveness of your entire system.
These are the five most common mistakes that people make when trying to protect their home
. Some of these problems can be changed by adjusting your habits, while others require more research about your home security provider.
SEE ALSO: 13 Secret Hiding Places To Stash Your Stuff
1. Leaving A Spare Key Out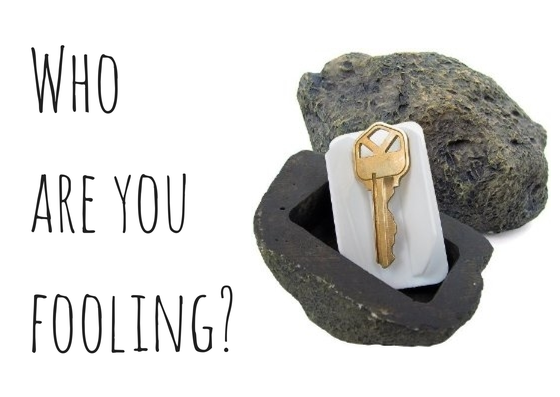 A whopping 30% of burglars enter homes without using any force
. The forgetful like to leave a spare key under the mat or over the door in case of an emergency. Some even opt out for the high-tech fake rock to hide their keys in. But
leaving a spare key out is a habit you must break
. Burglars are aware of these 'hidden' spare keys and are quick to search for one before breaking down the door or smashing in a window. When thieves find a key and let themselves, they can sneak in easily, without damaging property and alerting neighbors to their presence.
Same goes for writing down pass codes
. You shouldn't write down the code to your garage or front door anywhere. Try to make your code personal and easy to remember. You don't know who might be looking through your phone or snooping around your house.
2. Incomplete Coverage
Take a moment to identify all of the possible break-in points of your house
. Here is a list of places where a burglar can enter your house:
Doors
Windows
Air Conditioning Vent
Garage
Basement
Basically anywhere that connects the outside to the inside is a place where someone can break-in. It's essential to have sensors and cameras at all of these entry points.
3. Poorly Calibrated Equipment
Within the first three months of 2014,
11 people in Los Angeles died in house fires due to malfunctioning smoke detectors,
reports
the Los Angeles Fired Department. Overly sensitive smoke detectors make cooking dinner annoying and, understandably, drive home owners crazy. Turning on the stove shouldn't be grounds for the fire alarm to go off. Instead of properly calibrating detectors, many go straight to removing the batteries. Doing so puts you at a disadvantage. When a fire really happens, there won't be any warnings.
4. Incompatible Products
Cameras like
Dropcam
entice buyers with its sleek design and powerful technologies. But the reality of the matter is that it's just a camera, and it doesn't have the capabilities to sound an alarm or call the police. You would have to buy a whole other product for those features. And even if you did, then the two products probably wouldn't be able to work together.
The takeaway is that you need to buy a whole system, not a piece
. Most products are incompatible with competitors because home security companies want your loyalty.
When
searching for a home security system
, make sure that it covers all of the basics
:
Sensors
Alarms
Cameras
Thermostats
Locks
5. An Ancient Home Security System
Most, if not all, leading home security providers do not rely on land lines. Home security products have joined in on the Internet of Things and are now using WiFi or Bluetooth technology to transfer data.
Vivint boasts the effectiveness of wireless systems due to its easy installation and fast updates
. Only systems connected to the Internet allow for real-time live communication, alerts, and 24/7 first party monitoring.
Also consider how your home security system is being powered
. If it needs to be plugged in at all times, then you're going to be sorry when the power goes out. Check to see if products come equipped with back up batteries and alerts that tell you when energy supply is low. This goes back to taking care of your equipment.
SEE ALSO: How Strong Is Your Security System During A Power Outage?
Never Make A Home Security Mistake Again
These common flaws in home security systems can easily be avoided by finding the right provider
. Before signing any contracts or buying any equipment, consider the following:
Does this company offer a lock system that doesn't rely on physical keys or codes?
Have I assessed all possible entry ways?
Is the equipment properly calibrated and/or self-moderated?
Do all tools work together?
Is my home security system up-to-date?
Date of original publication:
July 02, 2014
Updated on: November 10, 2015