Your Questions About Basic Home Insurance Coverage Answered
Even before the event of an accident or natural disaster, it's important to understand the details of your home insurance. Different policies provide different types of coverage,
but many commit to a standard plan without being completely sure of what is—and what isn't—included in their basic home insurance coverage.
As we walk through the components of a basic home insurance coverage, you may find that it doesn't include everything you thought it did.
SEE ALSO: Is Additional Coverage Worth It?
Does Basic Home Insurance Cover Damage To Your Home?
Damage to your actual home, be it on the exterior or interior, will be compensated by the insurer, depending on how the injuries occurred. If fire, lightening, hurricanes, vandalism, or other covered disasters, is the cause of home damage, you will likely be compensated under your home insurance policy.
In the instance of a flood or earthquake, however, damage to your home isn't typically covered.
In these cases, especially if you reside in an area with a high flood season, you may want to look into further protection. Separate riders can be acquired in which
specific benefits can be added as an additional provision of your policy.
Does Basic Home Insurance Cover Personal Property Damage?
For personal possessions, most insurers will grant coverage for up to 50 to 70 percent of the amount of home insurance you have, according to the Insurance Information Institute. In this case
, belongings such as furniture and clothing are covered in your insurance.
This includes burglary incidents. With the aforementioned percent of coverage in mind, there are limits, of course. If sixty mink stoles and a baby grand piano get washed up on the roof in the event of a hurricane,
it is likely that they won't be fully compensated.
By creating an inventory of all the possessions you would like insured, you can get a better idea of whether the 50 to 70 percent of coverage will work for you,
or if you need additional coverage.
SEE ALSO: Store All Your Home Contents Information With My Goods Locker
Does Basic Home Insurance Cover Personal Liability?
Home personal liability insurance covers the possibility of a lawsuit or claim that follows from property damage or bodily injury to another person. This means that
any injury that occurs on your property, including any that occurs as a  consequence of weather conditions, may be compensated for legal action
. Compensation is limited to unintentional incidents. This clause can also cover pets, whether an event that results in any harm occurs on or off your property.
Does Basic Home Insurance Cover Living Away From Home?
If any damage deems your home unlivable and
you need to stay in a hotel or apartment temporarily, your costs are covered under a typical home insurance policy.
This includes meals, laundry, or any other expenses you would otherwise not have if you were able to remain in your home.
Limitations
Despite coverage,
there are limitations to the compensation provided by your home insurer
. These limits vary between different insurance providers, but all policies leave room for additional coverage. If you think the value of
your assets exceeds the amount of coverage you receive with your basic home insurance
, acquiring additional insurance would be a good move.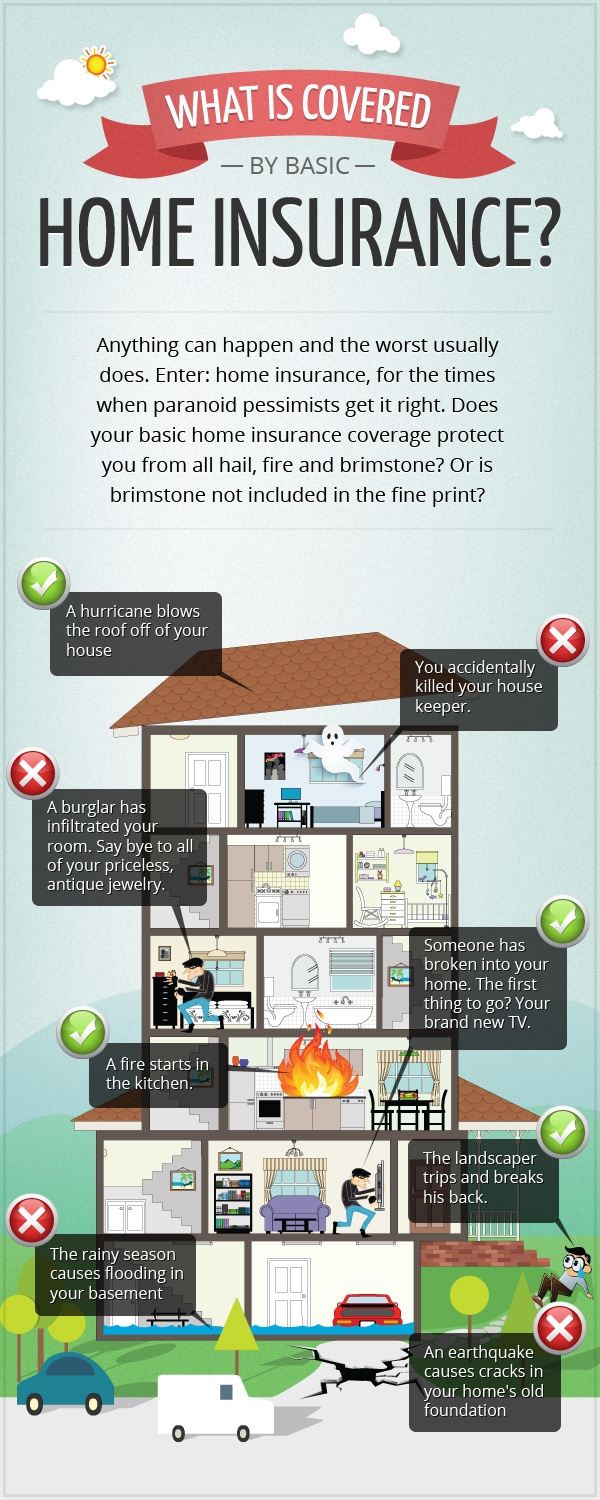 Date of original publication:
October 06, 2014
Updated on: November 10, 2015