Avoid Motels And Party In A Penthouse
It's summer and everyone has a case of spontaneity and wanderlust—at least, everyone here at InMyArea does. But ditching responsibility for adventure isn't financially wise for those who live on whim. Booking last minute hotels can dig a deep ditch in your wallet. That's when Airbnb comes in handy. You might have heard about Airbnb last week when they rebranded the company with a fresh website and a
questionable, new logo
. But for those who don't know what it is, Airbnb
is an online network where people go to rent out their free space
. Some people rent out their room for a weekend just to pick up a few extra dollars. Others rent out their whole apartments and homes because they love to host. On average, the prices to stay at an Airbnb listing is a quarter of the price you'd pay for a room at a hotel. And more often than not, an Airbnb home is larger, more unique, and far less restrictive than a hotel.
To help you find the perfect getaway at a price you can afford, we've found nine must-stay Airbnb homes in America
.
SEE ALSO: How Does Airbnb Affect Your Home Insurance Rates?
1 – Jin's Spacious Studio In San Francisco,CA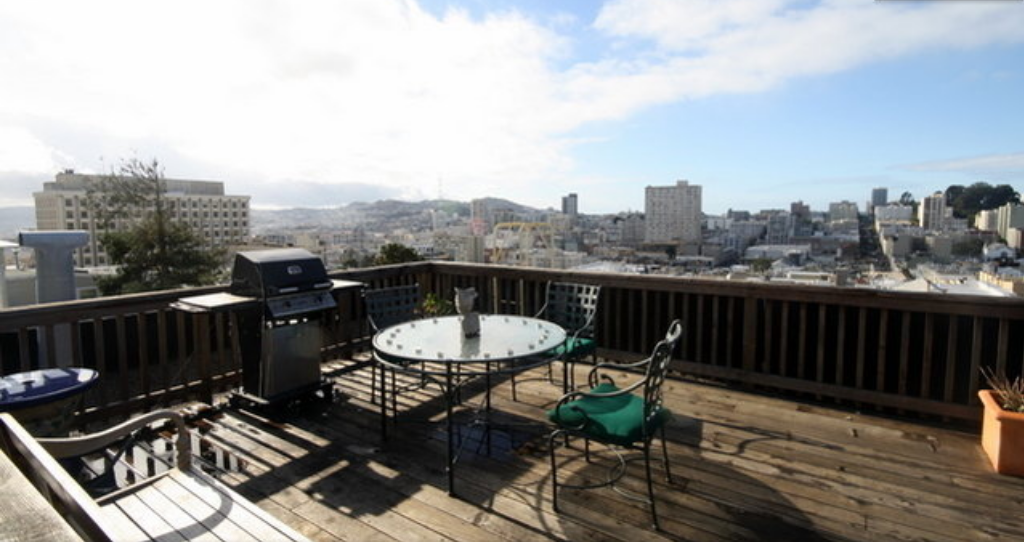 $105 per night*
$300 Security deposit
Accommodates two
Jin's
studio
located in Nob Hill is one of the most coveted places to stay at in San Francisco. With over a hundred five star reviews, her studio is often booked full for a couple of months. Travelers looking for a private place with a rooftop lounge, search no more! Jin's studio also has a prime location in regards to the biggest tourist attractions in San Francisco.
Chinatown, Union Square, Pier 39, and Fisherman's Wharf are all within walking distance
.
2 – Matthew's Skid Row Penthouse in Los Angeles, CA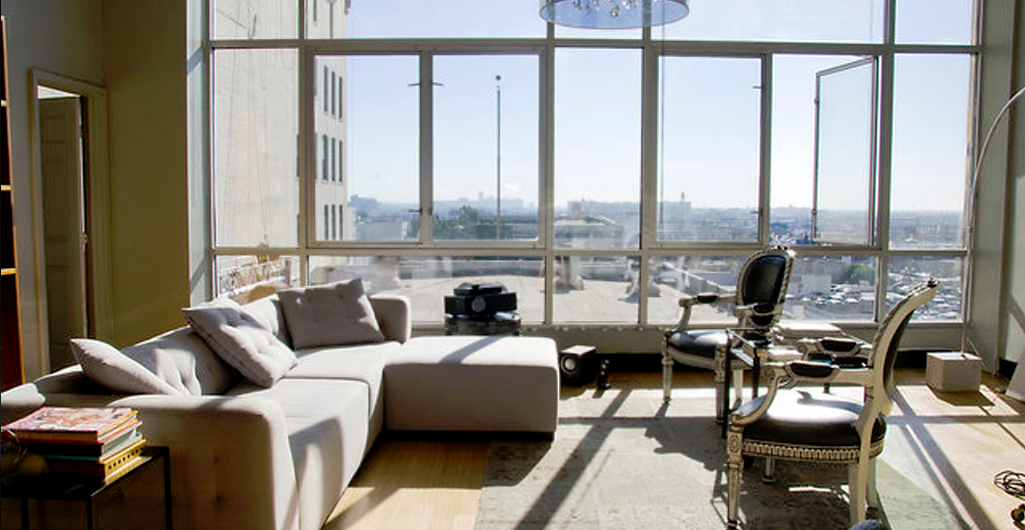 $190 per night*
No security deposit
Accommodates two
Yes, this
penthouse
is in Skid Row. But before you dismiss this Airbnb must-stay, take a look at what Matthew offers. He's tastefully designed his penthouse to reflect the rich culture and style of downtown Los Angeles—a unique hybrid of industrial and contemporary.
Staying here gives you lots of space, a beautiful view of East Los Angeles, 18 foot ceilings, and a 15 minute drive from Little Tokyo
. Booking an executive suite with similar amenities for one night at the Ritz-Carlton will cost you at least $2500. This costs a small fraction of the price.
3 – Vinay And Sheeba's Belltown Penthouse In Seattle, WA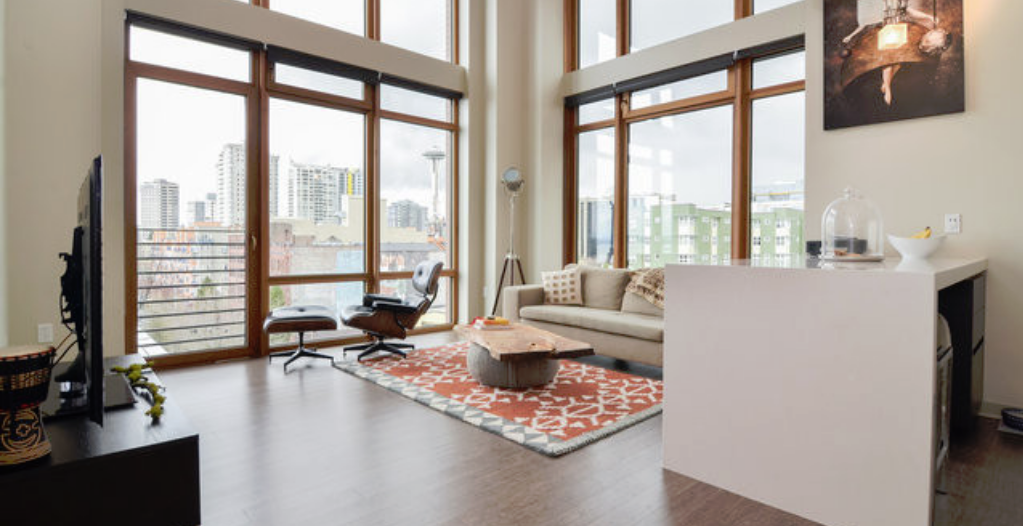 $250 per night*
$150 Security deposit
Accommodates six
You can see the iconic Space Needle from
this
high-rise. Vinay and Sheeba rent out their penthouse when their off on their own vacations.
While they're away, they invite you to use their kitchen and eat their homemade granolas
. You're even welcome to use their Hulu Plus account. This spacious penthouse accommodates up to six guests and puts you within walking distance of The Yellow Leaf Cupcake Co., Bellini Bistro, and a flagship Nordstrom Rack.
4 – Saron's Cozy Nook In New York City, NY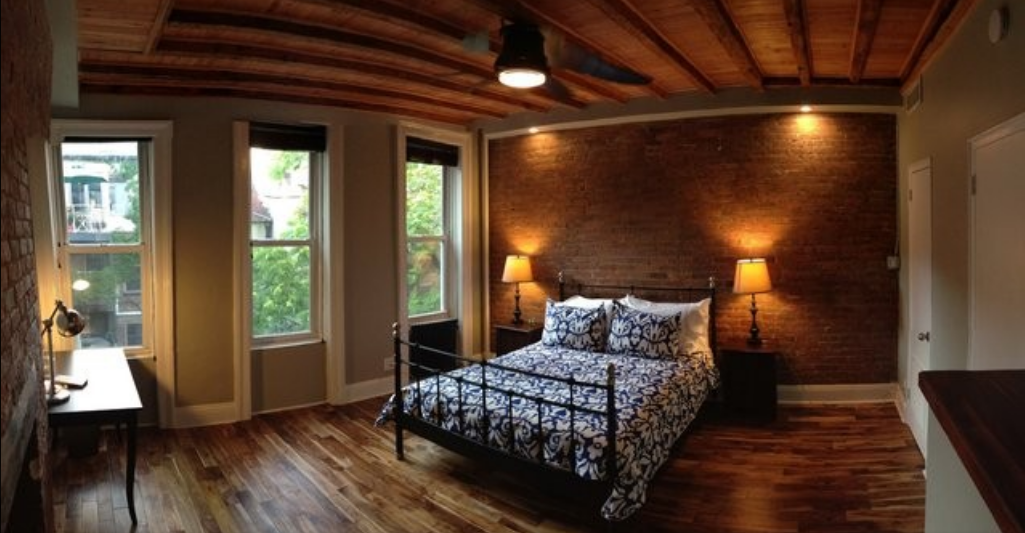 $250 per night*
$300 Security deposit
Accommodates four
Located in the heart of West Village, this spacious
apartment
takes up the entire floor of Saron's building. Saron describes her apartment as "
classically styled, fused with pre-war charm and modern contemporary finishes
." Staying here shows you a different side to stereotypical New York City. West Village likes to dismiss industrialization and big business with its cobblestone roads and artisan shops. You'll find that New York City can be peaceful and friendly.
5 – Hunter's Hip Studio in Austin, TX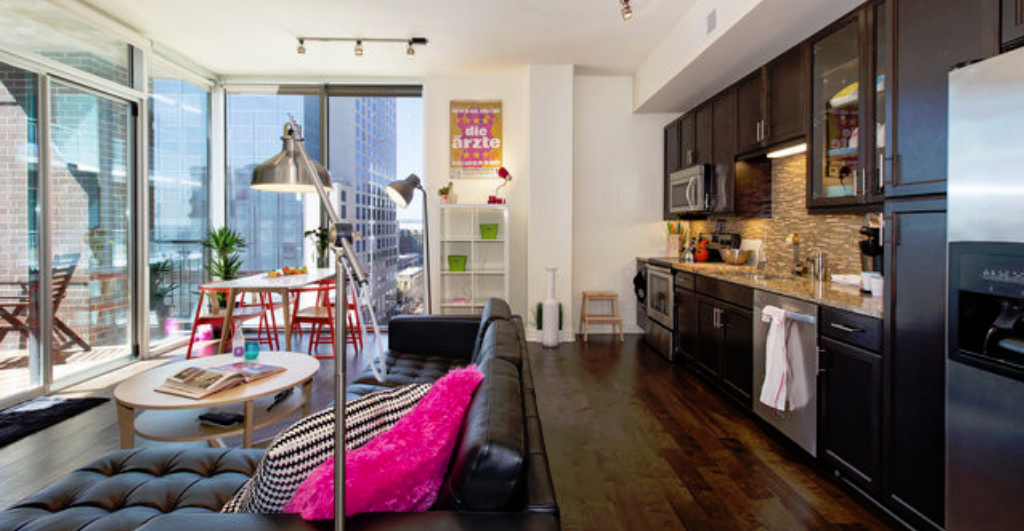 $169 per night*
No security deposit
Accommodates four
Austin is an up and coming city to look out for. The amount of locally sourced products and hipsters is on a steady rise. Hunter's
loft
is located on the sixth floor of a downtown high rise. That means that you're walking distance from all the good food and night life.
This particular listing is a block over from Rainey Street, the Austin historic district
. There, you'll have the opportunity to partake in one of the city's most coveted places to crawl from bar to bar.
6 – Shane and Maru's Oceanfront High Rise In Miami, FL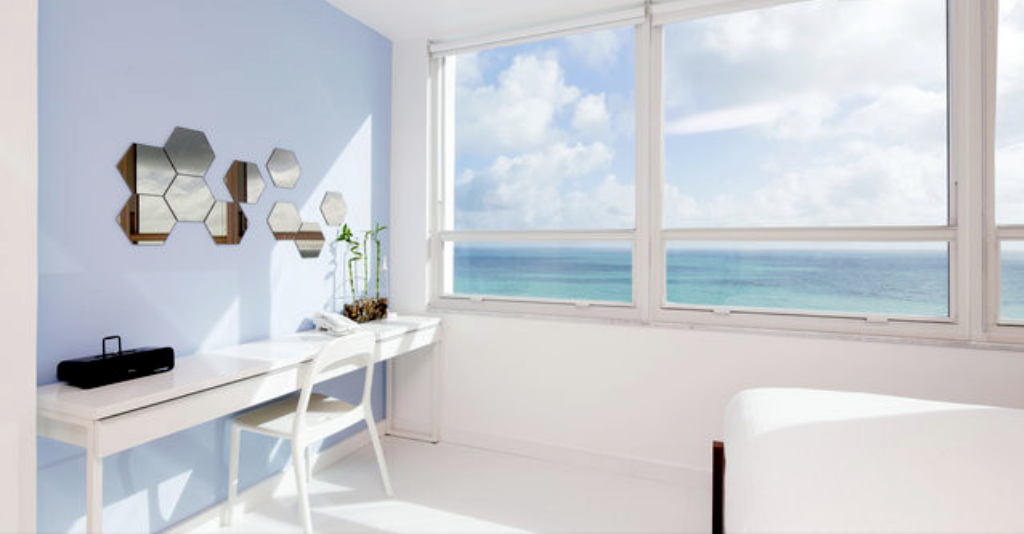 $169 per night*
$200 Security deposit
Accommodates two
Enjoy Miami from the
16th floor
of this beach front high-rise. Shane and Maru started renting out this place in January 2014 after they finished completely renovating the entire apartment. This Airbnb listing sticks out for its pristine simplicity.
The modern furnishing matched with all white everything, plus a panoramic view of the ocean is the perfect recipe for relaxation
.
7 – Suzanne's Lake Michigan Studio In Chicago, IL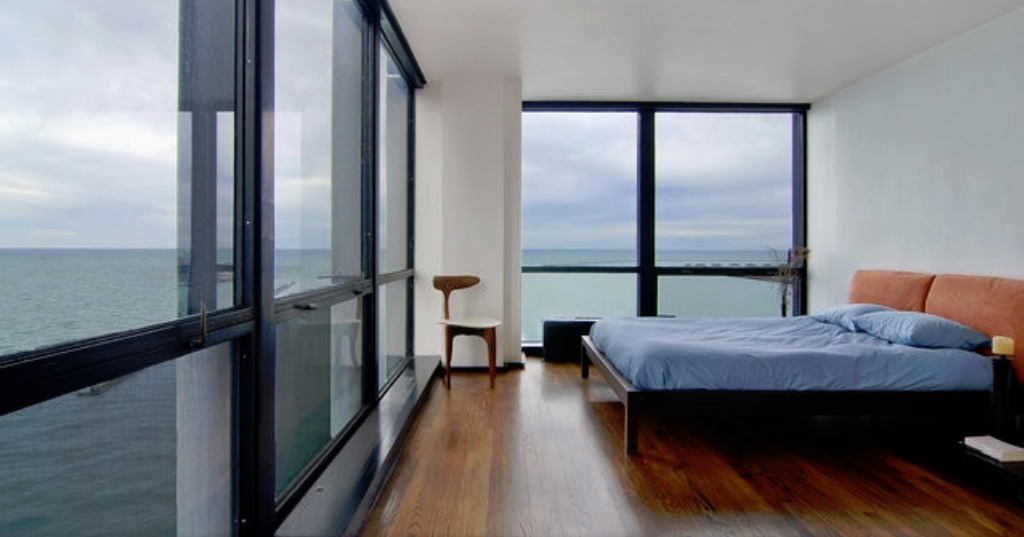 $120 per night*
No security deposit
Accommodates two
Suzanne's
studio
is a wonderful mix of homey and contemporary. These floor-to-ceiling windows offer one of the best views of Lake Michigan.
Towering over Chicago, this studio is located in Upper East Side of Streeterville
. This puts you right next to the Museum of Contemporary Art and close to the Chicago Harbor.
8 – Paula's Green Getaway In Portland, OR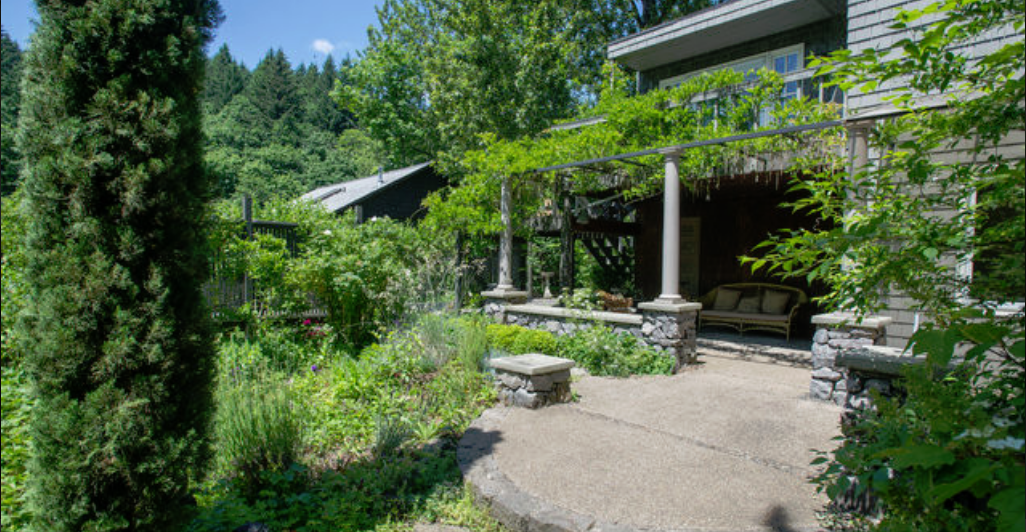 $195 per night*
No security deposit
Accommodates four
Things don't always have to be weird in Portland. Paula's
home
in Willamette reminds us of the Mother Nature's beauty. Her home is located on the edge of Forest Park, and urban forest reserve.
The wide windows let in lots of natural sunlight and give you wonderful views of the lush forest
. Stepping outside, you'll see that Paula has quite the green thumb. Past guests love walking around her green garden while sipping on a glass of wine.
SEE ALSO: 10 Safest Travel Destinations in the US
9 – Doreena and Tom's Island Octagon in Maui, HI
$215 per night*
$200 Security deposit
Accommodates two
Why lock yourself inside a hotel when you should be enjoying the perfect weather? Doreena and Tom Barefoot started their own company called AromaMaui.
The Barefoots use their three acres of rich botanical garden to offer the most natural form of aromatherapy
. This particular studio is called the
Octagon
. The Octagon sits in complete privacy atop a hill and next to a quiet pond. The air doesn't get much fresher than this.
Do You Think Your Home Should Be On This List?
If you think you're home is just as beautiful, if not more, than the ones we've chosen, then you should consider becoming a host on Airbnb. But before you do, here's a quick checklist of what you have to understand before you list your place:
Am I allowed to sublet? The Homeowners Association in your area may have voted against subletting because your neighbors don't want to see a lot of strangers come in and out of their community. Every city is different and some require you to have a business license because subletting is considered a hotel service—which makes you the perfect candidate to pay hotel/transient property taxes.
Am I covered? Always see if your insurance has your back. If you're planning on offering up your place on Airbnb, double check your homeowners' or renter's insurance to see if it covers incidents involving guests or other third parties.
What does Airbnb cover? Nothing, really. They don't have any liability coverage on what happens to your home through your ventures on Airbnb. However, Airbnb does  offer something called the Host Guarantee. If you can provide evidence to Airbnb that a guest damaged your property, then Airbnb charges the guest's credit card for you. So Airbnb doesn't really pay for any damages themselves. Jin tells InMyArea that collecting a security deposit has helped prevent guests from destroying her lovely studio.
Although Airbnb boasts protecting its host for up to $1,000,000, there's a lot of fine print, as you can see.
Make sure you know what your home insurance covers and consider getting a home security system installed
. You never know what happens when excited travelers stay in your home. *
Prices are subject to change
Date of original publication:
July 24, 2014
Updated on: November 10, 2015