A Look Into The Escrow Process
Congratulations! Your final offer on the home of your dreams has been accepted. But before you move in all your things, the next plan of action doesn't exactly involve picking out table settings for your house warming party. The following step in home-buying is called "escrow," and even though it's considered
the last ring before the closing table
, it's a long process with a lot hanging in the balance. When your home is in escrow, all the dealings between you and the seller are turned over to a neutral third party. This
30+ day period ties together all the loose ends
, from home inspections to insurance issues and HOA documents. Being in escrow requires a lot of attention to detail and a great deal of patience, but knowing what you're in for—and being prepared for it—can make the difference between real estate meltdown and a cake walk to move-in day.
SEE ALSO: The Escrow Fund: What It's All About
Appraisal
Getting the property appraised is one of the first stages of escrow. This
protects both the buyer and the lender
—the buyer from paying more than the house is worth, and the lender from disproportionally assessing their risk. This means that if you're unable to pay back your mortgage loan, the lender will need to resell it. Having the property appraised will help keep the lender from reselling below the amount of the loan. If the appraisal comes back with a home value that's lower than the selling price, the seller will either need to lower their asking rate or the buyer will need to pay the difference. But before you think this all sounds like a bad deal for you, having your potential home appraised will
keep you from overpaying
, while also giving you a better idea of what you may be able to get back in return if you decide to sell later on.
Inspection
While the appraisal assesses the house on its financial worth, inspections examine the property based on
safety, legal codes, and any other infrastructure issues
. Escrow involves the following inspections:
Home Inspection. A basic home inspection is technically optional but is strongly suggested, simply because it provides such crucial information about the property that you might not be able to see with a mere walk-through. This includes whether or not the roof will need to be replaced in a few years, if there are any serious plumbing issues, or if everything is up to code.
Pest Inspection. This inspection is typically required by the lender but is equally beneficial to the buyer. A pest inspection determines if the home is actively infested by property-damaging creatures, or if it has suffered any structural injuries in the past due to pests.
Secondary Inspections. Secondary inspections may be necessary if any serious issues come to light during the home inspection. For instance, if the home inspection comes up with some internal water damage, you might need to seek the advice of a plumbing specialist.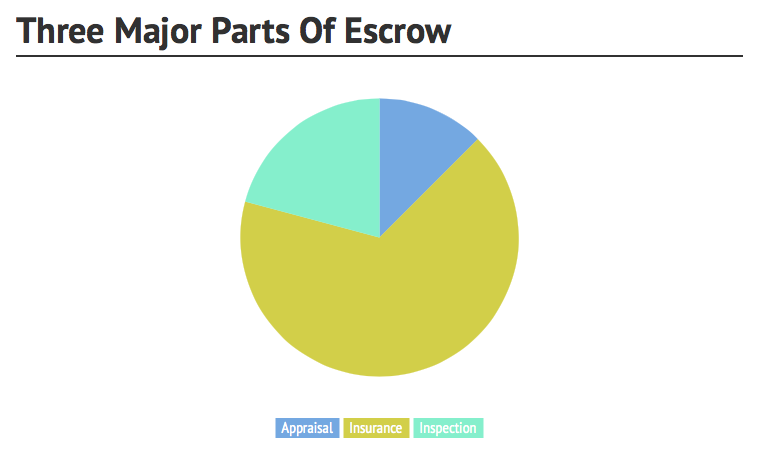 Insurance Assessments
Before a loan can close, you're going to need to
show proof of homeowner's insurance
. Escrow is a time to make sure all your insurance ducks are in a row, so that nothing falls through the cracks before closing. Insurance-related issues to go over during escrow include:
Hazard Report. This report informs the buyer of any potential circumstances that may place the specific property at risk. This includes letting you know if your home is in a flood zone, earthquake zone, airport noise zone, or any other location-specific nuisance or danger that may disturb the property—giving you a heads up if you need any additional coverage.
Property and Liability Insurance. Every home is different, so you need to make sure you get the right kind of property and liability insurance. Typically, lenders will make sure you're insuring yourself properly, but those paying cash without the involvement of a bank will need to meet with an insurance agent.
Title Insurance. Title insurance makes sure that when you purchase the property, your home is wholly and truly yours. Getting title insurance involves a title search, which confirms that the previous home owner was the sole owner; this way, you won't have to deal with any future claims on the property from outside parties.
SEE ALSO: Surprises You Need To Know About Closing Costs
Final Details/Documents Review
Escrow is also a big period for crossing your 't's and dotting your 'i's.
Reviewing agreements and policies
— not to mention, getting yourself acquainted with every structural and financial aspect of your home—is what makes the escrow process so tedious yet so important. A few of the final ripples that should be smoothed over during escrow include:
Plat/Survey. Plats and surveys assess the boundaries of the property, along with easements, roadways and access rights-of-ways. This act of "walking the property" exposes any encumbrances it may have.
HOA. Properties in a common interest development, such as a gated community, usually require a review of homeowners association documents. These documents include items like an HOA unit demand statement, financial statements, board of directors meeting schedules, state disclosures, etc.
Finally, the end of escrow signals the
securing of your mortgage loan
, the funding of your down payments, and the preparation of all documents through escrow and title. Grinning and bearing the escrow process isn't without reward—overcoming escrow means crossing the threshold of your brand new home.
Sources: Investopedia | Zillow