---
Currently, there are at least 275,000 clinical trials available. That number is changing every day, but the need for participants is not. Each person has their own reason for volunteering for clinical trials, whether it is for personal, medical or monetary reasons. Whatever the reason may be, if you are looking for a clinical trial, you are better off starting in areas with the most trials. The states listed below are the top 10 states with the most clinical trials.
Top 10 states for clinical trials:
California – 21,548
Texas – 18,979
New York – 17,515
Florida – 15,726
Pennsylvania – 13,811
Ohio – 13,079
North Carolina – 12,026
Illinois – 11,628
Massachusetts - 11,573
Maryland – 11,285
Analysis of Clinical Trial Availability
While the states listed above may have the most clinical trials, that does not mean each is available to just anybody. There are certain criteria to meet for every trial regarding age, sex and medical condition. For example, women have almost double the number of clinical trials available to them versus men in the top 10 states. That does not guarantee acceptance, especially if you're healthy. Healthy volunteers, or those without the medical condition/disease being studied, only have about 7% of all studies in the top 10 states available to them. On top of that, there is still the age criteria to meet. Anyone 17 to 64 years old has a much higher chance of being selected for a trial than those younger or older, regardless of state.
Each of the states are better for some participants than others. For example, healthy volunteers have a much better chance of participating in clinical trials in Illinois than Maryland. Those with children in need of treatment from a clinical trial or that are willing to allow them to participate in one, would have a better chance finding that treatment or trial in California and Texas than any other state in the top 10 list.
At least 91 percent of all trials are available to both men and women.

On average, 7 percent of all trials are for women only; an average of 3 percent of trials are for men only.
Pennsylvania, Ohio, North Carolina, and Illinois have the most women only trials.
California has the most male only trials.

A median 19.2 percent of trials are for those up to age 17.

California, Texas, and New York have the most trials for that age group.

An average 7 percent of trials are available to healthy volunteers; Massachusetts has the highest percentage of clinicals trials accepting healthy volunteers.
If you're more concerned with the type of trial, you might want to look elsewhere, depending on the trial type.
Interventional or Observational?
Since clinical trials are about the development of medicines and treatments, it is important to know which type of trial is right for you and what you want to take away from it. There are two main types of clinical trials: interventional and observational. The difference between them is in how the participant is assigned. Interventional trials assign participants to an intervention, whether medicine or treatment, while observational studies assign participants to a group and study the group as a whole.
There are seven other subtypes of trials.
Treatment Research studies how effective a treatment is
Prevention Research searches for better ways to prevent illnesses
Diagnostic Research try to find better ways to identify illnesses
Screening Research searches for better ways to detect illnesses
Quality of Life Research searches for ways to improve the quality of life for people with chronic illness
Genetic studies try to improve the prediction of genetic disorders
Epidemiological studies try to find the patterns, causes, and control of illnesses in groups of people
While interventional studies may sound unattractive to healthy participants, volunteers looking for treatment or high payouts should look for interventional studies. They are the easiest to find but joining at the right time weighs heavily on the treatment outcome and payout.
Join during Phase 1 or Phase 3
Clinical trials go through four phases with each having their own unique purpose. Each phase requires a different number of participants.
Phase 1 asks for the least amount of volunteers, typically at least 10 volunteers and at most 100. Nearly 70 percent of medicines move to the next phase.
Phase 2 normally requires several hundred volunteers. Around 33 percent of medicines move to the next phase.
Phase 3 uses about 300 to 3,000 volunteers. About 25 to 30 percent of medicines advance to the next phase.
Phase 4 requires several thousand volunteers.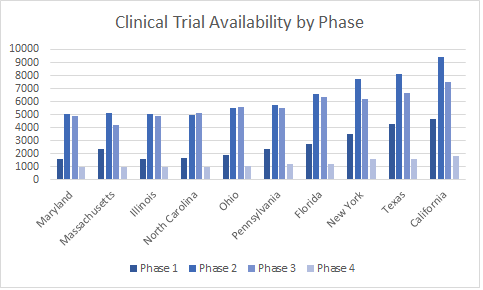 People looking for paid clinical trials should look to join phase 1 of a clinical trial. Due to its purpose, phase 1 volunteers are more likely to get paid than those of other phases. Both California and Texas have the most clinical trials in phase 1 while Illinois and Maryland have the least. If you're more concerned about receiving treatment, phase 3 is your best option. It is said that, "treatments tested in Phase 3...have already gone through two rounds of safety testing, and one round of testing for both safety and effectiveness." Again, California and Texas are the best option for people looking for clinical trials in phase 3, while Maryland and Massachusetts would be the worst on the list.
The total cost of a clinical trial is an estimated $59 million; however, each phase has its own cost. The collective cost of all clinical trials in a single phase can easily be over a billion dollars. Instead of looking at who has the most, we broke down the total cost of clinical trials in each state by phase. It does not change the order, but it gives an idea of how much is spent on clinical trials by state.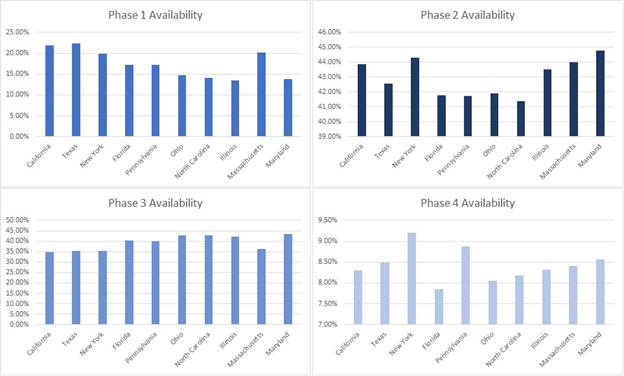 Texas has the highest percentage of clinical trials in phase. The estimated cost for all clinical trials in phase 1 in Texas is $16,980,000,000.
Maryland takes the top spot for both Phase 2 and Phase 3. For all clinical trials in phase 2, the total estimated cost is $65,676,000,000. The total estimated cost for phase 3 is $98,080,000,000.
New York has the highest percentage of clinical trials in phase 4. That total estimated cost is roughly $32,240,000,000 – that is for 1,612 clinical trials in phase 4.
4443