Most Popular Cities Recently Searched: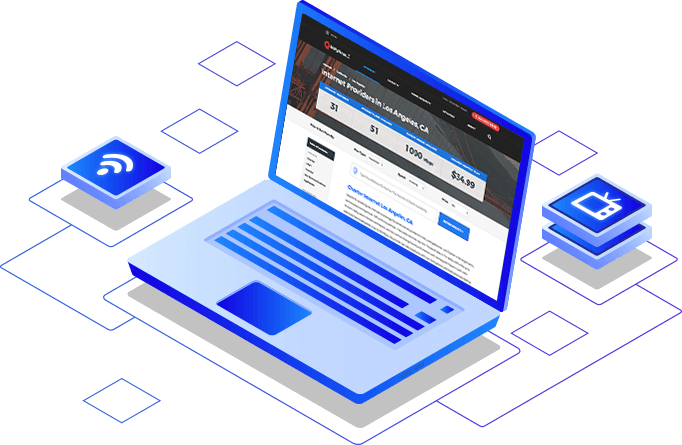 About InMyArea.com®
We're all familiar with the frustrations that come with setting up new internet, cable TV, and other home services. We decided there had to be a better way to do this, so we created InMyArea.com to make the hassle of moving that much easier for our friends, family, and neighbors. InMyArea is here to help you compare the home services available in your area in order to find the provider that's right for you and your budget. Whether you're moving, looking to save money, or you just want a fresh start, we've got you covered. Built by family, for family, helping people is what we're made for.
Who is the best internet provider near me?

Answering this question is as simple as typing in your zip code at InMyArea.com/Internet. We'll show you all of the fiber, cable, DSL, and satellite internet providers that are available in your area. Sort providers by speeds or cheapest monthly price to find the best plan for your needs. All that's left to do is call to set up service!

Who provides cable service in my area?

Head over to InMyArea.com/TV/Cable to see which companies offer TV, internet, and phone service near you. We'll tell you all about the channels, bundles, and perks those providers offer. You can also check out our list of the nation's Cable Internet providers.

How do I find internet providers in my area?

Look around your home for signs of an existing internet connection, or to see all the internet providers available near you enter your address. We'll tell you which internet providers are available in your area, along with the plans, speeds, and features they offer. Making a decision has never been so easy.
As Seen In






How it works
Did you know that there are over 300,000 home service providers operating in neighborhoods across America? Our system searches hundreds of millions of rows of data to calculate whether or not each service provider will be available in your area. We examine every street, city, and zip code in the country, so that we can display the most accurate results and you can make the most informed decision. Whether you need to find the fastest internet in your area, save money on your cable bill, or set up utilities at your new place - we've made it our mission to bring you the best results. Sit back, relax, and let us do the heavy lifting for you. All you have to do is choose which provider you prefer!

We're Just Like You
All of us on staff know the hassle of moving and finding new providers. We have all experienced the frustrations of incorrect information, unreliable service, escalating prices, and numerous phone calls.

Save Time + Money
We want to save you time and money that could be spent doing something you enjoy. We have a growing US-based team of experts waiting to explain your options to you.

See All Your Options
Our comprehensive data and list of providers will give you all of the pricing and plan options available to you in your area so you can make the best purchasing decision.

Made in the USA
Headquartered in sunny Southern California, we are proud of our reviews and continue to help all of our visitors get connected with great service and a pleasant shopping experience.
The reviews are in, people love us!
We don't make this stuff up! These are real reviews from real people. We will ask you for a review too if you talk to us.

Top 10 States Connected to Fiber
Click on a state below to see a detailed overview of Internet speeds, prices, and coverage, as well as compare the Top Internet Service Providers available from the Top 10 most connected fiber internet states in the U.S.
98%
76%
63%
62%
60%
60%
55%
51%
50%
48%

Top 10 States Connected to Cable TV
Click on a state below to see a detailed overview of TV coverage, channels, and prices, as well as compare the Top TV providers available from the Top 10 most connected TV states in the U.S.
99%
99%
98%
98%
98%
98%
98%
95%
95%
95%
Let's Get You Connected.
Find every broadband internet, TV, & utility provider's plans and pricing with a simple zip code.