Starlink Plans & Pricing
Internet Speed:
Up to 220 Mbps
Quick Facts About Starlink Satellite Internet
Before diving into everything Starlink has to offer, we would like to take a step back and look at Starlink from the low-Earth orbit view. Here's everything we know about Starlink thus far:
Starlink is the third-largest satellite provider in the United States.
Starlink currently provides coverage to over 1 million users across 60 countries, including the U.S., U.K., Germany, France, Spain, Australia, Chile, and Brazil.
Starlink has 4,743 satellites in orbit, and the company has regulatory approval to launch at least 12,000 satellites into orbit. Starlink is seeking international approval for another 30,000 satellite launches after the first batch of 12,000.
After 28 launches, Starlink achieved near-global satellite coverage, but the constellation will not be complete until around 42,000 satellites are in orbit.
SpaceX's Falcon 9 rocket can carry up to 60 Starlink satellites into space. There have been 105 licensed launches of Starlink satellites, with one in five of all commercial space launches licensed by the FAA being Starlink launches.
Recently, the Federal Communications Commission (FCC) approved Starlink's use of satellites in moving vehicles, and Starlink is now offering both RV and maritime services. Starlink plans to expand to commercial airplanes with a recent deal with Hawaiian Airlines to provide in-flight Wi-Fi.
Experts expect Starlink to profit between $30 billion and $50 billion annually once the satellite launches and expansions are complete.
Starlink Satellite Internet Availability
*Starlink global coverage map generated from Starlink subscriber data.
Here's the good news: As of late October 2021, Starlink has exited beta testing! Now, Starlink is fulfilling orders for customers outside of those narrow beta testing bands (between 44 and 45 degrees, and 52 and 53 degrees north latitude). Check out the Starlink coverage map above just to a taste of the places Starlink has already fulfilled service requests
Ready for the bad news? Due to a nationwide silicon shortage, fulfillment times on new and existing orders are getting pushed further back. Starlink is telling customers to expect fulfillment mid-to-late 2023, but these reports could be somewhat hopeful.
Internet Insights: SpaceX is just one of many low-orbit satellite companies, such as Telesat and Amazon, competing to win a $30 billion piece of the internet provider services industry.
Starlink expects to have 12,000 satellites in orbit to achieve basic coverage and 42,000 by the time all is said and done. As of June 2023, Starlink has 4,743 satellites in orbit and is launching approximately 120 satellites monthly. That said, Starlink is already the third-largest satellite internet provider in the U.S., and it is currently providing internet coverage to over 1 million users across 60 countries internationally.
Starlink Satellite Internet Connections and Availability
| Connection type | Transmission method | Price (starting at) | Download speeds |
| --- | --- | --- | --- |
| Satellite | Lasers between satellites in low Earth orbit | $90 per month | Up to 220 Mbps |
Starlink Satellite Internet Equipment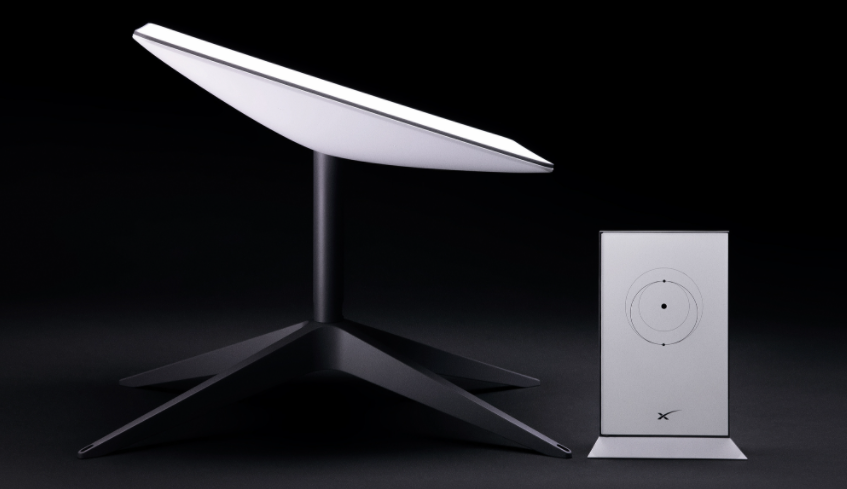 Starlink Satellite Internet Equipment
Unlike other satellite providers, Starlink doesn't offer the option of leasing your satellite equipment. You'll need to purchase it from them for $599, which covers one-third of the actual cost. The best part: Starlink picks up the rest.
Starlink Insights: In November of 2021, Starlink came out with a new standard service terminal, a lighter rectangular-shaped dish that's intended for easier installation. This new dish replaces the old circular one, but it still retains the name coined by Starlink, "Dishy McFlatFace."
If you preorder service by registering for an account and placing a deposit on the website, you won't be charged for the equipment until service is available in your area and Starlink initiates that service. Once service is available, you'll receive a Starlink Satellite Kit containing the following pieces of equipment:
Starlink Satellite Kit Contents
| Equipment | Purpose |
| --- | --- |
| User terminal | A durable, rectangular, flat-faced satellite antenna dish, Starlink has lovingly named it "Dishy McFlatface" in the user manual. |
| Tripod mount | The tripod mount holds the terminal on a level surface, assisting in field-of-view assessment. The tripod will mount most places except for your roof. Starlink roof mounts are available for purchase at the Starlink Shop. |
| Wi-Fi router | Starlink's router gets the basics done: connecting you to the internet with a home wireless network. (If you'd like more configuration control, you can use your own router instead.) |
| Power supply | The power supply cord and appropriate cables are included in the kit. |
| Starlink App | Not necessarily equipment, but the Starlink app (downloadable through the Apple App Store or Google Play store) will walk you through your dish setup, step by step. |
Equipment Installation
Be prepared to do the installation yourself because Starlink offers no professional installation. This step shouldn't be too difficult as long as you have a clear line of sight in a place other than the roof. You can access installation instructions through Starlink's customer portal or via the Starlink app. Starlink makes clear in the instructions: If you cannot safely install the Starlink kit, don't attempt to install it and hire someone to do it for you. If you need to mount this dish on the roof, many contractors are available with expertise in roof-based dish mounting.
Internet Insights: For successful Starlink internet service, an accurate field of view is crucial. Even a single obstruction – such as a tree, chimney, or pole – can disrupt your service.
Before permanently installing your terminal, use the Starlink app (available on iOS and Android) to assess your field of view (or the area where the transmission beam moves). Starlink recommends you have a clear field of view (preferably an unobstructed 100-degree cone around the center of the dish and a 25-degree minimum elevation).
If you have trouble setting up your terminal, don't expect to get someone over at Starlink on the phone to baby step you through it. However, Starlink does have a pretty robust troubleshooting section in the app that may help clear up any problems you have with your setup.
Starlink Satellite Internet Contracts and Data Caps
Contracts and satellite internet services tend to go hand in hand, but Starlink is doing things a bit differently. With Starlink, you don't have to worry about signing on the dotted line and getting stuck with a service you might not like.
Much like the other mainstream satellite internet providers, Viasat and HughesNet, Starlink doesn't enforce a hard data cap. Instead, Starlink has a Priority Access window between 7 a.m. and 11 p.m. each day. If you go over the 1 TB soft data cap during this period over a month's time, you will face throttling for the rest of the month.
Of course, you can purchase more Priority Access data for $0.25 per GB if you're on the Starlink Residential or Starlink RV plans. If you're on the Starlink Business plan, it'll cost you $1 per GB extra. All in all, though, Starlink still offers unlimited data, but your speeds may not match your expectations during peak hours if you go over your limit.
Starlink Satellite Internet Data Cap Equivalences
| Connection type | Data cap | Data cap equivalence |
| --- | --- | --- |
| Satellite | Unlimited | Unlimited access |
Starlink Satellite Internet Customer Service
Starlink does things its own way when it comes to customer service, too. You could say Starlink isn't the biggest phone talkers. Starlink is happier to communicate via the customer portal on the website, the Starlink app (which requires an active account to access), or email once your service activates. That's not to say Starlink won't call you to help when needed, it's just not its first method of choice.
Over time, Starlink is bound to expand its customer service options and methods. Hopefully, Starlink will list proper phone numbers for customer and technical support or at least create a live chat feature. Until then, getting help through the Starlink app is probably your best bet when looking for a reliable way to get in touch with them.
The Value of Starlink Satellite Internet
Starlink may be a newer player in the game, but this provider has a lot going for them. With impressive speeds, unlimited data, and affordable prices, customers are flocking to Starlink's satellite service. However, there are still some growing pains along the way (here's looking at you, Tesla Autopilot). Here's a list of pros and cons to keep in mind if you're considering Starlink as your next internet provider:
Pros
Cons

Super-fast satellite internet
Under 20 ms latency
Unlimited data
No contracts
Few fees

Limited availability
Hefty upfront equipment cost
No professional installation option
If you're looking for a faster, more cost-friendly option in satellite internet service, Starlink is undoubtedly worth your consideration. Starlink's groundbreaking projected speeds up to 10 Gbps could challenge even wired internet providers once it arrives, and the service is already shaking up the current competition. As Starlink's network grows, consumer demand will grow alongside it, so it's best to sign up now and reserve your order for future service before all the spots in your area are taken.
Frequently Asked Questions About Starlink Satellite Internet
Is Starlink internet available in my area?
You can visit Starlink's website and enter your address to find out if its satellite internet service is in your area. If it's not yet available, Starlink may give you a rough estimate of when you may expect it in your region and the option to preorder.
How much does Starlink internet cost?
Starlink satellite internet plan pricing starts at $90 per month.
Does Starlink allow me to self-install my satellite internet?
Yes, in fact, Starlink expects you to self-install your satellite antenna dish terminal. If you prefer someone to install it for you, you can hire an independent contractor.
Does Starlink internet have data caps?
While Starlink doesn't have hard data caps, all Starlink plans have a Priority Access period between 7 a.m. and 11 p.m. each day. When customers hit the data limit of 1 TB during this period, they may experience slowdowns during peak times. Subscribers can purchase additional Priority Access if they choose.
Does Starlink internet require a contract?
Starlink doesn't require you to carry a contract for the service.
How fast is Starlink internet?
Currently, Starlink reaches speeds up to 220 Mbps download and 20 Mbps upload. However, as Starlkink gets more satellites orbiting, you should expect speeds up to 1 Gbps and, eventually, 10 Gbps.