FIXED WIRELESS INTERNET SPEEDS
How fast is Fixed Wireless Internet?
If you haven't heard of fixed wireless internet, it's about time you did. If you have heard of it, you know that it's the internet of the future. With speeds comparable to DSL, cable, and even fiber, fixed wireless is a fast and reliable internet option for your home or business. You're probably wondering why fixed wireless internet isn't more well known if it's really that great. It's because this type of internet is fairly new, and most people don't understand the technology and all of its benefits. Luckily, we're here to give you the inside scoop! Let's start with speed.
The amount of speed you'll experience with a fixed wireless internet connection will depend on your provider and location. Typical download speeds range from 25 to 50 Mbps. "High-speed internet" is defined as any connection that offers download speeds of 25 Mbps or more. This means that most of the slower fixed wireless internet plans are still considered high-speed. With download speeds of 50 Mbps, you'll be able to stream your shows in HD, play online games, or download movies, no problem. This will be enough speed for connecting multiple devices to the internet at the same time. However, if you live in a large household, you might want a faster connection.
Thanks to recent advances in technology (which we'll get into in our "what is fixed wireless internet" section), fixed wireless internet is faster than ever. In some areas, speeds for a fixed wireless connection rival those of fiber optic internet. We're talking about download speeds up to 1,000 Mbps, or 1 Gbps. This is enough speed for even the largest of households full of heavy duty internet users. You could be binge watching a Netflix show while your son plays Call of Duty and your daughter downloads a 2 hour movie in HD. None of you would experience noticeable lagging or buffering.
One advantage of fixed wireless internet that people don't always consider is that it typically uses a symmetrical internet connection. This means that you'll have upload speeds that are about as fast as your download speeds. Right about now there might be a buzzer going off in your mind saying: "too much techie jargon, abort abort!!" Don't worry, we'll explain everything. When you research speeds for different internet providers in your area, you're typically going to see two numbers. For instance, you might find a plan that advertises "25 Mbps download and 5 Mbps upload." The first number tells you how much download speed the plan offers. This is the one that people pay the most attention to. So what exactly is download speed? It's used for things like browsing the web, watching Netflix or Hulu, and downloading movies. The second number tells you how much upload speed the plan offers. Upload speed is used for activities like skyping, playing video games, or uploading your own YouTube videos. With a symmetrical fixed wireless connection, you'll get upload speeds that mirror download speeds. If you're a gamer, designer, YouTuber, or blogger, you'll definitely appreciate that extra upload speed. You'll also need it if you work from home and host video conferences with your coworkers around the globe. Other types of internet like cable, DSL, and satellite usually have an asymmetrical connection. This means that upload speeds will be much slower than download speeds. Depending on the type of internet user that you are, upload speed will be more or less important to you. It's an important factor to consider!
Now, let's find out what you can do with download speeds of 50 Mbps. This is a typical amount of speed for many of the nation's largest fixed wireless providers.
With speeds up to 50 Mbps you can enjoy: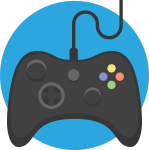 Online Gaming
Play your favorite game online with 0 lag
Download a 30GB game on your computer in less than 10 minutes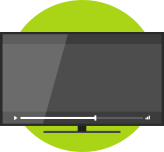 Streaming Ready
Download 2 hour movie in 2 minutes
Load your favorite Netflix show in HD in 1 minute and 10 seconds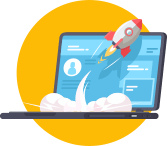 Browsing & Music
Download a 4-minute song in 0.8 seconds
Load your favorite YouTube video in 1.6 seconds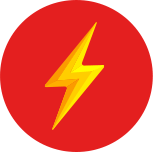 Extremely Fast Broadband
A connection that's 20 times faster than the definition of broadband
Download speeds 25 times faster than the national average