---
Netflix subscribers stream an average of 140 million hours of shows and movies every single day.

With that many hours, you'd be able to rewatch well over six million episodes of Friends. While none of us actually have that kind of time on our hands, we do love to binge-watch. The shows we binge have changed over the years, but one thing that hasn't changed is our love for Netflix. Here at InMyArea.com we've created a list of our favorite Netflix shows throughout the years, state by state, using Google Trends.
Our favorite shows on Netflix over the years
2013: The Birth of Binge-Watching
Percentage of states with a Netflix Original in the top spot: 19.6%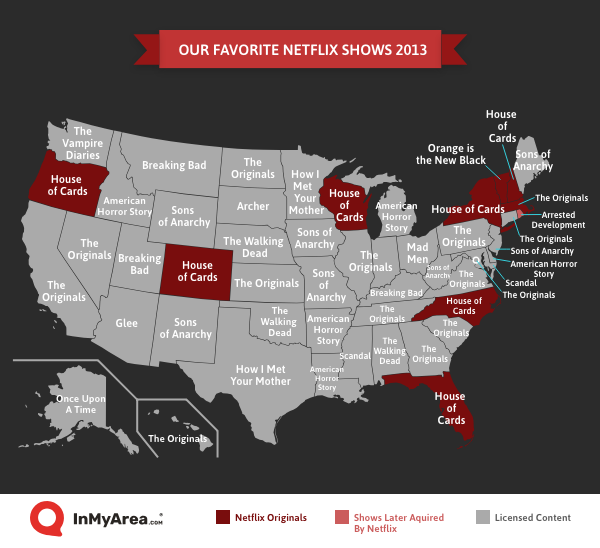 Netflix literally wrote the book on binge-watching, and 2013 is the year when it all began. "Binge-watching" started becoming a household phrase when the streaming giant began releasing complete seasons of its original shows at once for eager audiences. Binge-watching went so viral that the Collins English Dictionary chose it as the Word of the Year in 2015.
So what exactly were we binge-watching back in 2013?
The Originals, Sons of Anarchy, and House of Cards were the top three shows that had the most buzz this year. Whether you're into revenge-seeking politicians, motorcycle gangs, or very attractive supernatural creatures, 2013 had something for everyone.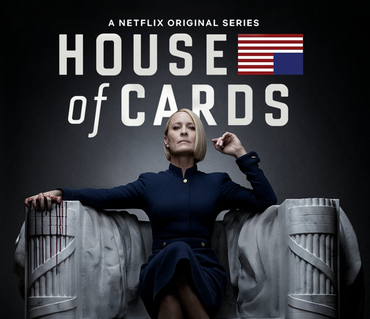 House of Cards was the first Netflix Original show that got us all talking. The show would go on to receive nominations for Golden Globes, Emmys, and several other awards. It introduced the idea that Netflix could be more than just a curator of content -- it could be a creator as well. This thought was reinforced in July of 2013 when Netflix dropped its second original hit, Orange is the New Black, which also earned several nominations, including Emmys and Golden Globes. Two critically acclaimed series in one year? Not bad for the new producer on the block.
2014: The Year of Suspense
Percentage of states with a Netflix Original in the top spot: 35.5% (
+80% growth

from the previous year)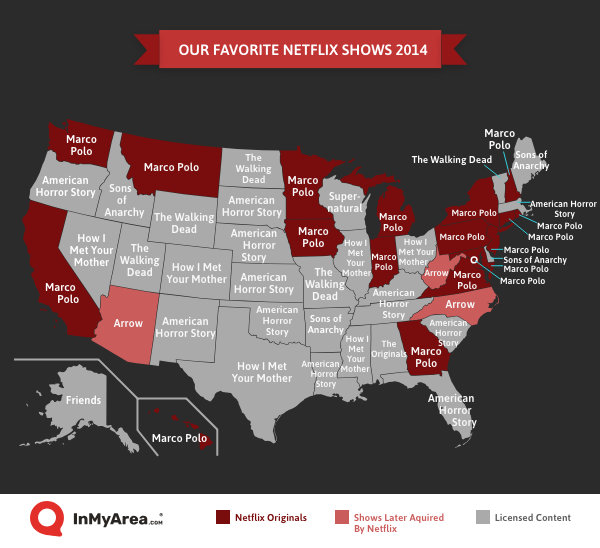 Things got a little dark this year. The top three genres for the shows we loved in 2014 were drama, horror, and thriller. Some of the shows that got the most buzz were Marco Polo, American Horror Story (AHS), and The Walking Dead. There was a bit of comic relief with How I Met Your Mother and Friends, but other than that, we were feeling the suspense with each and every episode.

Marco Polo was the most viral show in 18 states. This Netflix Original was talked about the most on the East and West Coast, while inland states were more interested in thrillers like AHS and The Walking Dead.
While Marco Polo got us talking in 2014, the show would go on to fizzle out after two seasons. Some critics argued that the show's pace wasn't binge-worthy enough for the streaming platform, which led to its short run. Because Netflix offers shows with a large backlog of episodes for viewers to binge, the company has started to change the way we consume TV shows. In other words, if we can't binge it, we aren't interested.
2015: The Year of Crime
Percentage of states with a Netflix Original in the top spot: 76.5% (
+116.7% growth

from the previous year)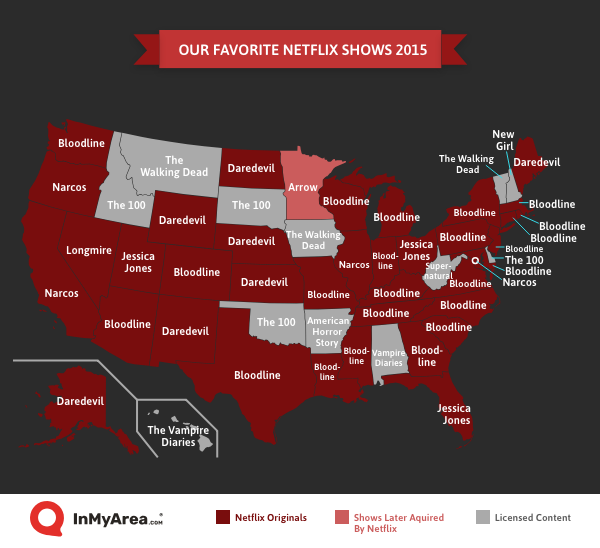 We spent 2015 fighting crime and asking "whodunnit?" Bloodline, a Netflix Original about dark secrets and a mysterious murder in a seemingly average American family, was the show that got the most buzz in 23 states. Daredevil, a Netflix-Marvel superhero show about an attorney and part-time vigilante, went viral in seven states. We chased down drug lords in Narcos and went to outer space with The 100, which tied for the third most talked about show of the year.
Overall, it was a dramatic year with shows categorized as dramas ranking first in 40 states. 2015 was the first year when more than half of the states' top trending shows were Netflix Originals.
2016: The Year of Comedy
Percentage of states with a Netflix Original in the top spot: 86.3% (
+12.8% growth

from the previous year)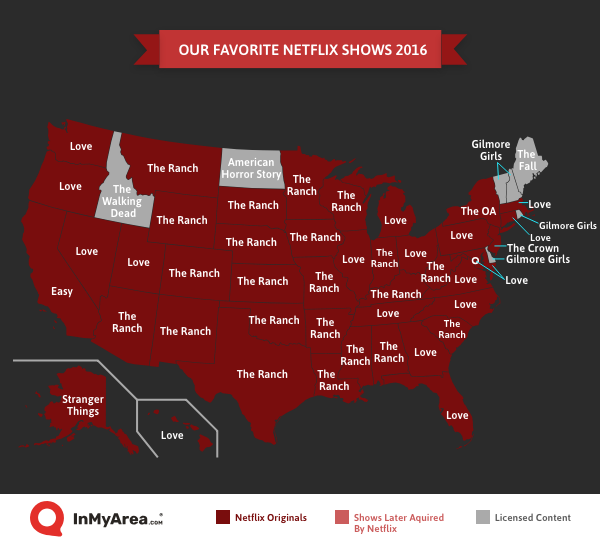 From sitcoms to rom-coms, love was in the air and the punch lines were endless in 2016. The most viral show of the year in 21 states was The Ranch, a Netflix Original comedy starring heart throb Ashton Kutcher. While Love, a dysfunctional Netflix Original romantic comedy, was the most talked about show in 19 states. Gilmore Girls, a heartwarming mother-daughter rom-com, took first place in 4 states.
So why were all of our favorites a lot less serious this year? 2016 was a rollercoaster of emotions. Polarizing events that year, like the presidential election and multiple mass shootings, may have caused us to look for some comic relief and a good laugh amidst the hardship.
2017: The Year of Riverdale
Percentage of states with a Netflix Original in the top spot: 23.5% (
-72.7% decrease

from the previous year)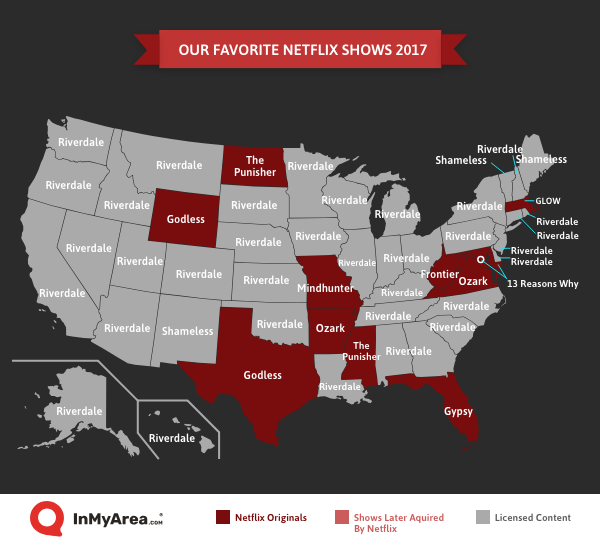 Riverdale is a CW show based on the Archie Comics that follows the lives of a group of teenagers from a small town. Its plot is full of suspense, dark secrets, mystery, and cliffhangers, which captured audiences and made for the perfect binge. Women, teenagers, and adults are Riverdale's biggest audiences.
While the show started on the CW at the beginning of 2017, it was exposed to a much larger audience when it hit Netflix a few months later in May. You can see its popularity on the platform, as the show went the most viral in 36 states that year.
So what made Riverdale so wildly popular?
The first season of Riverdale was released on Netflix in May, just a few days after the season finale aired on the CW. Most high school and college students, who fall right into Riverdale's target audience, are getting out of class for the summer in May or mid June. Summer is the perfect season to find a new binge-worthy show, as students tend to have a lot more free time. Riverdale's 22-episode season, attractive cast, and episodes full of twists and turns fit the binge-watching bill perfectly.
Not only were younger audiences getting out of school, but they were also dealing with the post-binge-watching blues that we all know so well. 13 Reasons Why, a Netflix Original, was a big hit with audiences that share similar demographics to Riverdale fans. This show was released at the very end of March. Many fans had finished watching it in April, and they were looking for a new show to fill the void. Once Riverdale was released in May, Netflix began serving 13 Reasons Why fans with recommendations to watch Riverdale in their "Top Picks" section. After that, the show began to spread through social media and word-of-mouth.

Put all of these factors together and you've got yourself a viral hit.
#Riverdale became the world's third most followed hashtag. Many of the show's previously unknown stars gained millions of followers on social media seemingly overnight. Riverdale took over Tumblr and became the site's fifth most popular live-action TV show, beating out several fan favorites that had topped the charts for years. Tumblr is popular with Riverdale's younger audience, and the show inspired thousands of gifs, posts, and blogs on the site dedicated to its characters. When the show premiered its second season on the CW, its ratings had jumped by 467 percent with teen audiences when compared to its season 1 premiere.
2018: The Year we Left Reality
Percentage of states with a Netflix Original in the top spot: 96.1% (
+308.3% growt

h

from the previous year)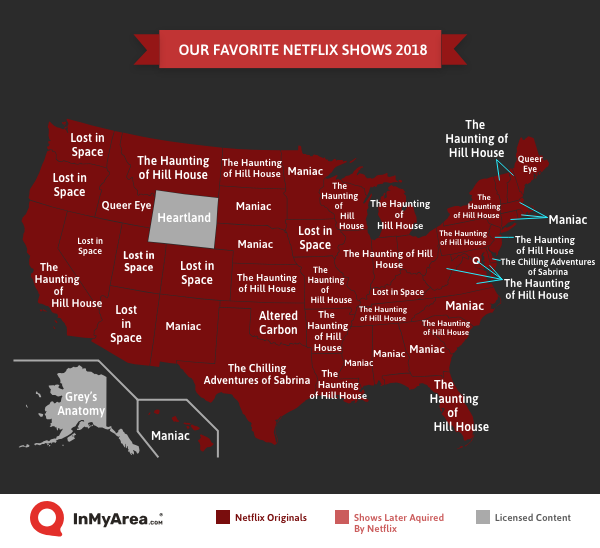 Whether it was haunted houses, space colonies, or other-worldly fantasies, we wanted to escape the limits of reality in 2018. The shows that got the most buzz this year were The Haunting of Hill House, Maniac, and Lost in Space. Notably, all three shows are Netflix Originals and ranked as the top show in 43 states collectively.
The Haunting of Hill House made us jump at every creepy noise and shadow that we'd never noticed before. Maniac had us wondering what's real and what's just fantasy. Lost in Space made us all want to ditch Earth for some out-of-this-world destination. Another Netflix Original that took over our screens towards the end of the year was The Chilling Adventures of Sabrina, based on the 90's show Sabrina the Teenage Witch.
Netflix Originals have topped the charts more and more every year. In 2018, a Netflix Original series took the top spot in 96 percent of states.
2019 and Beyond
Over the years we've fallen in love with vampires, politicians, historical figures, criminals, dysfunctional families and friend groups -- the list goes on. But we might have to break up with some of our favorite characters in the coming months.
Netflix Originals only make up an estimated eight percent of all the streaming platform's content in the U.S. The rest is owned by other production companies, some of which are starting to build their own streaming services. While Netflix Originals will stay put, content owned by other companies, like Friends and Disney movies, might be pulled from the streaming service.
Watch out Netflix, here comes trouble
Netflix has been preparing for other companies to pull their content ever since launching its first original show back in 2013. "The way we look at this long term is that our competitors will want that content on their own services," says Ted Sarandos, Netflix's chief content officer. "That was a bet we've made a long time ago when we got into original programming."
Sarandos was right. Disney and WarnerMedia, among others, have announced upcoming streaming services that will host their own original content. These new services mean that Netflix could lose a great deal of popular titles.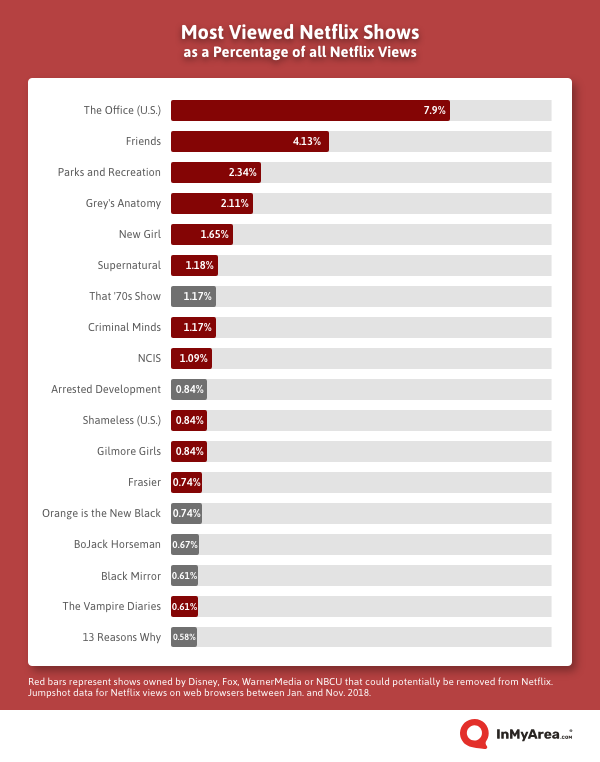 Disney Makes Dreams Come True
Netflix signed a licensing deal with Disney that gave the service exclusive streaming rights for first-run Disney, Marvel, and Pixar films, starting in 2016. Thanks to this deal, movies like Black Panther, Star Wars: The Last Jedi, and The Incredibles 2 were available to Netflix users; however, Disney's streaming service Disney+ is expected to launch sometime in 2019, and the company will stop offering its new films on Netflix.
Disney+ will likely have a big draw for audiences, as the company has a massive catalog of beloved movies and shows. This new streaming service will include content from five of Disney's brands: Disney, Marvel, Lucasfilm, Pixar, and National Geographic. Thanks to the Disney-Fox merger, it's possible we might see Fox titles on the service. However, the merger also means that Disney will become a majority stakeholder in Hulu, so some content will likely be reserved for Hulu.
There are already two Star Wars prequel series, shows starring Marvel characters like Loki and Scarlet Witch, and Monsters Inc. and High School Musical series in the works for Disney+. Once Disney movies leave Netflix, families, Marvel and Star Wars fans, and other Disney fanatics could potentially move to the new service.
How You Doin' WarnerMedia?
Fans of Friends, the classic sitcom owned by WarnerMedia, went into a panic in late 2018 when rumors spread that the show would be taken off Netflix at the end of the year. Friends enthusiasts took to Twitter to announce their concern, many even stating they would cancel their Netflix accounts if the show was removed.
Netflix came to the rescue on December 3rd, announcing Friends would remain on the streaming service through 2019; however, the deal didn't come cheap. The New York Times reported that Netflix paid WarnerMedia around $100 million to keep the show when it had previously only paid $30 million a year. For comparison, the second season of Stranger Things, a hit sci-fi Netflix Original, reportedly cost $72 million to make.
While we're safe for 2019, we'll probably have to say goodbye to the dysfunctional friend group next year. WarnerMedia recently announced its upcoming streaming service launching in 2019. The media giant has suggested that it will want to make its hit shows, like Friends and The Big Bang Theory, exclusive to the new service.

The service will include Warner Bros., Turner, and HBO titles. With a wide variety of popular content, including Harry Potter, Lord of the Rings, and Friends, WarnerMedia could be a serious competitor for other streaming services.
While the Disney and WarnerMedia streaming platforms are currently receiving the most attention, the door is wide open for other companies to follow suit. Let's not forget that 92 percent of all content on Netflix in the U.S. is owned by other production companies. As larger industry players begin to pull their content, what's to stop others from doing the same?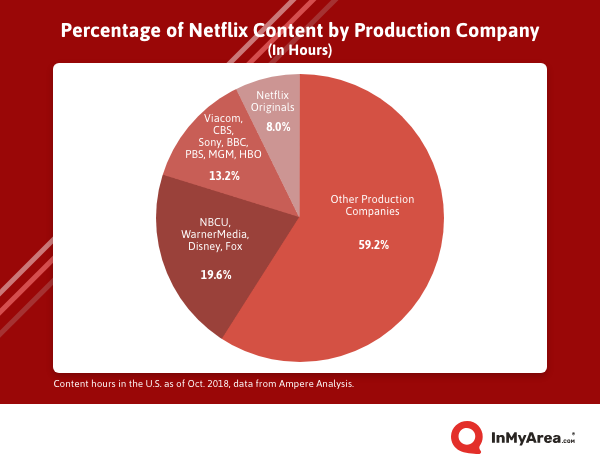 Production companies like BBC and CBS that already have their own streaming services could easily remove their titles from Netflix to house them exclusively on their platforms. Other competitors without streaming services might decide to enter the market.

While the numbers may look startling at first glance, Netflix isn't sitting by passively. Year after year the streaming service has revved up its spending on original content.
The rise of the Netflix Original Empire
With the exception Riverdale's takeover in 2017, Netflix Original shows became more buzzworthy throughout the U.S. year over year. In 2018 there was a 390% increase in Netflix Originals being the most viral show in a state when compared to 2013. This isn't a coincidence.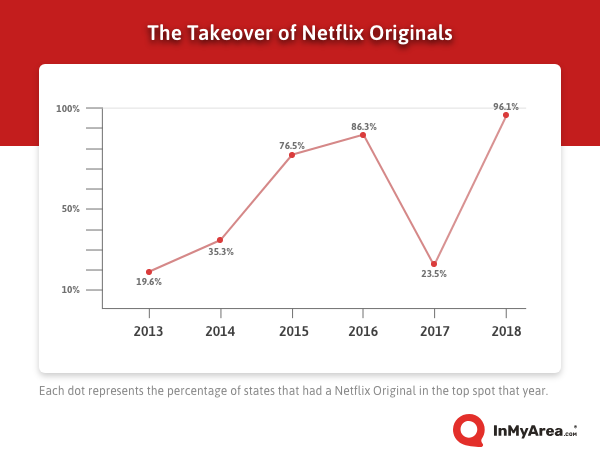 In 2017, Sarandos predicted that Netflix would spend as much as $7 billion on content the following year. The streaming service has increased its content budget by around $1 billion each year, spending $5 billion in 2016 and $6 billion in 2017. By mid 2018, the year's spending estimates had grown to a jaw-dropping $13 billion.
These funds went largely towards Netflix Originals. In 2018, Sarandos announced that 85 percent of Netflix spending would go towards new movies and shows moving forward.
An estimated 1,000 Netflix Originals premiered on the platform in 2018 alone thanks to this multi-billion dollar budget. The streaming platform released roughly 88 percent more original content in the first eight months of 2018 than it did in the same span of time in 2017. According to CFO David Wells, the goal is to fill at least 50 percent of the platform's library with Netflix Originals.
Not only has Netflix used its funds to recruit a long list of notable celebrities like Will Smith and Sandra Bullock for its original shows and films, but also award-winning producers.
Shondaland Shakes Things Up
Shonda Rhimes, the executive producer and writer for hit shows like Grey's Anatomy, Scandal, and How to Get Away with Murder, recently signed a Netflix deal. Thanks to the $150 million, four-year deal, Rhimes will be producing new content from her production company Shondaland exclusively for Netflix.
While Rhimes will still be involved in her currently airing ABC shows, she will no longer produce new content for the network where she has long played a vital role. Many suspect that this move from cable TV to a streaming platform will shake up the network television industry entirely.
Recognized as one of the most powerful producers in the industry, Rhimes has said there are already eight Shondaland shows in the works for the streaming giant. It's likely that the deal will draw dedicated Rhimes fans to the service. Of the deal Rhimes says:
"Ted (Sarandos) provides a clear, fearless space for creators at Netflix. He understood what I was looking for -- the opportunity to build a vibrant new storytelling home for writers with the unique creative freedom and instantaneous global reach provided by Netflix's singular sense of innovation. The future of Shondaland at Netflix has limitless possibilities."
Ryan Murphy Productions and the Deal of the Century
Known for his shows that captivate and often shock audiences with their unique plots and inclusive casts, executive producer and writer Ryan Murphy has also joined the Netflix ranks. Murphy signed what's being called the "richest producing deal in television history," valued at around $300 million. He'll be producing Netflix exclusive content for the next five years.
Murphy has been a core producer at FX and Fox for some time, so the Netflix deal will be a major loss for the networks. However, Murphy will continue to be involved in his five current shows on the channels. Some of his most notable works include American Horror Story, American Crime Story, and Glee. AHS, with eight current seasons, has been renewed for seasons nine and 10, and a third season of American Crime Story is also in the works. It's likely that he'll continue working with Fox for some time. Before signing the Netflix deal, Murphy was also approached by Disney, the new owner of several Fox assets, but Netflix ultimately won him over..
"I am awash in genuine appreciation for Ted Sarandos, Reed Hastings, and Cindy Holland at Netflix for believing in me and the future of my company, which will continue to champion women, minorities, and LGBTQ heroes and heroines, and I am honored and grateful to continue my partnership with my friends and peers at Fox on our existing shows," says Murphy.
Murphy and Rhimes have both produced shows that are fan favorites on Netflix already. AHS, Glee, Grey's Anatomy, and Scandal have all made it on our list of the country's favorite shows over the years. It's likely that audiences will be eager for new Netflix-exclusive content from these powerhouse producers.
Goodbye Marvel, Hello Millarworld
Despite successful runs on the streaming platform, all five Marvel-Netflix shows -- The Punisher, Jessica Jones, Daredevil, Iron Fist, Luke Cage, and The Defenders -- have been canceled. At first glance, these cancellations might seem like a bad move for Netflix, as superhero content has been incredibly popular in recent years. It turns out the issue is much more complicated.
Marvel is owned by Disney, which muddies the water when it comes to the competition between Disney+ and Netflix. Now that Disney is launching its own streaming service, it only makes sense that Netflix would want to cut future ties. According to some critics, to continue the shows would be like giving Disney free advertising, inviting viewers to watch other Marvel and Disney content elsewhere. As for Disney, the company plans to launch its own Marvel series on Disney+.
While this all makes sense, there is now a superhero shaped hole in Netflix's library. The company plans to fill it with content from another comic book universe: Millarworld.
Mark Millar, the founder of Millarworld, is one of the most well-known comics and graphic novel creators in the industry. Some of his most recognizable works include the widely successful films Kingsman, Kick-Ass, and Wanted, which collectively grossed around $1 billion worldwide. Millar has even written for DC and Marvel comics, his work inspiring Captain America: Civil War and Logan.
In the summer of 2017, Netflix announced that it would be acquiring Millarworld, the company's first ever acquisition. Netflix has already planned several new original shows and films based on characters from the Millarworld universe. Millar will also create new characters for content on the platform. Sarandos is excited for the deal, stating:
"Mark has created a next-generation comics universe, full of indelible characters living in situations people around the world can identify easily with. We look forward to creating new Netflix Originals from several existing franchises as well as new super-hero, anti-hero, fantasy, sci-fi and horror stories Mark and his team will continue to create and publish."
The Shondaland, Ryan Murphy, and Millarworld deals give Netflix the opportunity to produce fresh original content from a variety of genres and creative minds. As these relationships come to fruition, it will be interesting to see how receptive audiences are.
As Netflix is on the hunt for new talent, so are its competitors. Streaming services like Hulu, Amazon Prime, and HBO are all fighting to create award-winning content that will rev up their subscriber counts.
Netflix steps up to the plate
In 2013, Sarandos made the notorious statement: "The goal is to become HBO faster than HBO can become us."
At the time, the statement may have seemed audacious. Today, on the other hand, that statement doesn't seem quite so bold, which illustrates just how far the streaming service has come in recent years.
Netflix opened the door for other streaming services to take on the original content challenge. A study conducted by FX found "that between 2014 and 2018 there has been a 385% increase in series available through online services." The majority of those series were original shows.
While HBO has long been a competitor, Hulu and Amazon Prime have also entered the original content industry in recent years. Netflix spent the most on content in 2017 when compared to its competitors at an estimated $6 billion, but other streaming services have made their own major investments in content as well. HBO and Hulu each spent around $2.5 billion in 2017, and Amazon Prime's content budget was about $4.5 billion for the year.
Some of Hulu's notable original series include The Handmaid's Tale, Castle Rock, and The Mindy Project. Amazon Prime's The Marvelous Mrs. Maisel has been one of its greatest successes, with other popular titles like Homecoming and Jack Ryan. HBO continues to churn out hits like Big Little Lies and new seasons of Game of Thrones.
With all of these new original shows entering the space, how is Netflix fairing against the competition?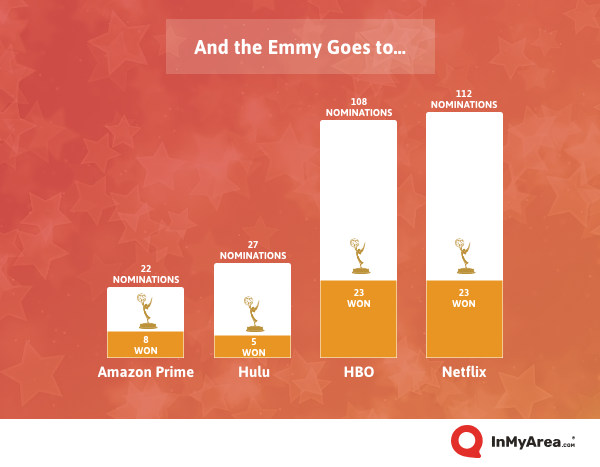 For the first time in history, Netflix received moreEmmy nominations (112) than HBO (108) in 2018. The two companies both won 23 Emmys, while Amazon and Hulu took home 8 and 5 respectively.

Netflix received its first Best Picture nomination at the Oscars for the Spanish memoir Roma. The film received 9 other nominations, and took home three Oscars for Best Director, Cinematography, and Foreign Language Film. Roma has won numerous other accolades, including Golden Globes and Critics' Choice Movie Awards. Overall, the streaming service was in the running for a total of 15 Oscars. Netflix isn't just producing white noise content to take up space; it's creating original content that's turning heads and receiving notable recognition.
Netflix content has received nods during the award show season, but is its original content resonating with its general audience?
A study conducted by 7Park Data in October of 2018 found that Netflix Originals account for 37 percent of all user streaming hours on the platform in the U.S. This is an increase from 13 percent of streaming hours in January of 2017. In another 2018 study, 7Park concluded that 42 percent of new Netflix subscribers watch a Netflix Original for their first stream.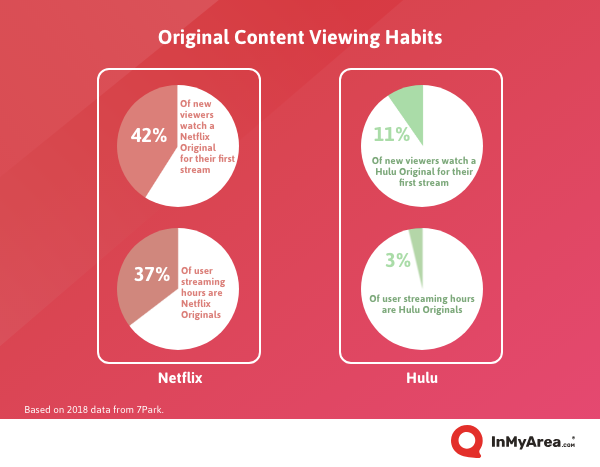 The numbers might not seem very substantial at first; however, when you compare them to the company's competitors it's a different story. 7Park also found that only three percent of Hulu viewing hours go towards original content, and 11 percent of new subscribers' first streams go to originals.

These numbers don't concern Sarandos. After all, a large portion of the streaming service's library is dedicated to popular licensed content. The chief content officer believes that older, licensed shows get more views because of their large backlog of episodes, making them more binge-worthy. As more Netflix Originals build their own backlogs it's likely that the numbers will increase.
Another study conducted in May of 2018 found that Netflix was the platform most often used to view content on a TV among 2,500 participants. While the study doesn't include laptops and other devices, Netflix beats out all other cable and streaming platforms when it comes to TVs.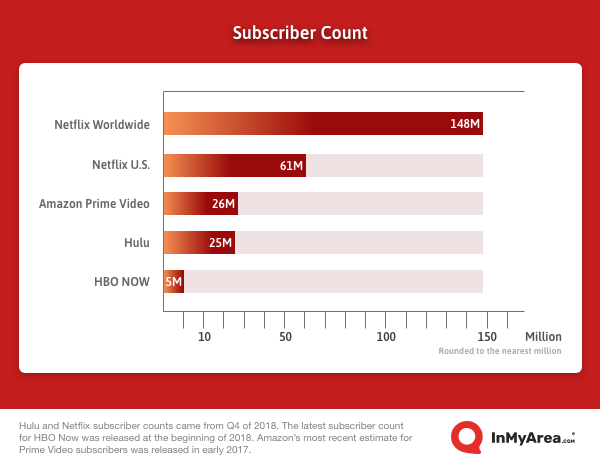 Not only is Netflix a hit in the U.S. with an estimated 60.55 million subscribers, but it's also popular with international audiences. The streaming service is offered in more than 190 countries, with around 148 million subscribers worldwide. Netflix has a much larger reach than its major competitors, like Amazon Prime Video, Hulu, and HBO NOW, that are only available in the states.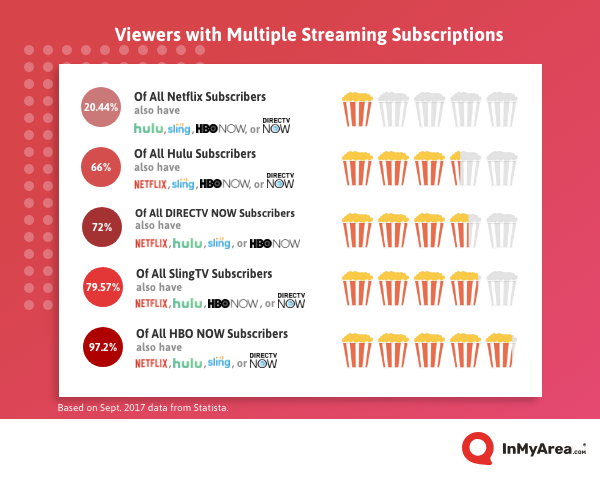 As of 2017, 75 percent of all American households that used at least one streaming service had a Netflix subscription. Not only that, but Netflix subscribers are very loyal to the service:

One study found that only about 20 percent of viewers that use Netflix as their primary streaming service also subscribe to another secondary service like Hulu or HBO NOW.
Nearly 70 percent of those that use Hulu as their primary service also subscribe to other services.
For HBO NOW, the numbers are even more stark, with over 99 percent of users subscribing to at least one other streaming service.
Over 60 percent of subscribers that primarily use HBO NOW or Hulu also have Netflix.
Will we have to say goodbye to our favorite shows?
As Netflix continues to build up its original content year after year, it begs the question: will we lose all of our favorite non-original content on the platform? You can relax, because the answer is no. According to CFO David Wells, Netflix Originals are only one piece of the puzzle. When it comes to the amount of original vs. licensed content, he comments: "We don't have a particular target in mind. We're about having the best content. I could never see that getting 100% (Netflix Originals). Could it get over 50%? It could."

Netflix has the power to make shows go more viral than they ever did on network television or other platforms. After the first season of Riverdale was released on Netflix, the show's total live TV viewers increased by about 60 percent to a total of nearly 2.8 million viewers for the its second season. Shameless, a Showtime series about a highly dysfunctional family, received its most live viewers to date after the series was put on Netflix following its seventh season. Between seasons seven and eight, the show's viewership jumped by 25 percent.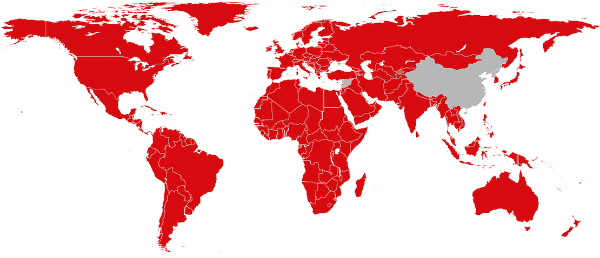 The streaming service even has the power to bring dead shows back to life. You, a Lifetime series about a creepy yet endearing stalker, was slated to be canceled after its first season gained little traction on the network. That was until Netflix swooped in on the title, made it a Netflix Original and greenlit a second season for the show. You went from around 1 million viewers to 40 million, according to Netflix. It's become one of the most talked about shows of the season.

Over the coming years Netflix is expected to keep growing and creating content at an exponential rate. Goldman Sachs predicts that Netflix could be spending as much as $22.5 billion a year by 2022.
With the brand recognition, trust, and massive audience that comes with Netflix, production companies can get the kind of exposure for new shows and movies that they so desperately need. Which titles will stay and which will go is unclear, but it's unlikely that companies will stop making deals with the streaming giant any time soon.