T-Mobile Home Internet Plans & Pricing
Check Availability By Address
T-Mobile Home Internet Plans & Pricing
Internet Speed:
From 33 - 182 Mbps
Availability in the U.S.:
48 States
T-Mobile Home Internet Internet Plans
5G Wi-Fi Gateway device included
Home Internet w/ Autopay
Home Internet w/ Autopay
FIXED WIRELESS connection
Internet speeds: From 33 - 182 Mbps
Price: $50.00/mo*
T-Mobile 5G Home Internet Availability
Lately, internet availability seems like an exclusive party, where only some get a ticket and underserved populations are left out in the cold. Technologies like 5G internet are making great strides to include everyone in on the fun, and T-Mobile is a major player helping to make that happen.
Right now, you can find T-Mobile 5G Home Internet in 49 states, where the service covers up to 324.3 million people. With the greatest coverage in California, Texas, and New York, T-Mobile 5G is blazing a new trail to internet access. T-Mobile 5G Home Internet currently comes with one plan for $50 per month with AutoPay, with download speeds between 33 and 245 Mbps.
T-Mobile Internet Connections and Availability
| Connection type | Transmission method | Price (starting at) | Download speeds |
| --- | --- | --- | --- |
| 5G | Fixed wireless | $50 per month with AutoPay | 33-245 Mbps |
T-Mobile 5G Home Internet Equipment
Do you enjoy the newest car model, the latest phone technology, or the next and best in-home entertainment? Then, you'll appreciate T-Mobile's efforts in providing the best technology available via multiple gateway devices that are a one-in-two combo: modem and Wi-Fi 6 router.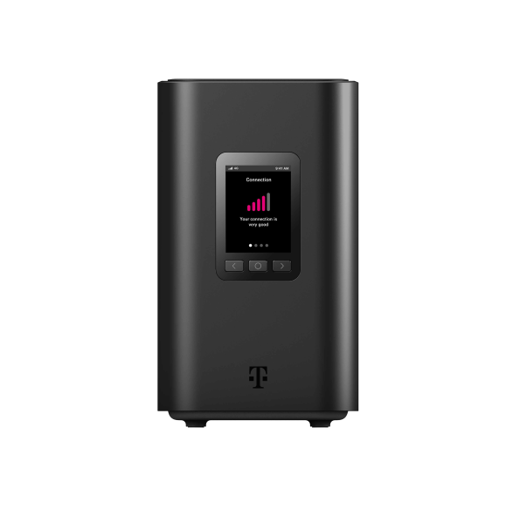 One example of a T-Mobile 5G Home Internet gateway device
Wi-Fi 6 Technology
Wi-Fi 6 is a wireless technology that nearly doubles the space wireless information travels to and from your device and internet gateway device. By using a gateway enabled with Wi-Fi 6 technology, your devices communicate with the gateway in half the time, which means increased capacity to ingest data-heavy activity such as HD streaming.
Installation Requirements
The technology found in the T-Mobile gateway may be pretty advanced, but luckily, installation is simple. You won't need to wait on a technician to install your 5G home service. Once your gateway arrives at your home, download T-Mobile's app and follow the instructions for service activation. Installation takes less than 15 minutes. Pretty simple, right?
Setting up Service With the T-Mobile App
The T-Mobile app provides some essential functions both when you initiate and while you enjoy your 5G service. Use the app to take you through the gateway setup step by step. Once your connection is up and running, you can use the app to see who's online, check the status of your network, manage connected devices, and adjust parental controls. The T-Mobile Home Internet app is available on both Google Play and the Apple App Store.
Did you know? Nearly 1.5 billion people will have 5G internet access by the year 2024.
T-Mobile 5G Home Internet Contracts and Data Caps
T-Mobile 5G Home Internet is free of contracts and data caps. That means you're not stuck with the service if you decide you're not satisfied after two weeks or two months. It also means you won't need to worry about exceeding any kind of arbitrary data limit out of fear of overage fees.
While T-Mobile doesn't have any hard data caps, users may experience rare throttling when cell towers become overloaded. In short, you may experience slower speeds.
However, with 5G being installed all over the U.S., it's likely that your area will have enough internet to go around without getting too overloaded. So work and play as much as you like, and if you're unhappy for any reason, simply cancel your service.
T-Mobile 5G Home Internet Data Caps
| Connection type | Data cap | Data cap equivalence |
| --- | --- | --- |
| 5G | Unlimited | Unlimited access |
T-Mobile 5G Home Internet Customer Service
Customer service reputation is an important factor to consider before choosing any internet provider. Fortunately, T-Mobile performs very well in this area. Scoring a 71 out of 100 on the American Customer Satisfaction Index (ACSI) for 2022, T-Mobile outscored many traditional ISPs, including AT&T, Xfinity, and Spectrum. T-Mobile is truly dedicated to working hard to resolve customer complaints, correct mistakes, and provide responsive customer service.
With T-Mobile, you can pick whichever 5G Home Internet support is most convenient for you, including live online chat, the customer self-service center, the FAQ section, or via the mobile app. If you run into a problem with your internet that's not immediately fixable by visiting the self-service center, we recommend giving them a call directly for quick service and solutions.
The Value of T-Mobile 5G Home Internet
T-Mobile 5G Home Internet is an innovative solution for people who need home internet access. However, bringing new technology like 5G to the doorsteps of people everywhere comes with some advantages and drawbacks. Take a look at these pros and cons of T-Mobile 5G Home Internet before requesting your service:
Pros
Cons

Available in many underserved areas
Affordable plan option
No contracts or data caps
Distinguished customer service

Variable availability
Speeds vary based on congestion
If you're looking for a no-nonsense internet provider with straightforward pricing and reasonable speeds that's available in even the most obscure places in the U.S., then we recommend checking out T-Mobile Home Internet for your internet service.
Frequently Asked Questions About T-Mobile 5G Home Internet
Is T-Mobile Home Internet actually unlimited?
T-Mobile imposes no data caps on the 5G Home Internet service.
How much does T-Mobile Home Internet cost per month?
If you sign up for AutoPay, T-Mobile Home Internet is $50 per month.
What speeds does T-Mobile 5G Home Internet offer?
T-Mobile 5G Home Internet offers download speeds between 33 Mbps and 245 Mbps. Speeds can vary depending on location, signal strength, availability, time of day, and other factors.
Does T-Mobile Home Internet internet have data caps?
T-Mobile imposes no data caps on the 5G Home Internet service.
Does T-Mobile Home Internet require a contract?
T-Mobile 5G Home internet doesn't require contracts.
How does T-Mobile Home Internet work?
T-Mobile uses the same SIM card technology that mobile networks do. The SIM card sits in a gateway device installed in your home. Tablets, computers, and other devices on your home Wi-Fi network connect to the gateway device, which sends data to the closest 5G network tower to travel along the 5G mobile backbone.
Is T-Mobile Home Internet internet available in my area?
T-Mobile Home Internet is continually expanding. Enter your address into the following search bar to see if T-Mobile Home Internet is available near you.
Check Availability By Address
Find an internet provider you love and save when you switch or sign up!
Call one of our agents to help find the right provider for you
Call an T-Mobile Home Internet expert to help you find the right plan and you could save!
Experts Support
Our highly trained experts will help you every step of the way
Save Time + Money
Get the latest scoop on promotions and savings
Best Recommendation
We will recommend the best service customized for you