SATELLITE INTERNET SPEEDS
How fast is Satellite Internet?
Satellite internet is a great option for those who live in remote areas or dead zones. The typical download speeds for satellite internet plans range from 12 to 30 Mbps. Okay great, but what do those numbers mean? Any internet connection with download speeds of at least 25 Mbps is considered high-speed. This means that the best satellite internet plans with 25 or 30 Mbps are classified as high-speed. You'll be able to stream your favorite shows, download music, or do some basic browsing. However, you'll only be able to do these things on a few devices. For anything more than that, there's going to be lagging. Satellite internet service with download speeds of 12 Mbps will provide enough speed for light browsing. If you're only using your internet connection to check your email, online shop, or update your Facebook status, you'll be good to go.
A lot of satellite internet reviews from past customers mention that satellite internet is typically very slow. While overall speeds for satellite are slower than cable and fiber, the main issue here isn't speed, it's latency. Latency is a techy term for lagging. You know when you try to move your computer mouse around and click on something, but the computer doesn't respond for a few seconds? That's latency. Satellite internet service has this issue because of how far internet data has to travel with a satellite connection. Every time you do something on the internet, the data has to be sent to a satellite that's 23,000 miles away from earth. That's a longgg way to travel, so it takes a little longer for your computer to respond. We'll get into the details of the technology in our "what is satellite?" section, but that's the basic rundown for why you experience lagging.
Because of the latency issues, satellite internet gaming can be difficult. If you're an online gamer and you play shooting or sports games, a satellite internet connection isn't going to work for you. In those types of games you need to be able to make split second decisions. You can't have your data traveling thousands of miles to space every time you click a button. However, if you play games that don't require an instant response, like online role playing, strategy, or board games, you should be fine.
There is also the potential for satellite internet speeds to improve in the future. SpaceX is currently working to produce and launch 900 satellites in 2018. These satellites could potentially deliver internet speeds of 100 Mbps. That is far more speed than any satellite provider has ever been able to offer. With that much speed, you could binge watch your Netflix shows in HD while someone else plays Call of Duty in the next room. Large households would be able to connect all of their devices without any buffering. This new technology could completely change the future of satellite internet: sooner rather than later. SpaceX is also striving to make affordable internet accessible to those in underserved markets across the world. Soon our planet will be more connected than ever.
Let's look at what you can do with download speeds of 20 Mbps. That's right in the middle of the range for typical satellite internet speeds.
Available everwhere
Perfect for homes in rural areas
Attach it to your RV for internet on the go
High speed options
10 times faster than dial-up internet
Doesn't rely on ground infrastructure

Cons
Lots of lagging
Expensive
Slower than most other types of internet
Data caps
Equipment can be pricey
Reliability depends on the weather
Satellite Internet technology
Satellite internet service relies on what's called a geostationary satellite. This satellite is constantly orbiting in outer space about 23,000 miles away. Your internet is literally out of this world. (So sorry, we couldn't resist). There's a second dish satellite mounted on your roof that stays in communication with the geostationary satellite. Whenever you try to do something online like watch a Netflix show or post to Facebook, the dish on your roof requests the data from the satellite in space. That satellite then gets to work and finds the information you need and beams it back down to your dish. Finally, the dish talks to a router in your home that will give your computer the information it needs. Sounds like that many steps would take a long time right? Surprisingly, the whole process only takes a few seconds. Even though the speed is pretty impressive given the process, the time it takes for the data to travel to space is the reason for latency issues.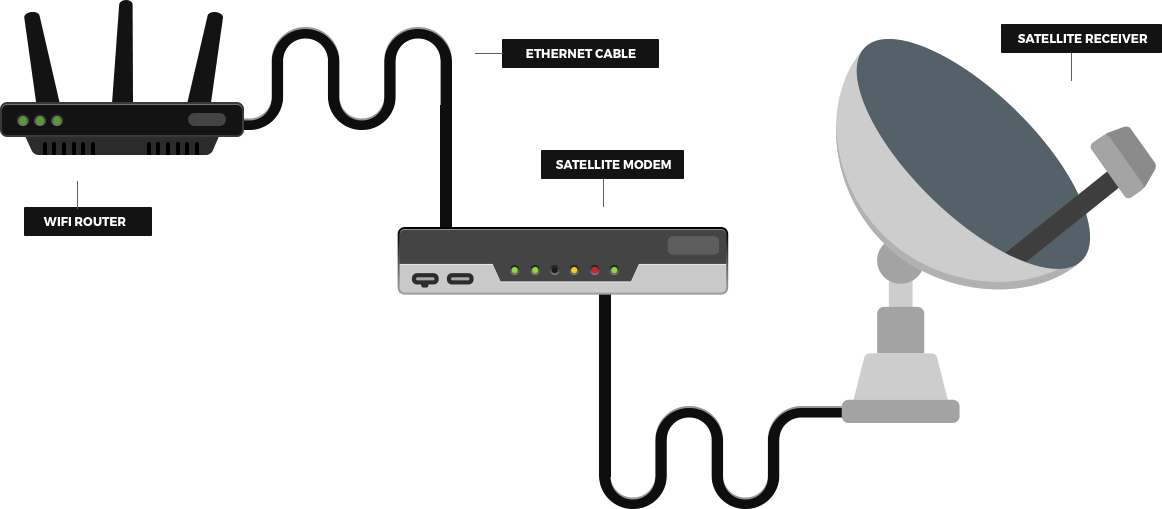 What's the installation process for Satellite Internet?
Satellite internet installation is a fairly simple process. Your chosen internet provider will send a professional to your home to install the satellite and connect a router to your computer. The whole set up process will vary, but it usually only takes a few hours and can be finished in a single visit. Some satellite internet providers charge installation fees while others wave them, so try to catch a good deal if you can! You might also have equipment rental fees of around $10-15 a month for the router and the dish on your roof. Some providers will also allow you to purchase the equipment for a few hundred dollars rather than rent it. One very important thing to remember if you ever decide to terminate your satellite internet service: return the equipment! You'll have to pay some hefty fees if you don't, and no one wants to deal with that.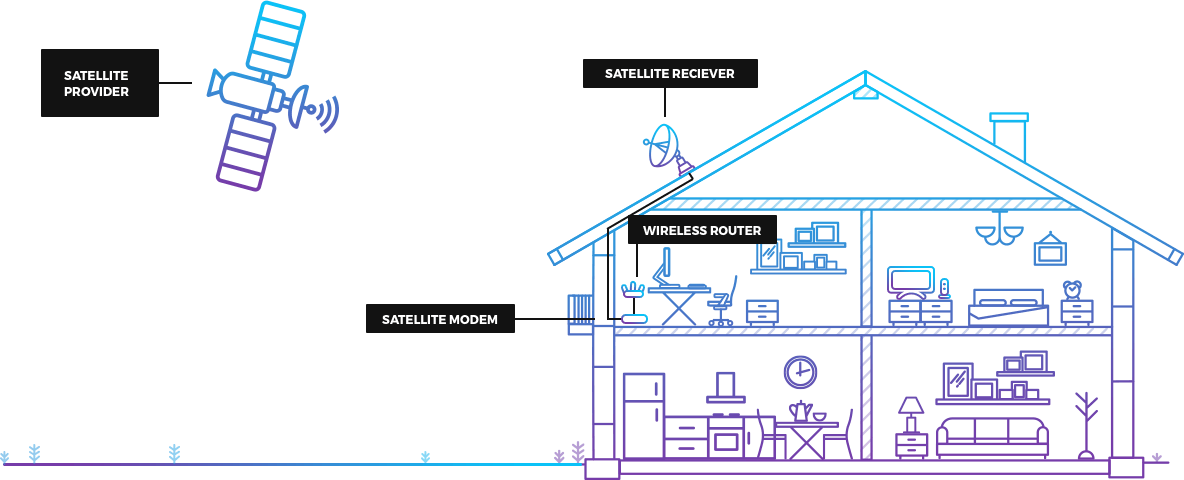 Who should opt for a Satellite Internet provider?
Satellite internet is great for those who don't live in an area where other types of internet are available. Rural customers could also choose dial-up internet, but that's going to be much slower than a satellite connection. You simply wouldn't be able to do anything more than basic web browsing. Even though satellite internet might not seem like an ideal choice, it is still a great way to keep people connected. Satellite internet RV users often swear by this type of internet. Because you can get satellite internet service essentially anywhere, you can take it on the go. Some providers offer a dish that can be mounted on the roof of an RV or set up on the ground with a tripod. This allows those who love to camp in remote areas to stay connected. Even if you're in the Arizona desert, miles away from the nearest town, you can still call your friends or research the best hiking spots: all thanks to RV satellite internet.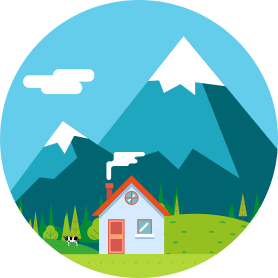 Rural Households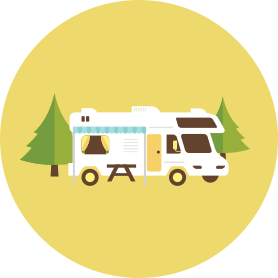 Van Dwellers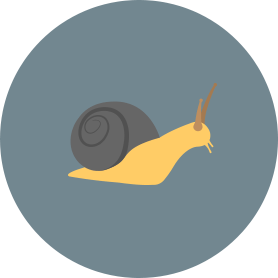 Dial Up/DSL Customers
Data caps for Satellite Internet
One thing to be aware of about satellite internet service: there are usually data caps. For example, HughesNet, one of the nation's largest satellite internet providers, offers plans with data caps ranging from 10-50 GB. Let me give you a little perspective on what you can do with that many gigs. With 1 GB of data you can: stream 1-2 hours of a show or video, upload 300 photos, load over 1,000 web pages, or stream 200 songs. Even after you run out of data, you'll still be able to use the internet. It will just operate at reduced speeds, with typical download speeds of 1 to 3 Mbps. This will only be enough speed for the most basic of internet needs. However, these providers often offer "bonus zones," which are times when you will be given extra free data at optimal satellite speeds. These times are typically during non-peak hours like 2 am to 8 am. There is one nationwide satellite internet provider that offers plans without data caps. Viasat, formerly known as Exede Satellite Internet, offers unlimited data plans with download speeds up to 30 Mbps. If you need the extra data and you're willing to pay, this might be the right option for you.
List of Satellite Internet Providers
In our discussion about data caps, we touched on the nation's two largest satellite internet providers. HughesNet offers internet plans with download speeds up to 25 Mbps. These plans come with data caps ranging from 10 to 50 GB. You'll also get a "bonus zone" from 2 am to 8 am. During this time you'll have 50 GB of free data each month to use however you like at typical speeds. Your second option is Viasat. This name might not immediately sound familiar to you, but they were previously known as Exede Satellite Internet. Viasat has recently improved its plans and offerings. All of their plans come without data caps, so your speed will never be throttled. You can purchase a package with internet speeds up to 30 Mbps.
There are 2 Satellite Internet Providers Available Nationwide
Satellite Internet vs Fixed Wireless Internet
Let's compare satellite to a few other types of internet so you can make an informed decision. We'll start with a satellite vs. fixed wireless internet comparison. Both of these internet connections require a dish or antenna to operate. They don't need the types of ground infrastructure that other types of internet do. The key difference here is the distance that your data has to travel. As we've discussed, satellite internet connects to a satellite thousands of miles away in space. On the other hand, fixed wireless connects to a service provider tower, usually no more than 10 miles away from your home. Because the tower is land based, the data doesn't have to travel through the atmosphere. Instead, the tower communicates with an antenna installed at your home. This short distance prevents a lot of the latency issues that you have with satellite internet. Most fixed wireless providers don't have data caps, unlike satellite.
The main problem with this grounded connection is that it requires a direct line of sight between your house and the provider's tower. This can make it difficult to establish a reliable connection in certain terrains. Another issue with fixed wireless internet is that it uses airwaves to deliver data from place to place. This connection type has to share those airwaves with all the other wireless technologies that exist. That's what I like to call a "traffic jam" that can cause internet interference or slower speeds at times.
As far as prices and speeds go, fixed wireless is typically faster and less expensive. Average speeds for fixed wireless are comparable to DSL and Cable. They can even reach download speeds of 1,000 Mbps in certain areas, which is as fast as a fiber optic internet connection. Currently, typical internet speeds for satellite internet reach 25 or 30 Mbps. Even though fixed wireless is faster and has few drawbacks, it is usually still less expensive than satellite internet. However, satellite internet service is much more widely available than fixed wireless. Only about 50% of the nation currently has access to fixed wireless, while satellite covers 100% of the country. To find the best satellite internet packages in your area, type in your zipcode at the top of this page!
Satellite Internet
Average Download Speed
12 Mbps to 30 Mbps*
Typical Internet Plan Prices
$40 to $60 Per Month**
Availability Nationwide
100% Coverage
Data Caps
10 GB to Unlimited*
Fixed Wireless Internet
Average Download Speed
25 Mbps to 50 Mbps
Typical Internet Plan Prices
$30 to $50 Per Month
Availability Nationwide
51% Coverage
Data Caps
Varies By Provider
Satellite Internet vs DSL Internet
DSL, which stands for digital subscriber line, is a type of internet that uses existing telephone lines for internet. Unlike dial-up internet, you can make phone calls and use the internet at the same time with DSL. However, if your phone line is down for whatever reason, your internet will also be down. Because this type of internet uses existing infrastructure, it is more widely available than some other types. DSL has 90% coverage nationwide, while satellite is available essentially anywhere in the United States. One problem that DSL has is its distance sensitivity. For reliable internet service, you need to live just a mile or two away from the phone company's central office. If you live in a rural area, chances are you'll be farther away than that. Because of this, satellite internet is a more reliable option in rural areas than DSL, because it doesn't require ground infrastructure.
On average, DSL has slower internet speeds than satellite does. The exact numbers will depend on your location, but large providers like AT&T offer download speeds up to 6 Mbps. Again, the highest download speeds for a satellite connection is 30 Mbps. Additionally, DSL is usually less expensive than satellite. Even though prices are lower for DSL, keep in mind that you need to live close to a central office for speeds to be reliable! Type in your zipcode at the top of the page to see what types of internet are available in your area.
Satellite Internet
Average Download Speed
12 Mbps to 30 Mbps*
Typical Internet Plan Prices
$40 to $60 Per Month**
Availability Nationwide
100% Coverage
Data Caps
10 GB to Unlimited*
DSL Internet
Average Download Speed
6 Mbps to 12 Mbps
Typical Internet Plan Prices
$30 to $50 Per Month
Availability Nationwide
90% Coverage
Data Caps
50 GB to Unlimited
*This is a range of typical download speeds for the nation's largest providers
** This is a range of average prices for the nation's largest providers
Sources
https://rvshare.com/blog/rv-satellite/
https://www.escapees.com/xscapers-group/xscapers-on-the-road/mobile-lifestyle/entry/boondocking-with-rv-satellite-internet-is-worth-every-penny
https://www.talia.net/gaming-satellite-internet/
http://www.groundcontrol.com/How_Does_Satellite_Internet_Work.htm
https://www.fastmetrics.com/how-fast-is-fiber-optic-internet.php
https://www.exede.com/blog/satellite-internet-vs-dsl-right/
http://blog.oneringnetworks.com/an-in-depth-comparison-of-satellite-v.-fixed-wireless-internet
https://www.risebroadband.com/business-services/fixed-wireless/