Our Goal Is To Make Your PCS Easier and Stress Free
Find the right plan, at the best price, for you and your family.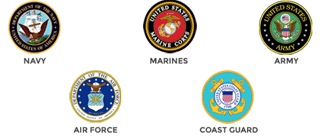 Relocating can be the most difficult part of your PCS, there is a house to find, a truck to pack and a country to cross. Don't let setting up your home services slow you down. At InMyArea.com you can find, shop, compare, and save on Internet, Cable and Satellite TV, Utilities, Solar, Insurance, and Mortgage Rates.
Top 20 Cities Selection Guide
Find the best plans & pricing for home services in the twenty most populous military cities in the United States of America.
New York, NY
Los Angeles, CA
Houston, TX
Chicago, IL
Miami, FL
San Antonio, TX
Philadelphia, PA
Phoenix, AZ
Las Vegas, NV
San Diego, CA
Dallas, TX
Denver, CO
Cleveland, OH
Baltimore, MD
Fort Worth, TX
Minneapolis, MN
Austin, TX
San Jose, CA
Columbus, OH
Atlanta, GA
Detroit, MI
Indianapolis, IN
Jacksonville, FL
Orlando, FL
Tucson, AZ
Portland, OR
Seattle, WA
Sacramento, CA
Milwaukee, WI
Charlotte, NC
Find Your Military Base
Getting ready to relocate? Check out our Military Base City Guides for information on the area you'll be relocating to! Find housing costs, nearby schools, banks, BAH calculator and more.
Still don't see your base listed? add your base.

Helping Our Heroes Save
DISCLAIMER: InMyArea.com does not guarantee any military discount as promotions and discounts are subject to change without notification. Discounts may vary by location and by military status; subscribers should verify availability with providers directly. InMyArea.com only provides notice of availability of military discounts as a service to potential Subscribers; discounts may only be obtained after completion of an order and only directly with the service provider. Not all discounts will apply to veterans; please contact provider for verification. Please also view our Terms Of Use. 1. Enrollment in
Veterans Advantage
card required for discount savings to apply.
Now offering
FREE

Relocation Consultations!

Would'nt it be nice if all of your home services were already hooked up on the day you move in? Yeah, we thought so.

No Games, No Gimmicks
Our goal is to work with you to find the best providers and packages available in the area you'll be relocating to. Were trained by all the big telecom companies, we know all the tricks of the trade to save you the most money when setting up home services.

Personal Relocation Specialist
Why bother with trying to talk to 12 different people from 6 different companies when you can talk to one? Your specially assigned relocation specialist will be able to help you with al your home services helping to give you a stress free PCS.

Sound Advice From Experts
Our relocation consultants are experts in the moving process when it comes to setting up your home services. Whether your moving to the next town or across the States well be able to help you every step of the way.

Fast, Easy and Hassle Free
You've got a million other things on your mind don't let your home services add to the stress. All it takes is one call and we can help you set up your water, electricity, cable, internet and home security.
2020 Basic Allowace For Housing Calculator

Our Armed Forces
From Everyone at In My Area, We Thank You For Your Service
Over 600,00 military members and their families move across the US every year and InMyArea.com is here to help. We are the exclusive military provider of comparison shopping information for local utilities such as gas, electric, cable tv, and internet. We hope to make your relocation easier and save you money.
Military Forces Across The US
Military Population
1,355,571
% Of Military Population
0.4%
# Of Army Personnel
491,210
# Of Navy Personnel
327,937
# Of Marine Corp Personnel
184,785
# Of Airforce Personnel
311,541
# Of Coast Guard Personnel
40,098
Army Bases
160
Navy Bases
60
Marine Corp Bases
18
Airforce Bases
74
Coast Guard Bases
38
Defense Manpower Data Center
* "Base Structure Report, Fiscal 2010 Baseline."
Military Related Questions
What exactly does InMyArea do?
InMyArea.com is a shop and compare site that makes finding services fast, cheap, and simple. We save you money by enabling you to see all of the prices and plans for services in your area.
I'm set to PCS before my contract will be up. Will I have to pay early termination fees?
Thanks to the "military clause" in most contracts, you cannot be held liable for early termination fees if you have orders to relocate or deploy and the provider is not available in the area you'll be relocating to. Be sure to ask the provider if your contract will include a military clause.
Does InMyArea.com Offer a military discount?
While InMyArea.com unfortunately cannot offer you a discount on your services many of our providers will. The only way to obtain a military discount is to call into your specific providers customer service after your account has been activated.
My spouse is deployed overseas and I want to be able stay in contact with him, can you help me set up internet service thats good for that?
The greatest part about InMyArea.com is were the one place where all the providers come together so we have access to hundreds of databases to make sure we can get you the system you need.
My spouse is deployed overseas and I'm relocating alone and don't have time to search for my home services, can you help me with that?
We understand the difficulty of having to move without your significant other, which is why we offer free relocation consultations. During your consultation, your assigned representative will go over with you all your options for Cable, Internet, Water, Electricity, Garbage, Home Security and Home Automation. When you're ready to set them up we can take care of everything right there over the phone.
I'm deploying in a couple months overseas, is there a video security system that I can access internationally to keep an eye on my house?
Many of our Home Automation and Home Security Companies have options to set up wireless video cameras on your property that you can access, monitor and control from the other side of the world with an Internet connection.
I won't be PCSing for a few months can I schedule my installations in advance instead of leaving everything to the last minute?
Great question, and one we get often. When you call into to set up your services just let us know that you won't be moving for a couple of weeks or months and we can get those services scheduled out to have them ready when you move in.
Which providers are available to me?
Enter your Zip Code to see what is available in your area.