---
How to Get a Discount
There are several different programs that allow low-income and fixed-income households to receive discounted internet and computers. Find out if you or a member of your household qualify.


Qualify
1. Do you qualify for a government discount or subsidy based on your income?
You may be eligible for a Lifeline Program discount from your internet service provider if your household income is less than the guidelines below: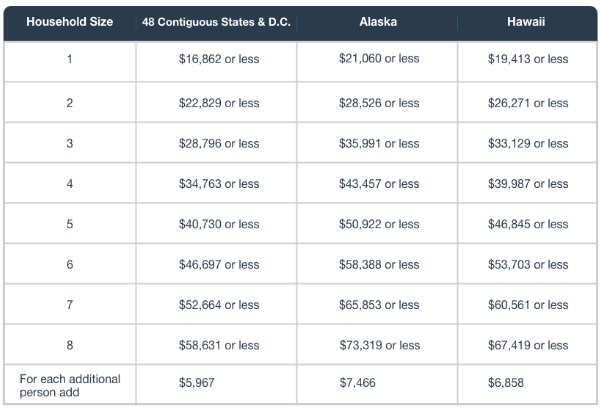 2. Do you currently receive any of the following:
a. Supplemental Nutrition Assistance Program (SNAP), food stamps, EBT
b. Medicaid
c. Supplemental Security Income (SSI)
d. Federal Public Housing Assistance (Section 8)
e. Tribal-specific programs
Bureau of Indian Affairs General Assistance
Tribal Temporary Assistance for Needy Families
Food Distribution Program on Indian Reservations
Head Start
If you answered "yes" to either of the questions above, you may qualify for a Lifeline Program discount.
What is Lifeline?
Lifeline is the FCC's program that helps provide affordable communication services.
How much of a discount will I get through Lifeline?
Eligible Lifeline customers will save at least $9.25 off their monthly internet bill or phone bill, but not both. Only one Lifeline discount can be applied per household.

Choose an internet service provider
You can use your Lifeline discount towards a participating internet service provider. Some providers will have their own program in place of Lifeline, but the qualifications tend to be similar.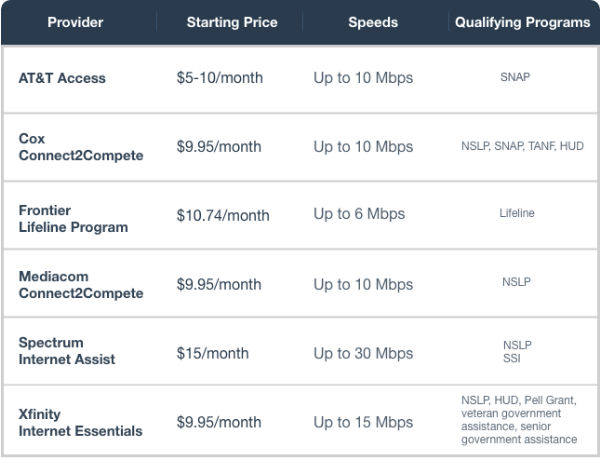 None of these providers are available to me
There is a low-cost internet option for those with low-incomes but internet providers in the area do not offer a discount.
PCs for People
Call: 651-354-2552 — pcsforpeople.org
You can buy a low-cost WiFi hotspot for as low as $11.25/month. The 4G LTE hotspot comes with unlimited data and speeds won't be throttled. There are no credit checks or hidden fees. The only setback is that this plan option requires your hotspot device to be prepaid.

Qualify for a free computer
There are many organizations that may be able to provide a free computer to students of low-income families.
Computers for Kids
Call: 434-817-1121 or Text: 434-214-0153 — computers4kids.net
C4K offers free computers to K-12 students that receive government assistance.
The On It Foundation
Call: 305-244-6454 — theonitfoundation.org
This organization provides free computers to K-12 students that participate in free or reduced school lunch programs.
Computers with Causes
Call: 888-228-7320 — computerswithcauses.org
An organization that donates computers to K-12 students, foster children, and disabled veterans in need.

Check out a WiFi hotspot from your local library
Many public libraries are now offering WiFi hotspots that can be checked out for a period of time. This is a great option for those that lack internet service at home. These WiFi hotspot devices are also portable, so you can access the internet while you're out by connecting your phone, tablet, or computer to the hotspot. Public libraries usually allow patrons to borrow a WiFi hotspot for 2-3 weeks at a time, without the option to renew. This usually means the borrower needs to return the hotspot and can only check it out again if there are no other patrons on the waiting list. WiFi hotspots from the local library are a great option for those who don't want to sign a contract with a provider and only need to use the internet for a short period of time.
Here are some public libraries in major cities and states that offer WiFi hotspots to library patrons:
Los Angeles, CA
Cahuenga Branch Library
Mark Twain Branch Library
Pacoima Branch Library
Chicago, IL
Austin Branch Library*
Brighton Park Library*
Canaryville Branch Library*
Daley, Richard M.-W Humboldt Branch Library*
Douglass Branch Library*
Galewood-Mont Clare Branch Library
Greater Grand Crossing Library*
Legler Branch Library*
North Pulaski Branch Library*
Sherman Park Branch Library
Vodak-East Side Branch Library*
West Lawn Branch Library
Woodson Regional Branch Library*
*These libraries also let you check out a Chromebook Kit that includes a WiFi hotspot and a Chromebook laptop.
New Jersey
Glen Ridge Public Library
Montclair Public Library
New York City, New York
The following public libraries have teamed up with ConnectED Library Hotspot Loan Program to provide free internet access to K-12 students for the entire school year.
The New York Public Library
Brooklyn Public Library
Queens Public Library

Reach out to local organizations
There are many organizations and nonprofits that help close the digital divide by providing free or discounted internet service and computers.

Call: 202-708-1112 — connecthome.hud.gov
Free or low-cost internet service and resources are provided by ConnectHome to those living in HUD-assisted housing in 55 cities across the nation.
Computers for Kids
Call: 434-817-1121 or Text: 434-214-0153 — computers4kids.net
This organization provides low cost computers for K-12 students. Desktops cost $65, and laptops are available for $130 to students in grades 9-12. College students are also eligible for $185 desktops or a laptop for $250 with a valid student ID.
InterConnection - Seattle and Kenmore, Washington
Call: 206-633-1517 — interconnection.org
InterConnection retail stores strive to donate over 400 computers and laptops to low-income families each month. This retailer also provides affordable computer repair and services.
School2Home - California
Call: Northern California 415-744-2383, Southern California 213-443-9952 — school2home.org
School2Home helps provide low-cost internet and free Chromebooks. Internet options are as low as $10-15 a month.