All the lucky fan has to do to win is this:
Pop in an old copy of NCAA Football — any year and any console will do.

Start a Dynasty Mode as the head coach of your favorite college.

Play as many seasons as you want in 20 hours (no simming), and win the championship!
---
No matter what the results are you'll get paid, but if you do win a national championship, we'll announce it here and provide you with a trophy.
What You Will Win
$1000 to complete 20 hours of gameplay (that's $50/hour!)
If you win the championship, we'll also send you a championship trophy
A copy of the highly coveted and discontinued NCAA Football 2014 game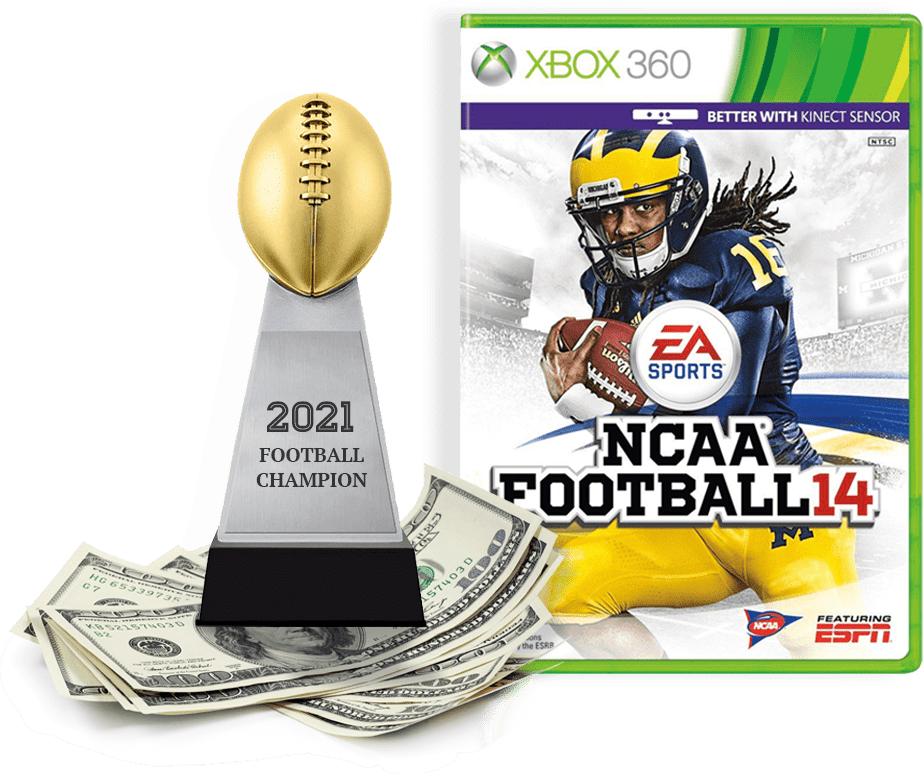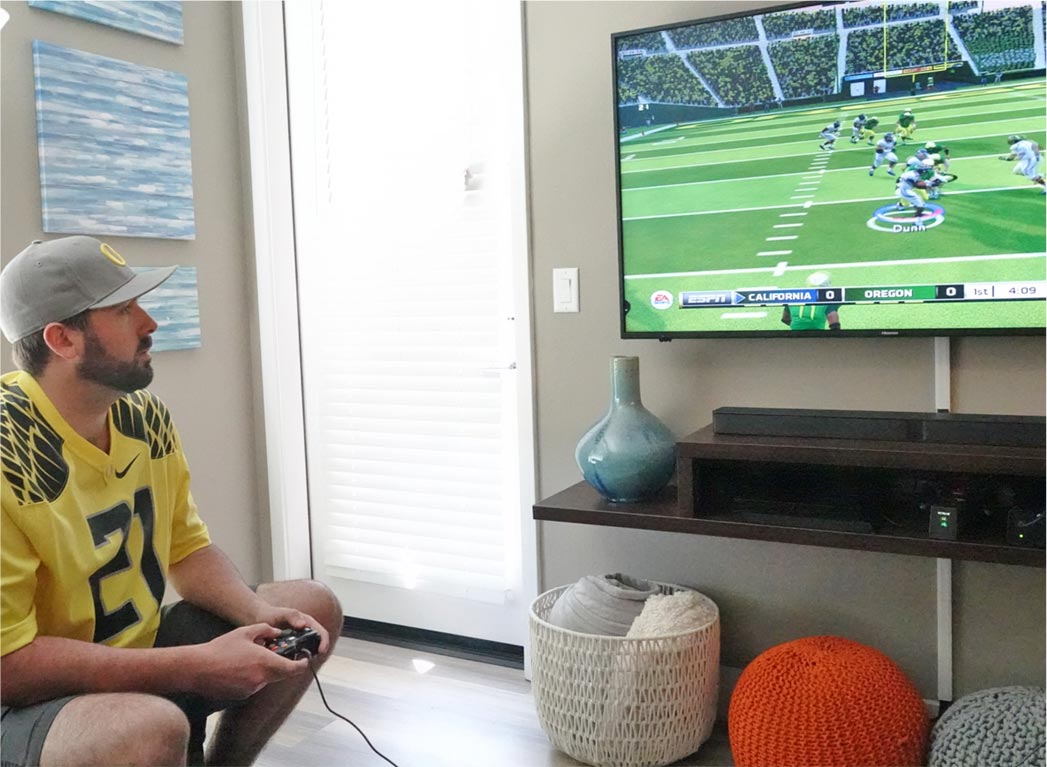 Who we are hiring:
Must be a US resident and 18 years of age, have a copy of NCAA Football, and a game console to play on. We are hiring for any skill level, so you don't have to be an expert.
Details
We will hire our employee on: October 9th, 2020
The potential new hire must accept the job by: October 16th, 2020
The new hire must have a copy of NCAA Football (any year works) and a console to play on.
Above is a picture of Content Manager Nolan Rogers playing NCAA Football 14 by EA Sports. This was (and is) a very popular game until the franchise was halted in 2014 due to lawsuits over using college football player likenesses. In fact, the secondary market for the game has continued to grow, with some copies being listed for almost $300. Although it has been seven years since the last iteration of NCAA Football was released, new legislation passed by the NCAA Board of Governors this summer has opened the door for the video game to return in the future.
You'll see that Nolan is playing as his favorite team, Oregon. As many of his colleagues are from competing schools like Cal and Washington, we can safely say that this may be Nolan's best chance of ever seeing a national championship. :-)
How to Apply
Fill out the application below.
Submission Successfully Submitted!
Your contest submission has been successfully submitted.
Terms and conditions
Legal:
The promoter of the EA Sports NCAA Football Dream Job is Centerfield Media Holding Company, a Delaware corporation, doing business as InMyArea.com ("InMyArea.com") whose principal office is located at 12130 Millennium Drive, Ste 600 Los Angeles, CA 90094.
Employees of InMyArea.com or their family members or anyone else connected in any way with the EA Sports NCAA Football Dream Job or helping to set up the EA Sports NCAA Football Dream Job shall not be permitted to enter.
Persons must be at least 18 years old, or otherwise have reached the age of majority under the laws of the state where they reside to apply for the EA Sports NCAA Football Dream Job.
Only lawful residents of the United States are eligible to enter.
EA Sports NCAA Football Dream Job VOID WHERE PROHIBITED.
There is NO ENTRY FEE AND NO PURCHASE NECESSARY TO APPLY FOR THE EA Sports NCAA Football Dream Job. Any purchase or consideration otherwise given by entrants will not improve one's chances of being selected for the prizes.
Application Period: The Application period will start on September 8, 2020 at 12:00AM (PT), and will close on October 8, 2020 at 11:59PM (PT). After the closing date, no further applicants to the EA Sports NCAA Football Dream Job will be permitted.
To apply, visit https://www.inmyarea.com/resources/NCAA-Football-Dream-Job and fill out the survey.
Each entrant may only enter once.
InMyArea.com will select one EA Sports NCAA Football Dream Job recipient ("Recipient") at random from the pool of eligible entrants using a random number generation tool.
Odds of being selected for EA Sports NCAA Football Dream Job depend on the number of entries received.
The Recipient will be notified by email, phone call, and/or letter within five (5) days after the closing date. If a Recipient cannot be contacted, is not eligible, or does not claim the prize within five (5) days of notification, then InMyArea.com reserves the right to withdraw the prize from the Recipient and pick a replacement Recipient.
The entrants specifically acknowledge that the prize package will be provided by InMyArea.com, and that the EA Sports NCAA Football Dream Job is in no way sponsored, endorsed or administered by any of the companies whose products or services are provided to Recipients.
InMyArea.com will mail, email, or hand-deliver the prize package to the Recipients.
Recipient acknowledges that participation in the EA Sports NCAA Football Dream Job will be as an independent contractor. No agency, partnership, joint venture, or employee-employer relationship is intended or created by accepting the EA Sports NCAA Football Dream Job. The recipient has no authority to bind InMyArea.com to contracts, make any agreement or representations on InMyArea.com's written consent. The recipient shall not be eligible to participate in any vacation, group medical or life insurance, disability, profit sharing, or retirement benefits, or any other fringe benefits or benefit plans offered by InMyArea.com to its employees. InMyArea.com is not responsible for withholding or paying any income, payroll, Social Security, or other federal, state, or local taxes, making any insurance contributions, including unemployment or disability, or obtaining worker's compensation insurance on the Recipient's behalf. The recipients acknowledge that stipend is subject to all applicable taxes. The recipients is solely responsible for all such taxes or contributions, including penalties and interest.
EA Sports NCAA Football Dream Job application consists of all details stated above created by the InMyArea.com team about the Recipient's experiences.
The Recipients agree to the use of their names and image in any publicity material associated with the EA Sports NCAA Football Dream Job. Any personal data relating to the entrants will be used solely in accordance with current federal and state data protection laws. For more information, please visit the Privacy Policy at InMyArea.com.
No cash alternative to the prizes will be offered. The opportunity to participate in the EA Sports NCAA Football Dream Job is not transferable. InMyArea.com reserves the right to substitute the prize with items of equivalent value without giving notice.
The recipient details will be available 28 days after the closing date where legally required. To request recipient details, send the request in a stamped self-addressed envelope to the following address: InMyArea.com 12130 Millennium Drive, Ste 600 Los Angeles, CA 90094
InMyArea.com reserves the right to cancel or amend this EA Sports NCAA Football Dream Job and these Terms and Conditions without notice.
InMyArea.com's decision in respect of all matters to do with the EA Sports NCAA Football Dream Job will be final and no correspondence will be considered or provided.
EA Sports NCAA Football Dream Job and these Terms and Conditions will be governed by California law, and any disputes will be subject to the exclusive jurisdiction of the courts of California.
By submitting an application for this EA Sports NCAA Football Dream Job, entrants agree to be bound by these Terms and Conditions.