CABLE INTERNET SPEEDS
How fast is Cable Internet?
If you're looking for a high-speed internet connection, cable is a great option that's probably available in your area. Typical speeds will greatly vary by provider and location, but they can reach download speeds up to 300 Mbps. Let's put that number into perspective. With 300 Mbps, you'll be able to connect all of your devices to the internet without much buffering or lagging. I'm talking all your laptops, smartphones, tablets, TV's, and whatever other new internet-enabled devices the kids are using these days. This should also be plenty of speed for gamers. High-speed internet is defined as any connection that offers download speeds of 25 Mbps or greater. Cable clearly meets that qualification: its highest download speeds are 12 times faster than the base definition of "high-speed internet." A recent speed test study found that cable internet typically delivers 99% of its advertised speeds. This means that the advertised speeds you see from providers will be the actual speeds you experience. Not all internet connection types live up to their advertised speeds, so this is a great perk with cable!
The overall speeds you experience are going to depend on a few different factors. If you've done your research, you'll be able to ensure that you maximize your internet speeds. Luckily, we've done the research for you! The most obvious factor that impacts speed is going to be your local internet providers. Different providers will offer internet plans with a wide range of speeds. The best way to compare all of your options is to type in your zip code at the top of the page. We'll give you a list of all the providers available in your area and the speeds that they offer. After you've chosen your provider, you'll need to purchase a router and modem.
If you're like me, you might have thought that all routers and modems are interchangeable. However, they are definitely not created equal. We'll get into the details of cable equipment and technology in our "what is cable internet" section. For now, all you need to know is that your modem and router can directly impact internet speeds. These devices come with different speed tiers that list the maximum amount of internet speed they can support. Let's say you purchase an internet package with download speeds of 100 Mbps. You're super stoked about all the shows your family can binge and games they can play at those speeds. But wait, you purchased an old internet modem that can only support 50 Mbps. This means that you'll only have access to speeds up to 50 Mbps at any given time. You'll be cutting your internet speed potential in half, just because you purchased the wrong modem. Luckily, most internet providers offer a list of modems and routers that work best with their plans. As long as you check the speed tiers and the equipment is compatible, you'll be good to go!
Another factor that impacts internet speeds is bandwidth. Because you share cable lines with your neighbors for this connection type, you might experience slow speeds at times. During peak hours when lots of people are trying to use the internet at the same time, you'll have to share bandwidth with your neighbors. It's like a traffic jam on the highway. There are only so many lanes to travel in, and there are just too many people trying to get to the same place at once. However, you can try to avoid this headache in a few ways. If you're planning to have a movie night, download the flick earlier in the day so it'll be ready to go whenever you want! You can also try to do your daily browsing or Facebook checking at times outside of internet rush hour. The times that are going to be the busiest are between 7 PM and 11 PM. That's only a few hours out of your day, so it won't be an issue most of the time.
There is one last thing to consider when it comes to speed: data caps. Many cable providers have data caps that limit your internet usage each month. You'll only receive the provider's advertised internet speeds until you've used up your allotted amount. After you've reached the data limit, most providers will still let you access the internet. However, they'll throttle your speed so the connection will be MUCH slower. Just make sure to read all the details before you sign up for an internet plan that isn't going to give you enough data. Type in your zip code at the top of the page or give us a call for information on plans with data caps in your area.
Let's consider what you can do with download speeds of 100 Mbps. This is a pretty typical amount of speed for a lot of providers.
With speeds up to 100 Mbps you can enjoy: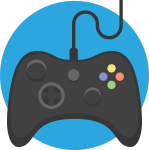 Online Gaming
Play your favorite game online with 0 lag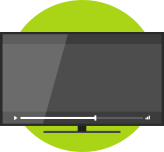 Streaming Ready
Download an entire HD movie in 2 minutes
Load your favorite Netflix show in HD in 16 seconds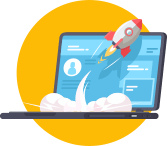 Browsing & Music
Download a 4-minute song in 0.3 seconds
Load your favorite YouTube video in 2.5 seconds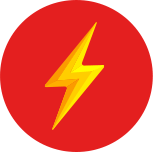 Extremely Fast Broadband
A connection that's 4 times faster than the definition of broadband
Download speeds 5 times faster than the national average
Large nationwide coverage
Fast speeds
Easy to bundle with Cable TV
Uses existing infrastructure
More affordable than Fiber Optic Internet

Cons
Shared broadband with neighbors
Limited number of providers to choose from in certain areas
Some providers may have data caps
Relies on electricity
Cables are susceptible to damage and outages
Cable Internet technology
Cable internet gets its name from the physical cables (you guessed it) that make the transfer of data possible for this type of internet. A cable connection uses the same coax cables that are used to bring you cable TV. Luckily, since TV is widely available, so is cable internet. In most areas the cable infrastructure already exists underground. Whenever you try to do something online like click a link or update your status, the information travels through the cables using an electrical signal. You can watch TV and use cable internet at the same time without any problems, even though they use the same types of cable.
In order to get your house set up to receive a cable internet connection, you'll need a modem and a router. Though these items were once sold seperate, most providers now offer a single device that connects the capabilities of both. Essentially, a modem connects your house to the internet. The router splits up the modem's internet signal so that you can connect multiple devices to the internet. Data travels through the cables from your provider to a node located in your neighborhood. The node then distributes the data to the houses connected to it. Your modem and router will then communicate with your devices so that you can access the information you need.

Data caps for Cable Internet
As we talked about earlier, some cable internet providers place data caps on their internet plans. Specific data limits vary drastically by provider and location. Some cable internet providers have lower data caps, while others have such high limits that you'll probably never run out of data. For example, Cable ONE has internet plans with data caps that range from 50 GB to 1,500 GB (aka 1.5 TB). Alright, so now we have the numbers, but what do they mean? Let's start by giving you a list of things that you can do with 50 GB of data. You could send 20,000 emails, download 50 movies, stream music for 600 hours, or do 2,500 hours of browsing. Now, let's look at the higher end of data caps. Many providers have plans with data caps around 1,000 GB, or 1 TB. With 1TB you could watch 416 videos on Netflix that are 90 minutes long each. In other words, you would have to stream Netflix for more than 20 hours a day to hit your monthly data limit. Or, you could play 12,000 hours of online games. While the term "data cap" might sound scary, if the limit is high enough, you probably won't even have to worry about it. These providers will also let you opt into alerts that let you know when you're nearing your data limit. Luckily, there are also several providers that offer unlimited data plans without any caps.
What's the installation process for Cable Internet?
Thanks to cable's widespread availability and pre-existing infrastructure, the installation process is usually pretty simple. The exact process will vary by location and provider. If there is already an established cable connection at your residence, you'll just need to set up your modem and connect. On the other hand, if there isn't a pre-existing connection, a technician will have to set up a coaxial cable that reaches your home from a nearby utility pole. A new wall plate might also need to be installed in your house, but this will only involve drilling a small hole. Next comes the modem installation. The technician will set it up near the cable outlet for a strong signal. After that, your high-speed internet connection should be ready to go! Many cable internet providers also offer a DIY installation option if there is a pre-existing cable connection in your home. They'll send you all the equipment and instructions you need. This will save you the professional installation fee and make you feel like a real handyman/handywoman. The process shouldn't take more than an hour.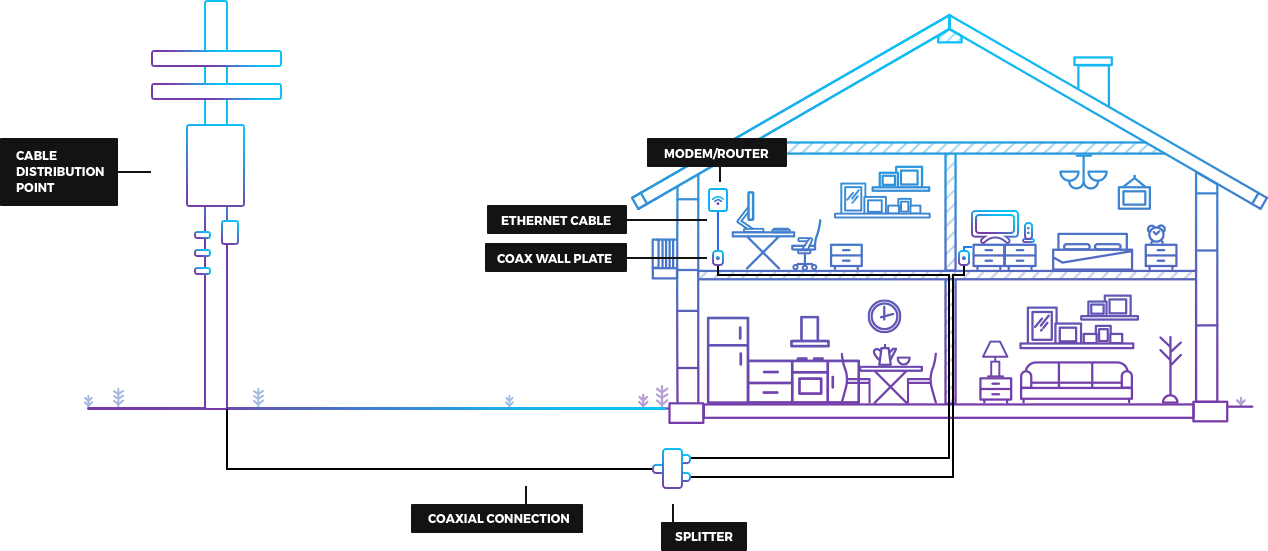 List of Cable Internet Providers
There are hundreds of different internet providers bringing a cable connection to over 194 million residents nationwide. Because cable is available in nearly 90% of the nation, chances are, there will be a cable internet provider in your area. Most areas only have a few providers to choose from, so there isn't a great deal of variety. However, you won't be overwhelmed with choosing from a lengthy list of providers. With availability in cities throughout 40 states, Xfinity is the largest cable provider in the country. Depending on your location, Xfinity offers internet plans with download speeds up to 250 Mbps. This is plenty of speed for large households, Netflix bingers, and gamers. Xfinity by Comcast is most available in DC, Utah, Illinois, and Colorado. Typical Xfinity plans have data caps of 1 TB while others are unlimited.
The second largest provider in the U.S. is Spectrum. Time Warner Cable Internet used to be a seperate provider, but it was recently acquired by Spectrum. Its cable internet packages come with download speeds up to 1 Gbps. This is still a high-speed connection, and it should provide enough speed for fairly heavy internet users. For those that live in larger households with multiple gamers, you might need to go with a different provider. Spectrum does not have data caps on any of its plans. This internet provider is available sporadically throughout 29 states. It is the most widely available in Wyoming, Montana, Wisconsin, and Missouri.
Next is Cox Communications. This provider offers the fastest download speeds for cable internet, with plan speeds up to 300 Mbps. All of Cox's packages come with data caps of 1 TB per month. This should be plenty of data for heavy internet users. If you somehow use more than your allotted amount, you'll be charged a small fee for every 50 GB that you go over. According to Cox, only 2% of its customers ever go over this limit. Cox internet is available in cities throughout 18 states. Those with the largest coverage include Arizona, Rhode Island, Nevada, and Oklahoma.
Remember how cable internet uses the same coax cables as cable TV? Because of this, most cable internet providers also offer bundles that include cable TV service. These bundles are great, because they often give you the services at a lower rate than you would pay if you bought TV and internet separately. This way, you won't have to deal with the hassle of paying 2 seperate bills every month. If you catch a good deal, you can also get perks like free installation, giftcards, or contract buyouts. You might as well get your high-speed internet and cable TV in the same place and save some money while you're at it! Type in your zip code at the top of this page to see which providers and bundles are available in your area.
There are 447 DSL Internet Providers Available Nationwide
| Provider: | Fastest Speeds: | Coverage: | Households Served: |
| --- | --- | --- | --- |
| Xfinity | 1.2 Gbps | 33.3% | 45,372,795 |
| Spectrum | 1000 Mbps | 31.7% | 43,248,666 |
| Cox | 1000 Mbps | 6.7% | 9,122,027 |
| Optimum by Altice | 1000 Mbps | 2.5% | 3,581,435 |
| WOW! | 1.2 Gbps | 2.2% | 3,135,224 |
| Mediacom | 1000 Mbps | 2% | 2,974,039 |
| Astound Broadband Powered by RCN | 1.2 Gbps | 1.3% | 2,037,081 |
| Sparklight | 1000 Mbps | 1.3% | 1,864,809 |
| Astound Broadband Powered by Wave | 1.2 Gbps | 0.7% | 919,206 |
| Breezeline | 1000 Mbps | 0.6% | 953,264 |
| Astound Broadband Powered by Grande | 1.2 Gbps | 0.4% | 606,276 |
| Midco | 1000 Mbps | 0.4% | 616,172 |
| Vyve Broadband | 1000 Mbps | 0.4% | 589,543 |
| Armstrong | 1000 Mbps | 0.3% | 465,158 |
| Service Electric Cable TV | 1000 Mbps | 0.3% | 343,466 |
| TDS Telecom | 1000 Mbps | 0.2% | 351,368 |
| Blue Ridge | 1.2 Gbps | 0.2% | 291,250 |
| GCI | 2 Gbps | 0.2% | 222,596 |
| Buckeye Broadband | 1000 Mbps | 0.2% | 252,685 |
| Service Electric Cablevision | 2 Gbps | 0.1% | 193,406 |
| Shentel | 1000 Mbps | 0.1% | 197,691 |
| Windspeed Broadband | 100 Mbps | 0.1% | 220,880 |
| Fidelity | 1.024 Gbps | 0.1% | 170,887 |
| Cablelynx | 250 Mbps | 0.1% | 168,221 |
| Hargray | 1000 Mbps | 0.1% | 172,930 |
| Rainier Connect | 1000 Mbps | 0.1% | 145,143 |
| Zito Media | 1000 Mbps | 0.1% | 142,811 |
| Comporium | 1000 Mbps | 0.1% | 131,514 |
| Bluepeak | 1000 Mbps | 0.1% | 124,543 |
| MaxxSouth | 1000 Mbps | 0.1% | 114,123 |
| Massillon Cable TV | 200 Mbps | 0.1% | 91,719 |
| Windstream | 1000 Mbps | 0.1% | 92,316 |
| Horry Telephone Cooperative | 1000 Mbps | 0.1% | 127,976 |
| Blue Stream Fiber | 1000 Mbps | 0.1% | 85,332 |
| Consolidated | 1000 Mbps | 0.1% | 84,578 |
| Astound Broadband Powered by En-Touch | 1.2 Gbps | 0.1% | 58,410 |
| Ritter | 1000 Mbps | 0% | 55,899 |
| Antietam Broadband | 1.3 Gbps | 0% | 56,873 |
| Vision | 1000 Mbps | 0% | 53,031 |
| Cable America Missouri | 1000 Mbps | 0% | 50,191 |
| CAS | 3 Gbps | 0% | 50,969 |
| Adams Cable Service | 250 Mbps | 0% | 53,839 |
| IMCTV | 1000 Mbps | 0% | 44,873 |
| TruVista | 500 Mbps | 0% | 46,583 |
| Summit | 300 Mbps | 0% | 74,223 |
| CTV Beam | 1000 Mbps | 0% | 36,794 |
| ETC | 1000 Mbps | 0% | 41,139 |
| Giggle Fiber | 1000 Mbps | 0% | 27,467 |
| CentraCom | 500 Mbps | 0% | 25,252 |
| OneSource | 500 Mbps | 0% | 24,420 |
Previous
1
2
3
4
5
Next
Cable Internet vs Fiber Internet
Now that we've given you the rundown on cable internet, let's see how it stacks up against the competition. We'll start with a cable vs. fiber optic internet comparison. In terms of speed, fiber is the superior option. Cable internet providers offer download speeds up to 300 Mbps, while fiber optic comes with speeds up to 1,000 Mbps, or 1 GB. With 1,000 Mbps, you can connect as many devices to the internet as you want. Even if you had multiple people gaming, streaming Netflix in HD, and downloading movies at the same time, your connection wouldn't slow down. Let's not forget that 300 Mbps is still a great amount of speed for larger households and heavy internet users. Though download speeds of 1 GB sound enticing, chances are you're not going to need anywhere near that much speed. While many providers offer a 1 GB connection, speeds will vary drastically by location. The fiber providers in your area might actually offer less internet speed than your local cable providers. Type in your zip code at the top of the page to see which cable and fiber providers are available in your area!
When it comes to price, cable is typically going to be more affordable. Fiber optic internet requires new infrastructure, offers faster speeds, and uses advanced technology, so its price tag is going to be higher. Fiber optic internet uses cables made of glass or plastic that transmit data using light instead of electricity. Data can travel much faster over light than it can over the electricity that runs through coaxial cables. Fiber cables are also much longer than coax cables, so information can travel farther distances at higher speeds. However, because fiber requires new infrastructure unlike cable, it is much less widely available. While cable internet reaches about 90% of the population, fiber only reaches 25%.
Remember those "traffic jams" we talked about that you can experience during internet rush hour with cable? You won't have to deal with this issue if you have a fiber optic connection. With a cable connection, you share bandwidth with all of your neighbors. This means that if you all decide to hop online and stream a Hulu show at the same time, you're going to experience less than optimal speeds. However, you don't have to share your bandwidth with anyone if you have fiber internet. Fiber cables are wired straight to your home, so you won't lose any speed even if the entire neighborhood is online at the same time.
Cable Internet
Average Download Speed
25 Mbps to 300 Mbps
Typical Internet Plan Prices
$25 to $130 Per Month
Availability Nationwide
89% Coverage
Data Caps
50 GB to Unlimited
Fiber Internet
Average Download Speed
50 Mbps to 1,000 Mbps
Typical Internet Plan Prices
$40 to $140 Per Month
Availability Nationwide
25% Coverage
Data Caps
1 TB to Unlimited
Cable Internet vs DSL Internet
DSL, or Digital Subscriber Line, is a type of internet that uses pre-existing phone lines to transfer data. Unlike dial-up internet, you can still make phone calls and use the internet at the same time. Because DSL uses phone lines, it is widely available, reaching 90% of the population. Cable is an option for 89% of the country, so the two don't really differ in terms of availability. Cable internet offers faster speeds on average than DSL. For example, AT&T's DSL internet plans come with download speeds up to 6 Mbps. This is far from high-speed and will only be sufficient for things like checking your email or updating Facebook. Your internet speeds with DSL will also depend on your location. You'll need to live only a mile or two from your provider's central office for optimal speeds. This distance issue doesn't exist for cable internet. One advantage of DSL is that you don't have to share bandwidth with your neighbors. This means that your internet won't slow down during peak hours like it does with cable. However, don't forget that overall DSL speeds are much slower than cable and you need to live close to a central office. Overall, cable is going to be a better option.
| | | |
| --- | --- | --- |
| Internet Type | Cable | DSL |
| Download Speed Range | 5 Mbps to 3000 Mbps | 5 Mbps to 1000 Mbps |
| Typical Price Range | $10 to $300 Per Month | $14 to $300 Per Month |
| Nationwide Availability | 88% Coverage | 89% Coverage |
| Typical Bandwidth | 8 GB to Unlimited | 5 GB to Unlimited |