CABLE INTERNET SPEEDS
How fast is Cable Internet?
If you're looking for a high-speed internet connection, cable is a great option that's probably available in your area. Typical speeds will greatly vary by provider and location, but they can reach download speeds up to 300 Mbps. Let's put that number into perspective. With 300 Mbps, you'll be able to connect all of your devices to the internet without much buffering or lagging. I'm talking all your laptops, smartphones, tablets, TV's, and whatever other new internet-enabled devices the kids are using these days. This should also be plenty of speed for gamers. High-speed internet is defined as any connection that offers download speeds of 25 Mbps or greater. Cable clearly meets that qualification: its highest download speeds are 12 times faster than the base definition of "high-speed internet." A recent speed test study found that cable internet typically delivers 99% of its advertised speeds. This means that the advertised speeds you see from providers will be the actual speeds you experience. Not all internet connection types live up to their advertised speeds, so this is a great perk with cable!
The overall speeds you experience are going to depend on a few different factors. If you've done your research, you'll be able to ensure that you maximize your internet speeds. Luckily, we've done the research for you! The most obvious factor that impacts speed is going to be your local internet providers. Different providers will offer internet plans with a wide range of speeds. The best way to compare all of your options is to type in your zip code at the top of the page. We'll give you a list of all the providers available in your area and the speeds that they offer. After you've chosen your provider, you'll need to purchase a router and modem.
If you're like me, you might have thought that all routers and modems are interchangeable. However, they are definitely not created equal. We'll get into the details of cable equipment and technology in our "what is cable internet" section. For now, all you need to know is that your modem and router can directly impact internet speeds. These devices come with different speed tiers that list the maximum amount of internet speed they can support. Let's say you purchase an internet package with download speeds of 100 Mbps. You're super stoked about all the shows your family can binge and games they can play at those speeds. But wait, you purchased an old internet modem that can only support 50 Mbps. This means that you'll only have access to speeds up to 50 Mbps at any given time. You'll be cutting your internet speed potential in half, just because you purchased the wrong modem. Luckily, most internet providers offer a list of modems and routers that work best with their plans. As long as you check the speed tiers and the equipment is compatible, you'll be good to go!
Another factor that impacts internet speeds is bandwidth. Because you share cable lines with your neighbors for this connection type, you might experience slow speeds at times. During peak hours when lots of people are trying to use the internet at the same time, you'll have to share bandwidth with your neighbors. It's like a traffic jam on the highway. There are only so many lanes to travel in, and there are just too many people trying to get to the same place at once. However, you can try to avoid this headache in a few ways. If you're planning to have a movie night, download the flick earlier in the day so it'll be ready to go whenever you want! You can also try to do your daily browsing or Facebook checking at times outside of internet rush hour. The times that are going to be the busiest are between 7 PM and 11 PM. That's only a few hours out of your day, so it won't be an issue most of the time.
There is one last thing to consider when it comes to speed: data caps. Many cable providers have data caps that limit your internet usage each month. You'll only receive the provider's advertised internet speeds until you've used up your allotted amount. After you've reached the data limit, most providers will still let you access the internet. However, they'll throttle your speed so the connection will be MUCH slower. Just make sure to read all the details before you sign up for an internet plan that isn't going to give you enough data. Type in your zip code at the top of the page or give us a call for information on plans with data caps in your area.
Let's consider what you can do with download speeds of 100 Mbps. This is a pretty typical amount of speed for a lot of providers.
With speeds up to 100 Mbps you can enjoy: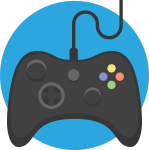 Online Gaming
Play your favorite game online with 0 lag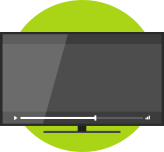 Streaming Ready
Download an entire HD movie in 2 minutes
Load your favorite Netflix show in HD in 16 seconds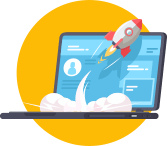 Browsing & Music
Download a 4-minute song in 0.3 seconds
Load your favorite YouTube video in 2.5 seconds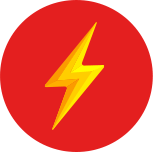 Extremely Fast Broadband
A connection that's 4 times faster than the definition of broadband
Download speeds 5 times faster than the national average