Get Paid to Find the Ultimate Quarantine Roommate from TV History
Stuck at home and having to deal with family, roommates, and partners a little more than you prefer? If so, we have an escape for you! We're paying 5 lucky candidates to have the ability to escape their current quarantined reality and immerse themselves in their favorite television show.
All we want to know is which TV character you'd rather be quarantined with. Would you rather be stuck at home with Michael Scott or Dwight Schrute? George Costanza or Kramer? Homer Simpson or Bart? We're trying to find the ultimate quarantine roommate from TV history...
What does this virtual escape entail?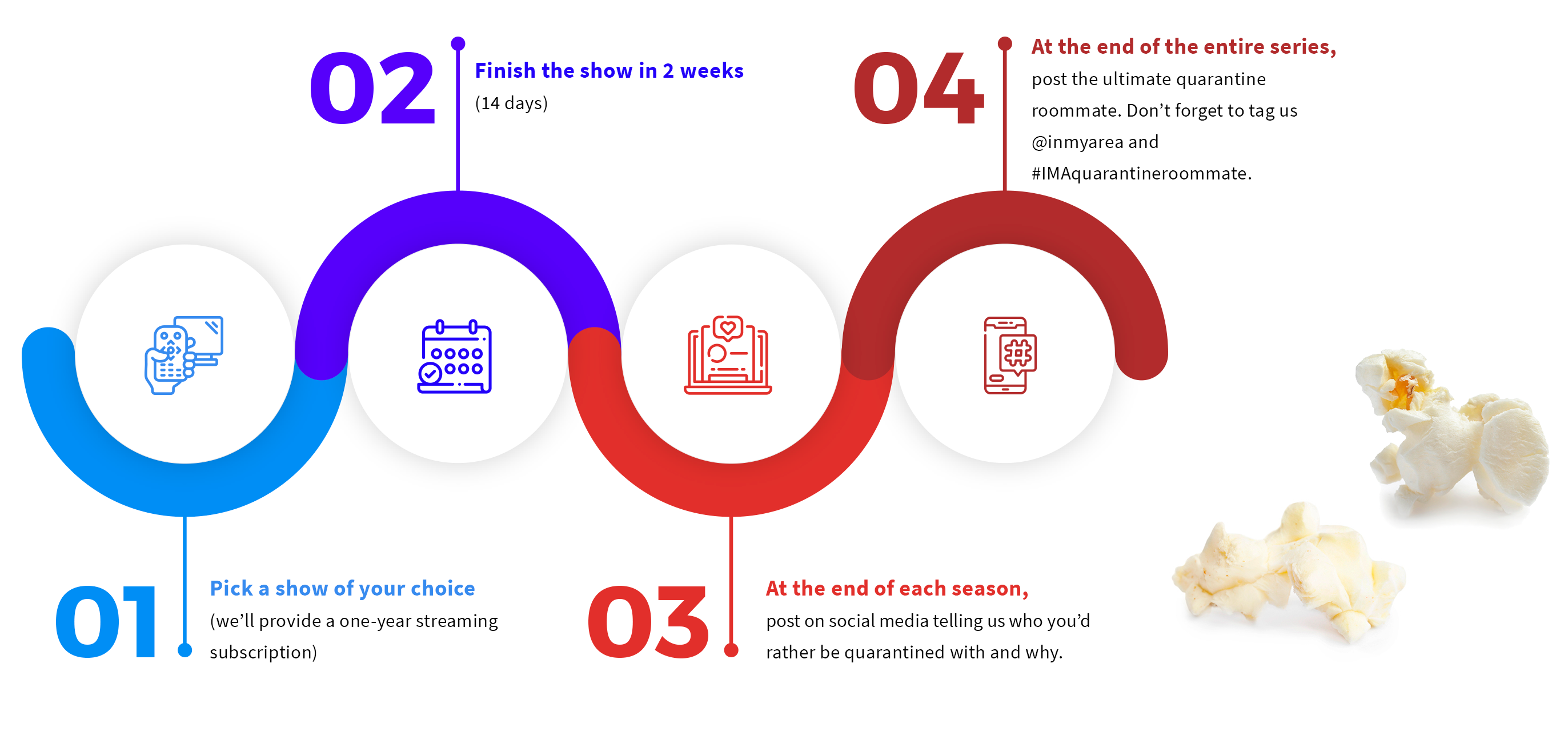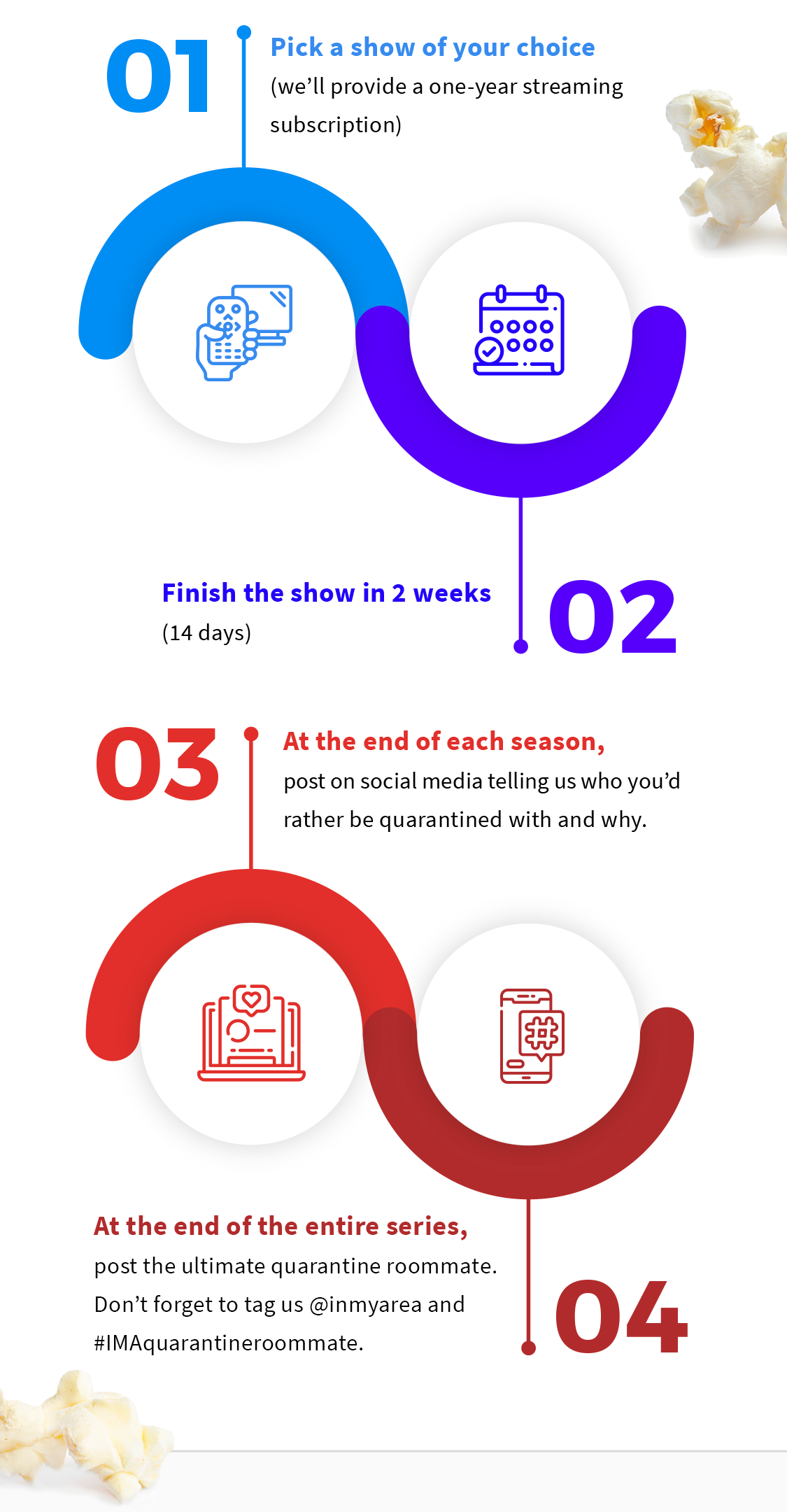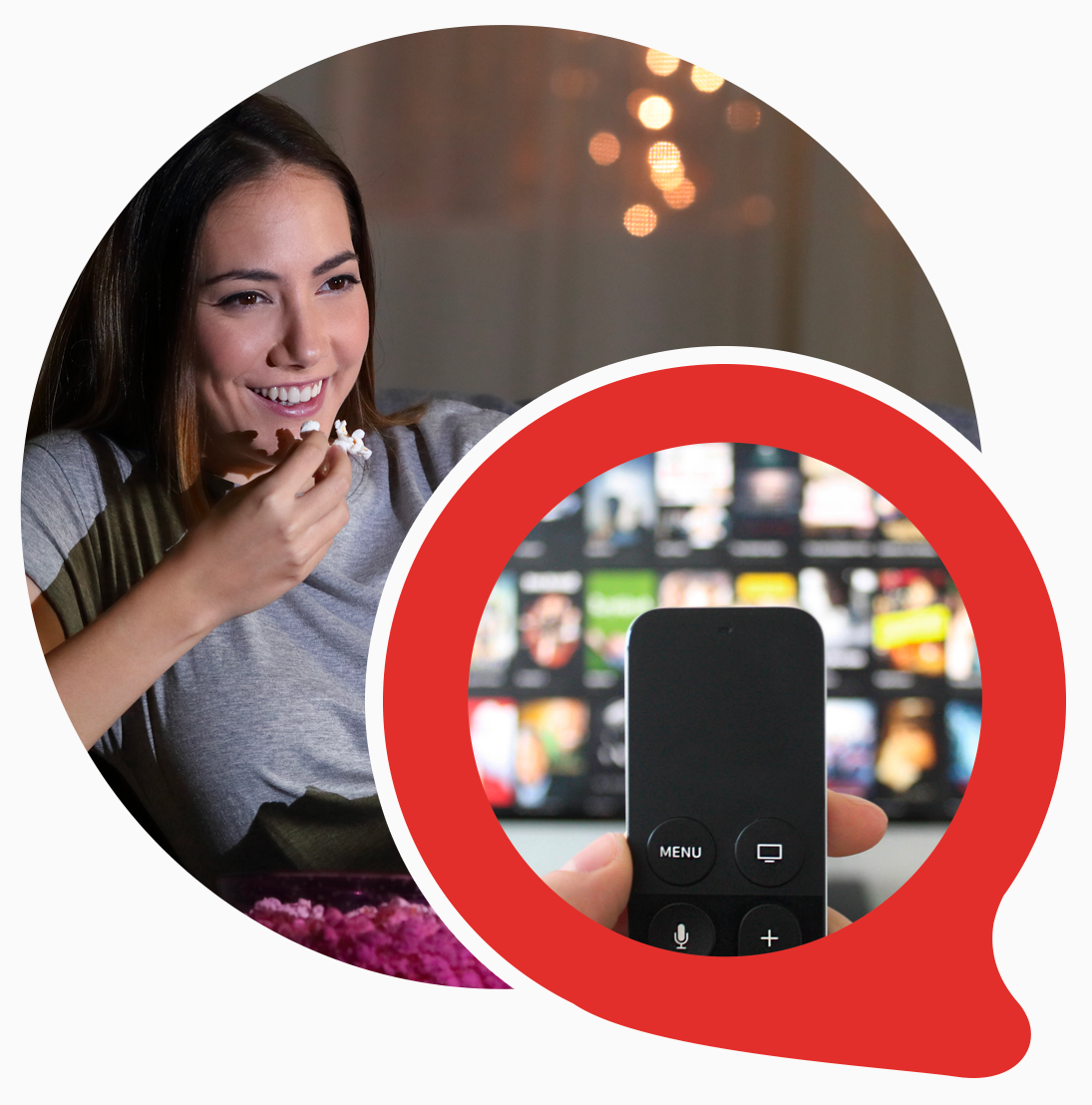 Who can apply?
Anyone over the age of 18+ who is eligible to work in the U.S. can apply. Bonus points if you're already active on social media.
What can I watch?
You can choose any show of your choice. Keep in mind, you only have 14 days to watch an entire series, so if you choose the Simpsons, you'll be watching a total of 684 episodes. But if that's the show you want to watch, we won't stop you!
Here are a few of our favorites for inspiration: Friends, Breaking Bad, The Office, Parks and Recreation, How I Met Your Mother, Ozark, Prison Break, American Horror Story, etc.
What will you get if selected?
One-year subscription to the streaming platform of your choice (approx. $150-$200)
Postmates Gift Card ($250)
Snacks and Popcorn ($50)
A blanket to get cozy ($25)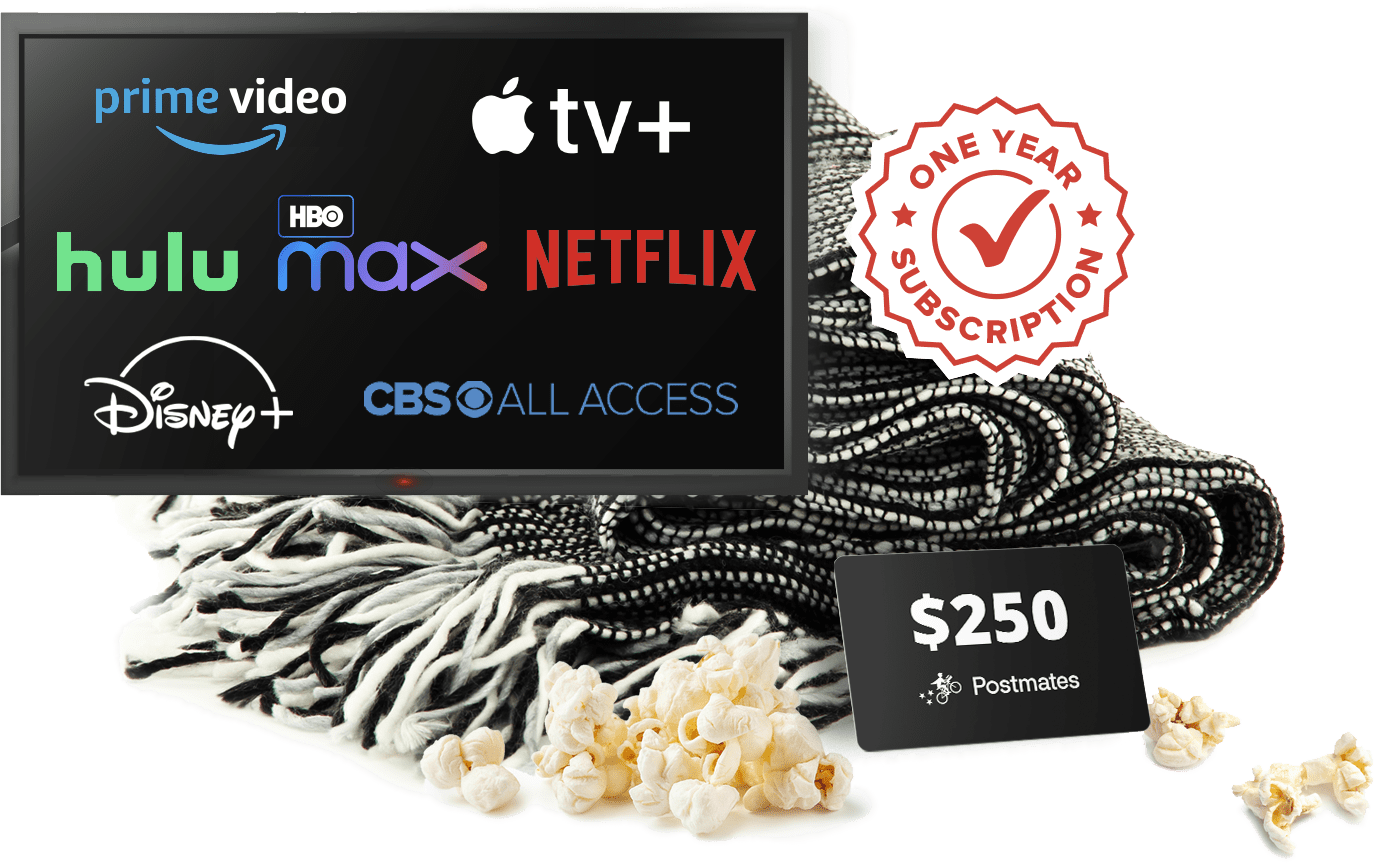 How to Apply:
Fill out the application below and tell us in 200 words why you want this gig! Maybe your roommate's driving you up the wall, your parents won't stop nagging, or you're lonely and looking for some company. Whatever the reason, let us know. Bonus points for creativity!
The Application period will start on June 16, 2020 at 12:00AM (PT), and will close on June 30, 2020 at 11:59PM (PT). We will choose 5 winners at random and reach out by email, phone call, and/or letter within five (5) days after the closing date.

From there, they'll begin the search for the ultimate quarantine roommate.

Submission Successfully Submitted!
Your contest submission has been successfully submitted.
Legal:
The promoter of the Ultimate Quarantine Roommate is Centerfield Media Holding Company, a Delaware corporations, doing business as InMyArea.com ("InMyArea.com") whose principal office is located at 12130 Millennium Drive, Ste 600 Los Angeles, CA 90094.
Employees of InMyArea.com or their family members or anyone else connected in any way with the Ultimate Quarantine Roommate or helping to set up the Ultimate Quarantine Roommate shall not be permitted to enter.
Persons must be at least 18 years old, or otherwise have reached the age of majority under the laws of the state where they reside to apply for the Ultimate Quarantine Roommate.
Only lawful residents of the United States are eligible to enter.
ULTIMATE QUARANTINE ROOMMATE VOID WHERE PROHIBITED.
There is NO ENTRY FEE AND NO PURCHASE NECESSARY TO APPLY FOR THE Ultimate Quarantine Roommate. Any purchase or consideration otherwise given by entrants will not improve one's chances of being selected for the prizes.
Application Period: The Application period will start on June 16, 2020 at 12:00AM (PT), and will close on June 30, 2020 at 11:59PM (PT). After the closing date, no further applicants to the Ultimate Quarantine Roommate will be permitted.
To apply, visit https://www.inmyarea.com/resources/ultimate-quarantine-roommate and fill out the survey.
Each entrant may only enter once.
InMyArea.com will select a total of five (5) Ultimate Quarantine Roommate recipients ("Recipients") at random from the pool of eligible entrants using a random number generation tool.
Odds of being selected for Ultimate Quarantine Roommate depend on the number of entries received.
The Recipients will be notified by email, phone call, and/or letter within five (5) days after the closing date. If a Recipient cannot be contacted, is not eligible, or does not claim the prize within five (5) days of notification, then InMyArea.com reserves the right to withdraw the prize from the Recipient and pick a replacement Recipient.
The entrants specifically acknowledge that the prize package will be provided by InMyArea.com, and that the Ultimate Quarantine Roommate is in no way sponsored, endorsed or administered by any of the companies whose products or services are provided to Recipients.
InMyArea.com will mail, email, or hand-deliver the prize package to the Recipients.
Recipients acknowledge that participation in the Ultimate Quarantine Roommate will be as an independent contractor. No agency, partnership, joint venture, or employee-employer relationship is intended or created by accepting the Ultimate Quarantine Roommate. Recipients have no authority to bind InMyArea.com to contracts, make any agreement or representations on InMyArea.com's written consent. Recipients shall not be eligible to participate in any vacation, group medical or life insurance, disability, profit sharing, or retirement benefits, or any other fringe benefits or benefit plans offered by InMyArea.com to its employees. InMyArea.com is not responsible for withholding or paying any income, payroll, Social Security, or other federal, state, or local taxes, making any insurance contributions, including unemployment or disability, or obtaining worker's compensation insurance on the Recipients' behalf. Recipients acknowledge that stipend is subject to all applicable taxes. Recipients are solely responsible for all such taxes or contributions, including penalties and interest.
Ultimate Quarantine Roommate application consists of answering a survey created by the InMyArea.com team about the Recipient's streaming experiences. InMyArea.com will notify the Recipients on how to complete the Ultimate Quarantine Roommate requirements.
The Recipients agree to the use of their names and image in any publicity material associated with the Ultimate Quarantine Roommate. Any personal data relating to the entrants will be used solely in accordance with current federal and state data protection laws. For more information, please visit the Privacy Policy at InMyArea.com.
No cash alternative to the prizes will be offered. The opportunity to participate in the Ultimate Quarantine Roommateis not transferable. InMyArea.com reserves the right to substitute the subscription with a subscription or items of equivalent value without giving notice.
A list of the Recipients will be available 28 days after the closing date where legally required. To request a list of Recipients, send the request in a stamped self-addressed envelope to the following address:
InMyArea.com
12130 Millennium Drive, Ste 600
Los Angeles, CA 90094
InMyArea.com reserves the right to cancel or amend this Ultimate Quarantine Roommate and these Terms and Conditions without notice.
InMyArea.com's decision in respect of all matters to do with the Ultimate Quarantine Roommate will be final and no correspondence will be considered or provided.
Ultimate Quarantine Roommate and these Terms and Conditions will be governed by California law, and any disputes will be subject to the exclusive jurisdiction of the courts of California.
By submitting an application for this Ultimate Quarantine Roommate, entrants agree to be bound by these Terms and Conditions.