Each county's waste management department has specific guidelines about what you can and cannot put in your household trash.
Electronics require special disposal methods due to hazardous materials, and many local waste management groups collect these items.
Selling or trading in your old electronics is a good way to make an extra buck and keep these devices in use.
Always make sure to back up and erase data on devices before recycling them, to protect your personal information.
Switching to alternative energies is another great way to be sustainable. Read about how you can help the environment by switching to solar energy.
It's easy to let unused gadgets pile up in drawers and closets. We're all guilty of it. These old cellphones, computers, and TVs require specialized disposal, but you may not be entirely sure how to go about it. So, you just store them, and the pile continues to grow.
Now, you're spring cleaning or moving. The time has finally come to bid sayonara to these items. In just easy three steps, you can dispose of these discarded devices in an environmentally friendly fashion. Just remember to erase personal data from your devices before you cast them away.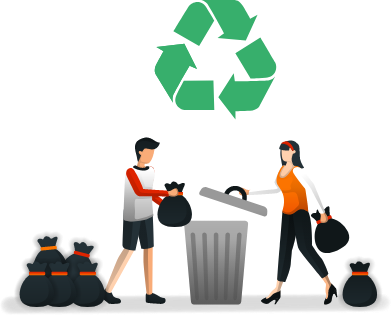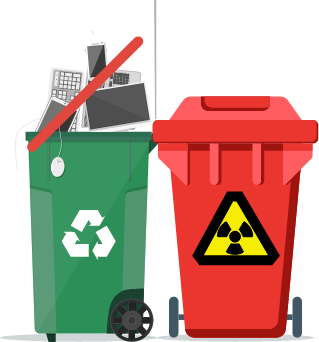 Hazardous vs. Non-Hazardous Materials in Your Locality
Check with your waste management department about whether something is safe to put with your household trash. There may be more "allowables" than you think. For example, Miami-Dade County says these items are not hazardous and generally are OK for residents to put in their normal trash:1

Air purifiers
Blenders
Film cameras
Electric frying pans
Fans
Irons
Juicers
Paper shredders
Electric razors
Electric toothbrushes
Vacuum cleaners
Of course, just because something's OK to put in the trash doesn't always mean you should. Many secondhand stores, groups, and organizations gladly accept most of the above items as long as they're in working condition.
Miami-Dade County lists the following items as hazardous. They're not meant for normal trash or normal recycling.

Audio equipment
Batteries
Calculators
Digital cameras
Inkjet and toner cartridges
CD players
Cellphones
Computers
Computer monitors and accessories
DVD players
Ebook readers
Fax machines
GPS units
Microwave ovens
Palm Pilots and Blackberries
Photocopiers
Printers
Projectors
Radios
Scanners
Speakers
Stereos
Telephones
TVs
VCRs
Video game consoles
Wireless devices
These items are hazardous because they contain toxic materials such as mercury, lead, or chromium that can damage humans, animals, and the environment.
Also, many devices contain copper, gold, and other valuable metals that can be used again. A lot of energy goes into producing new devices. The Electronics TakeBack Coalition explains, "To manufacture one computer and monitor, it takes 530 pounds of fossil fuels, 48 pounds of chemicals, and 1.5 tons of water."2
How to Find Your Local Waste Management Department
A Google search with the name of your city or county plus "waste management" should bring up local waste management websites. Another option is the Keep America Beautiful search bar. Head to https://berecycled.org/ and look for the phrase, "Find local recycling information" in the middle of the page. Enter your ZIP code into the search bar to find recycling options near you.
Dispose of Electronics in Three Steps
It can be pretty easy to safely get rid of your devices, especially if they're small (TVs obviously require some lifting and hauling, though). Websites such as Earth911 are a huge help. Just enter the type of gadget you have and your ZIP code, and Earth911 lists your recycling and disposal options. These options usually include your local waste management office, Goodwill stores, and retailers such as Best Buy, Staples, and Home Depot.
Depending on your device, you should look into selling or trading it. For instance, suppose it's April 2021, and you have an iPhone X. You could get up to $220 of trade-in value through Apple.3 Larger devices such as TVs do pose a bit more difficult because they're heavier and harder to transport. You still have many options for recycling them or disposing of them. No matter the size of your gadget or device, you can follow these three steps:
Decide whether you want to trade in, sell, recycle, or dispose of your item.

If you prefer to sell or trade in, look up the amount of money you should get for the device.
If you want to recycle or dispose, look the item up on a site such as Earth911 or Call2Recycle (the latter for batteries and cellphones). You can also look into organizations, nonprofits, and refurbishers that accept your item.

Back up and transfer any data, including photos, filers, and more, from your old devices. Restore these devices to factory settings and remove the SIM card if one is still there. Look for any other external storage to remove, as well.
Follow the group or store's instructions for trading in, selling, recycling, or disposing of your device.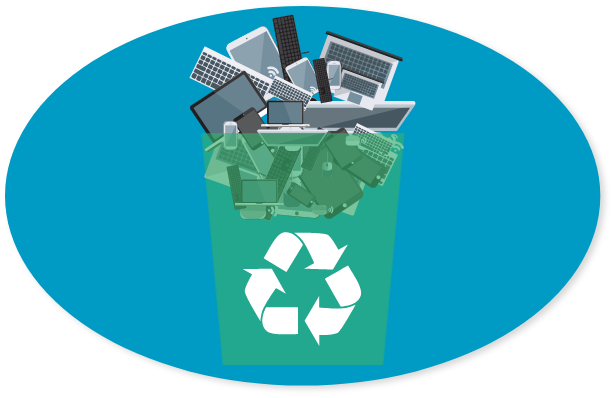 Whether to Sell or Trade In
Do you need cash, or are you getting a new gadget? Your old device might command a pretty penny, especially if it's relatively new and in good condition. In April 2021, some people were getting up to $515 trade-in credit for an iPhone 11 Pro Max. Meanwhile, the older iPhone 8 could bring in a decent $120 trade-in value. An iMac Pro had an estimated trade-in value of up to $2,940, and folks could get up to $770 for a Mac mini.4
Many retailers do both in-person and online trades. For example, Apple offers prepaid trade-in kits and shipping labels, as well as in-person Apple Store trades. If your device isn't eligible for trade-in, then Apple and many other retailers can even recycle it for free.
Older gadgets may not get any bites, although you never know. Check out Swappa, eBay, and Craigslist listings to see if your item is in enough demand.5 Used devices in good condition are popular among frugal folks as well as parents who want affordable devices for their children.
Swappa founder Ben Edwards started the company to safeguard against scams. Swappa touts itself as a "safe, friendly marketplace with no junk, less fees" — and that's absolutely correct. No broken items are allowed to be listed, and each product listing goes through an approval process.
If you choose to donate, see if you can write off the donation for its fair market value. Donating to political organizations doesn't qualify you, but donating to Goodwill, United Way, veterans' groups, nonprofit schools, and public parks, among other groups, will. Bonus: No forms to fill out if your device's fair market value is less than $500.6
Retailers and Groups That Help You Recycle or Dispose
Stores such as Best Buy and Amazon have recycling programs for a wide range of gadgets, including computers, tablets, TVs, cameras, and GPS devices. One retailer might even be able to take care of all of your device recycling needs.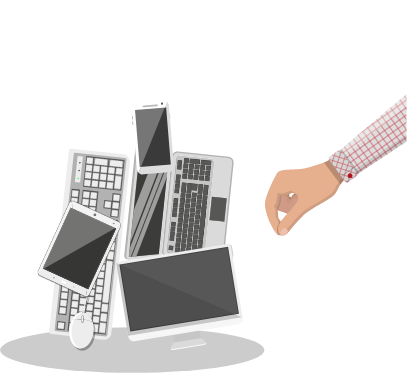 Recycling Programs
If you go to Best Buy or Staples, visit the customer service desk to drop off your items. As of April 2021, Best Buy lets customers dispose of three devices a day, with up to two TVs included. There's a $29.99 per item fee for TVs and monitors. Staples lets you turn in up to seven items a day but doesn't accept TVs.
Office Depot's recycling program is a bit different. The chain uses Tech Recycling Boxes, which you must purchase for $5, $10, or $15, depending on size. You can recycle all the electronic items you want, as long as they fit inside the box you purchased. Small TVs, cords, and cables are accepted.
Amazon's program is in conjunction with Re-Teck, and Amazon covers all costs with shipping and recycling. You can recycle items such as e-readers, tablets, Fire TVs, chargers, cables, SD cards, and video game accessories.
Many manufacturers participate in recycling programs as well. For example, MRM runs the program for Alcatel, BlackBerry, Barnes & Noble (Nook e-readers), TCL, and Toshiba.
Trade In Programs
Apple lets you trade in or recycle non-Apple products. For example, in April 2021, you could get up to $250 trade-in value for the Samsung Galaxy S10+ phone. Likewise, Samsung lets you trade in Samsung, Apple, and Google devices. Customers in March 2021 could get up to $450 Samsung trade-in credit for an iPhone 11 and up to $200 for an iPhone 8 Plus.
Keep the following websites in mind, too.
Your local waste management office
Earth911: Find a recycling solution for virtually any gadget or device
Call2Recycle: Discover where to recycle batteries and cellphones
Need to recycle just one or two items? Look into the following options:
Batteries: Single-Use and Rechargeable
Go to Call2Recycle. Enter your locality and whether you're recycling rechargeable or single-use batteries. The list that pops up should include area retailers such as Lowe's and Home Depot in addition to your local waste management office.
Use Earth911 to find a drop-off location for single-use batteries.
Do free drop-off at retailers such as Staples, Lowes, and Home Depot.
Check local hardware stores.
Ship in boxes or in bulk via Call2Recycle.
Call2Recycle says that it has a public drop-off location within 10 miles of more than 87% of people in the United States.7
Cellphones
Go to Call2Recycle. Enter your locality. The list that pops up should include area retailers in addition to your local waste management office.
Sell your cellphone online or trade it in.

Your phone carrier's program
Craigslist
Use an ecoATM kiosk.
Recycle your phone at a retailer such as Best Buy, Home Depot, or Staples.
Donate your cellphone to a charity, local organization, or shelter.
Cell Phones for Soldiers was founded in 2004 by a middle school brother and sister, Robbie and Brittany Bergquist. They were horrified that a soldier just returned from Iraq was forced to run up a $7,000+ phone bill to keep in touch with his family. Over the years, Cell Phones for Soldiers has recycled more than 15 million cellphones and provided more than 300 million minutes of free talk time to veterans and military personnel across the world.8
Televisions
Donate to a secondhand store
Drop off at stores such as Best Buy (fees and restrictions on the number of TVs may apply)
Arrange for pickup with a store such as Best Buy (fees and restrictions on the number of TVs may apply)
Package your TV cords together and tape them to the TV. Use a dolly to transport your TV if you're dropping it off somewhere. Don't carry your TV and risk dropping it because 1) It could break, and 2) Hazardous materials in the TV could spread throughout your house if it breaks.
Laptops
Donate to a refurbisher (Bonus: refurbishers usually accept your mouse, printer, modem, and any software for the laptop)
Head to Earth911 and enter, "laptop computer"
Try Dell Reconnect
You may be tempted to donate to libraries or nonprofits, especially if the computer is less than five years old. However, it's better to donate to a refurbisher. Libraries and organizations have specific technology needs. Your old laptop, despite still working well, may not meet their specifications.
Cameras
Try Best Buy, Lowe's, Staples, or Home Depot
Head to Earth911 and enter, "camera" to see more options
Back Up and Erase Data on Cellphones, Tablets, Smart TVs, and Similar Devices That Store Your Personal Information
Before you sell, trade in, or recycle a device, erase any personal information from it. That way, no one gets access to your Social Security number, email accounts, bank accounts, and the like.
Factory reset your smart TVs, e-readers, and Amazon Fire sticks, too! They store personal data just like cellphones, tablets, and laptops do.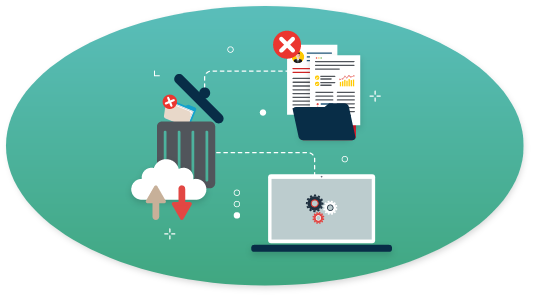 Before erasing, do a device backup so you don't lose photos, contacts, documents, calendars, reminders, and more. Here are links to backup and erase instructions from various companies:
Check your devices for any removable storage. Look in USB ports, for example, and remove SIM cards and microSD memory cards. Connect your old digital camera to your computer one last time to take care of any internal memory files.
Spotlight on Startups
Newer companies such as Betterbin and Ridwell aim to make recycling and disposal even easier. Betterbin is an app that lets folks scan product bar codes to see whether their waste management department accepts the product for recycling. The app is free to use, thanks to the municipalities, haulers, and material recovery facilities who are its stakeholders. Betterbin has Wisconsin roots and is working to become more scalable. It has won both the Project Pitch It and Stritch Pitch prizes.9
Ridwell, a Seattle startup, takes items such as batteries and light bulbs that cannot be recycled curbside. The company charges subscription fees beginning at $10 per month (as of April 2021). Customers who purchase a $9 bag can also opt into Styrofoam pickup. The service runs in certain Seattle neighborhoods, but the company plans to expand soon. It partners with nonprofits and other companies to infuse new life into used objects. For instance, a pair of jeans can become part of a rug.
Grover, a German company serving the German market, lets people rent devices such as cellphones for as long as they want, with a one-month minimum. The company hopes to cut down on e-waste and to increase sustainability. In case a device breaks, Grover offers 90% damage cost coverage. The company has no hidden fees and doesn't require deposits. The devices for rent include TVs, laptops, game consoles, smartwatches, cameras, and tablets. Grover was founded in 2015 and has grown into a multimillion-dollar company. It hopes to expand its B2B offerings soon.10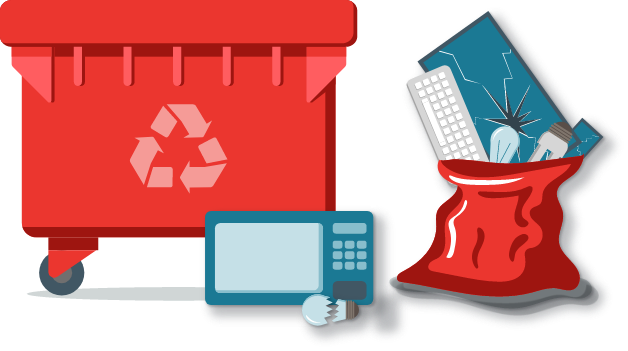 Recycle and Dispose of Your Gadgets and Devices
It takes a bit of research to safely recycle or dispose of an electronic device. Fortunately, the process is fairly straightforward. If your device works and is no more than a few years old, you might get some nice money for it.
Otherwise, national chains such as Best Buy help with batteries, phones, tablets, laptops, and even TVs. If you'd rather mail in items, Amazon offers a program that could be right up your alley. Likewise, Call2Recycle offers mail-in recycling but only for cellphones and batteries. Apple offers both in-person and mail-in programs.
Additional Resources
References and Footnotes