When DVD delivery service Netflix launched its on-demand streaming platform in 2007, only about 1,000 titles were available for viewing. That paled in comparison to the 100,000-plus DVD titles the company offered for delivery. Still, as Netflix added streaming titles and racked up subscribers, it soon became clear that the future of Netflix — and possibly the future of TV and movies — would be streaming.

Amazon started its own on-demand video service, Amazon Video, in 2006, Hulu launched the year after Netflix, and Vudu came along in 2011. By the time Netflix dropped the first season of its first original series, "House of Cards," the service boasted about 28 million U.S. subscribers, and competitor Amazon was expected to spend about $1 billion producing multiple original shows.
Compared to the state of streaming today, those numbers seem downright quaint. Nearly 3 in 4 American households own at least one streaming subscription, the average streaming viewer watches between three and four services, and streaming companies are expected to spend upwards of $120 billion per year to produce original content. That's more than the entire GDP of the country of Morocco.
Meanwhile, the incumbent telecom and cable providers are rushing to create their own version of streaming services. AT&T have no fewer than five TV products on offer, many of them streaming-based and integrated with OTT services. Spectrum, Xfinity, and the rest have all followed suit as well.
The original-content arms race is just one aspect of the ongoing streaming wars, and the conflicts between companies show no signs of abating anytime soon, largely due to the seismic shift in the way that consumers watch TV and movies. According to one global study, subscription video-on-demand services will reach 947 million subscribers by 2024.
Disney+ and Apple TV+ both launched in the second half of 2019, and Peacock, HBO Max and Quibi are all expected in the spring of 2020 — and have been keeping the Los Angeles TV industry in California humming. What's the outlook for all major streaming services in the U.S., and which ones look to be best-positioned for long-term success in the streaming wars? To understand, we'll explore data covering the content offered on each of the major U.S. streaming platforms (Netflix, Hulu, Amazon Prime Video, Disney+, Apple TV+, Peacock, HBO Max, Quibi and CBS All Access), their subscriber trends and where they stand when it comes to critical prestige.
We are excluding bundle services like Sling or network-supported apps like Showtime Anytime. Generally, these types of services are designed as alternatives to cable, while the services in our analysis are meant as standalone content providers. For instance, while you'll be able to watch HBO's back catalog of shows through HBO Max, it's designed to stand on its own by offering a catalog of original content and non-HBO programming, including shows like "Friends," "The Big Bang Theory" and "Doctor Who."
We've analyzed the main current and still-to-come streaming platforms across three categories — content offerings, subscribers and critical acclaim — and let's just say if you're worried about your budget for streaming entertainment, we might have good news for you.
Content Combat
The newest entrants in the streaming wars vary on their approach to content, but regardless of how they enter the market, content is king for each of these services.
Disney+ launched in November 2019, offering viewers a brand-new Star Wars show, "The Mandalorian," in addition to access to nearly the entirety of Disney's iconic animated catalog. Apple TV+, on the other hand, didn't join its competitors in making a splashy bid for nostalgia but rather has gone all-in on original content, led by "The Morning Show," which stars Jennifer Aniston, Steve Carrell and Reese Witherspoon.
Time will tell which approach is best, but with the typical American streaming viewer watching between three and four platforms, there's little doubt that content will be the primary factor in attracting viewers.
Let's take a look at what these services are spending for what they're getting: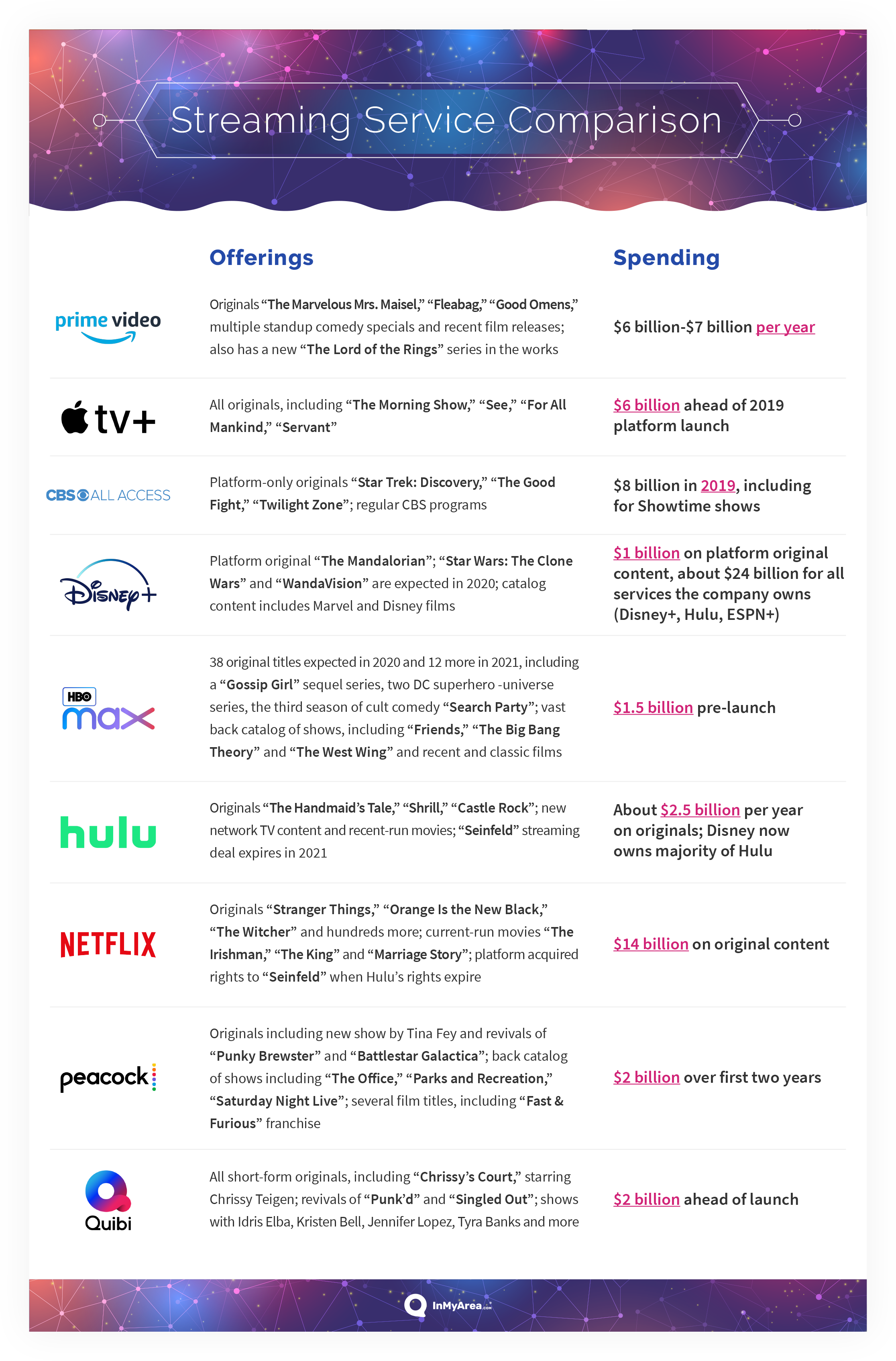 Side-by-side
So how do they stack up? From a purely numbers standpoint, nobody comes close to the investment commitment Netflix has made. Let's compare the estimated annual figures for each side-by-side: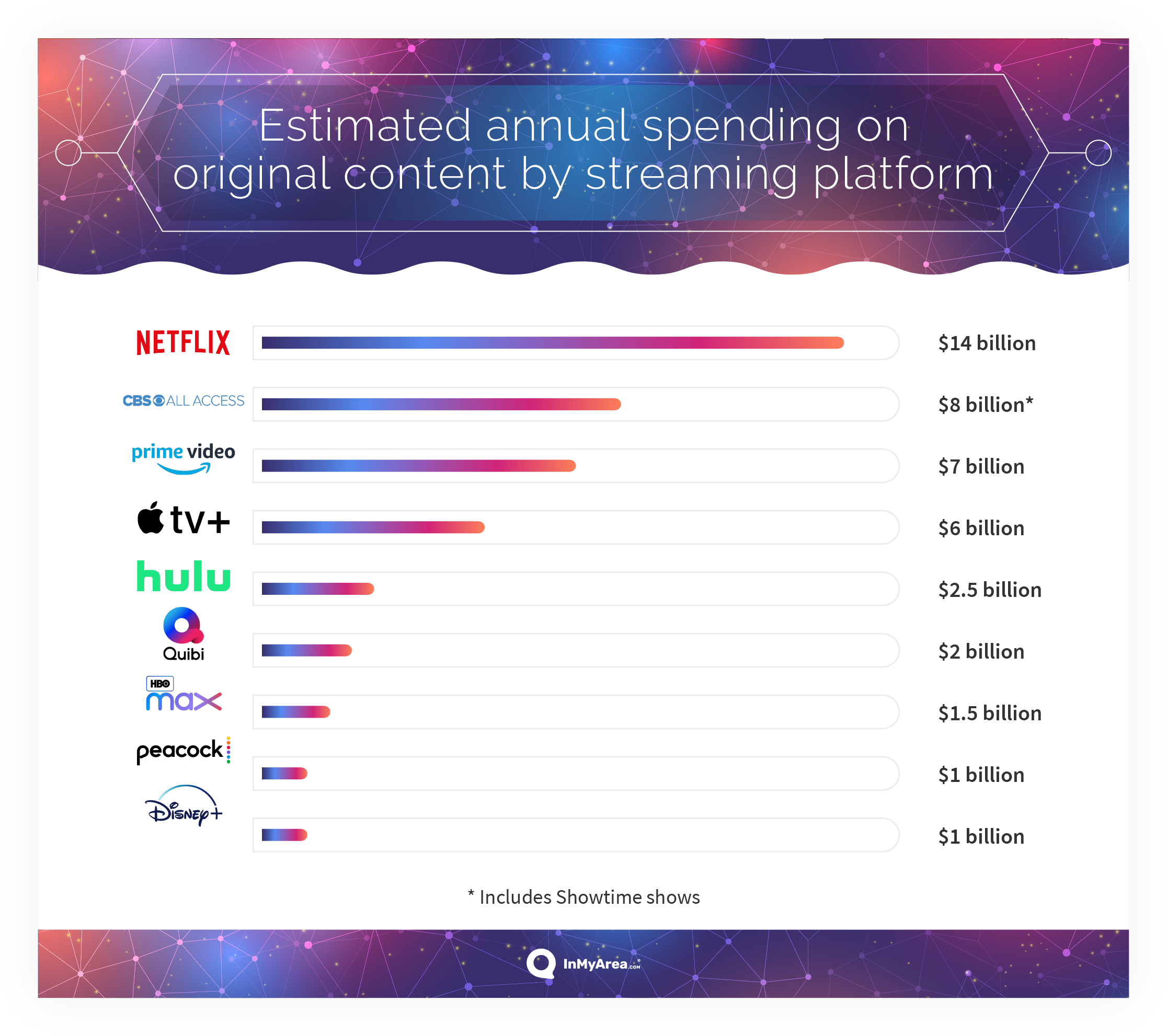 Netflix expects to spend almost as much as the next two biggest spenders combined on developing its slate of original content. Netflix and Disney+ are on opposite ends of the spending spectrum, but Disney assumes users will come to the platform for the sheer volume of library content that includes two of the most successful entertainment franchises in history — Star Wars and Marvel, while Netflix is betting on an all-original future.
Worth it?
How successful is all of this expensive content? That depends entirely on the show in question. For Disney+, there's no doubt the investment in "The Mandalorian" has more than paid off.
A November 2019 study by Parrot Analytics found that "The Mandalorian" supplanted "Stranger Things" as the most in-demand digital original shortly after its debut. The firm's proprietary metric, demand expressions, indicates nationwide interest in a show, including direct consumption, social engagement and search data.
The week after "The Mandalorian" debuted (Nov. 17-23, 2019), its demand expression figure was nearly 25% higher than the figure for the third season of "Stranger Things," which dropped on July Fourth, several months before "The Mandalorian." Disney+ has not released any viewership data, which is not uncommon for streaming services.
"The Mandalorian" offers another unique revenue stream for Disney — merchandising and other consumer products. The painfully adorable character the show calls The Child but which everybody else knows as Baby Yoda could further add to the estimated $48 billion the company makes on consumer products and theme parks.
Subscriber Struggle
Another way to understand who's in the lead in this war is to look at subscriber data. The profitability discussion aside (Netflix doesn't actually make money right now), a person deciding to pay an ongoing fee to a subscription service is a pretty good sign that they think it's worth the money.
We've already discussed how common streaming services are, with nearly three-quarters of U.S. households having at least one subscription, but some services are much more popular than others when it comes to total subscribers.
The most recently available subscriber data seems to indicate that Amazon Prime Video is winning the membership battle, followed by Netflix, Apple TV+, Hulu, Disney+ and CBS All Access. Not included here are Peacock, HBO Max or Quibi, which have not yet launched, but it's expected that most current HBO Now subscribers will be transitioned to HBO Max at no additional cost — for now.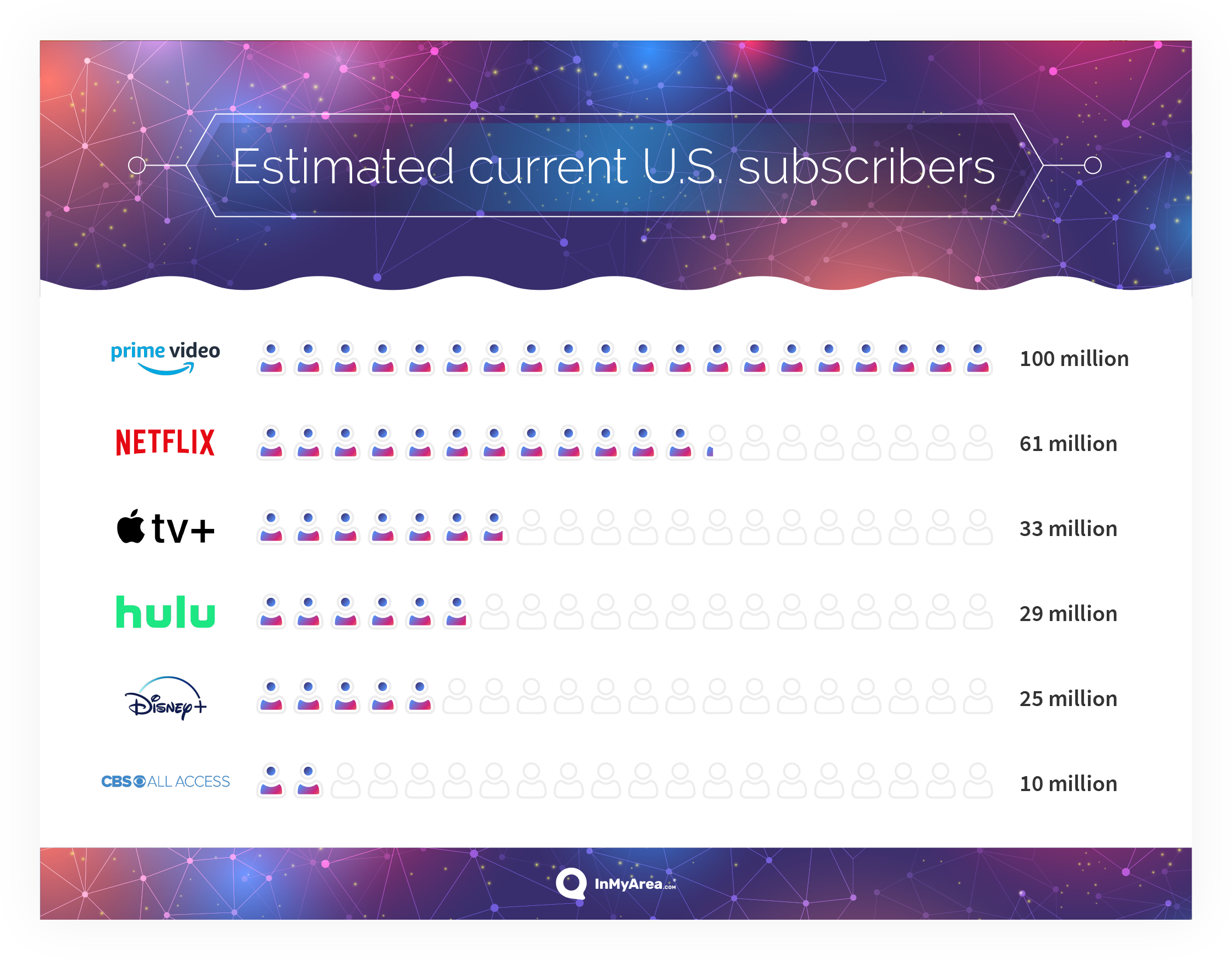 A plain reading of this data says that Amazon quite clearly is winning this fight with one-third-plus more subscribers than its closest competitor, Netflix, and Disney+ is near the worst. But for several reasons, this isn't the best way to understand this data:

1. All Amazon Prime subscribers have access to Amazon Prime Video content, meaning that the people who pay $119 per year to get expedited shipping on the seemingly endless supply of products sold through Amazon are considered Amazon Prime Video subscribers. One analysis, which is a few years old now, said that almost 1 in 5 Prime subscribers haven't watched Prime Video offerings.
2. Apple TV+ is third behind Amazon and Netflix, but Apple gave free one-year Apple TV+ subscriptions with a qualifying device purchase to help generate excitement for the platform's launch. It's not been reported just how many people have taken advantage, but Apple sells millions of new devices every year, so it's safe to assume if all those people had to go into their pockets for the service today, those numbers would drop a bit.
3. Disney+ comes in near the bottom of the list, but it also had the latest launch date of the platforms on this list, going live about 10 days after Apple TV+, so the 25 million subscribers projected by the end of January 2020 means the service added nearly 8.5 million users per month over the first three months of its life.
Murky outlook?
These platforms are all competing for some maximum subscriber base, meaning there are only so many people in the country who can or want to watch streaming content. And even among those who are streaming fans, nobody has endlessly deep pockets to subscribe to every service.
A YouGov poll in 2019 found that while about a quarter of Americans were open to adding a new streaming service, about 6 in 10 would spend no more than $40 per month on all their subscriptions combined.
That same YouGov poll found that a plurality (42%) of people said their Netflix subscription was a must-have, but the poll was conducted before the launch of Disney+ and the introduction of "The Mandalorian ' into the cultural conversation. Why does that matter? Analytics firm Cowen & Co. estimated that Disney+ won more than 1.1 million subscriptions from Netflix in the first month after it launched, so if it can continue dropping content everybody is talking about, it's likely Disney+ will keep eating away at the domination of Netflix.
Award Accord
Perception of quality is another important factor in determining which streaming platforms are likely to remain viable, and while traditional broadcast and cable networks have gotten a major head start, streaming services are quickly gaining ground.
HBO took home the highest number of Emmys in 2019 (34), but Netflix was a close second with 27 total awards. Amazon Prime Video was third with 15, meaning that two of the three most-honored networks in 2019 weren't networks at all but rather streaming services.
Amazon shows have won the best-comedy Emmy two years in a row, with "The Marvelous Mrs. Maisel" taking the trophy in 2018 and "Fleabag" in 2019, and Hulu's "The Handmaid's Tale" was named best drama in 2017, the first and only streaming original (so far) to win the award for the top drama on television.
But the picture is even better for streaming services when you step back. In the major categories, streaming services garnered a total of 54 nominations in 2019 compared to 112 for cable and broadcast networks, meaning traditional networks received more than double the nominations of streaming platforms. That seems like bad news for streaming services, but there are many fewer of them compared to traditional networks.
So while traditional outlets beat streamers straight-up, the average streaming platform earned 18 nominations compared to the average network's 9.3. Streaming services also were overrepresented among winners, taking home more than 40% of the top awards, including five of the six awards honoring supporting actors.
Conclusion
Regardless of which platform or platforms take the lead (one analysis we find particularly compelling says Netflix, Disney+ and Amazon are the three most viable major streaming platforms), the sheer volume of streaming content means an enormous amount of variety for the consumer. With price points for basic packages (you know, the ones with ads) generally under $10 per month, you could subscribe to all six major streaming services that are out today for a fraction of the average monthly cable bill.
Time will tell which services manage to make a foothold in the crowded streaming market, and the battle for attention should mean viewers continue to be dazzled by splashy, exciting content offerings. Winning platforms are likely to be those that invest heavily in visionary and popular creative teams while understanding the need for robust content libraries that allow for binge-watching (and re-watching).