Many students overlook the importance of considering local housing prices when choosing a college. While universities may provide campus rooms for first-year students, most don't guarantee housing for upperclass students. They're often left responsible for paying off-campus rent, which can be a significant expense especially in the midst of a national rent spike and housing shortage not seen in 40 years.
Despite the housing crunch that's gripped the nation, there are some towns where rent remains affordable – even by college student standards! Our researchers have crunched the numbers to help students and parents find universities in towns with reasonable rent costs. We compared rental prices in college towns nationwide to provide valuable information on housing affordability in each location.
Here's what we discovered:
The most affordable off-campus housing is often found in rural college towns in the southern and midwestern regions. Morehead, KY, home of Morehead State University, had the lowest rents out of all towns in our analysis: about $250 per month per person.
California is home to 16 of the nation's 25 most expensive college towns. The three most expensive cities are all in Santa Clara County, where rents topped $1,800 a month per person.
To live comfortably and make rent in America's most expensive college towns, students would need an income of about $72,000/year.
Table of Contents
Our Approach: Calculating Average Rents in College Towns
Calculating housing costs for every college town in the country proved to be a complex undertaking. Our analysis was limited to four-year institutions offering accredited bachelor degrees, as full-time destinations are more likely to have boarders than community colleges or tech/trade schools. We also excluded the top 100 schools for on-campus living – those where 90 percent or more of students live in college housing and don't need to find in-town apartments.
To calculate costs for hundreds of college towns, we assessed average rent prices for units from one to five bedrooms and divided the rent prices by the corresponding number of bedrooms. The average monthly price for one student (whether splitting costs with others or living alone in a one-bedroom apartment) in an American college town was $735.

Applying the traditional maxim that rent should comprise about 30 percent of one's income, an undergraduate student would need to earn about $30,000/year to afford the average off-campus rent (that's about $15/hour working full-time).
As most students know, teaming up with roommates can significantly reduce costs (as long as they don't eat all your food). The average price per bedroom in a college town drops by about half for those willing to share a three-bedroom place instead of living alone.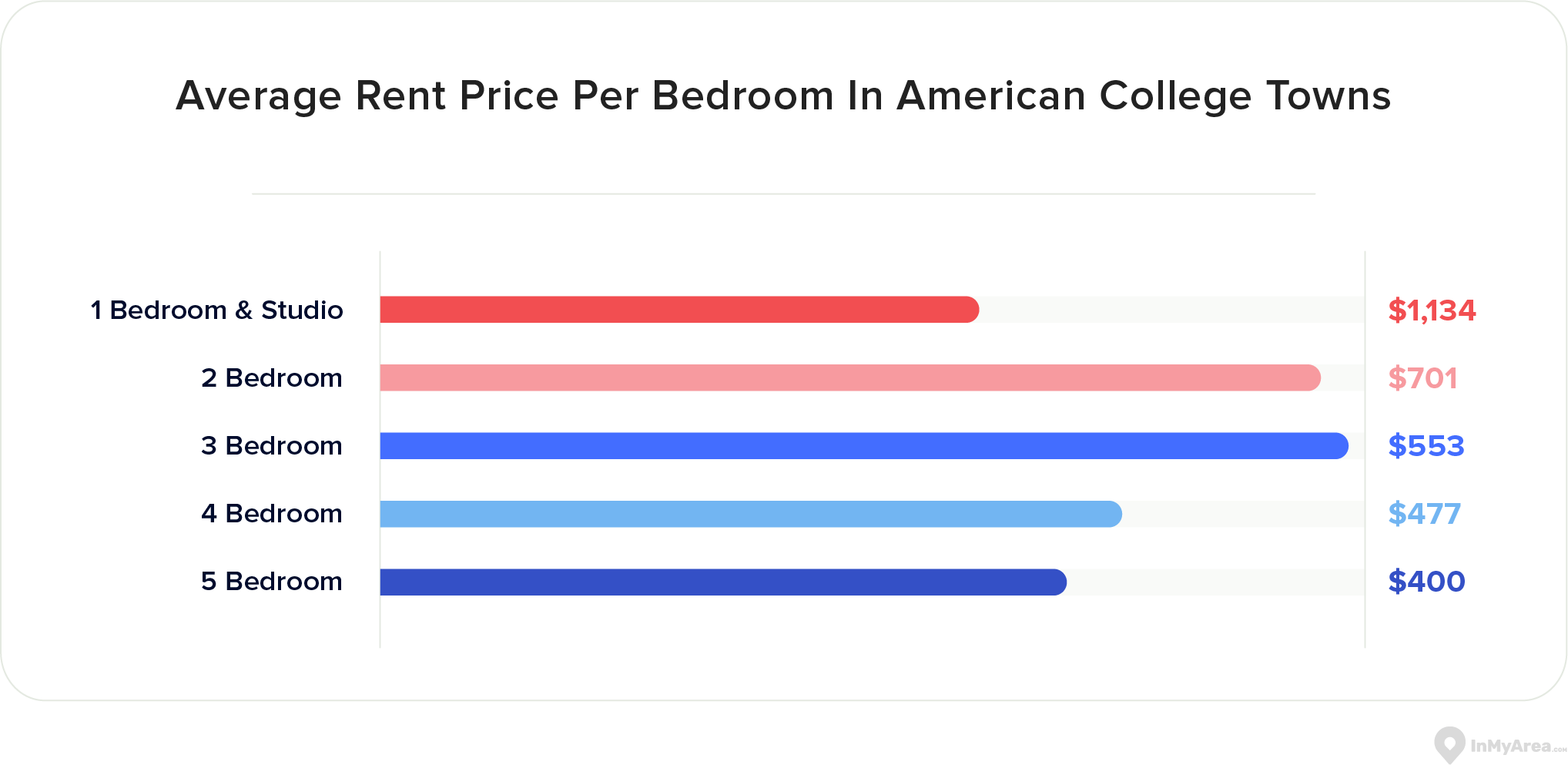 The factor that impacts rent affordability most is a school's location. We found colleges where an average bedroom is about $250/month and others that cost several times as much. Detailed below are some of the best bargains around, as well as the roughest rents.
College Towns with Most Affordable Housing
Many of the most affordable college towns were in rural parts of the Midwest and South, where housing prices are lower. The two least expensive university cities were in Kentucky, while 8 of the 25 cheapest locales were in Ohio.
City

School

Average monthly rent per bedroom

Morehead, KY

Morehead State University

$257

Bowling Green, KY

Western Kentucky University

$261

Emporia, KS

Emporia State University

$265

Youngstown, OH

Youngstown State University

$280

Mount Olive, NC

University of Mount Olive

$289

Lebanon, TN

Cumberland University

$293

Langston, OK

Langston University

$296

Edmond, OK

University of Central Oklahoma

$296

Wichita Falls, TX

Midwestern State University

$302

Tulsa, OK

Spartan College of Aeronautics and Technology

$313

Bartlesville, OK

Oklahoma Wesleyan University

$322

Wooster, OH

The College of Wooster

$329

Ashland, OH

Ashland University

$329

Jackson, TN

Union University

$330

Steubenville, OH

Franciscan University of Steubenville

$342

Flint, MI

University of Michigan-Flint

Kettering University

$344

Salem, OH

Kent State University at Salem

Allegheny Wesleyan College

$346

East Liverpool, OH

Kent State University at East Liverpool

$346

Alliance, OH

University of Mount Union

$346

Ada, OK

East Central University

$346

Frostburg, MD

Frostburg State University

$348

Montevallo, AL

University of Montevallo

$351

Wheeling, WV

Wheeling University

$353
Assuming that housing is thirty percent of one's budget, this range of rents ($257-$353) would require an annual income of $10,300-$14,100 – an amount likely manageable for students with part-time jobs.
Many of the most affordable college towns are located in rural areas. Small towns can improve academic life by minimizing distractions from studies and encouraging a more tightly-knit campus community.
It's also a chance to adopt a second hometown. Smaller college towns often cater to local students, like in Montevallo, AL, where they make up nearly half the town's population. Rural schools may also boast idyllic settings, like Cumberland University in Lebanon, TN – just a short distance from bustling Nashville.
Several other small college towns on our list are near major metros, which can provide students with ample networking and job opportunities. For example, Youngstown State, Franciscan University, and Kent State are in affordable college towns near the larger metros of Pittsburgh, Pennsylvania and Cleveland, Ohio.
Not all affordable college destinations are in small towns or rural areas. Spartan College is located in Tulsa, Oklahoma, the University of Central Oklahoma lies on the outskirts of Oklahoma City, and Ashland University also lies close to Columbus, Ohio. These midwest metros boast growing populations of several hundred thousand people each and thriving social and cultural scenes.
If you're curious about the most affordable college town in your state or the state that you might be considering for school, use the interactive tool above to discover the location, the school, and the average rent per bedroom.
College Towns with Most Expensive Housing
Rent in the most expensive college towns is nearly ten times higher than in the most affordable. To pay these rents, students would need gross annual incomes of at least $50,000! Family help, financial aid, or on-campus housing are at a premium in these college spots.
City

School(s)

Average monthly rent per bedroom

Santa Clara, CA

Santa Clara University

$1,829

San Jose, CA

San Jose State University

University of Silicon Valley

$1,829

Los Altos Hills, CA

Foothill College

$1,829

Santa Barbara, CA

University of California-Santa Barbara

$1,819

Atherton, CA

Menlo College

$1,743

Arlington, VA

Marymount University

$1,708

San Rafael, CA

Dominican University of California

$1,426

Santa Ana, CA

Santa Ana College

$1,285

Orange, CA

Chapman University

$1,285

Newport Beach, CA

Interior Designers Institute

$1,285

Laguna Beach, CA

Laguna College of Art and Design

$1,285

Irvine, CA

University of California-Irvine,

California Intercontinental University, Westcliff University,

Concordia University-Irvine

$1,285

Garden Grove, CA

Haven University

$1,285

Fullerton, CA

Grace Mission University

California State University-Fullerton

Hope International University

$1,285

Costa Mesa, CA

Pacific College,

Vanguard University of Southern California

$1,285

Anaheim, CA

Platt College-Anaheim

West Coast University-Orange County, Bethesda University,

Southern California Institute of Technology

$1,285

Santa Cruz, CA

University of California-Santa Cruz

$1,281

Falls Church, VA

University of the Potomac-VA Campus

$1,257

Fairfax, VA

George Mason University,

Fairfax University of America

$1,257

San Francisco, CA

University of San Francisco,

San Francisco State University,

California College of the Arts,

$1,250

San Marcos, CA

University of Saint Katherine

$1,250

La Jolla, CA

University of California-San Diego

$1,250
Nineteen of America's 22 most expensive college towns are in California or Washington, D.C. suburbs in Virginia. The top three most costly college towns fall within the bounds of Santa Clara County, California. This is one of the most populous counties in the nation, which means there is a high demand in the housing market.
Overall, the Golden State is attractive for several reasons, including its fantastic weather and outstanding universities, but it also has a critical lack of affordable housing. Paradoxically, California's vaunted public university system is renowned for offering reasonable tuition to in-state students, meaning those who live off-campus may pay more in rent than they do to attend a quality college.
Some prominent schools in the state offer near-universal university housing, including Stanford (where 97 percent live on-campus) and California Institute of Technology. However, available space and affordable rent are scarce for other students throughout the state. As a result, California schools have begun floating creative solutions like using boats or hotels as dormitories. Other desperate students live in vans or fight for spots in trailer parks.
The priciest college towns tend to lie along the coasts, but many landlocked states have schools in high-rent areas. Search the interactive tool above to discover the location, the school, and the average rent per bedroom for the most expensive off-campus locales.
Tips for Affording Off-Campus Rent
According to Department of Education data, nearly one-third of students at private four-year institutions seek off-campus lodging. That number jumps to almost one-half at public schools. This demand and the nation's current housing shortage leave one-fifth of college studentsstruggling to find stable accommodations.
Here are some tips that could help you stay sheltered while studying and some factors to consider before signing a lease or a loan.
Apply early for on-campus housing. University apartments are generally less expensive than renting a private place off-campus. This is especially true in some of the pricier college towns identified above. Consider living on-campus for more than one year, and always turn in your application early, as limited space is often assigned first come, first served. Even if you're the type of student who procrastinates on assignments, get this paperwork done pronto.
Evaluate all off-campus options. Housing availability in small college towns often circulates by word-of-mouth or analog methods – don't rely solely on web searches. Check out physical message boards, see if your school maintains a listing of local amenable landlords or alum, look for people subletting apartments, talk to friends, and keep your ear to the ground.
Find roommates. The most efficient way to reduce housing costs and make friends (or enemies) for life is to connect with college roommates. Our analysis showed that the median price per bedroom drops by half when three or more students live together.
Earn some money. Studying should be one's primary focus when enrolled at a four-year school, yet part-time work can often fit around academic schedules and help pay the bills year-round. Additionally, some students qualify for work-study programs that supply good-paying jobs in offices and facilities on campus. Many schools also provide free rooms to students willing to serve as residence advisors (RAs).
Maximize available assistance. After completing your Free Application for Federal Student Aid (FAFSA) and CSS profile (for private institutions), vigilantly pursue all scholarships, grants, and institutional aid to which you're entitled. Seek out private awards and non-profit organizations, check whether an employer might sponsor your education, and see if military service qualifies you for benefits. Leave no stone unturned or money on the table.
Live on a budget. Students may need to limit personal spending to afford off-campus housing (as well as other mounting college costs). Grabbing coffee, meeting for drinks, eating out, and entertainment expenses add up over time. Set a budget for such outlays and learn to live by it; it's an excellent lesson for later life.
Utilize college savings accounts. If you're a parent reading this piece to evaluate future financial needs, there may still be time to set up an educational account under Section 529 of the IRS code. These 529 accounts provide numerous protections, advantages, and tax-free benefits to help parents establish a fund that can be used for any legitimate educational expense – including housing.
Think critically about student loans. Many coeds are taking more student loans to cover the rising costs of off-campus rent. This solution is simple in the moment but can dig a deep financial hole with personal repercussions that last long into life. Even as the Biden administration seeks to forgive certain debts, the nation collectively owes $1.6 trillion, with interest rates rising in response to the Fed's anti-inflationary measures. Think twice before signing away your future for an overpriced off-campus apartment now.
Conclusion
Four-year colleges often have decent housing options for first-year students, but it's a whole different story once that first year is over. Finding a place to live off-campus that doesn't break the bank can be a real struggle, especially when the entire country is dealing with a housing crisis.
Paying sky-high rent can mess up your finances and grades, leaving you with much debt. So, it's essential to consider how much you can afford when choosing a college, where it's located, and where you'll be living before making your final decision.
Our Data
For this analysis, we used median rent cost data from the 2021 American Community Survey, which provided the average rent by county and the number of bedrooms in rental units. These costs were chained forward using 2023 rent data from the Zillow Observed Rent Index to account for housing inflation. Some extreme outliers were excluded from analysis.
We included 4-year bachelor's degree-granting institutions in the United States as determined by the National Center for Education Statistics. We did not include Wyoming or Alaska schools due to a lack of data, and we did not include Washington D.C. in the analysis. The analysis did not include about 100 universities where more than 87% of the student bodies lived on campus in 2022.