Along with countless retailers, internet service providers (ISPs) also offer discounts around the Thanksgiving holiday. While some Black Friday/Cyber Monday/Cyber Week discounts were offered for internet-only services this year, others applied to bundles that included TV and phone service.
IMA Research examined more than 10,000 orders fulfilled by ISPs during the 2019 Thanksgiving shopping season and determined:
35 percent of consumers purchasing internet service chose higher speeds of 100 Megabits per second (Mbps) or faster, indicating a need for bandwidth capable of delivering streams of ultra-high-definition (4K) TV and gaming;
Fewer than 10 percent of consumers ordered plans with speeds slower than 10 Mbps;
While sales of bundled services were higher than a comparable week earlier in November, sales of internet-only services grew at a higher rate;
Both the high sales of high-speed internet and internet-only services could be explained by the Disney+ Effect, as consumers need faster connections to stream new 4K content such as The Mandalorian;
With consumers spending more entertainment hours on new streaming services such as Disney+ and Apple TV+, ISPs are having a harder time selling bundles containing TV packages as opposed to internet-only services.
Speed
For our study, IMA Research analyzed more than 10,000 orders by a dozen ISPs for the seven days starting with Black Friday, November 29th, and ending Thursday, December 5th, 2019. Connections included DSL, Cable, Fiber, and Satellite internet. Speeds offered ranged from a low of one Mbps to a high of 1,000 Mbps, or one Gigabyte per second.
We examined more than 300 plans, some of which were discounted, and analyzed what speeds people ordered during the seven days starting with Black Friday, 2019: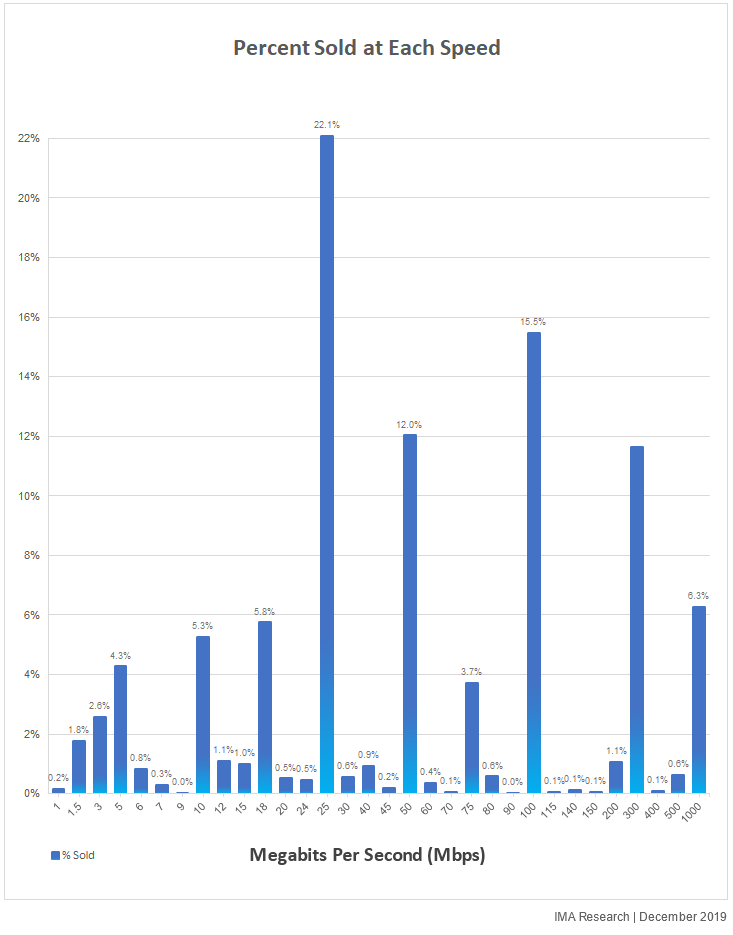 The most popular speed was 25 Mbps (22 percent), followed by 100 Mbps (15 percent) and 50 Mbps (12 percent). Those three speeds made up nearly half of the orders analyzed. The three next most-popular speeds made up nearly a quarter of the orders: 300 Mbps (12 percent), 1000 Mbps (six percent) and 18 Mbps (six percent). Overall, the average speed (mean) was 137 Mbps, the median 50 Mbps, and the mode 25 Mbps. Looking at the orders in ranges of speeds clarifies the pattern: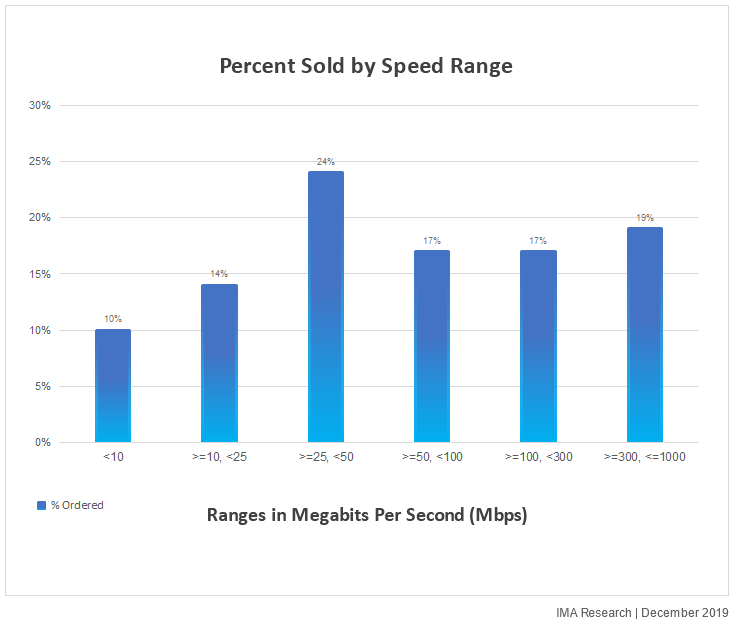 More people purchased plans promising speeds of 50 Mbps and up (52 percent) than those choosing speeds below 50 Mbps (48 percent). Nearly twice as many selected the highest speed range (from 300 to 1000 Mbps) as the lowest, less than 10 Mbps.

With 35 percent of consumers acquiring internet service during this Cyber Week choosing higher speeds of 100 Mbps or faster, the data indicates a need for bandwidth capable of delivering streaming high-definition TV and gaming. This could be evidence of the Disney+ Effect, as consumers need faster connections to stream new 4K content such as The Mandalorian as well as 4K versions of catalog content such as the original Star Wars trilogy and the Marvel Cinematic Universe. While Netflix does offer some 4K content, which requires more bandwidth than high-definition TV, it can only be viewed by subscribers at their highest price tier. Apple's new streaming service Apple TV+ offers all their content in 4K, but it is quite limited.
Bundles
We also examined the buying patterns of consumers regarding the services they bought. Often, consumers can get better deals on TV, telephone, and home security services if they order them in conjunction with internet access.
We once again examined more than 10,000 orders made Black Friday week. We compared the orders to those made during a prior week in November. Since some sales promotions began the day before Thanksgiving, we chose the week November 20th-26th as the control group, leaving out the day before Thanksgiving and the holiday itself.
During Cyber Week, we saw an increase of 14 percent in orders overall when compared to the earlier week in November. The increase was greatest among those who only wanted internet access, growing 17 percent. Orders from those who wanted two additional services in addition to internet access grew 13 percent, while orders from those who wanted one additional service in addition to internet access grew nine percent.
Although sales of all three types of plans grew, internet-only plans grew at a much faster rate than the bundles did. Since the most common bundles contain a TV package, this once again can be attributed to the Disney+ Effect, as the growing popularity of streaming services cuts into traditional TV package sales. This data shows that ISPs need to do more to attract bundle customers to boost profit margins.