---
From Silence of The Lambs to Basic Instinct to Euphoria, graphic and explicit content has spurred discussion and controversy. We examine the top 10 grossing movies in each year from 1990 to 2019 for the purpose of analyzing the prevalence of graphic and sexually explicit content in movies and found the following:
Female nudity is much more prevalent than male nudity in top grossing films. However, male genitalia is shown in these movies more than female genitalia.
Hollywood studios are placing big bets on PG and PG-13 movies, leading to fewer R-rated movies in the top 10. This has produced less sex in top grossing films, but an increase in innuendo. Half of top grossing films since 2000 include innuendos, concentrated heavily in PG and PG-13 rated movies.
Comic book heroes and animated films contain majority of the sexual innuendos in recent years.
The first time we see a male nude in the last 30 years was in 1991 with The Silence of the Lambs. A drag queen is seen dancing in the mirror naked with his genitals tucked between his thighs. The following year, Basic Instinct includes full nudity, the showing of adult genitalia and female breasts, for male and female characters. By the end of 1992, nine of the top 10 grossing box office movies since 1989 show nude characters. All but one of those movies, Dead Poets Society, fall under the crime/thriller genres.
Compare this to the most recent decade, where just 8 R-rated movies fell into the top 100 highest grossing films. At the same time, the MPAA designates more than half of the top 100 to include (at a minimum) sexual innuendos, meaning that Hollywood continues to believe that this content is important to sell tickets in films targeted at younger audiences.
Nudity and Gender
Hollywood continues to believe that female nudity sells films, as shown in the charts below. However, male genitalia is shown in these movies more than female genitalia.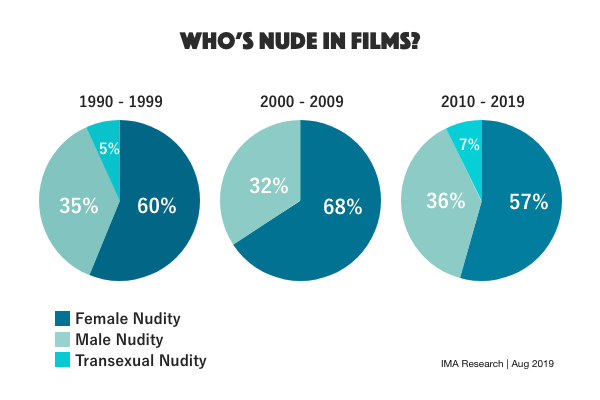 Content and Movie Ratings
R-rated films contain majority of nude scenes, but those films aren't as popular as they used to be. Between 1990 and 1999, there are 31 R-rated films in the top 10 grossing movies yet there's only 17 between 2000 and 2019. From 1990 to 1999, there are 16 movies depicting nudity. That number shrinks to 15 for the following decade and to 11 between 2010 and 2019. Less R-rated films lead to less nudity and sexual content but not as much as you'd expect.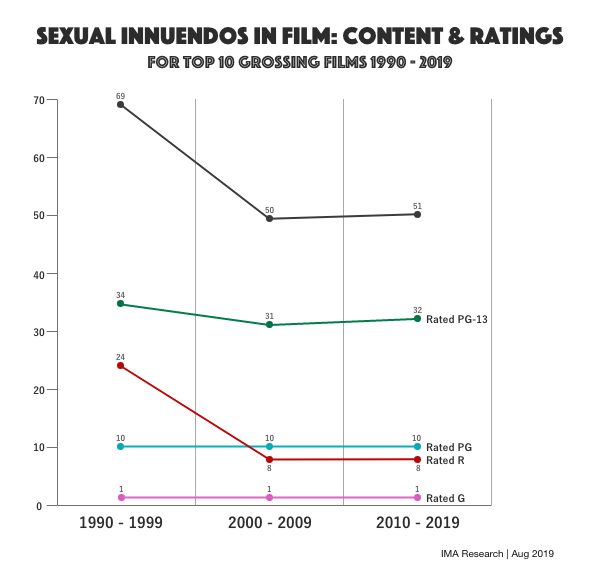 Since 2000, sexually graphic content is awarded a PG-13 rating, even if there are nude scenes. Sex, its innuendos and the implied depiction of it, is almost as prominent now as it was in the 1990s despite the fact that more family and children's movies are holding majority of the box office top 10 grossing positions. The biggest offenders are our favorite comic book heroes and animated movies. Looking at the box office numbers for the last 10 years, it makes sense for filming studios to continue inserting provocative content in PG-13 movies. All but two of those years have a PG-13 rated movie sitting at the number one position.
Movies We've Analyzed
| Year Released | Title | MPAA Rating | Sexual Content | Nudity |
| --- | --- | --- | --- | --- |
| 1990 | Home Alone | PG | N | N |
| | Ghost | PG-13 | Y | N |
| | Dances with Wolves | PG-13 | Y | N |
| | Pretty Woman | R | Y | N |
| | Teenage Mutant Ninja Turtles | PG | Y | N |
| | The Hunt for Red October | PG | Y | N |
| | Total Recall | R | Y | Y |
| | Die Hard 2 | R | N | N |
| | Dick Tracy | PG | Y | Y |
| | Kindergarten Cop | PG-13 | Y | N |
| 1991 | Terminator 2: Judgment Day | R | Y | Y |
| | Robin Hood: Prince of Thieves | PG-13 | Y | N |
| | Beauty and the Beast | G | N | N |
| | The Silence of the Lambs | R | Y | Y |
| | City Slickers | PG-13 | Y | N |
| | Hook | PG | N | N |
| | The Addams Family | PG-13 | Y | N |
| | Sleeping with the Enemy | R | Y | N |
| | Father of the Bride | PG | N | N |
| | The Naked Gun 2 1/2: The Smell of Fear | PG-13 | Y | N |
| 1992 | Aladdin | G | N | N |
| | Home Alone 2: Lost in New York | PG | Y | N |
| | Batman Returns | PG-13 | Y | N |
| | Lethal Weapon 3 | R | Y | N |
| | A Few Good Men | R | Y | N |
| | Sister Act | PG | Y | N |
| | The Bodyguard | R | N | N |
| | Wayne's World | PG-13 | Y | N |
| | Basic Instinct | R | Y | Y |
| | A League of Their Own | PG | Y | N |
| 1993 | Jurassic Park | PG-13 | Y | N |
| | Mrs. Doubtfire | PG-13 | N | N |
| | The Fugitive | PG-13 | Y | N |
| | The Firm | R | Y | N |
| | Sleepless in Seattle | PG | Y | N |
| | Indecent Proposal | R | Y | Y |
| | In the Line of Fire | R | N | N |
| | The Pelican Brief | PG-13 | Y | N |
| | Schindler's List | R | Y | Y |
| | Cliffhanger | R | N | N |
| 1994 | Forrest Gump | PG-13 | Y | Y |
| | The Lion King | G | N | N |
| | True Lies | R | Y | N |
| | The Santa clause | PG | N | N |
| | The Flintstones | PG | Y | N |
| | Dumb and Dumber | PG-13 | Y | N |
| | Clear and Present Danger | PG-13 | N | N |
| | Speed | R | N | N |
| | The Mask | PG-13 | Y | N |
| | Pulp Fiction | R | Y | Y |
| 1995 | Toy Story | G | N | N |
| | Batman Forever | PG-13 | Y | N |
| | Apollo 13 | PG | Y | N |
| | Pocahontas | G | N | N |
| | Ace Ventura: When nature Calls | PG-13 | Y | N |
| | GoldenEye | PG-13 | Y | N |
| | Jumanji | PG | N | N |
| | Casper | PG | Y | N |
| | Se7en | R | Y | Y |
| | Die Hard: With a Vengence | R | Y | N |
| 1996 | Independence Day | PG-13 | Y | N |
| | Twister | PG-13 | Y | N |
| | Mission: Impossible | PG-13 | N | N |
| | Jerry Maguire | R | Y | Y |
| | Ransom | R | N | N |
| | 101 Dalmatians | G | N | N |
| | The Rock | R | Y | N |
| | The Nutty Professor | PG-13 | Y | N |
| | The Birdcage | R | Y | N |
| | A Time to Kill | R | Y | N |
| 1997 | Titanic | PG-13 | Y | Y |
| | Men in Black | PG-13 | Y | N |
| | The Lost World: Jurassic Park | PG-13 | N | N |
| | Liar Liar | PG-13 | Y | N |
| | Air Force One | R | Y | N |
| | As Good as It Gets | PG-13 | Y | Y |
| | Good Will Hunting | R | Y | N |
| | Star Wars (Special Edition) | PG | N | N |
| | My Best Friend's Wedding | PG-13 | Y | N |
| | Tomorrow Never Dies | PG-13 | Y | Y |
| 1998 | Saving Private Ryan | R | Y | N |
| | Armageddon | PG-13 | Y | N |
| | There's Something About Mary | R | Y | Y |
| | A Bug's Life | G | N | N |
| | The Waterboy | PG-13 | N | N |
| | Doctor Dolittle | PG-13 | N | N |
| | Rush Hour | PG-13 | Y | N |
| | Deep Impact | PG-13 | Y | N |
| | Godzilla | PG-13 | N | N |
| | Patch Adams | PG-13 | Y | N |
| 1999 | Star Wars: Episode I - The Phantom Menace | PG | N | N |
| | The Sixth Sense | PG-13 | Y | Y |
| | Toy Story 2 | G | N | N |
| | Austin Powers and the spy who shagged me | PG-13 | Y | N |
| | The Matrix | R | N | N |
| | Tarzan | G | Y | N |
| | Big Daddy | PG-13 | Y | N |
| | The Mummy | PG-13 | N | N |
| | Runaway Bride | PG | N | N |
| | The Blair Witch Project | R | Y | N |
| 2000 | How the Grinch Stole Christmas | PG | Y | N |
| | Cast Away | PG-13 | N | N |
| | Mission: Impossible II | PG-13 | N | N |
| | Gladiator | R | Y | N |
| | What Women Want | PG-13 | Y | N |
| | The Perfect Storm | PG-13 | N | N |
| | Meet the Parents | PG-13 | Y | N |
| | X-Men | PG-13 | Y | N |
| | Scary Movie | R | Y | Y |
| | What Lies Beneath | PG-13 | Y | N |
| 2001 | Harry Potter and the Sorcerer's Stone | PG | N | N |
| | The Lord of the Rings: The Fellowship of the Ring | PG-13 | N | N |
| | Shrek | PG | Y | N |
| | Monsters, Inc. | G | N | N |
| | Rush Hour 2 | PG-13 | Y | N |
| | The Mummy Returns | PG-13 | Y | N |
| | Pearl Harbor | PG-13 | Y | N |
| | Ocean's Eleven | PG-13 | Y | N |
| | Jurassic Park III | PG-13 | N | N |
| | Planet of the Apes | PG-13 | Y | N |
| 2002 | Spider-Man | PG-13 | Y | N |
| | The Lord of the Rings: The Two Towers | PG | N | N |
| | Star Wars: Episode II - The Attack of the Clones | PG | N | N |
| | Harry Potter and the Chamber of Secrets | PG | N | N |
| | My Big Fat Greek Wedding | PG | Y | N |
| | Signs | PG-13 | N | N |
| | Austin Powers in Goldmember | PG-13 | Y | N |
| | Men in Black II | PG-13 | Y | N |
| | Ice Age | PG | N | N |
| | Chicago | PG-13 | Y | N |
| 2003 | The Lord of the Rings: The Return of the King | PG-13 | N | N |
| | Finding Nemo | G | N | N |
| | Pirates of the Caribbean: The Curse of the Black Pearl | PG-13 | N | N |
| | The Matrix Reloaded | R | Y | Y |
| | Bruce Almighty | PG-13 | Y | N |
| | X2: X-Men United | PG-13 | Y | N |
| | Elf | Pg | N | N |
| | Terminator 3: Rise of the Machines | R | Y | Y |
| | The Matrix Revolutions | R | Y | Y |
| | Cheaper by the Dozen | PG | N | N |
| 2004 | Shrek 2 | PG | N | N |
| | Spider-Man 2 | PG-13 | N | N |
| | The Passion of the Christ | R | N | Y |
| | Meet the Fockers | PG-13 | Y | Y |
| | The Incredibles | PG | N | N |
| | Harry Potter and the Prisoner of Azkaban | PG | N | N |
| | The Day After Tomorrow | PG-13 | N | N |
| | The Bourne Supremacy | PG-13 | N | N |
| | National Treasure | PG | N | N |
| | The Polar Express | G | N | N |
| 2005 | Star Wars: Episode III - Revenge of the Sith | PG-13 | N | N |
| | The Chronicles of Narnia: The Lion, the Witch and the Wardrobe | PG | N | N |
| | Harry Potter and the Goblet of Fire | PG-13 | N | N |
| | War of the Worlds | PG-13 | Y | Y |
| | King Kong | PG-13 | N | N |
| | Wedding Crashers | R | Y | Y |
| | Charlie and the Chocolate Factory | PG | N | N |
| | Batman Begins | PG-13 | N | N |
| | Madagascar | PG | Y | N |
| | Mr. & Mrs. Smith | PG-13 | Y | N |
| 2006 | Pirates of the Caribbean: Dead Man's Chest | PG-13 | N | N |
| | Night at the Museum | PG | N | N |
| | Cars | G | N | N |
| | X-Men: The Last Stand | PG-13 | N | N |
| | The Da Vinci Code | PG-13 | Y | Y |
| | Superman Returns | PG-13 | N | N |
| | Happy Feet | PG | Y | N |
| | Ice Age: The Meltdown | PG | N | N |
| | Casino Royale | PG-13 | Y | Y |
| | The Pursuit of Happyness | PG-13 | N | N |
| 2007 | Spider-Man 3 | PG-13 | Y | N |
| | Shrek the Third | PG | Y | N |
| | Transformers | PG-13 | Y | N |
| | Pirates of the Caribbean: At World's End | PG-13 | Y | N |
| | Harry Potter and the Order of the Phoenix | PG-13 | N | N |
| | I Am Legend | PG-13 | N | Y |
| | The Bourne Ultimatum | PG-13 | N | N |
| | National Treasure: Book of Secrets | PG | N | N |
| | Alvin and the Chipmunks | PG | Y | N |
| | 300 | R | Y | Y |
| 2008 | The Dark Knight | PG-13 | Y | N |
| | Iron Man | PG-13 | Y | N |
| | Indiana Jones and the Kingdom of the Crystal Skull | PG-13 | N | N |
| | Hancock | PG-13 | Y | N |
| | WALL-E | G | N | N |
| | Kung Fu Panda | PG | Y | N |
| | Twilight | PG-13 | N | N |
| | Madagascar: Escape 2 Africa | PG | Y | N |
| | Quantum of Solace | PG-13 | Y | N |
| | Dr. Seuss' Horton Hears a Who! | G | Y | N |
| 2009 | Avatar | PG-13 | Y | Y |
| | Transformers: Revenge of the Fallen | PG-13 | Y | Y |
| | Harry Potter and the Half-Blood Prince | PG | N | N |
| | The Twilight Saga: New Moon | PG-13 | N | N |
| | Up | Pg | N | N |
| | The Hangover | R | Y | Y |
| | Star Trek | PG-13 | Y | N |
| | The Blind Side | PG-13 | N | N |
| | Alvin and the Chipmunks: The Squeakquel | PG | Y | N |
| | Sherlock Holmes | PG-13 | Y | N |
| 2010 | Toy Story 3 | G | Y | N |
| | Alice in Wonderland | PG | N | N |
| | Iron Man 2 | PG-13 | Y | N |
| | The Twilight Saga: Eclipse | PG-13 | N | N |
| | Harry Potter and the Deathly Hallows Part 1 | PG-13 | N | N |
| | Inception | PG-13 | N | N |
| | Despicable Me | PG | Y | N |
| | Shrek Forever After | PG | Y | N |
| | How to Train Your Dragon | PG | N | N |
| | Tangled | PG | N | N |
| 2011 | Harry Potter and the Deathly Hallows Part 2 | PG-13 | Y | N |
| | Transformers: Dark of the Moon | PG-13 | Y | N |
| | The Twilight Saga: Breaking Dawn Part 1 | PG-13 | Y | N |
| | The Hangover Part II | R | Y | Y |
| | Pirates of the Caribbean: On Stranger Tides (the first time disney rated a movie PG-13 for sexual content) | PG-13 | Y | N |
| | Fast Five | PG-13 | Y | Y |
| | Mission: Impossible - Ghost Protocol | PG-13 | Y | N |
| | Cars 2 | G | N | N |
| | Sherlock Holmes: A Game of Shadows | PG-13 | Y | N |
| | Thor | PG-13 | N | N |
| 2012 | Marvel's The Avengers | PG-13 | Y | N |
| | The Dark Knight Rises | PG-13 | N | N |
| | The Hunger Games | PG-13 | N | N |
| | Skyfall | PG-13 | Y | N |
| | The Hobbit: An Unexpected Journey | PG-13 | N | N |
| | The Twilight Saga: Breaking Dawn Part 2 | PG-13 | Y | Y |
| | The Amazing Spider-Man | PG-13 | N | N |
| | Brave | PG | N | N |
| | Ted | R | Y | Y |
| | Madagascar 3: Europe's Most Wanted | PG | Y | N |
| 2013 | The Hunger Games: Catching Fire | PG-13 | Y | Y |
| | Iron Man 3 | PG-13 | Y | N |
| | Frozen | PG | Y | N |
| | Despicable Me 2 | PG | Y | N |
| | Man of Steel | PG-13 | Y | N |
| | Gravity | PG-13 | N | N |
| | Monsters University | G | N | N |
| | The Hobbit: The Desolation of Smaug | PG-13 | Y | N |
| | Fast & Furious 6 | PG-13 | Y | N |
| | Oz the Great and Powerful | PG | Y | N |
| 2014 | American Sniper | R | Y | N |
| | The Hunger Games: Mockingjay - Part 1 | PG-13 | Y | N |
| | Guardians of the Galaxy | PG-13 | Y | N |
| | Captain America: The Winter Soldier | PG-13 | N | N |
| | The LEGO Movie | PG | Y | N |
| | The Hobbit: The Battle of the Five Armies | PG-13 | N | N |
| | Transformers: Age of Extinction | PG-13 | Y | N |
| | Maleficent | PG | N | N |
| | X-Men: Days of Future Past | PG-13 | N | N |
| | Big Hero 6 | PG | N | N |
| 2015 | Star Wars: The Force Awakens | PG-13 | N | N |
| | Jurassic World | PG-13 | N | N |
| | Avengers: Age of Ultron | PG-13 | Y | N |
| | Inside Out | PG | N | N |
| | Furious 7 | PG-13 | N | N |
| | Minions | PG | N | N |
| | The Hunger Games: Mockingjay - Part 2 | PG-13 | N | N |
| | The Martian | PG-13 | Y | Y |
| | Cinderella | PG | N | N |
| | Spectre | PG-13 | Y | N |
| 2016 | Rogue One: A Star Wars Story | PG-13 | N | N |
| | Finding Dory | PG | N | N |
| | Captain America: Civil War | PG-13 | N | N |
| | The Secret Life of Pets | PG | N | N |
| | The Jungle Book | PG | N | N |
| | Deadpool | R | Y | Y |
| | Zootopia | PG | Y | N |
| | Batman v Superman: Dawn of Justice | PG-13 | Y | Y |
| | Suicide Squad | PG-13 | Y | N |
| | Sing | PG | Y | N |
| 2017 | Star Wars: The Last Jedi | PG-13 | N | N |
| | Beauty and the Beast | PG | N | N |
| | Wonder Woman | PG-13 | Y | Y |
| | Jumanji: Welcome to the Jungle | PG-13 | Y | N |
| | Guardians of the Galaxy Vol. 2 | PG-13 | Y | N |
| | Spider-Man: Homecoming | PG-13 | Y | N |
| | It | R | Y | N |
| | Thor: Ragnarok | PG-13 | Y | N |
| | Despicable Me 3 | PG | Y | N |
| | Justice League | PG-13 | N | Y |
| 2018 | Black Panther | PG-13 | N | N |
| | Avengers: Infinity War | PG-13 | Y | N |
| | Incredibles 2 | PG | N | N |
| | Jurassic World: Fallen Kingdom | PG-13 | N | N |
| | Aquaman | PG-13 | N | N |
| | Deadpool 2 | R | Y | Y |
| | Dr. Seuss' The Grinch | PG | N | N |
| | Mission: Impossible - Fallout | PG-13 | N | N |
| | Ant-Man and the Wasp | PG-13 | N | N |
| | Bohemian Rhapsody | PG-13 | Y | N |
| 2019 | Avengers: Endgame | PG-13 | N | N |
| | Captain Marvel | PG-13 | Y | N |
| | Toy Story 4 | G | N | N |
| | The Lion King | PG | N | N |
| | Aladdin | PG | N | N |
| | Spider-Man: Far from Home | PG-13 | N | N |
| | Us | R | Y | N |
| | John Wick: Chapter 3 - Parabellum | R | Y | N |
| | How to Train Your Dragon: The Hidden World | PG | N | N |
| | The Secret Life of Pets 2 | PG | N | N |