As we all spend increasingly large portions of each day online, internet safety education is becoming all the more important for kids to learn from a young age. A recent study from the Family Online Safety Institute (FOSI) found that millennial parents may be uniquely positioned to better prepare their children to be safe internet users, thanks to their advantage as digital natives. With that in mind, how are today's parents addressing internet safety with their children?
We're no strangers to the topic of parenting in the internet age. To better understand the approaches parents are taking to internet safety in 2021, we conducted a survey of over 1,000 American parents to examine how internet safety education in the home stacks up against other, more traditional forms of safety education.
Key Takeaways
Parents are taking internet safety education seriously: 9 out of 10 parents with kids aged 12 and older have had at least one intentional talk with their children about internet safety rules and techniques, and 82% of all parents with kids between 6 and 17 years old have done the same.
Internet safety education is ranked by parents as the most important type of safety education for their kids to receive – even above sexual safety, driving safety, and fire safety.
87% of parents make use of some sort of screen time limit for their kids.
On average, parents think their kids should not have unsupervised access to social media until they're 14 to 15 years old.
Internet Safety Is the Highest Priority
In 1996, roughly 50% of American children aged between 3 and 17 had access to a home computer. In 2015, 19 years later, this number had climbed to 80%. Now more than ever, parents are increasingly aware of growing cybersecurity threats and online predators – and the vast majority have spoken to their children about it.
In a survey of over 1,000 American parents with kids between the ages of 6 and 17, roughly half of all respondents indicated having multiple talks with their children about internet safety, while more than 8 in 10 had at least one such discussion.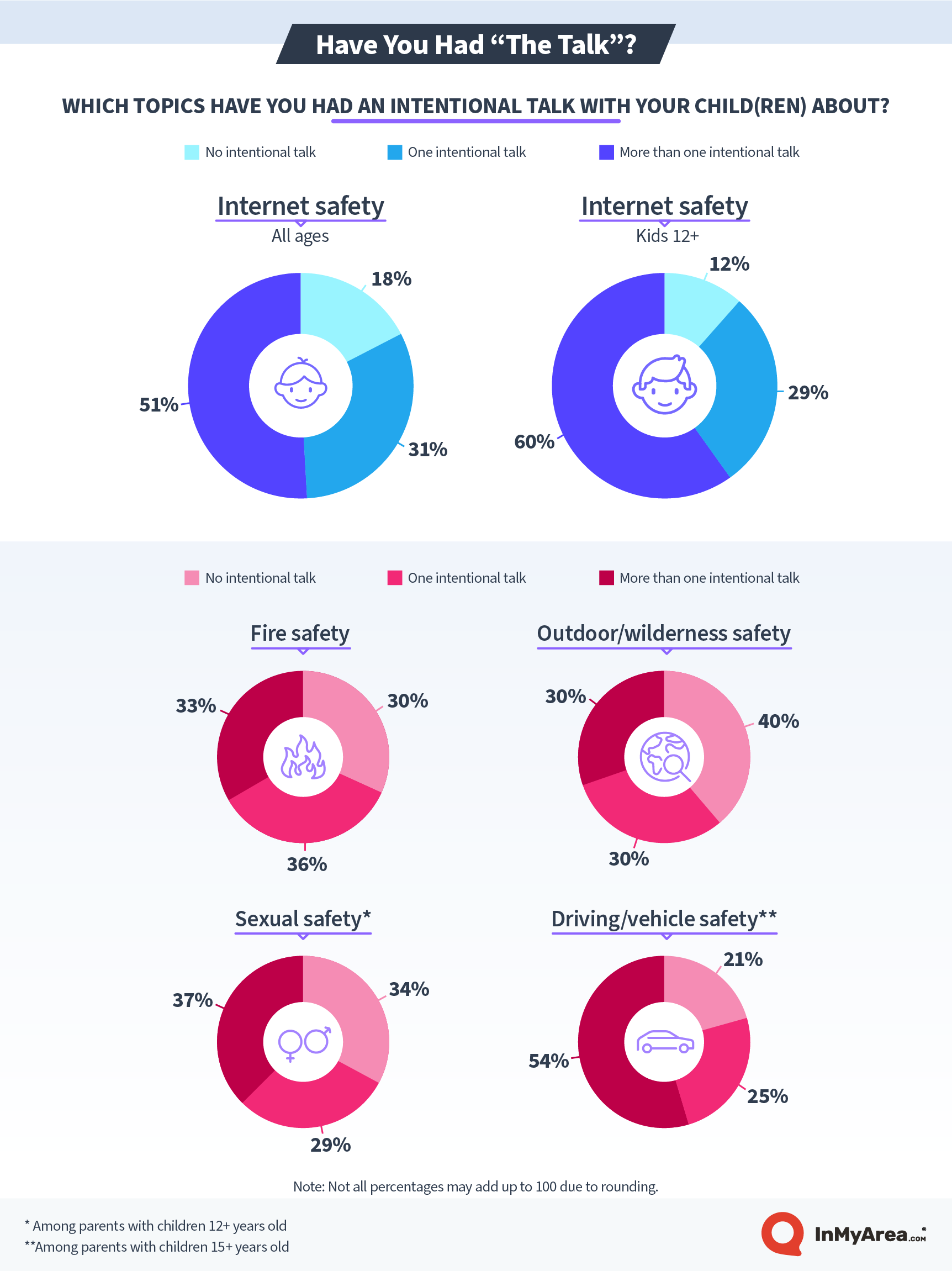 According to a study from PEW Research Center, more than 70% of parents with kids ages 5 - 11 are concerned that their children may spend too much time in front of screens. Our own research shows parents becoming increasingly proactive about internet safety as their kids grow up: Almost 90% of respondents indicated having had at least one conversation with their preteen or teen about safe internet habits, with 60% engaging in multiple conversations.

While parents across the board seem to agree they need to talk to their kids about internet safety, a much smaller proportion give the same importance to other topics such as sexual, fire, and driving safety. In fact, only 37% of respondents indicated having multiple talks on sexual safety with their children aged 12 and older – and roughly 3 in 10 had never talked about sexual safety. These numbers suggest that parents feel more compelled, prepared, or comfortable talking about internet safety with their children than other types of safety.
The Details of Internet Safety
According to the survey, most parents regard internet safety as the most prevalent issue for their kids to learn about, with 9 in 10 respondents marking it as very or extremely important. Falling just behind internet safety comes sexual and vehicle/driving safety, with at least 83% of respondents labeling these issues as important. Yet only 7 in 10 regarded outdoor and wilderness safety as important, making it the least relevant issue for respondents to talk about with their children.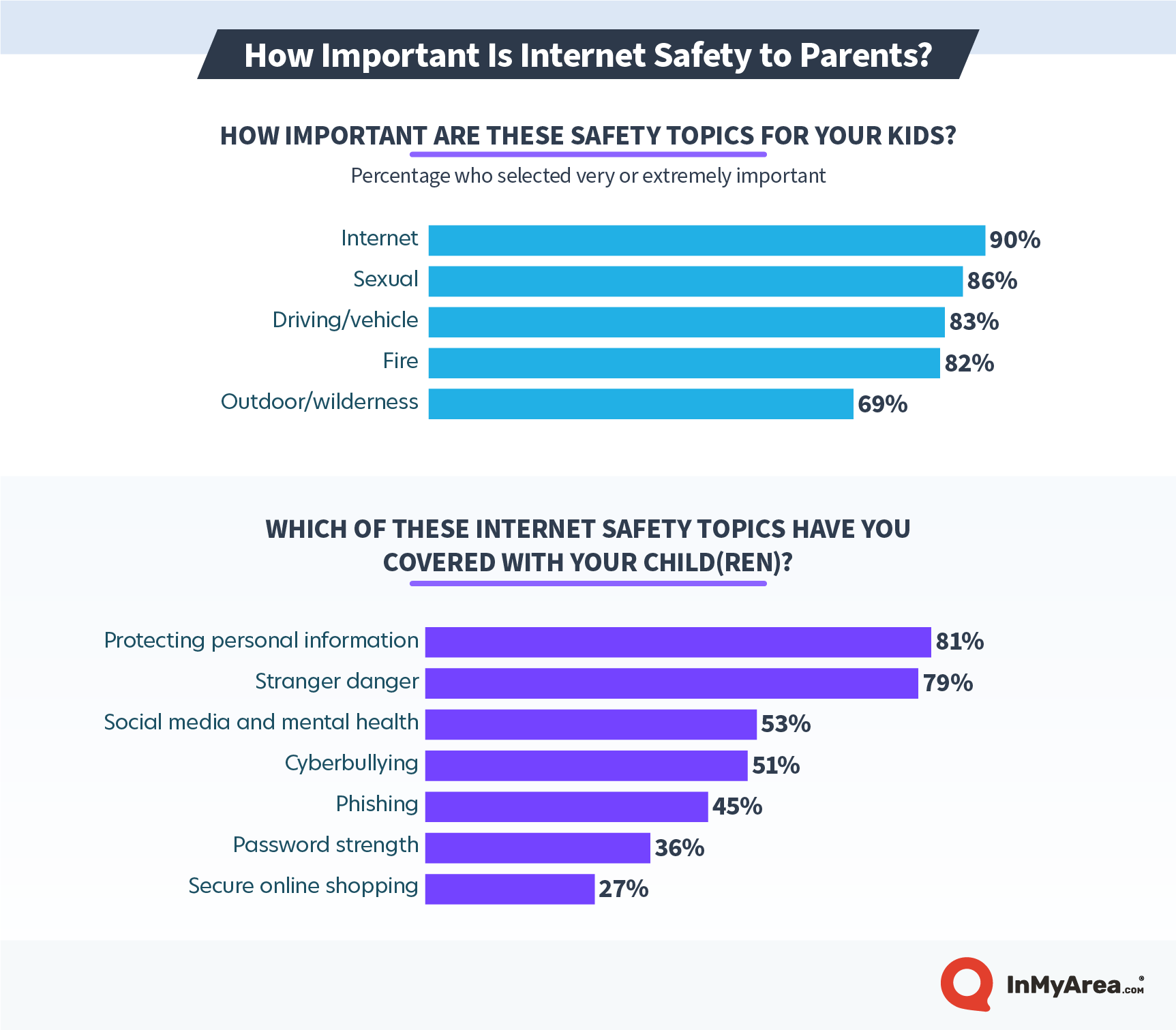 Since 39% of children on social media use their real names, it should come as no surprise that 8 in 10 respondents have specifically covered this in their internet safety discussions. While this certainly presents an issue, the survey reveals parents may need to start putting additional focus on other equally important topics.
Despite the fact cybercriminals are predicted to steal 33 billion records online in 2023, parents are not taking this threat as seriously as they should. According to the survey, less than half of parents had held an intentional conversation about cybersecurity and hacking with their children, including topics such as creating strong passwords and how to spot phishing attempts.
Similarly, fewer than 6 in 10 parents had addressed social media and mental health with their children – despite the fact that bullying and rumor-spreading are reported as the most common negative effects of social media for children. The statistics for discussions about cyberbullying specifically were even lower, which is problematic considering that research shows at least 21% of kids between the ages of 10 and 18 have been cyberbullied before.
Ultimately, these two examples demonstrate parents' need to adjust their priorities and teach their children about even the most complex of internet safety issues – from hackers and cyberbullies to data protection.
Internet Rules at Home
While parents clearly care about internet safety and often have multiple conversations about it, what kind of boundaries are they setting at home?
First, most survey respondents believed their children should reach 14 to 15 years of age before having unsupervised access to social media. Yet major platforms, including Facebook, Instagram, Snapchat, and Twitter, require users to be 13 before making an account, indicating a misalignment between parents and social media companies.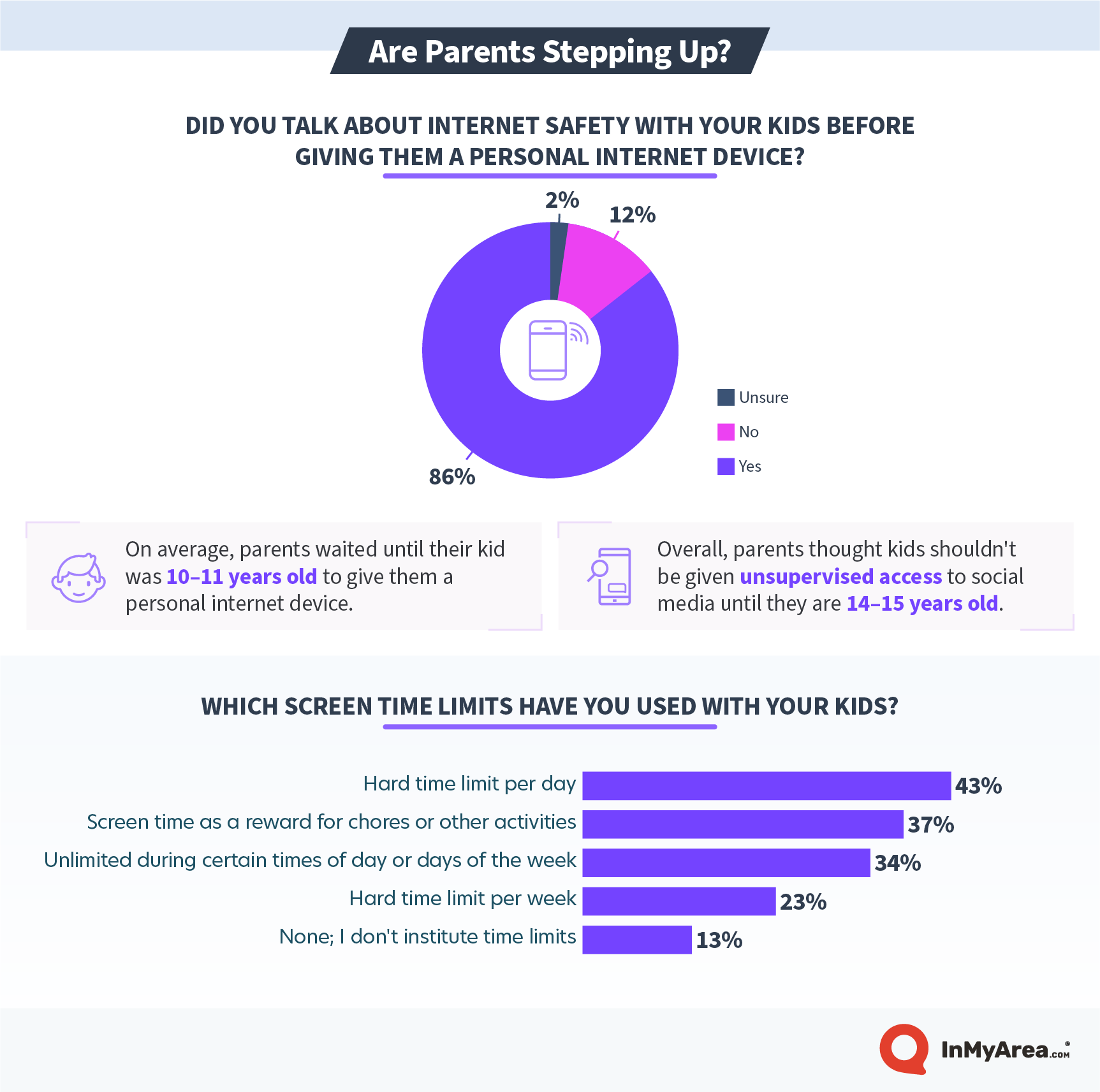 Despite the relatively low age requirement imposed by our respondents for general social media access, parents are more inclined to restrict their children's access to Reddit and Tumblr. In fact, 1 in 4 respondents believed their child should become an adult before accessing Reddit, and 30% felt similarly for Tumblr. While these two sites were the ones parents restricted the most, respondents were much more willing to let their children use Facebook and Instagram unsupervised at a younger age.
To ensure children limited their time spent on the internet, respondents primarily set hard time limits, used screen time as a reward for chores, and offered unlimited internet time during certain times or days of the week. In fact, 54% of respondents used hard limits on screen time with their kids. Screen time limits are hotly debated among child health experts, but a good rule of thumb is to model good habits, set boundaries, and be consistent in how you enforce those rules.
Unsurprisingly, age played a large role in how parents felt about their children using technology. Millennial parents, on average, gave their children devices such as tablets and cell phones at a younger age – about six months younger than Generation X parents. Parental controls on devices can make it much easier for parents to keep tabs on how their kids are using personal devices, but remember: Parental controls are just one piece in a much bigger picture.
The data shows that parents do not use a single, one-size-fits-all strategy to help their kids develop a healthy relationship with technology. These approaches are likely influenced by their children's personalities. However, the majority of parents agreed that they need to set rules to ensure their children have a healthy relationship with the internet and technology.
Parents' Internet Worries
When their children use the internet, parents indicated they were most concerned about predators and sexually explicit content. Due to the fact that 1 in 25 youth are victims of predators sexually soliciting them to meet offline each year, parents are justifiably worried about problems of this nature.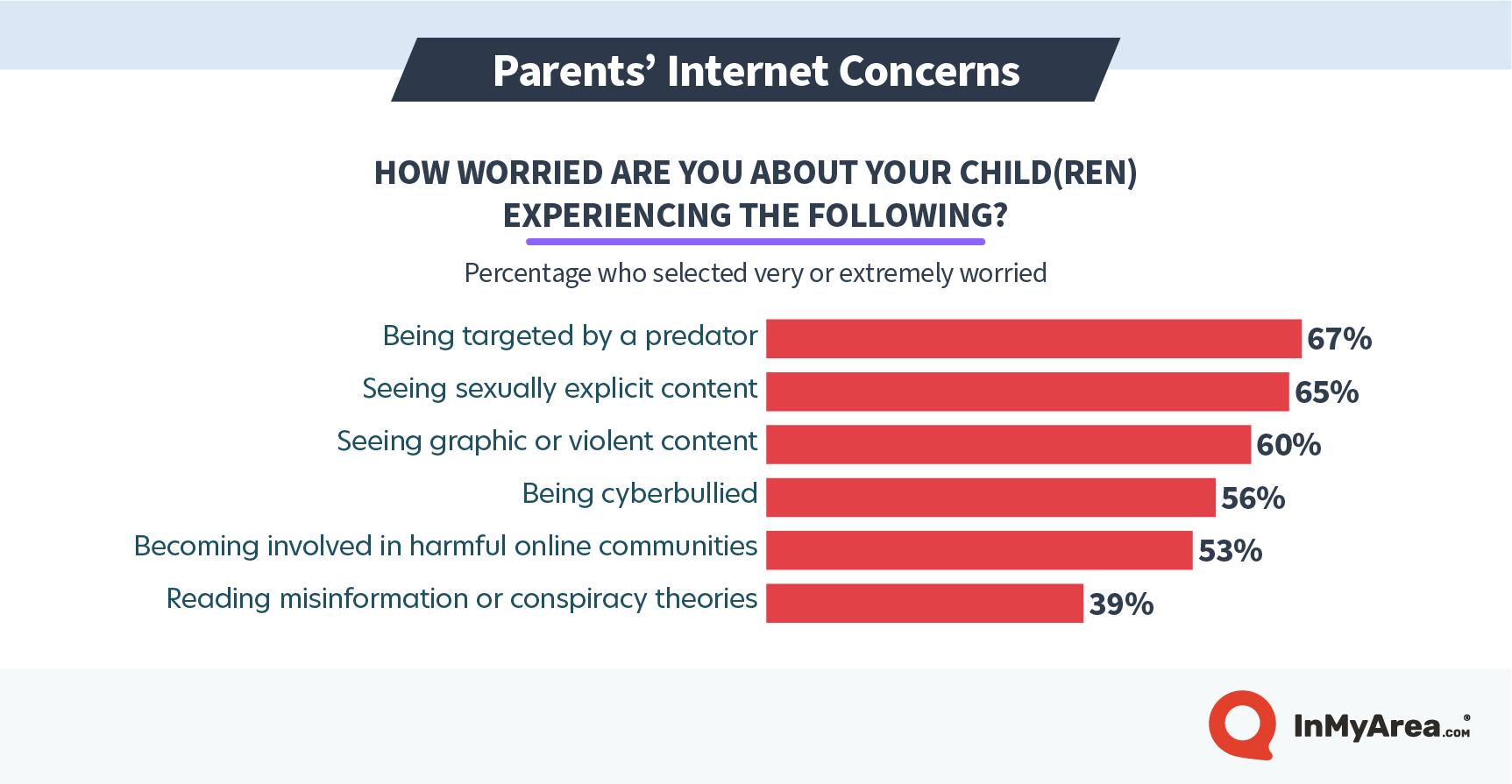 While these issues obviously require careful attention, parents should also pay great attention to the more likely dangers of children engaging in harmful online communities or being exposed to misinformation. According to a report conducted by Common Sense Media, less than half of kids have faith in their ability to tell the difference between fake and real news. Despite this danger, only 4 in 10 parents indicated they were very or extremely worried about their children engaging in misinformation – representing the least of their concerns.
Again, as before, generational differences played a key role in determining what parents prioritized. Millennials, as a generally more tech-involved group than Generation X parents, are more aware of and concerned about the subtler dangers their children may face online.
Important Steps to Take
Regardless of age, parents are worried about some legitimately concerning problems. If you're the parent of a teenager looking to step up your internet safety education game, take a look at these resources for learning about cyberbullying. Some tips for parents with teens include:
Remind your teenagers that stuff stays online for a long time.
Help your kids find balance in their lives between technology and offline activities, and help them learn to self-regulate their use.
Emphasize the importance of data privacy
Stay involved and communicative, but maintain some distance.
These are basic starting points to ensure you and your child feel comfortable using the internet. Ultimately, you must take time to determine what will work best for your family. Always consider less sensational threats, such as the dangers of misinformation and cyberbullying, when crafting guidelines and rules for your child. Understand that while there are an immense number of benefits to your children using the internet – from improved hand-eye coordination to more diverse friendships – it's always a good idea to take precautions to protect them from potential threats.
Our Data
Data used in this analysis came from a survey of 1,002 American parents with at least one child between the ages of 6 and 17. Of respondents, 54% were millennials, 41% were Gen Xers, and the other 5% were from Gen Z or older generations. The average age of respondents was 40.3 years old with a standard deviation of 8.3. 51.6% of respondents were women, 47.8% were men, and 0.6% were nonbinary or nonconforming.
Demographic breakdowns were performed only on subpopulations with a sample size of 200 or higher. The main limitation of this survey is the reliance on self-report, which is faced with several issues including, but not limited to, the following: attribution, exaggeration, telescoping, and recency bias.