2019 has been a big year for Game of Thrones, from its controversial final season to being snubbed at the Golden Globes to becoming the most-tweeted about show of the year. Typically, we at IMA Research analyze local crime and home services data, but our Game-of-Thrones-loving research team suggested we wrap up the year and say goodbye to such an impactful show by taking a deep-dive to another part of the world... Westeros. Thankfully, our editors indulged our passion project and after two months of binge-watching, 70 hours of episodes and 379 crimes recorded, this is a definitive list of every crime that occurred on Game of Thrones.
Our list includes traditional crimes like murder and theft, and also medieval crime categories such as oath breaking and pillaging. If you're a Game of Thrones nerd (we consider this a compliment), you might be surprised to read what we found. We hope you have as much fun dissecting the crimes of King's Landing and seeing just how murderous your favorite houses were as we did.
Also, we asked Game of Thrones fan and artist Naomi Buttelo to create custom artwork for this study. Thanks Naomi! You can check out more of her work on Instagram @naomimakesart
GoT Crime Facts
Murder is the most common crime, representing 60 percent of all incidents (RIP to basically every main character)
King's Landing is the most dangerous city with 23 percent of all crimes committed there
Dragonstone is a hotbed for treason (we see you, Lord Varys)
Apparently, the day is dark and full of terrors too: one-in-three murders occurred in the morning
House Lannister committed the most crimes of any house (shocker)
Crimes by Category
Murder is, by far, the most common crime in Westeros — 60 percent of all criminal incidents fall under this category, which includes wrongful execution, death by torture and, ahem, regicide. I mean, come on, someone from the Night's Watch gets beheaded in the first ten minutes of the show's very first episode. To the lucky few who made it out of the series alive, we commend you.
Assault follows at 22 percent, treason/rebellion at 7 percent and kidnapping/false imprisonment at 5 percent.
Here's the complete breakdown of crime events by type across Westeros and beyond: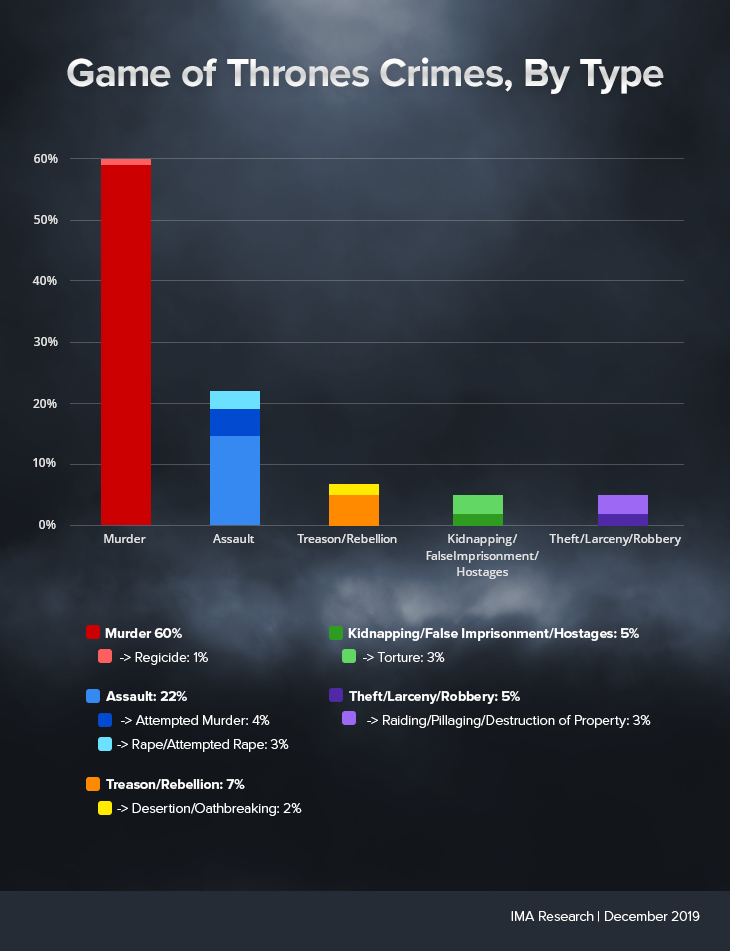 Most Crime Incidents by Location
Danger appears to lurk in every corner of the map, but some areas are far more perilous than others.
Top Three Most Dangerous Areas:

King's Landing ­– 23%
Winterfell – 11%
Riverlands – 6%
King's Landing is, by far, the most treacherous location. With Cersei Lannister living in the capital city, this should come as no surprise. That woman is on a murderous rampage more often than not. However, it also depends on the type of crime. When broken down by category, certain areas emerge as particularly vulnerable.
Murder, Assault and Kidnapping: King's Landing
The capital and largest city in the Seven Kingdoms is also the most dangerous. From Flea Bottom to the Red Keep, crime happens just about as often as someone telling Jon Snow that he knows nothing.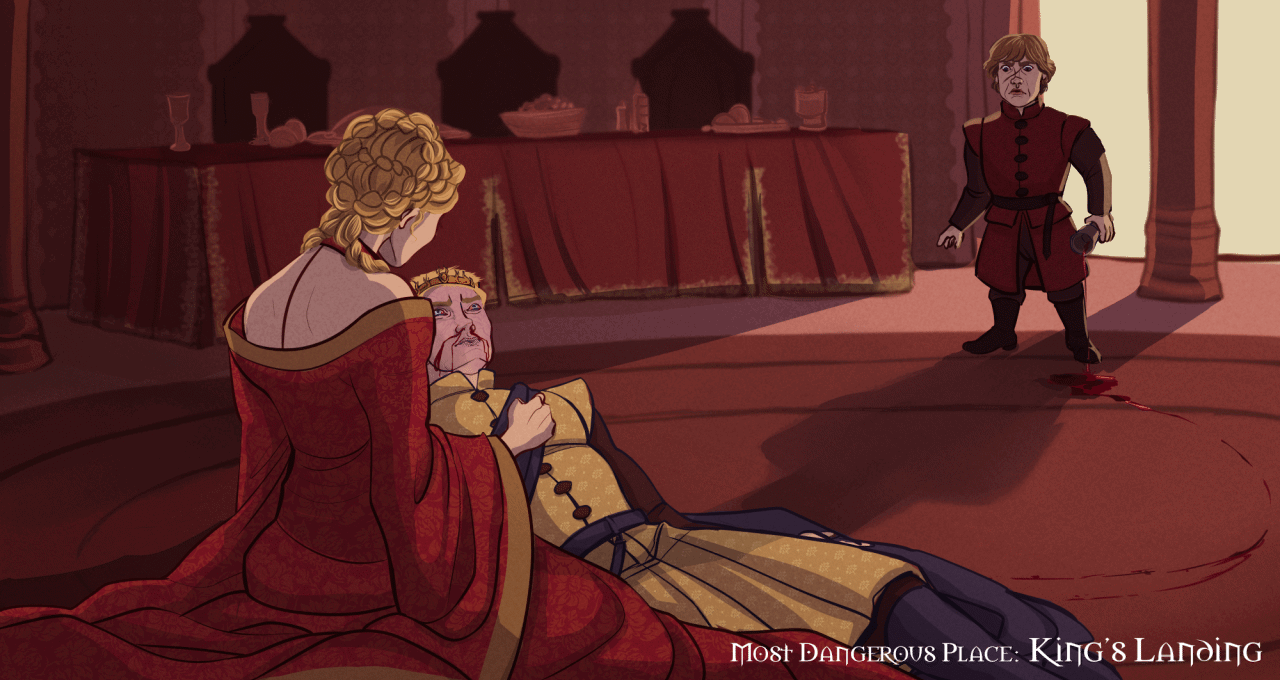 In particular, King's Landing is the site of 22 percent of all murder incidents and 27 percent of all assaults, including attempted murder and rape. It's also a hotspot for kidnapping — one-third (33 percent) of abductions, false imprisonments, and torture occurred in this overpopulated city. Overall, it is the city where the most crimes happened in all of Westeros.

Although policed by the City Watch, these officials aren't exactly reliable and are known to flee when threatened, leaving the city and its citizens vulnerable. Not to mention the whole "let's kill all of Robert Baratheon's bastards" incident in season two.
Treason: Dragonstone
From Stannis Baratheon and Davos Seaworthy to Tyrion Lannister and Varys, this isolated castle is a hotbed for treason: 17 percent of treasonous crimes like oathbreaking, rebellion and desertion occurred here.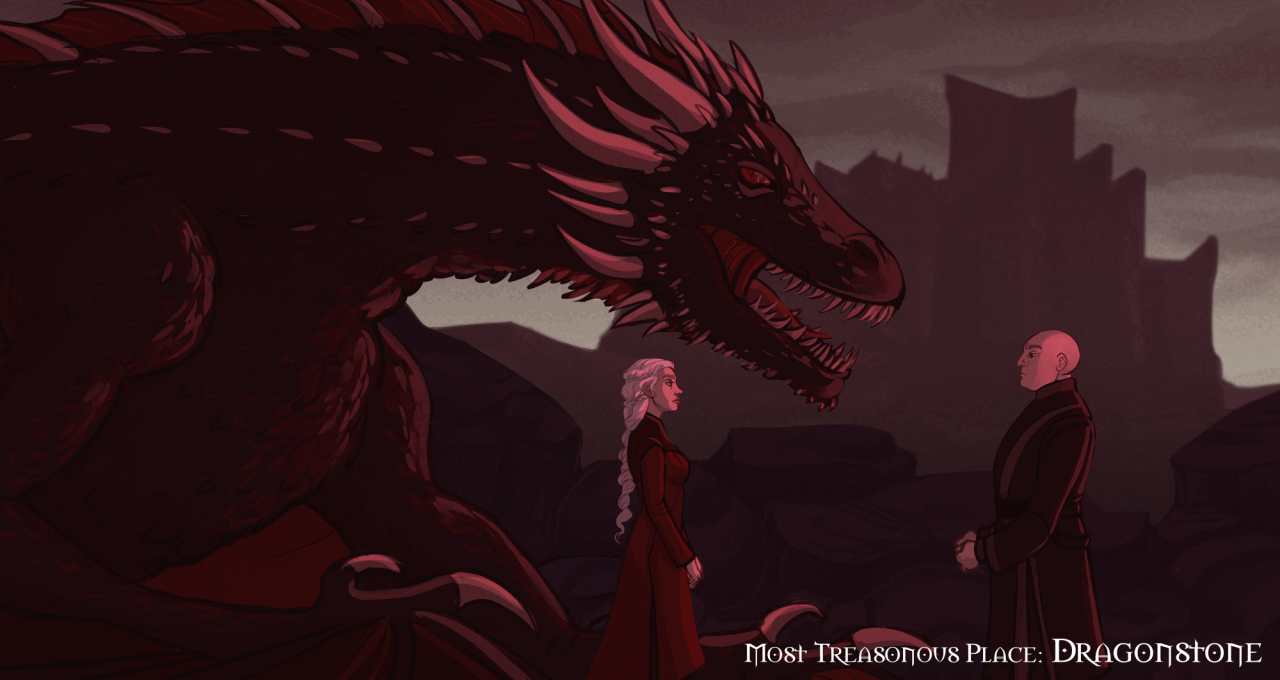 From the first season through the last, the Painted Table has seen its fair share of plotting, infamous arguments, and also, weirdly, intimate moments (if you know what I mean).

Theft: The Riverlands
With no natural boundaries or centralized governance, the Riverlands are especially exposed to lawless behavior. One-quarter (25 percent) of theft incidents take place in the Riverlands. The region, which borders virtually every kingdom, is left susceptible to traditional theft, larceny and robbery in peaceful times as well as raiding, pillaging and destruction of property in times of war. Oh, and let's not forget about the Red Wedding. Still a sore subject, we know.
Crime By House
With all of the different families, rivals, ever-changing alliances, and er, incest, it can be hard to keep up with who is killing who. It turns out that a few families are far more prone to criminal activity than the rest.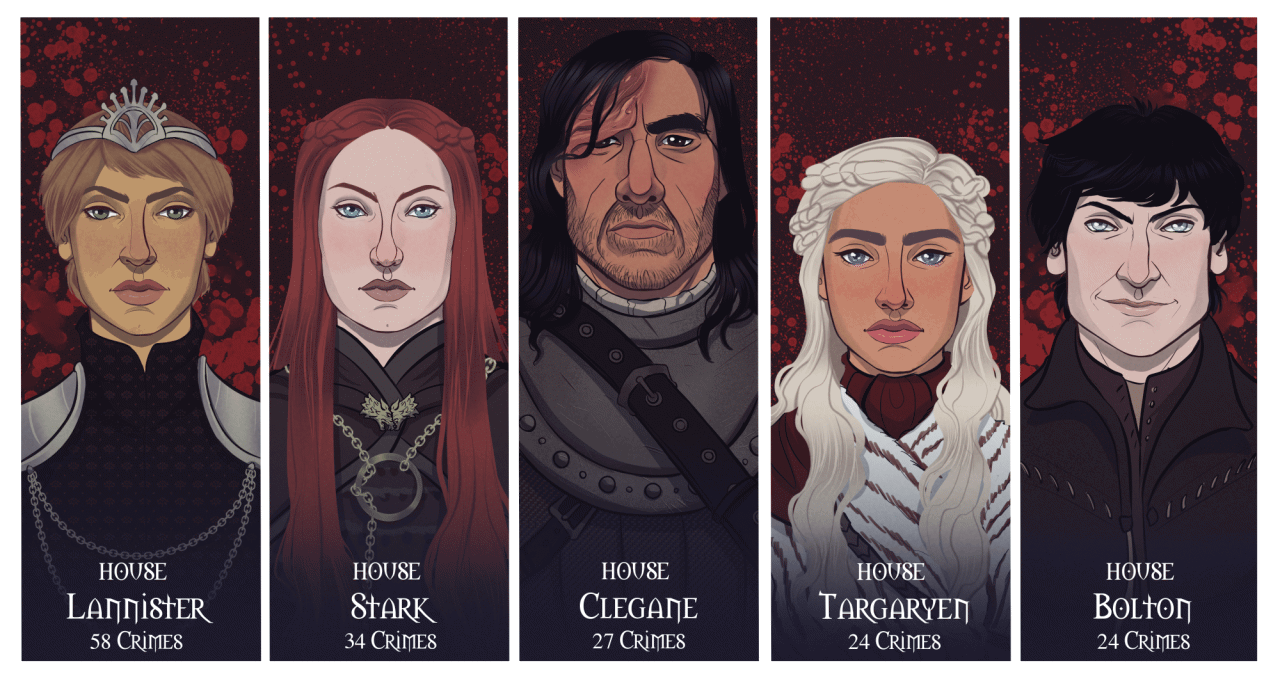 House Lannister takes the cake for the house that commits the most crimes in all of Westeros. Seeing as the entire family is downright evil, we aren't too surprised. And yes, that includes Jaime even though we can't ever resist that gorgeous, bad boy smolder.

Crime By Gender
The data also reveals Game of Thrones' complicated depiction of female characters.Despite powerful—and equally brutal—female leaders like Cersei and Daenerys, just 23 percent of crime events are perpetrated by women. In contrast, nearly three-quarters (72 percent) of all crimes are committed by men. The remaining 5 percent of all crimes were committed by creatures like White Walkers. Both men and women alike committed the majority of their crimes at King's Landing.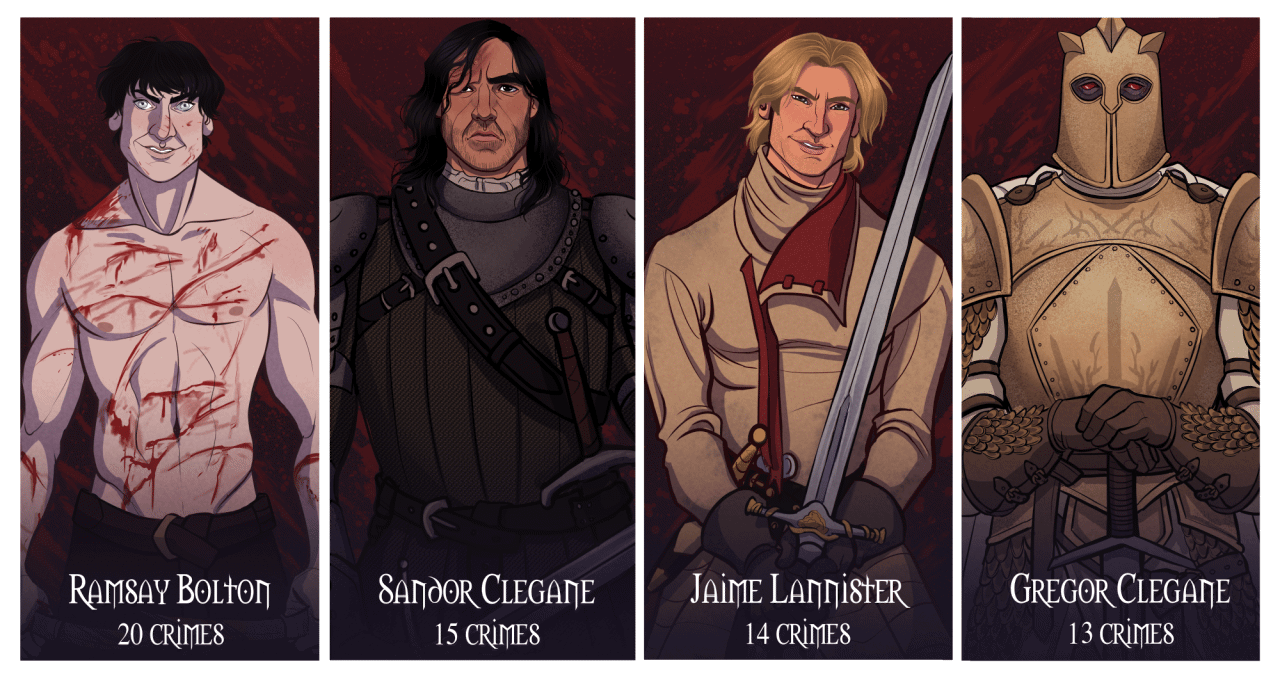 It will come as little to no surprise that Ramsay Bolton committed the most crimes out of all the men on Game of Thrones. We could've guessed that from the moment he started calling Theon Greyjoy Reek.

Crimes by Time of Day
While one might expect criminals to commit lawless acts under the cover of darkness, characters were nearly equally likely to perpetrate crimes in the bright morning hours.

Though 38 percent of crimes transpired after dusk, 36 percent occurred in the morning. The safest time of day is the afternoon, when just 21 percent of transgressions are carried out. The night might be dark and full of terrors, but apparently so is the daytime. Care to explain, Melisandre?

Breakdown of crime incidents by time of day:

Night: 38%
Morning: 36%
Afternoon: 21%
Unknown: 5%
Crimes by Episode
On average, 5.2 crimes are executed per episode. Comparatively, that's more than double the average U.S rate of 2.4 crimes per hour. In terms of violent crimes against people, it's roughly 14 times the national rate.
Season 2 saw the most crime events per episode, with approximately six incidents in each episode, while Season 7 had the least – just 3.1 transpired in the same timeframe.
Breakdown of Crime Events Per Episode (ranked in order of most to least crimes per episode):
Season 2: 6 per episode
Season 8: 5.83 per episode
Season 6: 5.5 per episode
Season 1: 5.4 per episode
Season 5: 5.2 per episode
Season 3: 5.1 per episode
Season 4: 5 per episode
Season 7: 3.14 per episode
*Average: 5.2 per episode
Crimes Per Episode Quadrant
As Game of Thrones fans know all too well, the show's writers love a dramatic,­­­ and often bloody, conclusion. We don't know about you, but we'll probably never get over the sight of Catelyn Stark getting her throat slit (RIP Lady Stark).
Nearly one-third (31 percent) of all crime incidents take place in the episode's final fifteen minutes, which we refer to as quadrant 4 in this study. Everything from Viserys getting his "golden crown" (a personal favorite of ours) to Ramsay becoming one big dog treat happened in the final fifteen minutes of the episode. Anybody else want to tell Ramsay's dogs that they're really really good boys?
Breakdown of Crime Incidents Per Episode Quadrant (ranked in order from most to least violent quadrant):
Quadrant 4: 31%
Quadrant 1: 24%
Quadrant 2: 23%
Quadrant 3: 22%
IMA Research Methodology
IMA Research assessed crime events across eight seasons of Game of Thrones, and over 45 locations, including regions, cities, towns, and castles.
Crime event is defined as a criminal incident that is either directly depicted or referenced by characters as occurring off-screen. Each occurrence is counted as a single event, regardless of number of victims, thus reducing heavily skewed data from mass events.
Combined crimes that fall within multiple categories (i.e. Murder/Treason) are counted for both categories.
Crime events are classified in the following categories:
1. Murder, including Regicide and Wrongful Execution
2. Assault, including Attempted Murder, Battery, Rape and Attempted Rape
3. Treason, including Rebellion, Desertion and Oathbreaking
4. Kidnapping, including False Imprisonment and Taking Hostages
5. Theft, including Larceny, Robbery, Raiding, Pillaging and Destruction of Property
---
For all you Game of Thrones crime junkies, we've included a chart of every single crime that occurred on the show below.
| Perpetrator | Crime | Victim | Location | Season | Episode |
| --- | --- | --- | --- | --- | --- |
| Aerys Targaryen | Assault/Attempted Murder | King's Landing citizens | King's Landing | 3 | 5 |
| Allegedly Lannisters (actually Lysa Arryn) | Murder | Jon Arryn | King's Landing | 1 | 1 |
| Alliser Thorne/Olly/others | Treason/Murder | Jon Snow | Castle Black | 5 | 10 |
| Arthur Dayne | Murder | Stark guards | Dorne | 6 | 3 |
| Arya Stark | Murder | The Waif | Braavos | 6 | 8 |
| Arya Stark | Murder | Meryn Trant | Braavos | 5 | 10 |
| Arya Stark | Murder | Unnamed young boy | King's Landing | 1 | 8 |
| Arya Stark | Murder | Bolton soldier | The Riverlands | 3 | 10 |
| Arya Stark | Murder | Rorge | The Riverlands | 4 | 7 |
| Arya Stark | Murder | Lannister guard | The Riverlands | 4 | 1 |
| Arya Stark | Murder | Polliver | The Riverlands | 4 | 1 |
| Arya Stark | Murder | Freys | The Twins | 7 | 1 |
| Arya Stark | Murder | The Night King | Winterfell | 8 | 3 |
| Arya Stark | Murder | Lothar Frey | Riverrun | 6 | 10 |
| Arya Stark | Murder | Walder Frey | Riverrun | 6 | 10 |
| Arya Stark/Nymeria | Assault/Battery | Joffrey Baratheon | King's Road | 1 | 2 |
| Balon Greyjoy | Rebellion | Joffrey Baratheon/Rob Stark | Pyke | 2 | 3 |
| Baratheon soldiers | Desertion | Stannis Baratheon | The North | 5 | 10 |
| Bolton soldiers | Assault/Battery | Theon Greyjoy | Winterfell | 3 | 3 |
| Bran Stark (using Hodor) | Murder | Locke | Craster's Keep | 4 | 5 |
| Brienne of Tarth | Murder | Kingsguard | Highgarden | 2 | 5 |
| Brienne of Tarth | Assault | Sandor Clegane | The Riverlands | 4 | 10 |
| Brienne of Tarth | Murder | Stark soldiers | The Riverlands | 2 | 10 |
| Brienne of Tarth | Murder | Bolton men | The North | 6 | 1 |
| Brienne of Tarth | Assault/Attempted Murder | Arryn soldier | The Vale | 5 | 2 |
| Brienne of Tarth | Murder | Arryn soldiers | The Vale | 5 | 2 |
| Brienne of Tarth | Murder | Stannis Baratheon | Winterfell | 5 | 10 |
| Bronn | Assault | Trystane Martell | Dorne | 5 | 6 |
| Bronn | Murder | Dornish soldiers | Dorne | 5 | 4 |
| Bronn | Assault | Tyrion Lannister | Winterfell | 8 | 4 |
| Brotherhood without Banners | Theft | Sandor Clegane | The Riverlands | 3 | 5 |
| Brotherhood without Banners | Murder | Villagers | The Riverlands | 6 | 7 |
| Catelyn Stark | Treason | Robb Stark | The Riverlands | 2 | 8 |
| Catelyn Stark | Kidnapping/False Imprisonment | Tyrion Lannister | The Riverlands | 1 | 4 |
| Catelyn Stark | Assault/Battery | Jaime Lannister | The Riverlands | 1 | 10 |
| Catelyn Stark | Murder | Joyeuse Frey | The Twins | 3 | 9 |
| Cersei Lannister | Assault/Battery/Kidnapping | Ros | King's Landing | 2 | 8 |
| Cersei Lannister | Taking Hostages | Sansa Stark | King's Landing | 1 | 10 |
| Cersei Lannister | Treason | Robert Baratheon | King's Landing | 1 | 7 |
| Cersei Lannister | Murder | Mace Tyrell | King's Landing | 6 | 10 |
| Cersei Lannister | Murder | Missandei | King's Landing | 8 | 4 |
| Cersei Lannister | Murder | Loras Tyrell | King's Landing | 6 | 10 |
| Cersei Lannister | Murder | High Sparrow | King's Landing | 6 | 10 |
| Cersei Lannister | Murder | Kevan Lannister | King's Landing | 6 | 10 |
| Cersei Lannister | Murder | Margaery Tyrell | King's Landing | 6 | 10 |
| Cersei Lannister | Murder | Lancel Lannister | King's Landing | 6 | 10 |
| Cersei Lannister | Murder | King's Landing citizens | King's Landing | 6 | 10 |
| Cersei Lannister | Torture | Tyene Sand | King's Landing | 7 | 3 |
| Cersei Lannister | Torture | Ellaria Sand | King's Landing | 7 | 3 |
| Cersei Lannister | Torture | Septa Unella | King's Landing | 6 | 10 |
| Cersei Lannister | Assault/Battery | Joffrey Baratheon | King's Landing | 2 | 1 |
| Craster | Assault/Battery | Jon Snow | North of the Wall | 2 | 3 |
| Craster | Assault/Battery | Jon Snow | North of the Wall | 2 | 2 |
| Craster | Murder | Craster's sons | North of the Wall | 2 | 2 |
| Daario Naharis | Assault | Son of the Harpy | Meereen | 5 | 2 |
| Daario Naharis | Murder | Mereen's champion | Meereen | 4 | 3 |
| Daario Naharis | Murder | Dothraki man | Vaes Dothrak | 6 | 4 |
| Daario Naharis | Murder | Aggo | Vaes Dothrak | 6 | 4 |
| Daario Naharis | Murder | Mero & Prendahl na Ghezn | Yunkai | 3 | 8 |
| Daario Naharis | Murder | Yunkai guards | Yunkai | 3 | 9 |
| Daario Naharis/Jorah Mormont/Grey Worm | Murder | Yunkai guards | Yunkai | 3 | 9 |
| Daenerys Targaryen | Murder | Varys | Dragonstone | 8 | 5 |
| Daenerys Targaryen | Murder | Dickon Tarley | Highgarden | 7 | 5 |
| Daenerys Targaryen | Murder | Randyll Tarly | Highgarden | 7 | 5 |
| Daenerys Targaryen | Murder | Lannister soldiers | Highgarden | 7 | 4 |
| Daenerys Targaryen | Murder | Lannister soldiers | King's Landing | 8 | 5 |
| Daenerys Targaryen | Murder | King's Landing citizens | King's Landing | 8 | 5 |
| Daenerys Targaryen | Murder | Ironborn soldiers | King's Landing | 8 | 5 |
| Daenerys Targaryen | Murder | Golden Company soldiers | King's Landing | 8 | 5 |
| Daenerys Targaryen | Murder | Masters of Mereen | Meereen | 4 | 4 |
| Daenerys Targaryen | Murder | Yunkai/Astapor sailors | Meereen | 6 | 9 |
| Daenerys Targaryen | Murder | Meereenese citizen | Meereen | 5 | 5 |
| Daenerys Targaryen | Murder | Pyat Pree | Qarth | 2 | 10 |
| Daenerys Targaryen | Murder | Xaro Xhoan Daxos/Doreah | Qarth | 2 | 10 |
| Daenerys Targaryen | Murder | Mirri Maz Duur | The Dothraki Sea | 1 | 10 |
| Daenerys Targaryen | Regicide | Khal Drogo | The Dothraki Sea | 1 | 10 |
| Daenerys Targaryen | Murder | Khals | Vaes Dothrak | 6 | 4 |
| Daenerys Targaryen (by fault of Drogon) | Murder | Zalla (3 year old girl) | Meereen | 4 | 10 |
| Daenerys Targaryen (using the Unsullied) | Murder | The Masters | Astapor | 3 | 4 |
| Daenerys Targaryen (using the Unsullied) | Murder | Kraznys mo Nakloz | Astapor | 3 | 4 |
| Dagmer | Murder | Maester Luwin | Winterfell | 2 | 10 |
| Dagmer | Murder | Farmer and his wife | Winterfell | 2 | 8 |
| Davos Seaworth | Treason | Stannis Baratheon | Dragonstone | 3 | 10 |
| Davos Seaworth | Assault/Attempted Murder | Melisandre | Dragonstone | 3 | 1 |
| Derek/Brant | Assault | Samwell Tarly | Castle Black | 5 | 7 |
| Derek/Brant | Assault/Attempted Rape | Gilly | Castle Black | 5 | 7 |
| Dothraki man | Murder | Dothraki man | Pentos | 1 | 1 |
| Dothraki Tribe | Murder | Sons of the Harpy | Meereen | 6 | 9 |
| Dothraki Tribe | Assault/Battery | Viserys Targaryen | Pentos | 1 | 3 |
| Dothraki Tribe | Raiding/Pillaging/Rape/Murder | Lamb Men | The Dothraki Sea | 1 | 8 |
| Ellaria Sand | Murder | Doran Martell | Dorne | 6 | 1 |
| Ellaria Sand | Murder | Myrcella Baratheon | Dorne | 5 | 10 |
| Euron Greyjoy | Assault | Jaime Lannister | King's Landing | 8 | 5 |
| Euron Greyjoy | Kidnapping | Missandei | King's Landing | 8 | 4 |
| Euron Greyjoy | Regicide | Balon Greyjoy (son of Roose Bolton) | Pyke | 6 | 2 |
| Euron Greyjoy | Murder | Obara Sand | The Seas | 7 | 2 |
| Euron Greyjoy | Murder | Ironborns | The Seas | 7 | 2 |
| Euron Greyjoy | Murder | Nymeria Sand | The Seas | 7 | 2 |
| Frey soldiers (on Tywin Lannister's orders) | Murder | Stark men and bannermen | The Twins | 3 | 9 |
| Frey soldiers (on Tywin Lannister's orders) | Murder | Stark men and bannermen | The Twins | 3 | 10 |
| Gendry Baratheon | Murder | Gold Cloaks | King's Landing | 7 | 5 |
| Gregor Clegane | Murder | Northmen | Harrenhal | 3 | 1 |
| Gregor Clegane | Murder | King's Landing man | King's Landing | 6 | 2 |
| Gregor Clegane | Murder | Member of the Faith Militant | King's Landing | 6 | 8 |
| Gregor Clegane | Murder | Elia Martell | King's Landing | 4 | 1 |
| Gregor Clegane | Rape | Elia Martell | King's Landing | 4 | 1 |
| Gregor Clegane | Assault | Sandor Clegane | King's Landing | 8 | 5 |
| Gregor Clegane | Assault | Loras Tyrell | King's Landing | 1 | 5 |
| Gregor Clegane | Murder | Unnamed prisoners | King's Landing | 4 | 7 |
| Gregor Clegane | Murder | Rhaenys Targaryen & Aegon Targareyn | King's Landing | 4 | 1 |
| Gregor Clegane | Murder | Qyburn | King's Landing | 8 | 5 |
| Gregor Clegane | Murder | Hugh | King's Landing | 1 | 4 |
| Gregor Clegane | Murder/Battery/Raiding/Pillaging | Riverland people | The Riverlands | 1 | 6 |
| Gregor Clegane (on Tywin Lannister's orders) | Murder | Lannister soldiers | Harrenhal | 2 | 7 |
| Grey Worm | Murder | Harry Strickland | King's Landing | 8 | 5 |
| Grey Worm | Murder | Lannister soldiers | King's Landing | 8 | 6 |
| Grey Worm | Murder | Masters | Meereen | 6 | 9 |
| Greyjoy soldiers | Treason | Theon Greyjoy | Winterfell | 2 | 10 |
| Hill Tribesmen | Raiding/Battery/Murder | Riverlands men | Hills outside the Eyrie | 1 | 5 |
| Howland Reed | Murder | Arthur Dayne | Dorne | 6 | 3 |
| Ironborn leader | Assault | Theon Greyjoy | Dragonstone | 7 | 7 |
| Ironborn soldier | Murder | Ironborn commander | Moat Cailin | 4 | 8 |
| Jaime Lannister | Murder | Dornish soldier | Dorne | 5 | 4 |
| Jaime Lannister | Murder | Olenna Tyrell | Highgarden | 7 | 3 |
| Jaime Lannister | Murder | Tyrell soldiers | Highgarden | 7 | 3 |
| Jaime Lannister | Assault/Battery | Ned Stark | King's Landing | 1 | 5 |
| Jaime Lannister | Murder | Unnamed pyromancer | King's Landing | 3 | 5 |
| Jaime Lannister | Murder | Aerys Targaryen | King's Landing | 3 | 5 |
| Jaime Lannister | Assault | Euron Greyjoy | King's Landing | 8 | 5 |
| Jaime Lannister | Murder | Euron Greyjoy | King's Landing | 8 | 5 |
| Jaime Lannister | Treason | Cersei Lannister | King's Landing | 7 | 7 |
| Jaime Lannister | Murder | Alton Lannister | The Riverlands | 2 | 7 |
| Jaime Lannister | Murder | Torrhen Karstark | The Riverlands | 2 | 7 |
| Jaime Lannister | Assault | Lothar Frey | Riverrun | 6 | 7 |
| Jaime Lannister | Assault/Battery/Attempted Murder | Bran Stark | Winterfell | 1 | 1 |
| Jaime Lannister | Murder | Jory Cassel + Northern guards | King's Landing | 1 | 5 |
| Jaqen H'gar | Assault | Arya Stark | Braavos | 5 | 6 |
| Jaqen H'gar | Assault | Arya Stark | Braavos | 5 | 10 |
| Jaqen H'ghar (on Arya Stark's orders) | Murder | Amory Lorch | Harrenhal | 2 | 6 |
| Jaqen H'ghar (on Arya Stark's orders) | Murder | The Tickler | Harrenhal | 2 | 5 |
| Jaqen H'ghar (on Arya Stark's orders) | Murder | Lannister guards | Harrenhal | 2 | 8 |
| Joffrey Baratheon | Assault/Battery | Unnamed prostitute | King's Landing | 2 | 4 |
| Joffrey Baratheon | Wrongful Execution | Ned Stark | King's Landing | 1 | 9 |
| Joffrey Baratheon | Murder | Robert Baratheon's bastard children | King's Landing | 2 | 1 |
| Joffrey Baratheon (aided by Petyr Baelish) | Murder | Ros | King's Landing | 3 | 6 |
| Jon Snow | Murder | Magnar of Thenn (Styr) | Castle Black | 4 | 9 |
| Jon Snow | Murder | Karl Tanner | Craster's Keep | 4 | 5 |
| Jon Snow | Regicide | Daenerys Targaryen | King's Landing | 8 | 6 |
| Jon Snow | Murder | Qhorin Halfhand | North of the Wall | 2 | 10 |
| Jon Snow | Assault | Alliser Thorne | The Wall | 1 | 8 |
| Jon Snow | Murder | White Walker | Hardhome | 5 | 8 |
| Jon Snow | Murder | White Walker | North of the Wall | 7 | 6 |
| Jon Snow | Assault/battery | Petyr Baelish | Winterfell | 7 | 2 |
| Jorah Mormont | Treason | Daenerys Targaryen | Pentos | 1 | 5 |
| Jorah Mormont | Murder | Dothraki man | The Dothraki Sea | 1 | 9 |
| Jorah Mormont | Murder | Stonemen | Valyria | 5 | 5 |
| Jorah Mormont | Assault | Tyrion Lannister | Volantis | 5 | 4 |
| Jorah Mormont | Assault/Theft | Unnamed fisherman | Volantis | 5 | 4 |
| Jorah Mormont | Kidnapping | Tyrion Lannister | Volantis | 5 | 3 |
| Karl Tanner | Murder | Craster | Craster's Keep | 3 | 4 |
| Khal Drogo | Rape | Daenerys Targaryen | Pentos | 1 | 1 |
| Khal Drogo | Rape | Daenerys Targaryen | Pentos | 1 | 2 |
| Khal Drogo | Murder | Mago | The Dothraki Sea | 1 | 8 |
| Khal Drogo | Murder | Viserys Targaryen | Vaes Dothrak | 1 | 6 |
| King's Landing residents | Assault | Cersei Lannister | King's Landing | 5 | 10 |
| Kingsguard | Assault/Battery | King's Landing citizens | King's Landing | 2 | 6 |
| Kingsguard | Murder | Townspeople | King's Landing | 2 | 6 |
| Kraznys mo Nakloz | Assault/Battery | Unsullied soldier | Astapor | 3 | 1 |
| Lancel Lannister (on Cersei Lannister's orders) | Treason/Attempted Regicide | Robert Baratheon | Outside King's Landing | 1 | 6 |
| Lannister guard (on Cersei Lannister's orders) | Murder | Syrio Forel | King's Landing | 1 | 8 |
| Lannister soldiers | Rape | Tysha | Casterly Rock | 1 | 9 |
| Lannister soldiers | Murder | Soon to be Night's Watch men + Yoren | King's Landing | 2 | 3 |
| Lannister soldiers | Raiding/Pillaging/Murder | Unnamed villager | The Riverlands | 4 | 7 |
| Lannister soliders | Murder | Brynden Tully | Riverrun | 6 | 8 |
| Little Bird ( on Cersei Lannister's orders) | Assault/Attempted Murder | Lancel Lannister | King's Landing | 6 | 10 |
| Locke | Assault /Attempted Murder | Brienne of Tarth | Harrenhal | 3 | 7 |
| Locke | Assault/Battery | Jaime Lannister | The Riverlands | 3 | 3 |
| Locke | Assault/Battery/Attempted Rape | Brienne Tarth | The Riverlands | 3 | 3 |
| Lothar Frey (on Tywin Lannister's orders) | Murder | Talisa Stark | The Twins | 3 | 9 |
| Maester Cresson | Assault/Attempted Murder | Melisandre | Dragonstone | 2 | 1 |
| Mag the Mighty | Murder | Grenn + 5 Night's Watch men | Castle Black | 4 | 9 |
| Mance Rayder | Desertion/Oathbreaking | Night's Watch | The Wall | 2 | 1 |
| Mandon Moore | Assault/Attempted Murder | Tyrion Lannister | King's Landing | 2 | 9 |
| Melisandre | Assault | Gendry Baratheon | Dragonstone | 3 | 8 |
| Melisandre | Murder | Melisandre's opponents | Dragonstone | 3 | 1 |
| Melisandre | Murder | Alester Florent + 4 others | Dragonstone | 4 | 2 |
| Melisandre/Stannis Baratheon | Murder | Renly Baratheon | Highgarden | 2 | 5 |
| Meryn Trant (on Joffrey Baratheon's orders) | Assault/Battery | Sansa Stark | King's Landing | 2 | 4 |
| Meryn Trant (on Joffrey Baratheon's orders) | Assault/Battery | Sansa Stark | King's Landing | 1 | 10 |
| Mirri Maz Duur | Assault/Attempted Regicide | Khal Drogo | The Dothraki Sea | 1 | 8 |
| Mirri Maz Duur | Murder | Rhaego | The Dothraki Sea | 1 | 9 |
| Mossador | Murder | Son of the Harpy | Meereen | 5 | 2 |
| Ned Stark | Murder | Gerold Hightower | Dorne | 6 | 3 |
| Night's Watch | Murder | Night's Watch mutineers | Craster's Keep | 4 | 5 |
| Night's Watch men | Murder | Wildlings | Castle Black | 4 | 9 |
| Night's Watch mutineers | Assault | Hodor | Craster's Keep | 4 | 4 |
| Night's Watch mutineers | Murder | Craster's last son | Craster's Keep | 4 | 4 |
| Night's Watch mutineers | Rape | Craster's daughters | Craster's Keep | 4 | 4 |
| Night's Watch mutineers | Assault | Meera Reed | Craster's Keep | 4 | 4 |
| Night's Watch mutineers | Assault | Bran Stark | Craster's Keep | 4 | 4 |
| Night's Watch mutineers | Murder | Night's Watch men | Craster's Keep | 4 | 5 |
| Northern soldier | Rape Attempted | King's Landing woman | King's Landing | 8 | 5 |
| Obara Sand | Murder | Boat captain | Dorne | 5 | 4 |
| Obara Sand | Murder | Trystane Martell | King's Landing | 6 | 1 |
| Oberyn Martell | Assault | Unnamed Lannister | King's Landing | 4 | 1 |
| Olenna Tyrell | Regicide | Joffrey Baratheon | King's Landing | 4 | 2 |
| Olly | Murder | Ygritte | Castle Black | 4 | 9 |
| Osha | Murder | Greyjoy soldier | Winterfell | 2 | 6 |
| Petyr Baelish | Murder | Dontons Hollard | King's Landing | 4 | 3 |
| Petyr Baelish | Murder | Lysa Arryn | The Eyrie | 4 | 7 |
| Petyr Baelish/Cersei Lannister | Murder | Stark guards | King's Landing | 1 | 8 |
| Petyr Baelish/Cersei Lannister | Murder | Stark guardsmen | King's Landing | 1 | 7 |
| Podrick Payne | Murder | Mandon Moore | King's Landing | 2 | 9 |
| Podrick Payne | Murder | Bolton man | The North | 6 | 1 |
| Polliver | Torture | Unnamed victims | Harrenhal | 2 | 4 |
| Pyat Pree | Murder | 11 of the 13 of Qarth | Qarth | 2 | 7 |
| Pyat Pree | Murder | Dothraki tribesmen | Qarth | 2 | 6 |
| Pyat Pree | Theft | Daenerys Targaryen | Qarth | 2 | 6 |
| Quorin Halfhand | Murder | Unnamed wildlings | North of the Wall | 2 | 6 |
| Qyburn (through his Little Birds) | Murder | Grand Maester Pycelle | King's Landing | 6 | 10 |
| Ramasy Bolton | Murder | Greyjoy soldiers | Dreadfort | 4 | 6 |
| Ramsay Bolton | Assault | Theon Greyjoy | Dreadfort | 3 | 10 |
| Ramsay Bolton | Murder | Candy (servant) | Dreadfort | 4 | 2 |
| Ramsay Bolton | Torture | Theon Greyjoy | Dreadfort | 3 | 7 |
| Ramsay Bolton | Torture | Theon Greyjoy | Dreadfort | 3 | 2 |
| Ramsay Bolton | Torture | Theon Greyjoy | Dreadfort | 3 | 6 |
| Ramsay Bolton | Torture | Theon Greyjoy | Dreadfort | 3 | 2 |
| Ramsay Bolton | Murder | Ironborns | Moat Cailin | 4 | 8 |
| Ramsay Bolton | Pillaging | Stannis Baratheon | The North | 5 | 9 |
| Ramsay Bolton | Murder | Baby Bolton | Winterfell | 6 | 2 |
| Ramsay Bolton | Murder | Roose Bolton | Winterfell | 6 | 2 |
| Ramsay Bolton | Murder | Osha | Winterfell | 6 | 4 |
| Ramsay Bolton | Murder | Walda Frey | Winterfell | 6 | 2 |
| Ramsay Bolton | Murder | Rickon Stark | Winterfell | 6 | 9 |
| Ramsay Bolton | Torture/Murder | Old woman servant | Winterfell | 5 | 7 |
| Ramsay Bolton | Assault/Rape | Sansa Stark | Winterfell | 5 | 7 |
| Ramsay Bolton | Murder | Bolton soldiers | Winterfell | 3 | 3 |
| Ramsay Bolton | Murder | Northmen | Winterfell | 5 | 3 |
| Ramsay Bolton | Murder | Greyjoy soldiers | Winterfell | 2 | 10 |
| Ramsay Bolton | Rape | Sansa Stark | Winterfell | 5 | 6 |
| Rast | Murder | Jeor Mormont | Craster's Keep | 3 | 4 |
| Renly Baratheon | Rebellion | Joffrey Baratheon | Highgarden | 2 | 3 |
| Rickard Karstark | Murder/Treason | Willem Lannister | Riverrun | 3 | 5 |
| Rickard Karstark | Murder/Treason | Martyn Lannister | Riverrun | 3 | 5 |
| Robb Stark | Rebellion | Joffrey Baratheon | The Riverlands | 1 | 10 |
| Robert Baratheon | Assault/Battery | Cersei Lannister | King's Landing | 1 | 6 |
| Robett Glover | Oathbreaking | Sansa Stark/Jon Snow | Deepwood Motte | 6 | 7 |
| Roose Bolton | Treason | Robb Stark | Harrenhal | 3 | 6 |
| Roose Bolton | Regicide | Robb Stark | The Twins | 3 | 9 |
| Samwell Tarly | Theft | Randyll Tarly | Horn Hill | 6 | 6 |
| Samwell Tarly | Murder | White Walker | North of the Wall | 3 | 8 |
| Samwell Tarly | Theft | The Maesters | The Citadel | 7 | 5 |
| Sandor Clegane | Assault | Gregor Clegane | King's Landing | 8 | 5 |
| Sandor Clegane | Desertion | Joffrey Baratheon | King's Landing | 2 | 9 |
| Sandor Clegane | Murder | Unnamed townspeople | King's Landing | 2 | 6 |
| Sandor Clegane | Murder | Gregor Clegane | King's Landing | 8 | 5 |
| Sandor Clegane | Murder | Lannister soldiers | King's Landing | 8 | 5 |
| Sandor Clegane | Murder | Micah (the butcher's boy) | King's Road | 1 | 2 |
| Sandor Clegane | Kidnapping | Arya Stark | The Riverlands | 3 | 7 |
| Sandor Clegane | Theft | Farmer and daughter | The Riverlands | 4 | 3 |
| Sandor Clegane | Theft | Old man (unnamed) | The Riverlands | 3 | 9 |
| Sandor Clegane | Assault | Brienne Tarth | The Riverlands | 4 | 10 |
| Sandor Clegane | Assault | Arya Stark | The Riverlands | 4 | 5 |
| Sandor Clegane | Murder | Lannister guards | The Riverlands | 4 | 1 |
| Sandor Clegane | Murder | Bolton soldiers | The Riverlands | 3 | 10 |
| Sandor Clegane | Murder | Brotherhood without Banners men | The Riverlands | 6 | 8 |
| Sandor Clegane | Murder | Unnamed man | The Riverlands | 4 | 7 |
| Sansa Stark | Assault | Robin Arryn | The Eyrie | 4 | 7 |
| Sansa Stark | Murder | Ramsay Bolton | Winterfell | 6 | 9 |
| Slaver | Assault | Jorah Mormont | Meereen | 5 | 6 |
| Slaver | Kidnapping | Jorah Mormont/Tyrion Lannister | Meereen | 5 | 6 |
| Slaves | Murder | Master of Mereen | Meereen | 4 | 4 |
| Sons of the Harpy | Assault | Grey Worm | Meereen | 5 | 4 |
| Sons of the Harpy | Murder | Unsullied soldiers | Meereen | 5 | 4 |
| Sons of the Harpy | Murder | Meereenese citizens | Meereen | 6 | 9 |
| Sons of the Harpy | Murder | Meereenese citizens | Meereen | 5 | 9 |
| Sons of the Harpy | Murder | Meereenese former slaves | Meereen | 5 | 4 |
| Sons of the Harpy | Murder | Hizdahr zo Loraq | Meereen | 5 | 9 |
| Sons of the Harpy | Murder | Unsullied soldiers | Meereen | 5 | 4 |
| Sons of the Harpy | Murder | Barristan Selmy | Meereen | 5 | 4 |
| Sons of the Harpy | Murder | White Rat (Unsullied soldier) | Meereen | 5 | 1 |
| Stannis Baratheon | Murder | Mance Rayder | Castle Black | 5 | 1 |
| Stannis Baratheon | Rebellion | Joffrey Baratheon | Dragonstone | 2 | 1 |
| Stannis Baratheon | Murder | Wildlings | North of the Wall | 4 | 10 |
| Stannis Baratheon/Melisandre | Murder | Shireen Baratheon | The North | 5 | 9 |
| Stark soldiers | Murder | Camp women | The Riverlands | 2 | 10 |
| Storm Crows | Desertion | Stannis Baratheon | The North | 5 | 7 |
| The Masters | Pillaging/Destruction of Property | Daenerys Targaryen | Meereen | 6 | 9 |
| The Sparrows | Assault | The High Septon | King's Landing | 5 | 3 |
| The Sparrows | Assault | King's Landing prostitutes | King's Landing | 5 | 4 |
| The Sparrows | Destruction of Property | King's Landing merchants | King's Landing | 5 | 4 |
| The Sparrows | False Imprisonment | Loras Tyrell | King's Landing | 5 | 4 |
| The Sparrows | Assault | Olyvar | King's Landing | 5 | 3 |
| The Thin Man | Theft | Braavos woman | Braavos | 5 | 8 |
| The Tickler | Torture | Unnamed victim | Harrenhal | 2 | 4 |
| The Unsullied | Murder | Lannister soldiers | Casterly Rock | 7 | 3 |
| The Waif | Assault | Arya Stark | Braavos | 6 | 3 |
| The Waif | Murder | Lady Crane | Braavos | 6 | 8 |
| The Waif | Assault/Attempted Murder | Arya Stark | Braavos | 6 | 7 |
| Theon Greyjoy | Murder | Ironborn leader | Dragonstone | 7 | 7 |
| Theon Greyjoy | Murder | Ironborn soldiers | King's Landing | 8 | 1 |
| Theon Greyjoy | Murder | Bolton man | The North | 6 | 1 |
| Theon Greyjoy | Assault/Battery | Greyjoy soldier | Winterfell | 2 | 7 |
| Theon Greyjoy | Assault/Battery | Farmer | Winterfell | 2 | 7 |
| Theon Greyjoy | Murder | Rodrik Cassel | Winterfell | 2 | 6 |
| Theon Greyjoy | Murder | Myranda | Winterfell | 5 | 10 |
| Theon Greyjoy | Murder | Winterfell orphans | Winterfell | 2 | 7 |
| Theon Greyjoy | Raiding/Pillaging | Winterfell residents | Winterfell | 2 | 6 |
| Theon Greyjoy | Treason | Robb Stark | Winterfell | 2 | 6 |
| Thoros of Myr/the Brotherhood without Banners | False Imprisonment | Arya Stark | The Riverlands | 3 | 3 |
| Tormund Giantsbane | Murder | Night's Watch man | Castle Black | 6 | 2 |
| Tormund Giantsbane | Assault | Lord of Bones | Hardhome | 5 | 8 |
| Tyene Sand | Murder | Messenger | Dorne | 6 | 1 |
| Tyene Sand | Murder | Areo Hotah | Dorne | 6 | 1 |
| Tyrion Lannister | treason | Daenerys Targaryen | Dragonstone | 8 | 5 |
| Tyrion Lannister | treason | Daenerys Targaryen | Dragonstone | 8 | 6 |
| Tyrion Lannister | Murder | Tywin Lannister | King's Landing | 4 | 10 |
| Tyrion Lannister | Murder | Shae | King's Landing | 4 | 10 |
| Tyrion Lannister | Assault/Battery | Joffrey Baratheon | King's Landing | 2 | 6 |
| Tyrion Lannister | Murder | Baratheon soldiers | King's Landing | 2 | 9 |
| Tyrion Lannister | Murder | Matthos Seaworth/Baratheon sailors | King's Landing | 2 | 9 |
| Tyrion Lannister | Assault/Battery | Joffrey Baratheon | Winterfell | 1 | 2 |
| Tywin Lannister | Murder | All members of House Reyne | Castamere | 3 | 8 |
| Tywin Lannister | False Imprisonment | Servants/war prisoners | Harrenhal | 2 | 4 |
| Unknown assassin | Arson | Starks | Winterfell | 1 | 2 |
| Unknown assassin | Assault/Attempted Murder | Bran Stark | Winterfell | 1 | 2 |
| Unknown assassin | Assault/Battery | Catelyn Stark | Winterfell | 1 | 2 |
| Unknown Khal | Murder | Rakharo | The Red Waste | 2 | 2 |
| Unknown Warlock | Assault/Attempted Murder | Daenerys Targaryen | Astapor | 3 | 1 |
| Unnamed High Lord | Assault/Battery | Pypar (Pip) | Unknown | 1 | 7 |
| Unnamed men | Murder | Unnamed dwarf | King's Landing | 5 | 2 |
| Unnamed sorceror | Assault/Battery | Varys | Myr | 3 | 4 |
| Unnamed townspeople | Rape Attempted | Sansa Stark | King's Landing | 2 | 6 |
| Unnamed wildings + Osha | Assault Attempted/Robbery | Bran Stark | Winterfell | 1 | 6 |
| Unnamed wine merchant | Assault/Attempted Regicide | Daenerys Targaryen | Vaes Dothrak | 1 | 7 |
| Varys | Treason/Attempted Murder | Daenerys Targaryen | Dragonstone | 8 | 5 |
| Varys | Treason | Robert Baratheon | King's Landing | 1 | 5 |
| Viserys Targaryen | Assault/Battery | Daenerys | Pentos | 1 | 4 |
| Viserys Targaryen | Assault/Battery | Doreah | Pentos | 1 | 4 |
| Viserys Targaryen | Assault | Daenerys Targaryen | Vaes Dothrak | 1 | 6 |
| Viserys Targaryen | Larceny/Theft | Daenerys Targaryen | Vaes Dothrak | 1 | 6 |
| Walder Frey | Treason | Robb Stark | The Twins | 3 | 9 |
| Walder Rivers | Murder | Catelyn Stark | The Twins | 3 | 9 |
| White Walkers | Murder | Unnamed wildings (5-10 ish) | Beyond the Wall | 1 | 1 |
| White Walkers | Murder | Night's Watch men | Eastwatch | 7 | 7 |
| White Walkers | Murder | Wildlings | Hardhome | 5 | 8 |
| White Walkers | Murder | Ned Umber | Last Hearth | 8 | 1 |
| White Walkers | Murder | Northmen | Last Hearth | 8 | 1 |
| White Walkers | Murder | Hodor | North of the Wal | 6 | 5 |
| White Walkers | Murder | Night's Watch man | North of the Wall | 3 | 1 |
| White Walkers | Murder | Brynden Rivers (Bloodraven) | North of the Wall | 6 | 5 |
| White Walkers | Murder | Children of the Forest | North of the Wall | 6 | 5 |
| White Walkers | Murder | Night's Watch men | North of the Wall | 1 | 1 |
| White Walkers | Murder | Theon Greyjoy | Winterfell | 8 | 3 |
| White Walkers | Murder | Beric Dondarrion | Winterfell | 8 | 3 |
| White Walkers | Murder | Lyanna Mormont | Winterfell | 8 | 3 |
| White Walkers | Murder | Eddison Tollett (Edd) | Winterfell | 8 | 3 |
| White Walkers | Murder | Jorah Mormont | Winterfell | 8 | 3 |
| White Walkers | Murder | Ironborn soldiers | Winterfell | 8 | 3 |
| White Walkers | Murder | Dothraki tribesmen | Winterfell | 8 | 3 |
| White Walkers | Murder | Unsullied/Northmen | Winterfell | 8 | 3 |
| Wights | Murder | Benjen Stark | North of the Wall | 7 | 6 |
| Wights | Murder | Night's Watch man | North of the Wall | 7 | 6 |
| Wights | Murder | Jojen Reed | North of the Wall | 4 | 10 |
| Wights | Assault/Attempted Murder | Jon Snow | The Wall | 1 | 8 |
| Wildling raiding party (inc. Ygritte/Tormund/The Thenns) | Raiding/Pillaging/Murder | Mole's Town villagers | Mole's Town | 4 | 8 |
| Wildlings | Murder | Night's Watch men | Castle Black | 4 | 9 |
| Wildlings | Murder | Night's Watch men | North of the Wall | 2 | 8 |
| Wildlings (inc. Tormund/Ygritte/etc.) | Theft | Old man (unnamed horse breeder) | The Gift | 3 | 9 |
| Wildlings (inc. Ygritte/Tormund/The Thens) | Murder | Villagers | The Gift | 4 | 3 |
| Will | Desertion | Night's Watch | Winterfell | 1 | 1 |
| Willem | Murder | Yoren's brother | - | 2 | 3 |
| Wun Weg Wun Dar Wun | Murder | Night's Watch man | Castle Black | 6 | 2 |
| Yara Greyjoy | Murder | Bolton guards | Dreadfort | 4 | 6 |
| Ygritte | Murder | Pypar (Pip) | Castle Black | 4 | 9 |
| Ygritte | Assault | Jon Snow | The Gift | 3 | 10 |
| Ygritte | Murder | Old man (unnamed horse breeder) | The Gift | 3 | 9 |
| Yoren | Murder | Willem | - | 2 | 3 |