NFL and NCAA ratings have bounced around the last few seasons with declines attributed to a variety of reasons such as cord-cutting and the violence inherent in the game. Ratings for NFL games rebounded during the 2018-2019 season as marquis matchups and new stars brought fans in front of the television. Sunday Night Football ended the year as the most viewed program for the eighth straight year.
To better understand the reasons behind these changes, we asked more than 1,000 football fans how they planned to watch their favorite games during the upcoming season. We also researched (and priced) every way a fan could watch their favorite football games, and here's what we found:
35 percent of American adults watch a minimum of one NFL or college football game per week. We're calling these our "big-time football fans." Of these fans, nearly a third report watching four games or more per week – equating to roughly 25 million "hard-core fans."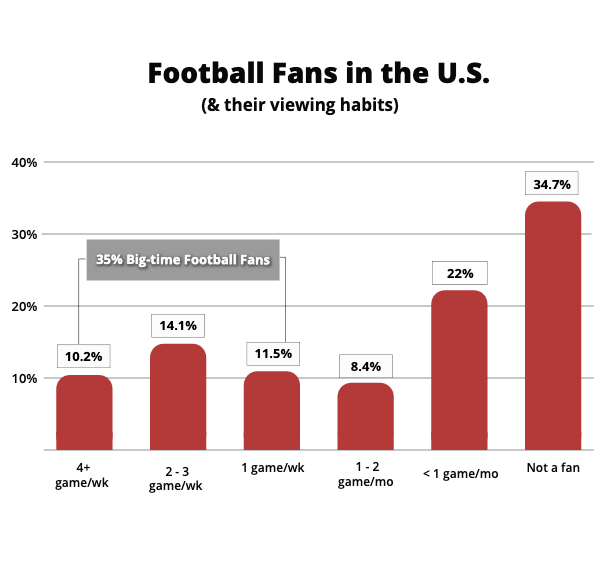 Just five percent of "big-time fans" say they will watch football online via computer or app. That jumps to seven percent for millennials aged 25-34. Women are much less likely to watch via computer or app, with just two percent willing to forego their TV or watching at a friend's place.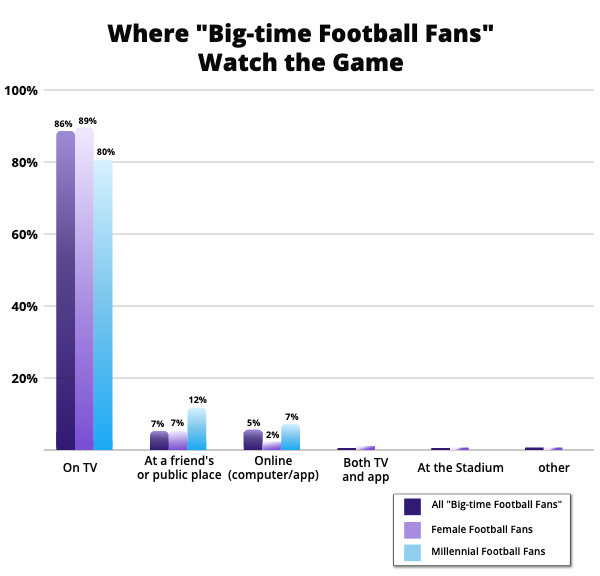 More than 60 percent of football fans would pay for a service that includes all of the NFL and NCAA they want to watch. This figure jumps to 72 percent for millennials aged 25-34. The total market is almost 35 times bigger than DirecTV's NFL Sunday Ticket's subscriber base and half of Netflix's subscriber base.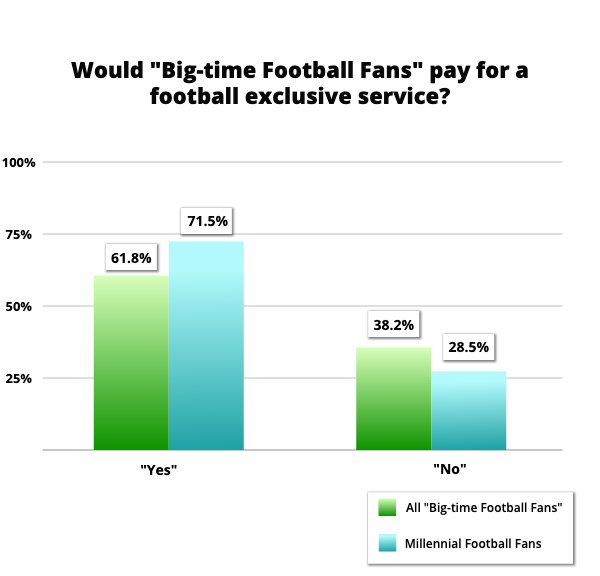 How much would fans pay? Twenty-six percent of "hard-core" fans would pay $30 per month and more than 10 percent would pay $70 per month. "Big-time fans" that only follow a few games a week would generally pay less than $30 per month.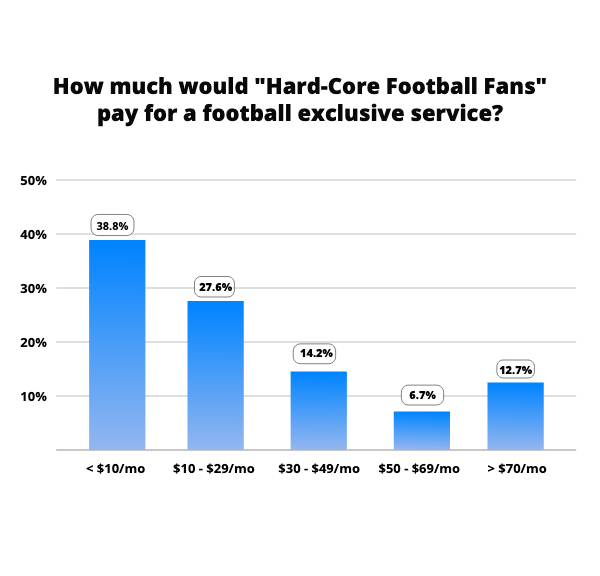 Women watch football just as much as men, but they're more loyal to a team than the sport itself. So loyal that they're willing to pay $50 or more per month for an all-inclusive football package at the same rate men are.
Where to Watch
With the 2019-2020 NFL and NCAA football seasons right around the corner, we compiled a list of all networks and streaming services that broadcast live football games and compared them by price and the quantity of games available.
NFL Fans
NFL fans will need access to the NFL network for preseason games, NBC for Sunday Night Football, ESPN for Monday Night Football and FOX for Thursday Night Football. Each of those networks are available from a traditional cable provider and independent streaming services, but which one will give you the most bang for your buck? If you're looking for the NFL network, your cheapest option is the Sling TV Blue package.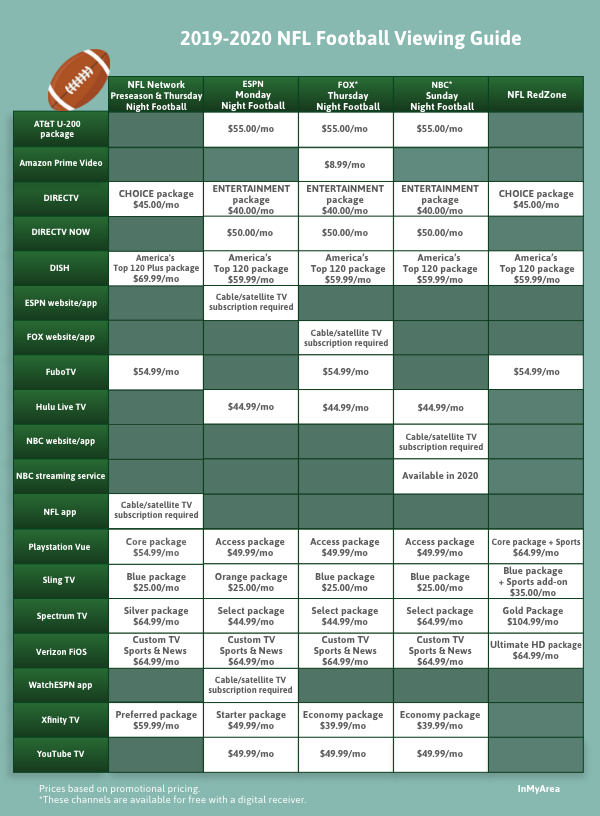 NCAA Fans
NCAA Division I fans have it a little easier depending on which conference they watch. ESPN covers all FBS games and most FCS games. For now, FCS fans and alumnus can catch some games for free, but most FCS conferences/leagues are partnering with ESPN+ to broadcast their games. Check to see which streaming services and cable providers offer access to your favorite teams.