NBCUniversal recently announced that the incredibly popular sitcom, The Office, will be removed from Netflix in 2021 and be put on the network's own upcoming streaming service, Peacock. Superfans of The Office certainly know, "The worst thing about prison was the Dementors." For Netflix, this news may be much worse than being a prisoner at Azkaban.
About the Data
InMyArea.com conducted a survey of more than 1,200 U.S. residents to see if they had a Netflix subscription. For the 500 that answered affirmatively, we asked various questions about The Office leaving Netflix, and if they would choose to subscribe to NBC's upcoming streaming service. We also asked them questions about Friends, another popular show removed from Netflix in January 2020. Lastly, we asked participants about the kinds of content they watch the most on Netflix.
More Than 18 Million U.S. Subscribers Watch The Office, 53 Percent Are Aged 18-44
Our study found that 31 percent of Netflix subscribers watch The Office, equating to 18.6 million of Netflix's 60 million U.S. subscribers. So, who are these 18 million people?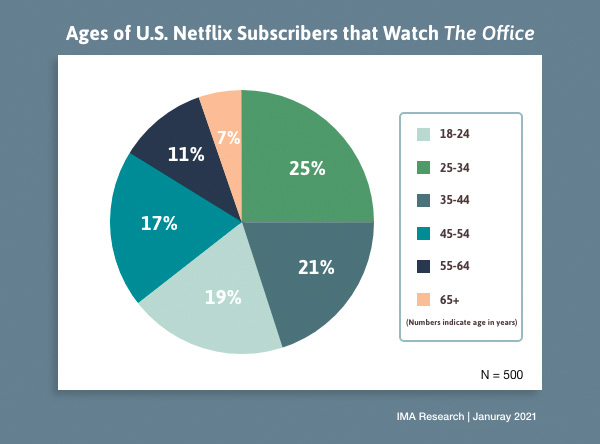 Young people love The Office just about as much as Dwight loves bears, beets and Battlestar Galactica. More than half of all The Office viewers on Netflix are millennials or members of Generation Z. Millennials and Gen Zers are notorious for cutting the cord on cable TV and hopping from streaming service to streaming service. Will they leave Netflix when it's time to say goodbye to the Dunder Mifflin crew?

Up to 10 percent of Netflix Subscribers Say They Will Leave With The Office, Most Are Gen Z and Millennials
Our study found that 10 percent of Netflix U.S. subscribers (six million subscribers!) say they would cancel Netflix if The Office is removed from the streaming service. Based on Netflix's most popular subscription plan, priced at $12.99 per month, this loss equates to $935 million in annual revenue. Now, that's a lot of trips to Costa Rica.
Nearly 60 percent of those who said they would cancel fall between the ages of 18 and 34 years old. If that 10 percent of subscribers had a standard Netflix subscription, the service would be losing over $180 million in revenue every month.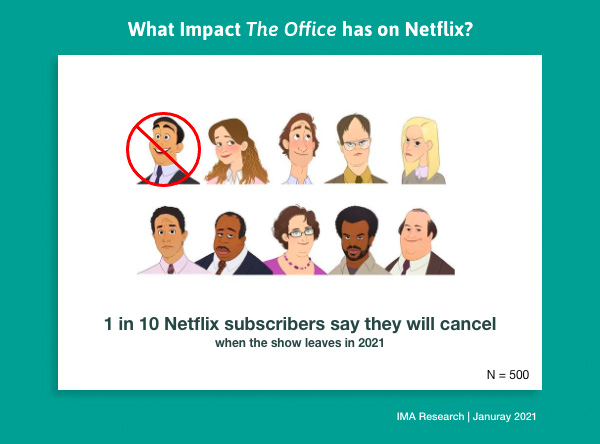 As a point of comparison, one in three Game of Thrones watchers canceled or will cancel HBO, which is fairly similar to the impact of The Office departure. One in 10 Netflix users equates to one-third of The Office watchers.

Will Peacock Become the New Netflix?
We know that one in 10 Netflix users plan to leave once The Office does, but that doesn't necessarily mean they'll sign up for Peacock. Only one percent of Netflix subscribers said that they would pay for NBC's streaming service. When you narrow the audience down to those who said they would leave Netflix when The Office does, 8 percent said they would sign up for Peacock after canceling Netflix.
Overall, it doesn't look like audiences are too keen to add another streaming service to their list of subscriptions. Viewers might not want to pay for cable TV, but they also don't want to pay for 10 different streaming services to get their content. See our recent study on why Millennials Have Commitment Issues with Streaming TV for a more in-depth look at this topic.
The Office Won't Be the last NBC Show to Leave Netflix
Fans of the hit sitcom Friends went into a panic at the end of 2018 when Netflix listed an expiration date for the show. Many diehard fans posted on social media, vowing to cancel Netflix if the show was removed. Up to 8 percent of our study participants said they would cancel Netflix if Friends was taken off at the time of this study. Of those who would cancel, 23 percent would pay for another streaming service if it had Friends.
What Else Are People Watching on Netflix?
Netflix offers a variety of popular content from different networks, meaning a lot of its best shows belong to someone else. As new streaming services for individual networks are popping up left and right, Netflix runs the risk of losing a lot of content. The streaming service has upped its game when it comes to Netflix Original content over the past few years, but is it enough?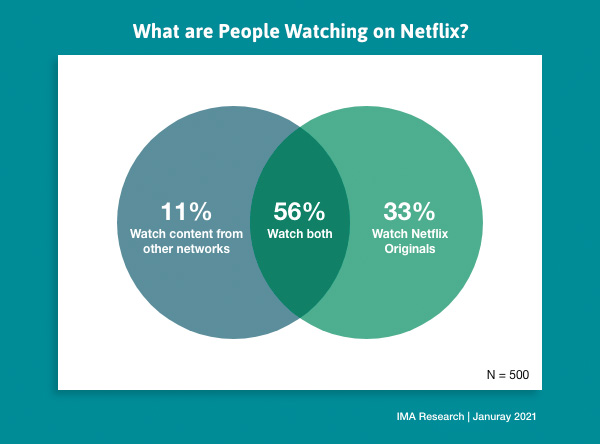 One in three Netflix subscribers watch a majority of Netflix Originals, and more than half watch an equal amount of Originals and licensed content. Only 11 percent of viewers are dedicated to content from other networks.