Where to go and where to look
When it comes to working, there is no difference between a military and a civilian spouse. Today's economic realities require both husband and wife to have an income to help the family. Paid for healthcare and a guaranteed paycheck on the first and 15th don't mean all the bills are covered or that savings are being put away for the future.
This is understood by working military spouses and creates stress for those that aren't currently employed. It's especially stressful when the family has to deal with a permanent change of station known as a PCS move.
Finding a job after a PCS is often a big worry as a military spouse. Depending on where the new duty station is and your own skill set and experience, work options can range from plentiful to zero. It's best to know in advance what areas best suit your profile or how to fit a profile considering geographical differences and the constantly changing nature of the job market.
There have been many transitions in the job market resulting from the economic roller coaster since the Great Recession of 2007-2009. A majority of the states have a lower unemployment rate than they did a decade ago but there are some who have declined even more. The growth or lack thereof in employment is mostly due to their industrial complex. States such as Wyoming, the state with the worst decline since December 2007, took a large hit because of the composition of their job market. According to "States Adding the Most Jobs Since the Great Recession," a 24/7 Wall St. article, "State employment fell by more than 15,000," and approximately 30% of that was from the construction sector alone.
Nationally, the construction industry was hit the hardest in the list of 2008's top 20 job industries from the Bureau of Labor Statistics' Occupational Employment Statistics. Of those 20 industries, fifteen have reached and surpassed their total employment numbers from 2008. But while quite a few industries have done well and the economy has grown these past years, national statistics aren't always reflected in each state.
National statistics don't help much when looking for a job in your area. Knowing which jobs are best to pursue will help facilitate the search unless there are education or training requirements for them that aren't met. This is a common problem that most likely explains why the number of adults with a bachelor's degree increased by more or the same amount as the national increase of employment in eight of the 10 states with the largest rise in employment.
"It appears as though newer jobs tend to require a higher education," said 24/7 Wall St. There have been tremendous efforts, from government entities as well as for-profit and non-profit organizations, encouraging people to obtain a degree or certificate. The encouragement is meant to be positive but often falls short when headlines such as LA Time's "College-educated workers are taking jobs that don't require degrees" appear.
From personal experience, discouragement resides in the simple fact that there are no resources to pay for an education. No resources means no degree which could potentially mean no job or, as some have noticed, a much harder time finding a job, let alone finding one they like. As a military spouse, there's no need to be in that predicament with the resources available to us such as the MyCAA scholarship.
My Career Advancement Account (MyCAA) will award $4,000 for training/education in a portable career field. It is specifically for military spouses of E-1's to E-5's pursuing a license, certificate or Associate's degree. (Note: The program includes National Guard and reservists but excludes Coast Guard). If you are a spouse of a reservist or just want to know more about the scholarship, visit MyCAA's website at https://aiportal.acc.af.mil/mycaa/. (It is a secure webpage but a warning page will open when you type in the website. To proceed, hit 'continue to this webpage' if displayed or click 'advanced' at the bottom of the page and then 'continue...' or 'proceed...' depending on your browser.)
Our Information Sources
To fulfill our mission to support our military servicemembers and their families, Inmyarea.com researched and compiled information regarding job options and availability in the 10 states with the highest military population. These states include the largest bases and installations for each of the services. We scrubbed the Bureau of Labor Statistics' Occupational Employment Statistics for the past decade along with using the Occupational Information Network (O*NET) and CareerOneStop's state profiles tool to identify the fastest growing occupations and occupations with the most projected openings annually in each state. For both categories, we found the top five occupations that are MyCAA approved. We then selected colleges with MyCAA approved programs that:
provide training for at least three of the occupations listed per state
are able to be paid for by the scholarship alone, and
are no more than one hour away from base.
The states and their respective data are listed in order of highest to lowest military population according to Defense Manpower Data Center's DoD Personnel, Workforce Reports & Publications.
Using the charts
To obtain an Associate's degree, students must have 60 or more credits. A certificate is less than 30 credits on average. This will limit the options for what certificates and degrees the scholarship can completely pay for depending on your location. Don't let this list limit your options as they are only the top five fastest growing and top five with the most openings. For both categories, there are more jobs that are "hot" right now. To see other jobs, visit https://www.CareerOneStop.org and then go to the state profiles page listed under 'toolkit'. It's beneficial to look at the state you're currently stationed and others to know whether or not your skills are transferrable.
The occupations listed are statewide. To find out more about the job in your precise area such as salary and employee reviews go to https://www.Glassdoor.com. To find job openings near you we recommend using https://www.Indeed.com or https://www.Monster.com.
The distance times are calculated using Google Maps which likely uses a main gate or building as Point A; the actual distance may vary depending on your exact base location.,
4317

California
| | |
| --- | --- |
| Fastest-growing Occupations | Most Openings Annually Occupations |
| ●Electrician Helpers | ●General and Operations Managers |
| ●Interpreters and Translators | ●Registered Nurses |
| ●Computer Systems Analysts | ●First-Line Supervisors of Food Preparation and Serving workers |
| ●Physician Assistants | ●First-Line Supervisors of Office and Administrative Support workers |
| ●Physical Therapist Aides | ●Teacher Assistants |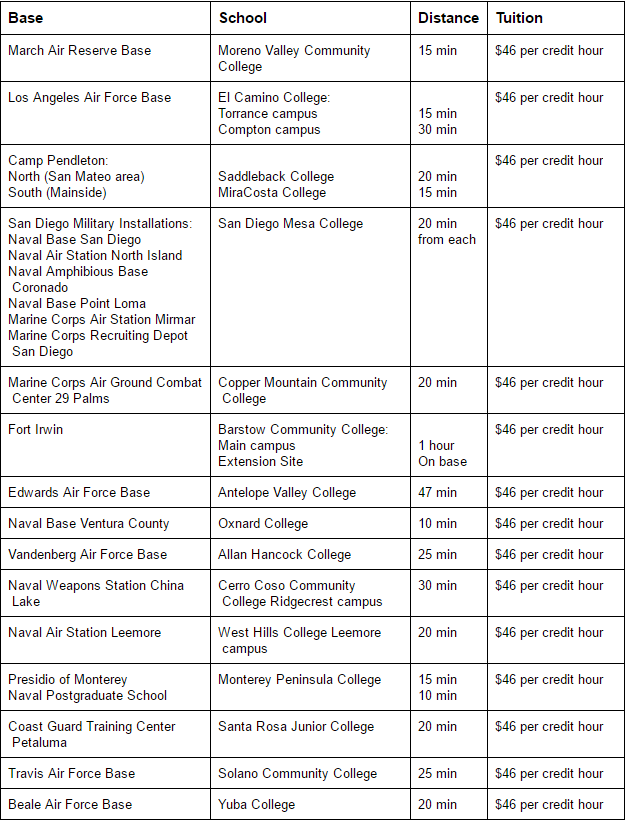 Texas
| | |
| --- | --- |
| Fastest-growing Occupations | Most Openings Annually Occupations |
| ●Occupational Therapy Assistants and Aides | ●Registered Nurses |
| ●Physical Therapist Assistants | ●General and Operations Managers |
| ●Physician Assistants | ●Heavy and Tractor-Trailer Truck Drivers |
| ●Interpreters and Translators | ●Child Care Workers |
| ●Medical Assistants | ●First-Line Supervisors of Retail Sales workers |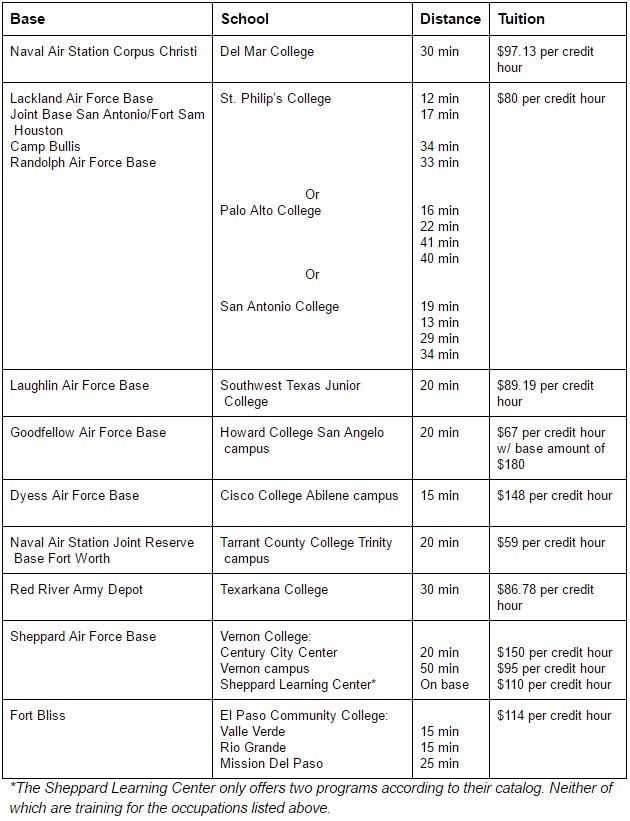 North Carolina
| | |
| --- | --- |
| Fastest-growing Occupations | Most Openings Annually Occupations |
| ●Occupational Therapy Assistants and Aides | ●Registered Nurses |
| ●Physical Therapist Assistants and Aides | ●Nursing Assistants |
| ●Physician Assistants | ●General and Operations Managers |
| ●Phlebotomists | ●First-Line Supervisors of Retail Sales workers |
| ●Veterinary Technologists and Technicians | ●Child Care Workers |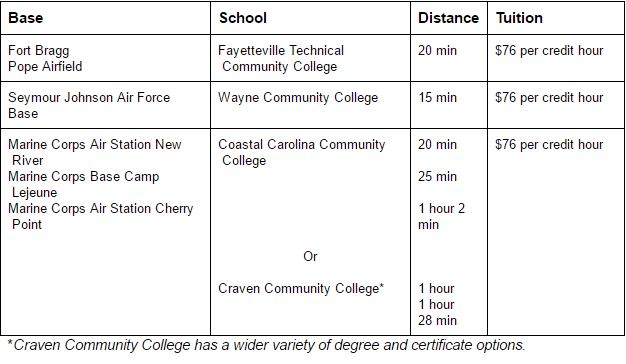 Virginia
| | |
| --- | --- |
| Fastest-growing Occupations | Most Openings Annually Occupations |
| ●Occupational Therapy Assistants | ●Registered Nurses |
| ●Physical Therapist Assistants and Aides | ●Nursing Assistants |
| ●Interpreters and Translators | ●General and Operations Managers |
| ●Phlebotomists | ●Management Analysts |
| ●Medical Assistants | ●First-Line Supervisors of Retail Sales workers |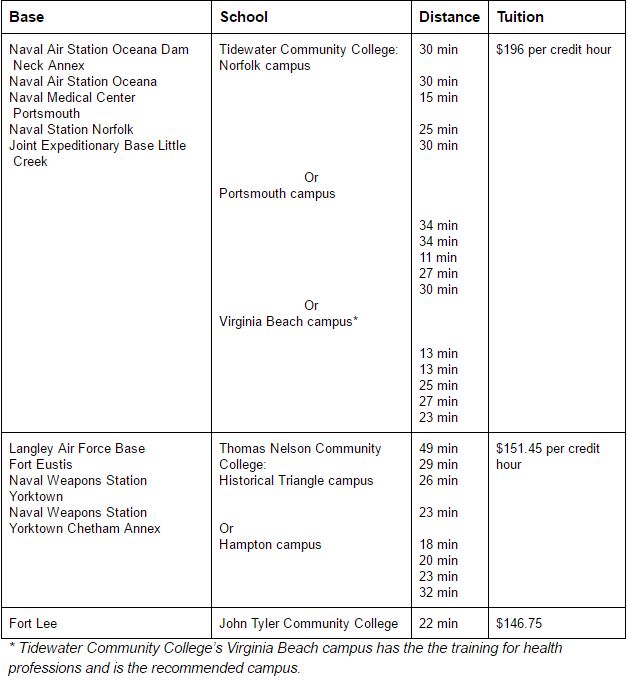 Georgia
| | |
| --- | --- |
| Fastest-growing Occupations | Most Openings Annually Occupations |
| ●Physical Therapist Assistants and Aides | ●General and Operations Managers |
| ●Physician Assistants | ●Registered Nurses |
| ●Occupational Therapy Assistants | ●Child Care Workers |
| ●Medical Assistants | ●Nursing Assistants |
| ●Interpreters and Translators | ●First-Line Supervisors of Retail Sales workers |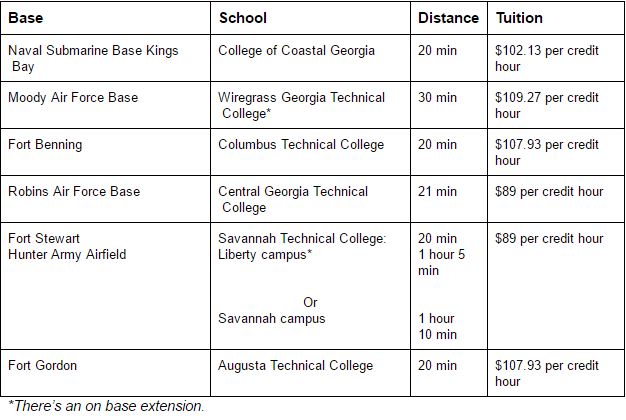 Florida
| | |
| --- | --- |
| Fastest-growing Occupations | Most Openings Annually Occupations |
| ●Physician Assistants | ●Combined Food Preparation and Serving Workers |
| ●Physical Therapy Assistants | ●Registered Nurses |
| ●Home Health Aide | ●Restaurant Cooks |
| ●Medical Assistants | ●Secretaries |
| ●Personal Care Aides | ●Nursing Assistants |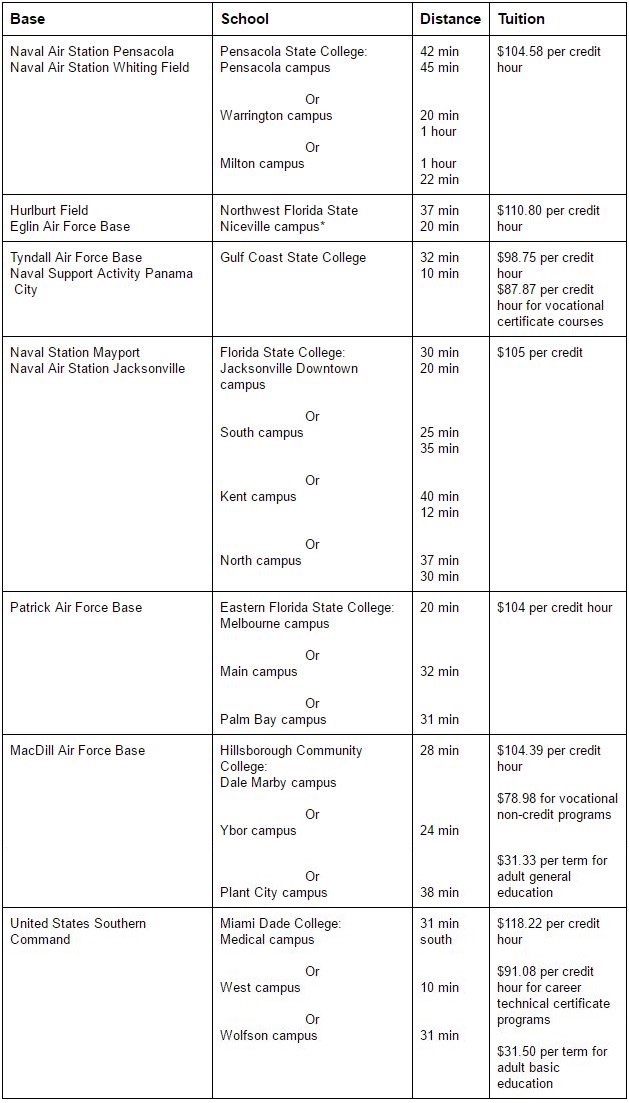 Washington
| | |
| --- | --- |
| Fastest-growing Occupations | Most Openings Annually Occupations |
| ●Massage Therapists | ●Registered Nurses |
| ●Physical Therapy Assistants and Aides | ●General and Operations Managers |
| ●Computer and Information Systems Managers | ●Teacher Assistants |
| ●Veterinary Technologist and Technicians | ●Secretaries and Administrative Assistants |
| ●Interpreters and Translators | ●Carpenters |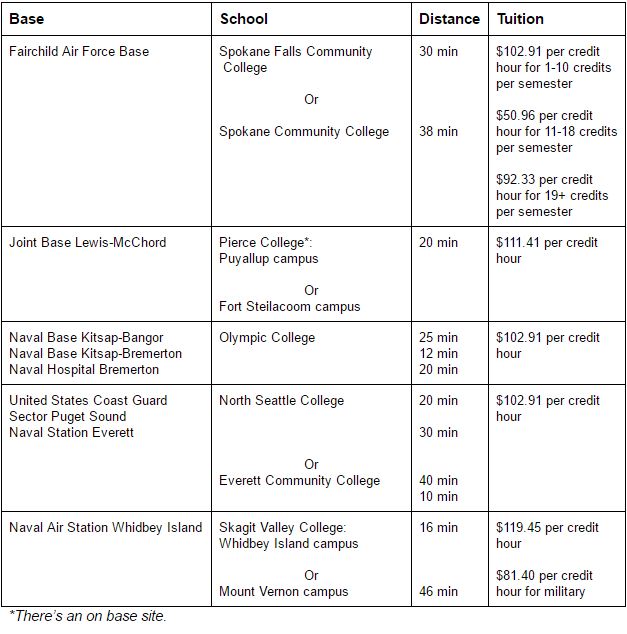 Hawaii
| | |
| --- | --- |
| Fastest-growing Occupations | Most Openings Annually Occupations |
| ●Physical Therapy Assistants and Aides | ●Registered Nurses |
| ●Interpreters and Translators | ●General and Operations Managers |
| ●Computer System Analysts | ●First-Line Supervisors of Retail Sales workers |
| ●Electrical Power-line Installers and Repairers | ●Nursing Assistants |
| ●Electrician Helpers | ●Teacher Assistants |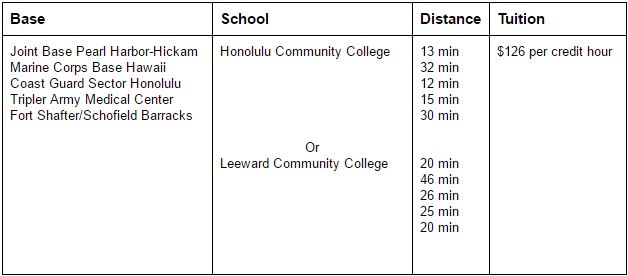 South Carolina
| | |
| --- | --- |
| Fastest-growing Occupations | Most Openings Annually Occupations |
| ●Occupational Therapy Assistants | ●Registered Nurses |
| ●Physical Therapist Assistants and Aides | ●General and Operations Managers |
| ●Physician Assistants | ●First-Line Supervisors of Retail Sales workers |
| ●Interpreters and Translators | ●Nursing Assistants |
| ●Electrical Power-line Installers and Repairers | ●First-Line Supervisors of Food Preparation and Serving Workers |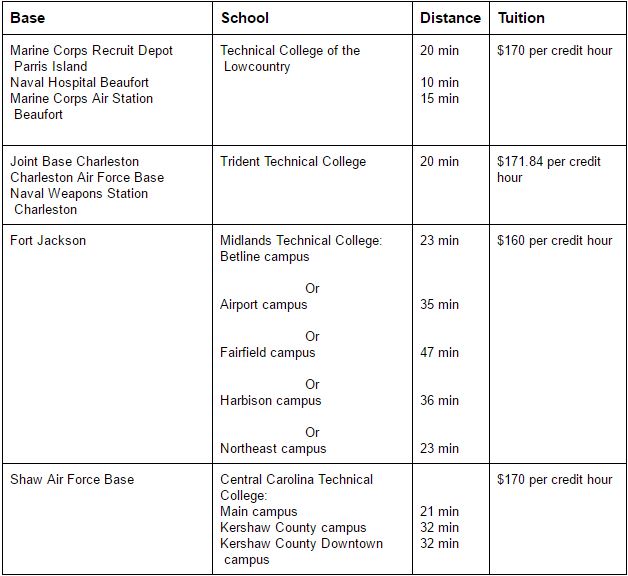 Colorado
| | |
| --- | --- |
| Fastest-growing Occupations | Most Openings Annually Occupations |
| ●Interpreters and Translators | ●Secretaries and Administrative Assistants |
| ●Electrician Helpers | ●Registered Nurses |
| ●Skincare Specialists | ●General and Operations Managers |
| ●Physician Assistants | ●Heavy and Tractor-Trailer Drivers |
| ●Occupational Therapy Aides | ●Bookkeeping, Accounting and Auditing Clerks |