The Best Services For Watching TV
Once upon a time, there was only one way to watch your favorite shows and movies. Thankfully, that historic era is long gone. Whether you want to watch eight seasons in a row from your cellphone or kickback on the couch to catch up on an episode you missed last week, there's a streaming or cable service for your lifestyle. Based on where
you land on the flowchart below, here are the best ways to watch TV for your TV-viewing personality: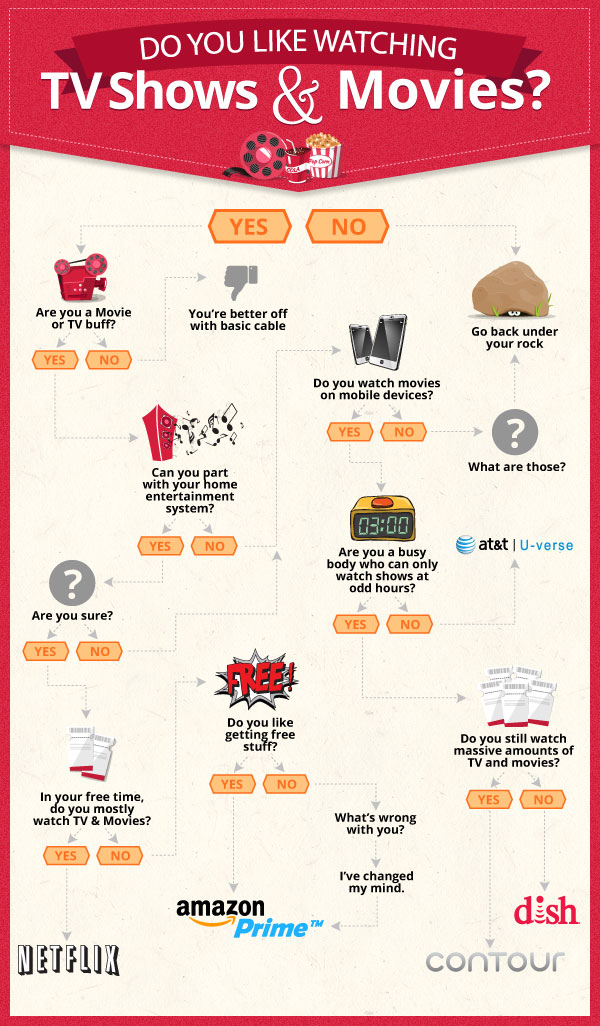 SEE ALSO: What's The Future Of Cable Television?
If Your TV-Viewing Personality Is Cox Contour & Advanced TV Preferred...
You're constantly on the go and your life is nothing short of hectic. That's why you're always on the lookout for the best entertainment services to support your fully-booked lifestyle. This calls for some serious recording capabilities and that's where Cox comes in. Cox's newest invention, Contour, is an application for cable customers with the Cox Advanced TV Preferred package or higher. The Contour application allows users to stream their favorite television or movies through their mobile devices. Other features include:
Suggested shows you might like by displaying a green diamond next to a show title
Customers can have multiple users on one Cox Contour account so each family member can receive different suggestions
Record six shows simultaneously
Store up to 1000 hours of shows
Price: $51.49 for the first three months; afterwards, $72.99 a month
Compatible mobile devices: iPad 1 (Cox mobile app), iPad 2 or newer (Cox Contour)
If Your TV-Viewing Personality Is AT&T U-Verse...
You like watching your favorite shows the classic way: sitting on the couch in front of the television. You enjoy a leisurely, pants-optional TV viewing experience and, more importantly, you know what you like. You're a dedicated loyalist to all your favorite shows so you need a service that can offer what you want to watch, when you want to watch it. AT&T U-Verse can do just that. AT&T is linking all the aspects of home entertainment into one convenient package with the U-Verse bundle. Along with high speed internet, reliable home phone service, and on demand cable TV, U-Verse also boasts mobile television. Benefits include:
Stream popular TV shows from the mobile library
Manage recordings on your U-Verse DVR
Watch shows anytime once they're downloaded
Price: $29.99 month for three months; $60.00 a month after
Compatible mobile devices: accessible on most Android or Apple devices
If Your TV-Viewing Personality Is Amazon Prime...
You're a multitasker who's never really
just
watching TV. You can cook a three course meal, build a new work bench, and knit a sweater—all while tweeting your mom about the latest
Game of Thrones
episode. You need a service that can keep up with you, and that service is Amazon Prime. Though relatively new to the stream media market, Amazon is becoming a heavy hitter. With Prime Instant Video, Prime customers can stream unlimited movies and TV shows on the go or on their computer. But Amazon Prime doesn't stop there. Customers also receive:
A one month free trial
No cancellation fees
Unlimited free two-day shipping on Amazon products
A kindle book to borrow once a month
Price: $79 a year ($6.58 a month)
Compatible mobile devices: iPhone, iPad, Kindle
If Your TV-Viewing Personality Is Netflix...
You're an all-or-nothing kind of person, and that means you tend to 
binge-watch
. You're often disappearing for weeks at a time, emerging in a 
Mad Men-
induced trance. You like variety and every week you need something new. Whether it's a documentary about Icelandic whales or a reality show about people getting married in prison, you don't mind spending an hour or six to 'see what it's all about' and that's why Netflix is perfect for you. Netflix is the classic stream media company and is still a popular choice among consumers. With unlimited streaming of movies and TV and with a growing original series lineup, Netflix is competing among many cable networks for subscribers. Mobile media benefits include:
One month free trial
No cancellation fee
No commercials
Movie and television suggestions
Price: $7.99 a month
Compatible mobile devices: iPhone, iPad, Windows Phone, Android, or other tablet
SEE ALSO: Netflix Paired With Three TV Providers: What That Means For You
If Your TV-Viewing Personality Is Dish Network...
You're interested in embracing new things, but you like to take it slow. You love to record episodes and watch movies from your phone but don't have the patience to watch an entire series on YouTube. Satellite TV is a perfect fit for you. Satellite TV provider Dish Network also offers mobile viewing packages for their customers. Though still new in this field, Dish is catching up quickly with other TV on the go providers with their Dish Anywhere™ Technology. This service offers:
Access to On Demand or DVR recorded titles
Does not require WiFi – customers can transfer their DVR recordings onto their tablet before leaving
The Dish Anywhere mobile app allows you to access titles from a 3G or 4G enabled device
Price: $29.99 for the first year; $49.99 a month after
Compatible mobile devices: iPad 2, 3G or 4G enabled device
Still not sure which TV-watching style is right for you? Check out the rest of our cable providers and learn more about the options that are available to you.
Date of original publication:
June 07, 2014
Updated on: November 10, 2015