In the aftermath of COVID-19's first wave in March-April 2020, an astonishing 62 percent of employed Americans said they'd worked remotely for at least a portion of the first few weeks of the pandemic.
While many of those people didn't make a permanent shift to working remotely and a large percentage have returned to their physical workplaces, many economists expect the shift from traditional office settings to working from home to continue.
A Stanford University study released in June indicated that the share of work-from-home days across the economy is expected to rise from about five percent pre-COVID to 20 percent, perhaps persisting even after the pandemic is no more.
That study suggested that rather than shifting to a 100 percent home-based workforce (among those whose jobs can make the transition), many workers will split their time, say, working a few days at home and spending the remainder in the office.
Long before the pandemic, the percentage of people who worked from home had been on the rise. According to the most recent U.S. Census Bureau data, almost six percent of people worked from home, an increase of about one-third over the past decade.
Given the widespread popularity of working from home, especially considering how it was growing even before the pandemic, plus the ongoing transition to a gig and information economy, there seems little doubt that remote work will become far more common over the next several years.
Many newly remote workers will stay right where they are, but others may take advantage of one particular benefit of working from home — that home is wherever you want it to be. In previous eras, workers had to move where the jobs were, but in a work-from-home economy, the opposite is true.
And many fledgling work-from-home professionals may be interested in capitalizing on their newfound flexibility by finding a new place to live. We wanted to find out which cities across the U.S., from the very large to the very small, are best for the modern remote worker.
You can jump to the bottom of the page to read our full methodology, but we analyzed about 800 communities across the country to find out which ones give remote workers the best balance of affordability and access to high-speed internet.
Of course, everyone has a different set of factors they use to determine if a place is an attractive relocation option. Some want lots of live music venues, while others are big on parks, restaurants or culturally significant sites. Our ranking doesn't factor for those things, but if you're looking to start with a base of affordability and high-speed internet access — put these cities on your list.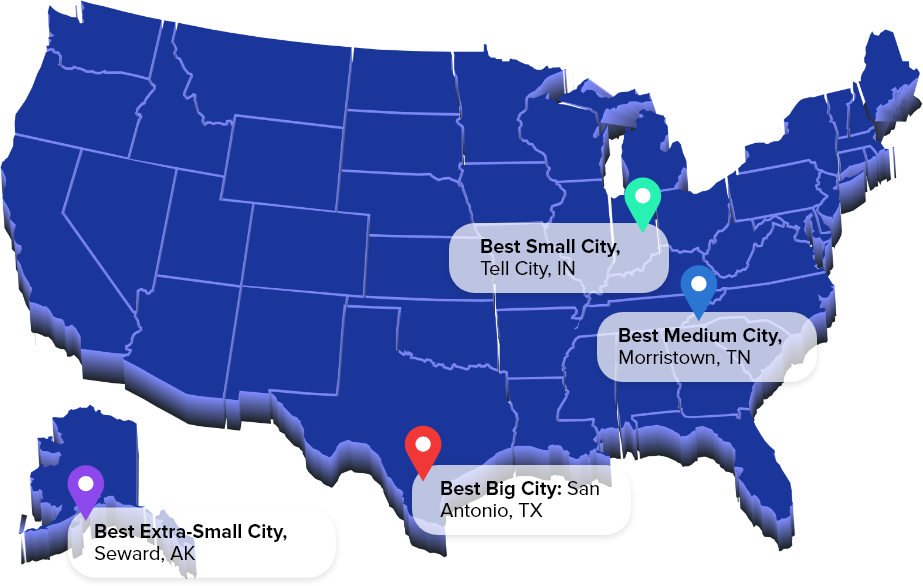 Best Big City: San Antonio, TX
The seventh-largest city in the U.S. and the second-largest in Texas, we've rated San Antonio the best big city for remote workers. Nestled in the south-central part of Texas, San Antonio proper is home to about 1.5 million people, while the metro area has about 2.5 million residents. More than nine in 10 residents have access to high-speed internet, making San Antonio one of the most connected, even among other major American cities.
Monthly rent cost:

$1,222.33

Housing cost per square meter:

$1,586.91

Percentage with access to high-speed wired internet:

99.2%

Percentage with access to basic wired internet:

95.2%
Best Medium City: Morristown, TN
Our best medium city is Morristown, Tennessee, a city of about 50,000 between Knoxville and Johnson City in the northeastern part of the state. More than nine in 10 of Morristown's residents have access to affordable high-speed internet, and monthly rent costs are among the lowest in comparably sized cities.
Monthly rent cost:

$520

Housing cost per square meter:

$1,210.94

Percentage with access to high-speed wired internet:

99.4%

Percentage with access to basic wired internet:

99.4%
Best Small City: Tell City, IN
Tell City, an Indiana community of about 10,000 just across the Ohio River, is our best small city pick for remote workers thanks to a very low cost of living and 90-percent-plus rate of high-speed internet coverage. While a smaller percentage of Tell City's residents have access to affordable high-speed wired internet than many of the other communities in its category, none have lower housing costs.
Monthly rent cost:

$450

Housing cost per square meter:

$1,303.29

Percentage with access to high-speed wired internet:

91.5%

Percentage with access to basic wired internet:
Best Extra-Small City: Seward, AK
Tiny Seward, a seaside city in southern Alaska, is our best extra-small city, though we'll grant it's remote — even for remote workers. Still, with more than nine in 10 residents having access to high-speed internet at an affordable price, many newly remote workers may be interested in making the trek north.
Monthly rent cost:

$1200

Housing cost per square meter:

$3,239.94

Percentage with access to high-speed wired internet:

93.6%

Percentage with access to basic wired internet:

NA
Best Cities by Size
The best-in-category picks are only a sampling of the cities we think would be attractive to those working from home. Here's a look at the top 10 cities by size and what you need to know about each.
Texas and New York each boast three cities in the top 10 among the largest cities, with all three of New York's entries coming from the New York City area — three of the city's five boroughs are in the top 10 for big cities. But the top two and three of the top four are in Texas, while California, the most populous state, has only one major city in the top 10.
---
San Antonio, TX
Dallas, TX
Philadelphia, PA
Houston, TX
San Diego, CA
Bronx, NY
Miami, FL
Chicago, IL
Brooklyn, NY
New York, NY
Pennsylvania and West Virginia are the only two states with more than one city on our list of top 10 medium-sized cities for remote workers, though neither boasts the overall No. 1 on this list. Still, two West Virginia communities are in the top three.
---
Morristown, TN
Parkersburg, WV
Stroudsburg, PA
Beckley, WV
Dalton, GA
Bullhead City, AZ
Rocky Mount, NC
Bemidji, MN
Allentown, PA
Abilene, TX
Tell City, Indiana, the highest-rated entrant on our small-cities list is the furthest west of the 10 best small cities for working from home, which speaks to the East Coast's geographic domination on this particular list. New York and Massachusetts each have three cities on this list, while New Jersey boasts two.
---
Tell City, IN
Allendale, NJ
Congers, NY
Cedarhurst, NY
Ramsey, NJ
Newton, MA
Islip, NY
Bedford, MA
Croydon, PA
Needham, MA
Perhaps our most geographically diverse list includes extra-small communities with populations of less than 5,000. In fact, from our easternmost city (Brookhaven, New York) to the westernmost (Seward, Alaska), it's about 3,400 miles as the crow flies — or 4,500 miles if you're taking roads.
---
Seward, AK
Matamoras, PA
Brookhaven, NY
Eastsound, WA
Lake City, IA
Top 10 Cities for Remote Work by City Size
Click the map below and hover over each city to see its ranking and more information.
Best Work-From-Home City in Your State
What if you're interested in keeping at least some part of your address the same? Check out what our analysis indicated is the best city for remote workers in each state.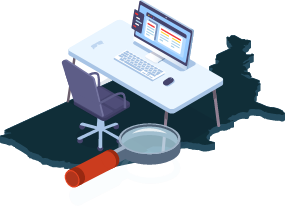 Click the map below to hover over details on the top city in each state:
Conclusion
Before any of us had heard of COVID-19, increasing access to high-speed internet and the broad shift toward an information economy had been conspiring to drive more and more workers out of offices and back to the couch, er, home office. There's no doubt that these changes will reverberate through the economy, even to industries that don't make this shift. But one positive aspect of this transformation is that workers may have more freedom to move, and as our analysis indicates, there are cities large and small all across the country that would be excellent options for remote workers.
Methodology
To create our ranking of the best cities for remote workers, we compared data across four areas:
The

percentage

of

a

city's

residents

with

access

to

high-speed

wired

internet.

We

define high-speed

as

a

cable,

DSL

or

fiber connection

with

500mbps

download/25mbps

upload speeds.

Broadband

coverage

and

pricing

information

comes

from

InMyArea's

database of

provider

coverage,

which

is

updated

regularly

with

the

latest

data

from

the

Federal Communications

Commission.
The

percentage

of

a

city's

residents

with

access

to

affordable

basic

wired

broadband internet

plans.

We

define

broadband

as

those

offering

speeds

of

at

least

25mbps download/3mbps

upload,

and

affordable

was

defined

as

no

more

than

$60

per

month

for standalone

internet-only

residential

plans.

In

both

cases,

included

plans

were

available through

the

end

of

the

third

quarter

of

2020.
Monthly rent costs; in some cities, the cost of living was substituted for this

figure.
Housing cost per square meter. Because cities vary so dramatically by their rental

costs and their size, we created a metric to standardize housing costs across a city, including inside and outside the city center. Cost of living, housing and rent figures came from Numbeo.
Cities were given a composite ranking score that combined the four factors above with each of the four factors weighted evenly, and our calculations made each factor a percentage in which the closest score to 0 was the best and the closest to 100 was the worst.
We also filtered cities by size and awarded honors in each category. Those categories break down like this:
Large:

100,000+
Medium:

20,000-99,999
Small:

5,000-19,999
Extra small:

>5,000